Top 5 Pool Parties In Las Vegas
Las Vegas is the place to visit if you're looking for a kick-ass pool party. But with so many casinos and venues offering spectacular gigs, which ones stand out from the crowd? Here is our must-read list of the top 5 pool parties in Sin City.
Daylight Beach Club @ The Mandalay Bay

This first venue on the list is not only at one of the most prestigious resorts on the Strip, but when it opened it was a pioneering open air entertainment and night life destination. It boasts a 4,000 square foot pool, 1,500 square foot performance stage, 70 daybeds, 25 cabanas, 6 LED screens, and signature venue cocktails.
To add to the glamour that the venue offers it has also been the place for such global artists as DJ Skrillex, Axwell, Disclosure, Laidback Luke, Nick Romero, Alesso, and Sebastian Ingrosso to perform and get the pool season bouncing. It opens every year from the middle of March and if you want the VIP experience then there are also two new pools that can give you that very treatment.
Drai's Beach Club @ The Cromwell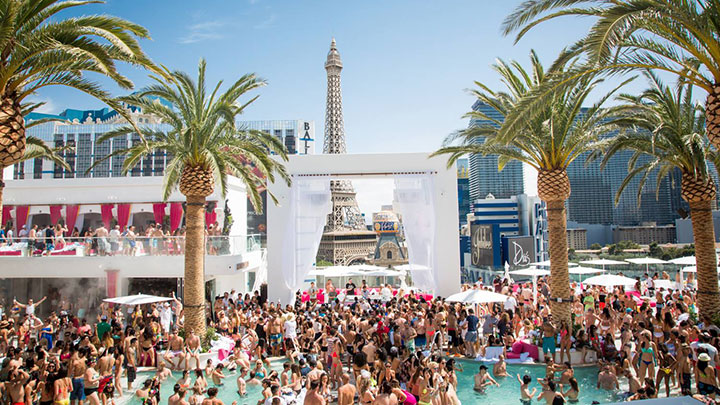 If ever there was a case of not judging a book by its cover then Drai's Beach Club at the Cromwell is surely it. On the outside, the Cromwell is perceived as a classy and intimate boutique hotel that looks like the sort of place where you have to mind what you say and watch how you act. However, step up onto the roof top and that whole perception changes.
The roof offers a superb nightlife venue that gives visitors a bird's eye view of the Strip so the scene is magnificently set straight away. Some of the big-name artists that perform here show the prestige of the venue with singers such as Chris Brown, 50 Cent, and G-Eazy just some of the names to have lit the place up. It opens from early March every year and it is one of the more illustrious venues for a pool party in Vegas.
Encore Beach Club @ Wynn Las Vegas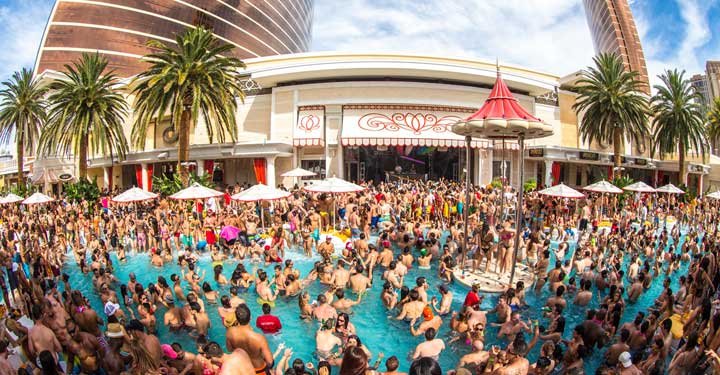 This is perhaps the most well-known venue on this list and there is a reason for that. Encore at Wynn Las Vegas is one of the most famous entertainment venues in the world and the Encore Beach Club plays a huge part in giving Encore that reputation. Its pool parties that take place from the beginning of April every year are the stuff of legend.
The venue has 26 cabanas that each have their own stock refrigerator, flat screen TV, and day-bed, 8 bungalows with private bathrooms, cooling system to ensure party-goers do not over-heat with all that dancing, an infinity dipping pool, and stunning views over the Las Vegas Strip. It has also witnessed some of the world's biggest musical acts perform there including David Guetta, DJ Zedd, and Diplo. You know that where there are names like that performing, the party will be off the scale.
Wet Republic @ MGM Grand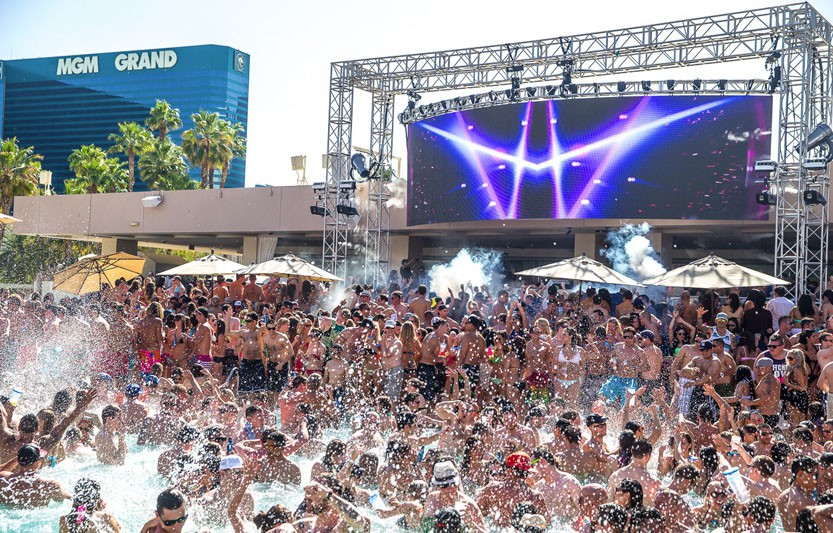 There are not many casinos on the Strip that offer such a grandiose setting with such a large amount of history attached to it, but the MGM Grand does exactly that and its Wet Republic venue delivers one of the best dance-themed pool parties in the world from the moment it opens in the middle of March every year. MGM Grand has witnessed some historic moments including the Evander Holyfield vs Mike Tyson re-match boxing fight, the Floyd Mayweather Jr vs Manny Pacquiao fight, and the setting for a number of iconic performers such as Britney Spears, Elton John, and Cher.
It consists of a 2,500 square foot open-air lounge, 1,200 square foot LED TV that is positioned above the DJ booth, cabanas, bungalows, deck tables, day beds, dance floor tables, and a level of VIP service that is unrivalled in Vegas. Previous performers at the venue include Tiesto, Above and Beyond, Armin Van Buuren, Calvin Harris, Oliver Heldens, and Martin Garrix. So you should be prepared to dance those legs away into the night.
Rehab @ Hard Rock Hotel and Casino

For those people look for a true rock 'n' roll way to spend their time in Las Vegas, then you will want to look no further than Rehab at the Hard Rock Hotel and Casino. This venue offers high-octane pool partying on another level. It initially opens from the middle of March, but things really start to kick off from the grand opening that takes place at the end of April.
This venue comes into its own as a daytime venue where the music is pumping, the vibe is infectious, and the party does not stop. There are three pools to enjoy with trees providing a leafy landscape surrounding the pools with cabanas, daybeds, and banquettes all available for guests to sample. The Rehab Spring Break parties are almost mythical in their legendary status and with acts such as Captn20, Loczi, and B-Radical slamming the decks you know things are going to get torn apart. This is not a pool party venue for the faint-hearted.