Everything You Need to Know About The BIGGEST Casino in The US
Ever wondered what is the biggest casino in the US?
It's the WinStar World Casino and Resort in Oklahoma!
As the biggest casino in the US, and with a great claim to being one of the largest casinos in the world, there's much more to WinStar World Casino and Resort than your typical place to play the slots. So, here at Casino.org, we've taken it upon ourselves to profile this juggernaut of the gaming and gambling world.
Below you'll find out all you need to know about the sprawling casino-hotel-entertainment complex, which put a small town in Oklahoma on the map around 16 years ago.
Want to know how many table games you can play in the world class casino? Whether you can bring the kids? Which mega band are performing next? Or where you'll be able to grab a bite to eat? We've got you covered…
Owners: The Chickasaw Nation
Open since: 2003
Size: Roughly 600,000 sq. ft. of dedicated gambling space, including eight different plazas offering table games, slot machines, a poker room, bingo hall and betting parlor.
Where: 777 Casino Avenue, Thackerville, Oklahoma. Around an hour's drive from both Oklahoma City and Dallas.
Fun fact: Located in Love County, only five miles away from the Texas border, Thackerville was last estimated to have a population of under 500 people. So, the largest casino in the US is situated in one of the country's very small towns…
Rooms: 1,495 with roughly 1,395 of those rooms at the main complex, and the remainder off-site.
Bars and Restaurants
At last review, pre or post-casino snacks included staples such as pizza, fries, pies and burgers, with guests able to tuck into everything from fancy steak, through to Mongolian dishes and buffets.
WinStar has plenty of options to help you keep your hunger at bay:
From fine dining to casual eats, restaurants and bars include:
Vino's Italian Kitchen
Chips N' Ales
NYC Burgers & Dogs
Matadors Pizzeria
El Fenix
Toby Keith's I Love This Bar & Grill
Capisce Ristorante Italiano
Le Paris Bakery & Cafe
Legends Bar & Grill
IHOP Express
Panda Express
Gran Via Buffet
The Rotunda Bar
Dairy Queen
Kirby's Steakhouse
Khan's Fire Mongolian Grill
Palladium Sports Lounge
Terrace Cafe
Red River Grill
Cafes & Quick Bites
Mist Nightclub
Skyline Lounge
Is WinStar family-friendly?
To visit the gaming area or play any of the casino games, guests must be at least 18 years old. However, kids can still eat at the resort's restaurants and attend shows in the events center if accompanied by an adult — but they must not be left alone.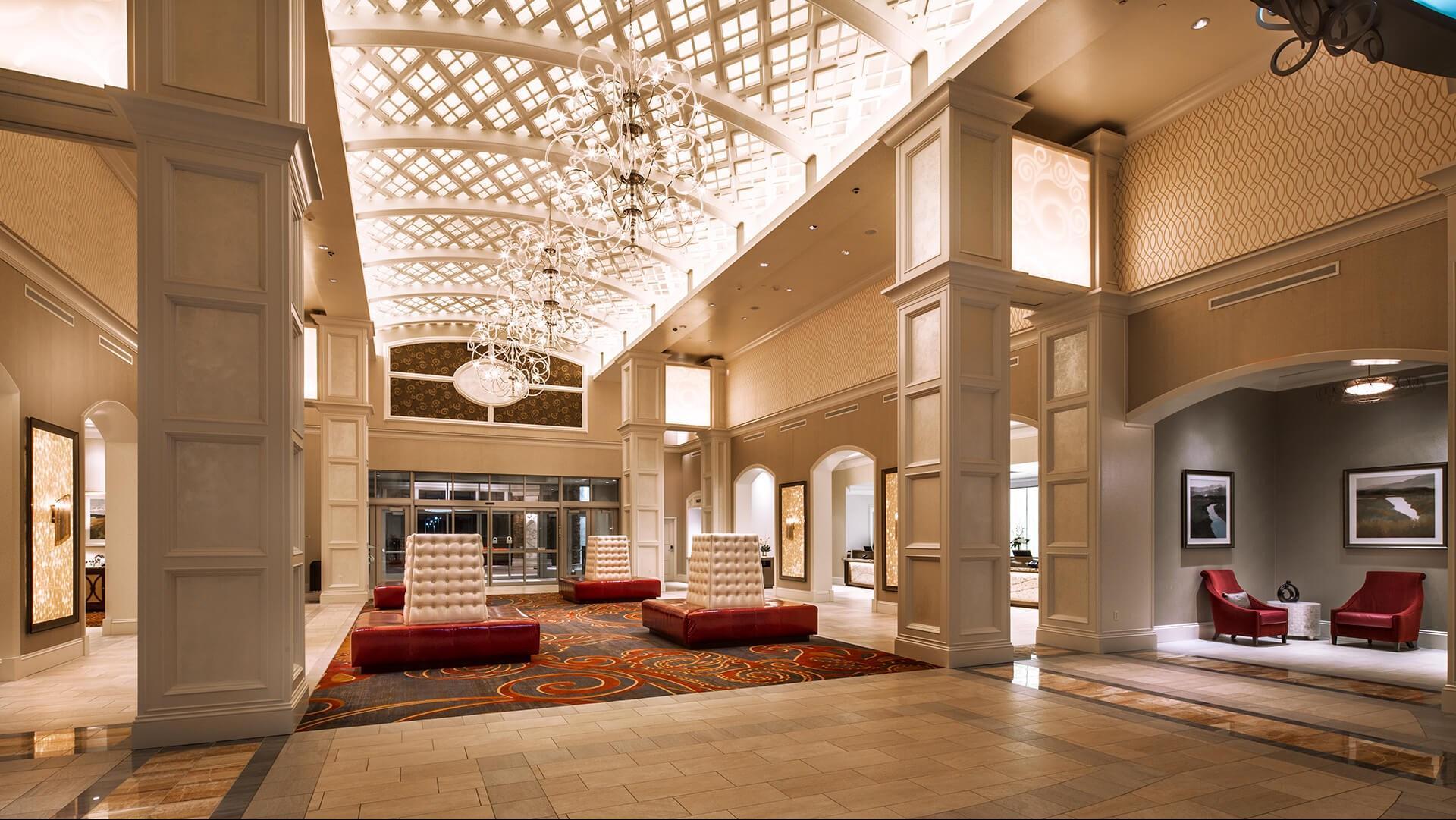 What can you do at WinStar?
Get a glimpse backstage at the Global Event Center:
The casino area reportedly offers more than 7,000 machines and almost 100 table games, including crowd-pleasers and traditional favorites like Blackjack and roulette. The bingo hall seats around 800 and the poker room provides over 46 tables.
Away from the casino, WinStar boasts a 3,500-seat Global Events Center and a 7,700-seat outdoor arena for concerts, making it a big draw for live music.
For those that like to pair the fun of the gaming floor with pampering and wellness, there's a championship golf course and academy, a spa, gym, hot tubs, and a swimming pool with cabanas and a pool bar.
There are plenty of places at which visitors can carry on the party into the early hours, including Mist Nightclub and Palladium Sports Lounge.
Go to the green — golf at WinStar:
The good:
As of fall 2018, WinStar was the official corporate sponsor of American football heavyweights the Dallas Cowboys — apparently the first ever partnership between an NFL team and a casino. Touchdown!
Since its grand unveiling, the resort has hosted performances from famous faces such as Kelly Clarkson, Lynyrd Skynyrd, James Taylor and Maroon 5.
The hotel offers a real holiday resort experience across its four different accommodation areas and showcases 24-hour room service, fitness facilities and a luxury pool.
The casino's eight gaming areas are named after world-famous cities such as Cairo, Paris, Rio and London, with a theme to match.
The poker room and Rio gaming plaza are both non-smoking, so everyone can enjoy their time on the floor.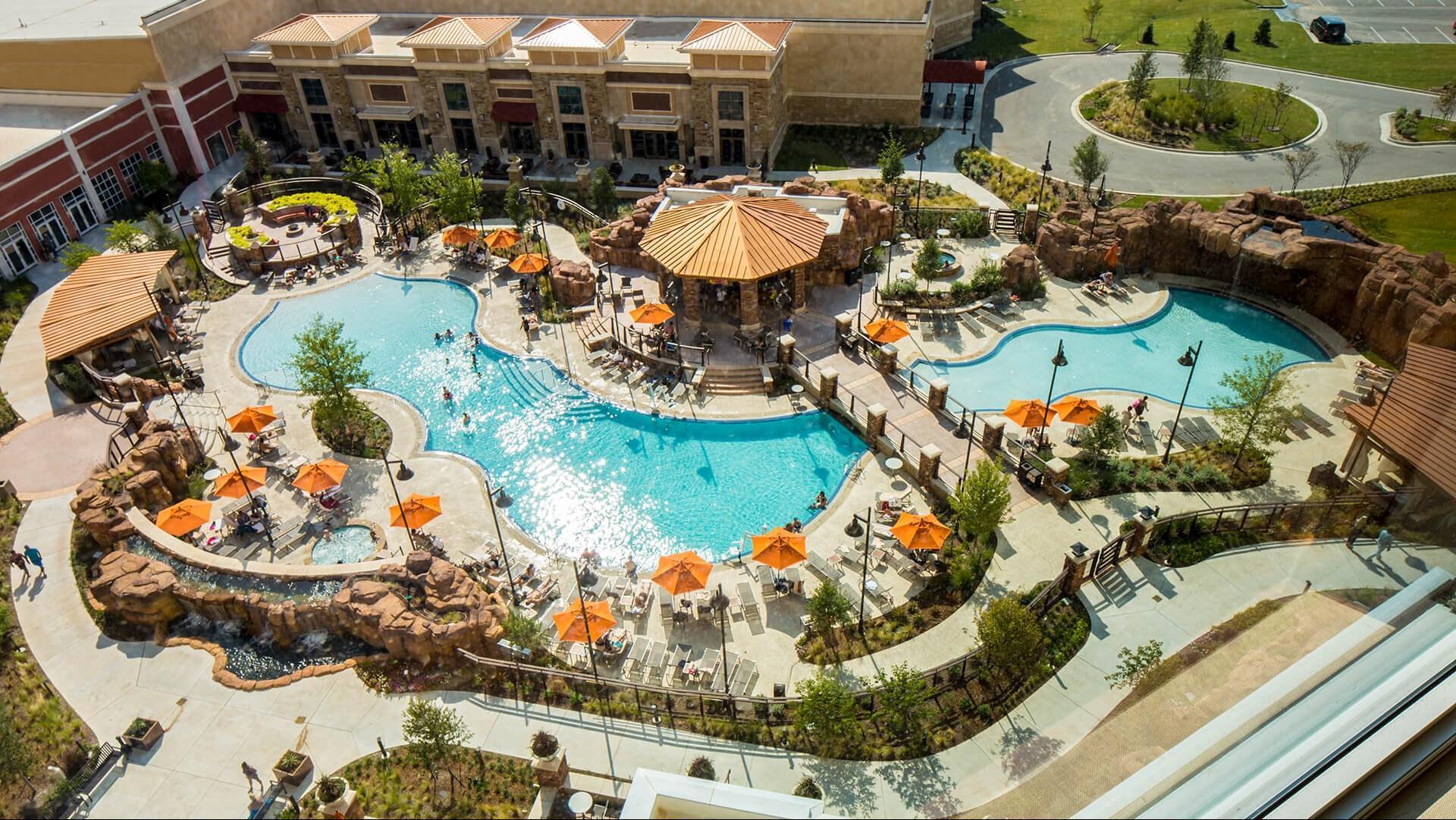 Wonder what the gaming plazas look like? Take a tour through WinStar's Rio section:
The bad:
No dogs allowed. If you're staying at the casino's hotel you'll have to leave your furry friend elsewhere. Only service animals are allowed on the casino's premises. It might be the biggest casino in the US but there's no room for your pooch.
What people are saying:
One TripAdvisor reviewer said, "I come at least once a month for a two day sabbatical of fun, relaxation and gambling".
"Awesome slot machines, many of which are interactive," said one recent visitor, "We like how the casino is divided into different regions of the world and the shuttle service that will take you from one end to the other. Food choices are great and tasty".
One guest, writing on TripAdvisor described it as a "Fun place to visit and play" and the food as "excellent".
Another TripAdvisor review said that the "hotel accommodations were superior", "gaming was enjoyable" and the "overall stay was a pleasure".
"Huge casino with all the sensory experience you could ever want. It was fun," stated a customer on the casino's Facebook page.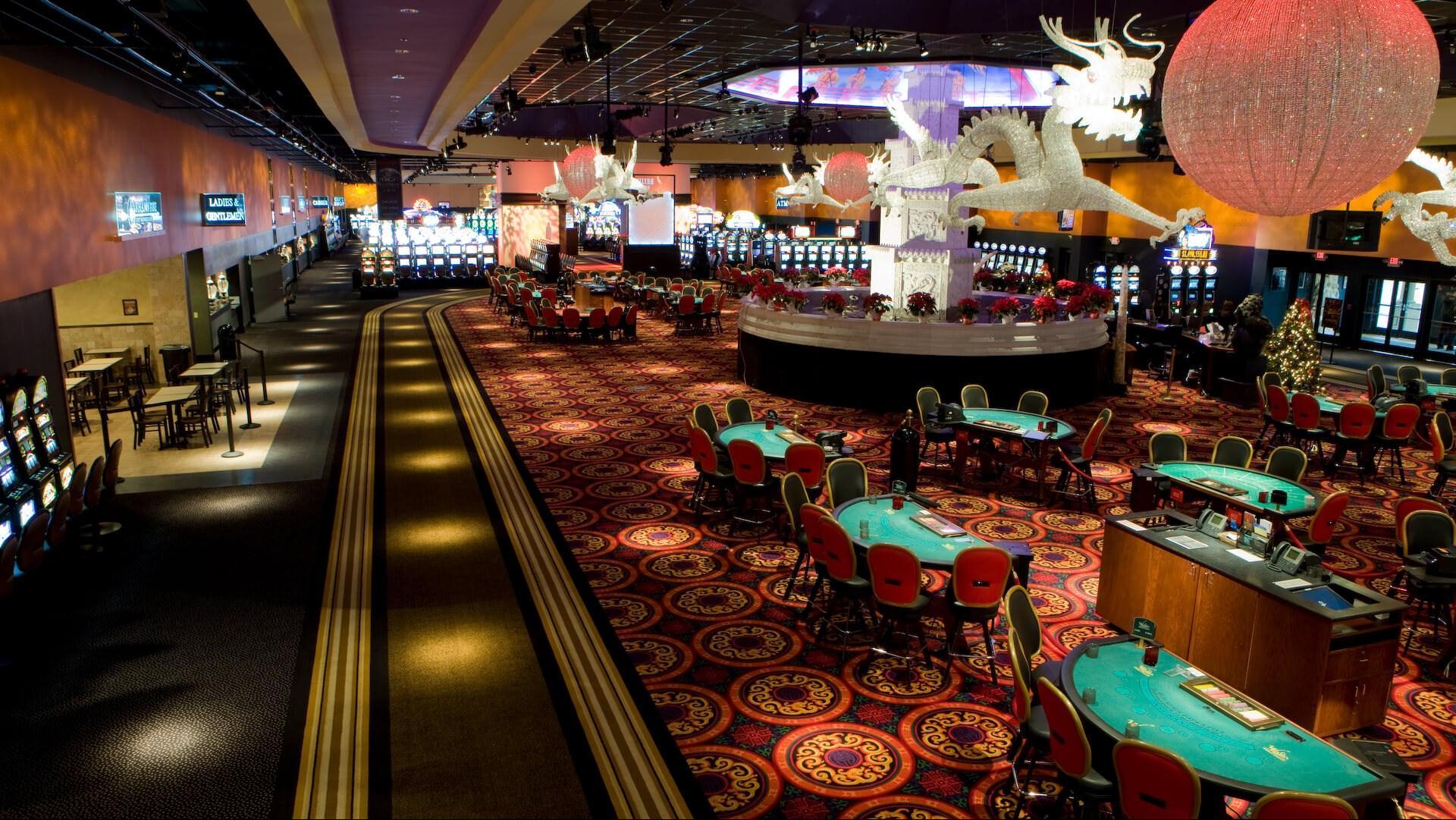 Image: cvent.com
Upcoming events
You can find a list of regularly updated events on Facebook, but notable entertainment in the remaining months of 2019 includes, but is not limited to:
Willie Nelson & Family (29/11/19)
Jerry Seinfeld (07/12/19)
Steely Dan (27/12/19)
Jackson Browne (29/12/19)
Sources:
https://www.winstar.com/
https://www.tripadvisor.co.uk/RestaurantsNear-g51690-d940161-WinStar_World_Casino_and_Resort-Thackerville_Oklahoma.html
https://en.wikipedia.org/wiki/WinStar_World_Casino
https://www.tripadvisor.co.uk/Attraction_Review-g51690-d940161-Reviews-WinStar_World_Casino_and_Resort-Thackerville_Oklahoma.html
https://www.facebook.com/WinStarWorldCasino/