Will Las Vegas Run Out Of Water?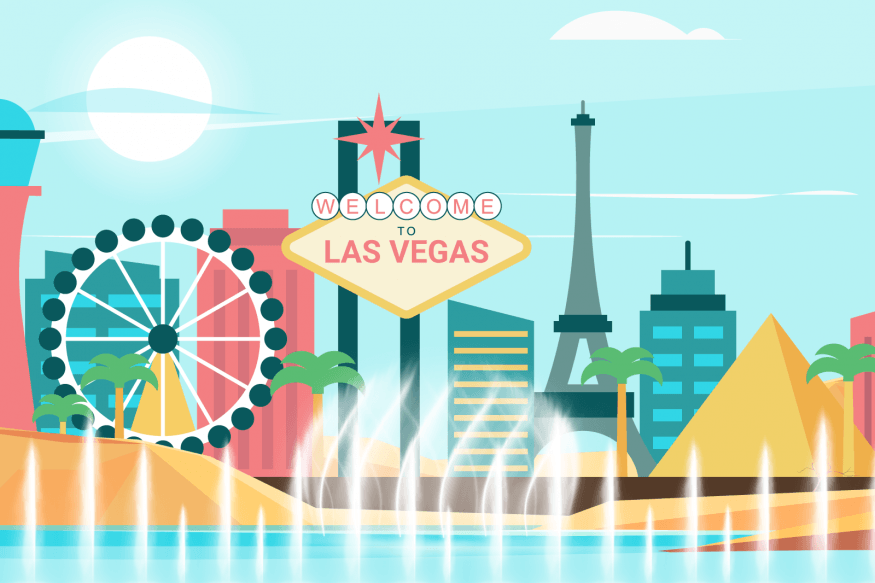 We usually think of Sin City as the land of milk and honey, where anything goes and everything flows. But experts have been predicting for years that, by 2021, water levels in Lake Mead could drop to such a low level it would create a water shortage.
For a city built in an arid desert basin in Nevada, the USA's driest state with around 10 inches of rainfall a year, this doesn't sound too surprising. But the climate emergency and recent droughts have changed the complexion and urgency of the problem.
Was Vegas always a risk due to its geography? Perhaps. But it is now considered to be the fastest-warming city in the US. And when you're warm, you tend to need even more water.
With this in mind, we decided to do some digging into where Vegas gets its water, as well as who uses the most and what we can do about it. Will casinos come out among the worst water waste offenders? Let's find out….
Where Does Las Vegas Get Its Water?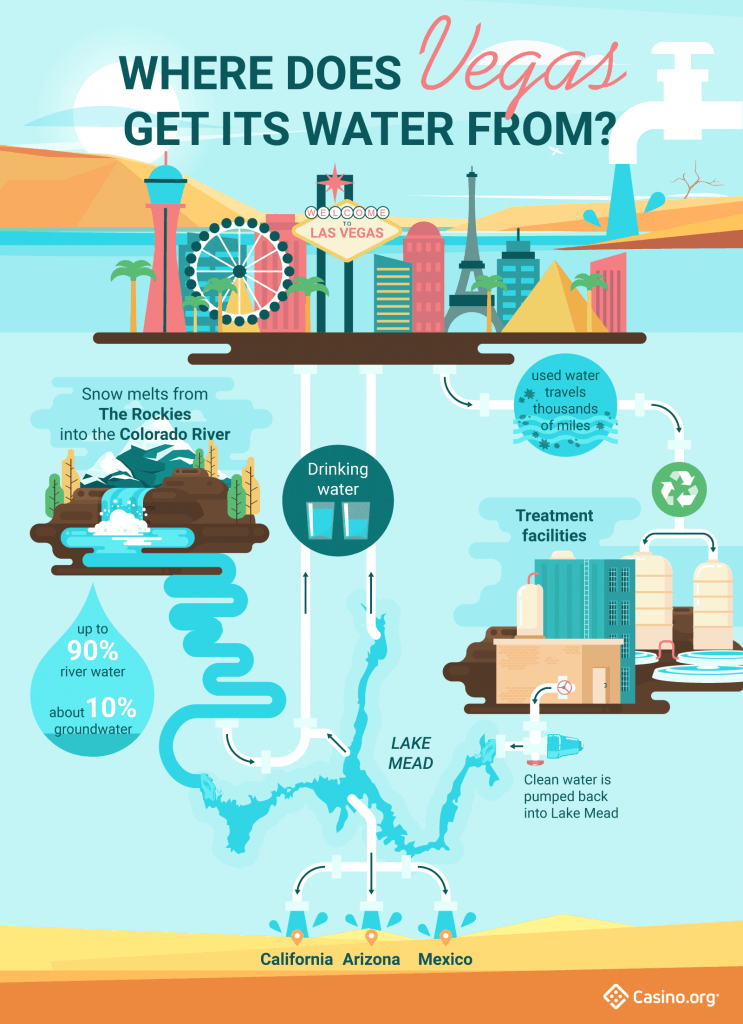 It's estimated that Vegas gets up to 90 percent of its water from Lake Mead, courtesy of the mighty Colorado River. It stretches from its snowmelt source in the Rocky Mountains and winds its way through seven US states including Nevada, before eventually arriving at its mouth in Mexico's Gulf of California.
By comparison, the remaining 10 per cent or so of Sin City's water supply trickles in from groundwater wells and other pipelines.
That's a lot of over-reliance on a source that serves around 20 million people across a number of states. Especially since, despite its population growth over the years, Nevada's share of Lake Mead's supply is historically much less than neighboring California and Arizona.
From Colorado River, the water reaches man-made Lake Mead via Lake Powell and is sucked through Las Vegas Valley's "straws" on a journey that carries the water thousands of miles through treatment facilities on a cyclical mission.
It returns to Lake Mead by way of the Las Vegas Wash, and finally enters the water system to get to Sin City's taps.
When it's flushed back into the sewer system, it resumes its journey from treatment plant to wash to lake and back again into homes and businesses.
Quite the adventure!
So, Is Las Vegas Running Out Of Water?
But if Vegas's main water supply is reused and recycled constantly, why is the city said to be running out of water?
Simply put, it's an issue of supply and demand and… climate.
Not all the water is flushed or drained back into the system for re-use.
Instead gallons of the good stuff are wasted outdoors, for example, through automatic sprinkler systems.
One report suggests that Vegas gets through more water than most US cities, supping up or hosing out around 219 gallons per person on the average day.
Coupled with the very real impact of climate change and the desert setting, it all makes for a potent mix.
So federal government officials are tipping Lake Mead levels to finally fall below 1,075 feet in 2021.
The huge reservoir has already plummeted by 130 feet since 2000 and the projection means Nevada, along with other states like California and Arizona, could have access to much less water.
But it's not necessarily Sin City's fault.
It is, after all, much harder to conserve water in the middle of a desert than in a city soaked with rain.
So where does all that water go? Maybe not quite where you'd think.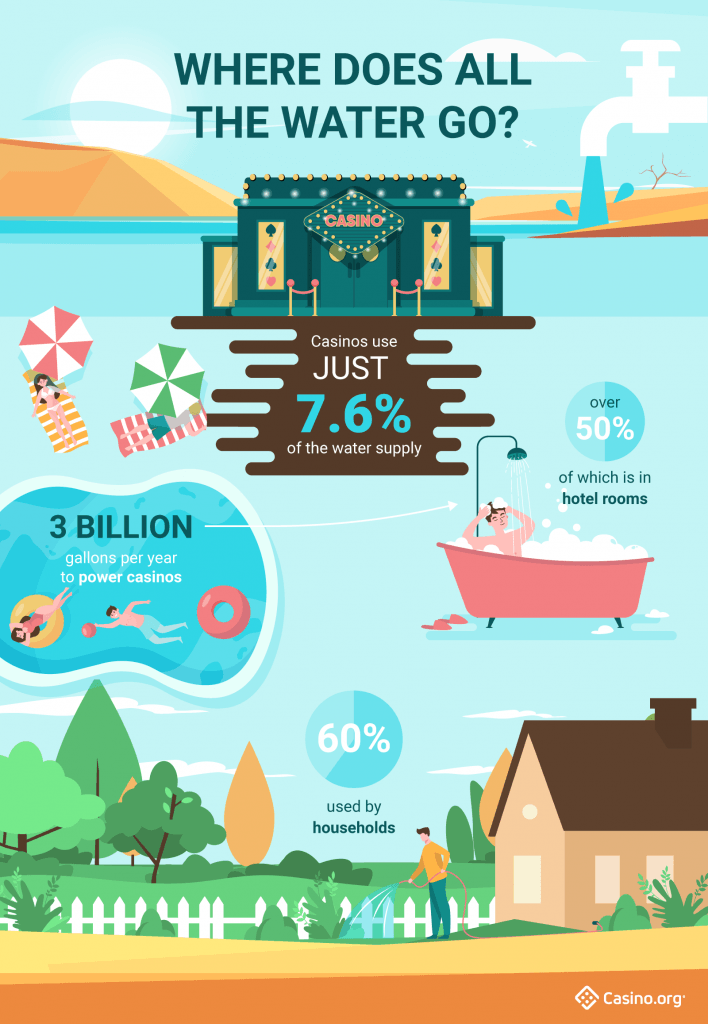 How Much Water Do Vegas Casinos Use?
Despite the images of lavish casino hotel pools along the Strip, water-guzzling tourists living an oasis lifestyle atop a desert landscape and that famous Bellagio fountain, the majority of water actually escapes down the city's plug-holes.
Yep, a whopping 60 percent of Vegas's water is used by households and residents.
It's true that the gaming and gambling industry in Sin City still sucks up plenty of H2O itself though, with around three billion gallons a year required to power its casinos, water cannons and all.
But 54 percent of that water is actually just used in hotel rooms, rather than the casinos themselves. And, overall, this still 'only' accounts for 7.6 percent of Vegas's total water usage.
So casinos have taken a lot of the heat on water consumption over the years and perhaps without much cause.
Many large casino corporations actually take the initiative with sustainability projects and lead the way when it comes to reducing water consumption, too.
Among the major casinos, such as MGM properties, water recycling rates are often said to be as high as 40 percent. While a lack of green spaces on the Strip, as well as a focus on desert plants for decor and low-flow shower heads in rooms, have helped some of the industry's most famous names set and achieve impressive water targets.
And what about those famous, or rather infamous, Bellagio fountains? It's true, they do require 20 million gallons of water. But that gets filtered and reused, just as it does with all fountains on the Strip.
In fact, each day, roughly 100 million gallons of raw sewage is treated by the Clark County Water Reclamation District, and around 90 million gallons of reclaimed water goes back into the Las Vegas Wash.
Will Lake Mead Ever Fill Up Again?
Despite the headlines, it's not all bad news for Nevada and Vegas.
Some even hail the area for its water-smarts, with the LV community using 27 billion gallons less water in 2018 than it did just after the Millennium.
In the last 20 years, the city has placed restrictions on new sod and yard watering, while the Southern Nevada Water Authority (SNWA) has spent millions on a pumping station project to increase capacity.
But crucially, this water will not come from Lake Mead; it's there as a backup while hopes rest on the main reservoir to recover and resist.
Southern Nevada is no stranger to water warnings, either.
There were previous predictions that the region would run out of water by 1995 too, before swift action was taken.
Water usage restrictions and investment in technology, such as thousands of leak monitors, as well as implementing fines for water violations, has resulted in resilience so far.
What Next?
It's clear that however many conservation projects Las Vegas and its casinos take part in, the combination of the city's thirst for development and the climate crisis mean that the area's 'water war' will rumble on.
But there's hope.
Despite being the poster child for excess in the US, Sin City is also a shining example of what can be achieved when everyone chips in.
Water shortages are expected to impact more than just Vegas in the coming decades. So it's not an exaggeration to say that perhaps the whole world is watching how this desert city deals with the crisis first.
But what can you do to play your part?
Top Tips To Help Save Water
There are tons of small things you can do to make a difference, so we've included some water saving tips below to help you get started.
1. Take Shorter Showers
We all love a long soak, but timing your shower and installing a low-flow shower head, just like Vegas's casino hotels do, could save liters every minute.
2. Put Your Feet Up
That's right. Saving water is a great excuse not to do the dishes. Pause your chores until you have a full-load for the dishwasher.
3. Choose Tap Water
Think ahead and cool a jug full in your refrigerator, so there's no need to buy bottled or leave the tap running for ages when you want a refreshing drink.
4. Save Money By Spending Money
Save yourself money in the long-run by avoiding big water bills. One of the easiest ways to do this is by getting that leaky tap fixed or splashing out on water-efficient household goods.
5. Turn It Off!
Turn that tap off when brushing your teeth or shaving, to save yet more liters per minute.
Additional Sources:
https://www.waterworld.com/drinking-water/distribution/article/14068676/las-vegas-isnt-gambling-with-water-supplyhttps://www.lvvwd.com/water-system/where-your-water-comes-from/index.html
https://digitalscholarship.unlv.edu/cgi/viewcontent.cgi?article=1016&context=honors_theses
https://www.outsideonline.com/2016686/water-conservation-brought-you-las-vegas
https://www.kunc.org/2020-11-09/2020-delivers-setbacks-for-some-long-planned-western-water-projects
https://lasvegassun.com/news/2014/aug/24/how-our-water-goes-toilet-tap/
https://www.lvvwd.com/
https://statesatrisk.org/nevada/drought
https://www.theguardian.com/us-news/2019/sep/02/las-vegas-climate-crisis-extreme-heat-hellish-future