PokerStars vs GGPoker – Which Is Better?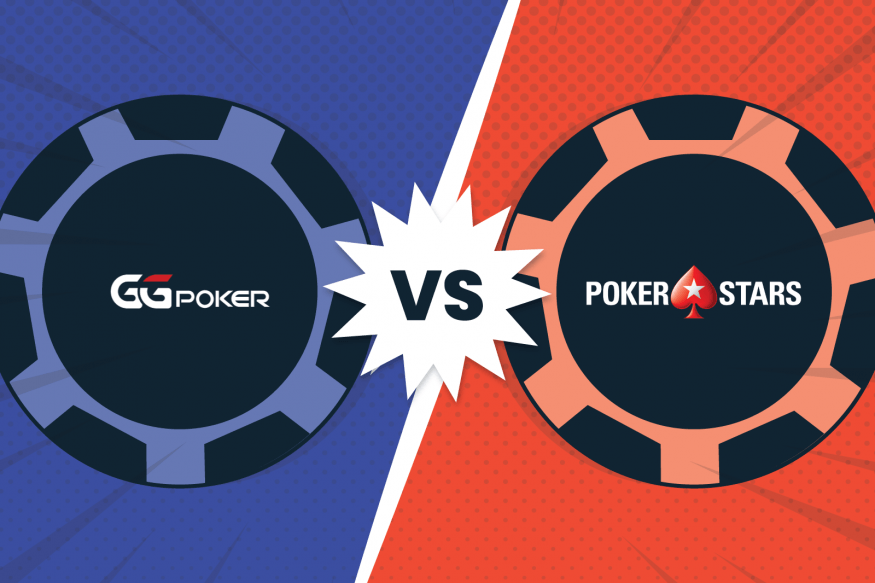 More poker site comparisons by Casino.org include PokerStars vs 888poker and PokerStars vs Party Poker.
While many things have changed over the years, there is no doubt that PokerStars helped shape up the online poker world as we know it today. (You can read more about its history in our Stars vs 888 review; we won't be covering that today.)
However, ever since Amaya (later named The Stars Group Inc.) took over the site, PS has been moving further and further away from its original agenda. Nowadays, it's been moving in a direction that focused more on recreational players, drifting away from "pure" poker.
It seemed that no one could pick up where PokerStars has left off.
If such a giant decided that online poker as the world knows it was no longer a viable option, who would dare defy the idea? But then, almost out of nowhere came GGPoker, clearly looking to take over the spot once held by PS.
GGPoker was initially launched in 2014 as a primarily Asia-facing room, but over the last couple of years the site has been making the play for the market – and they've been doing a great job at it so far.
Its roster of professionals is starting to look really serious. It even includes the former PokerStars number one ambassador, Daniel Negreanu.
Negreanu, 'ElkY,' Bryn Kenney, and Fedor Holz now make up the core of the GGPoker Team Pro, which clearly shows the site means business. A small poker room with no ambition wouldn't enter partnerships with such big names.
But when it comes to choosing between PokerStars and GGPoker, which one should you pick? This PokerStars vs GGPoker review will try to answer some of the most important questions to help you make that decision.
While both have their pros and cons, the best choice will depend on what exactly it is that you're looking for.
Software: PokerStars vs GGPoker – PS Wins (Only Just)
For the longest time, PokerStars was the absolute leader in terms of online poker software. For whatever reason, no other room could come close to offering a client that was as good-looking and player-friendly as that of PokerStars.
The sheer number of customization options at your disposal in the Stars client is quite impressive.
You can choose from different table layouts, select your preferred seat, set up auto-rebuy options for cash games and tournaments, and do much more to make the platform your own. (We go into more depth of the options in our PS vs 888 review.)
On top of all this, the client runs smoothly with no serious glitches to hinder your experience.
But then came GGPoker.
Clearly, the brains behind this site know exactly what it takes to attract players and build a loyal community.
They didn't repeat the mistakes of their predecessors by launching substandard software. They made sure GGPoker was almost as good as that of PokerStars.
The lobby of GGPoker is nicely organized to offer an overview of main options, such as Hold'em and Omaha cash games, scheduled tournaments, Spin & Gold games, Rush & Cash, etc.
Game filters aren't as detailed as the ones offered by Stars, but they definitely do the trick.
Both sites also offer mobile apps for all types of devices, but PokerStars outshines GG here. This isn't to say that GGPoker mobile app isn't good, though.
It's quite decent – you'll be able to play your sessions just fine – but it's not as advanced as the PokerStars mobile product.
Game Variety: PokerStars vs GGPoker – PS Wins
One thing that PokerStars has always done better than the rest on is its games selection.
Stars has gone well beyond providing players with Texas Hold'em and Omaha games. These days, you can find almost anything you can think of over there, from Seven Card Stud and Razz, to Five Card Draw and Badugi – and anything in between.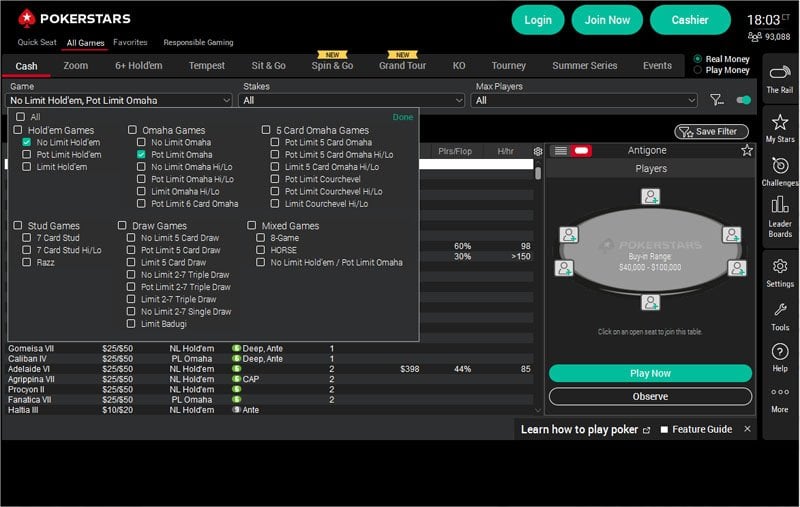 GGPoker isn't as colorful.
You'll find Texas Hold'em and Omaha, both as cash games and tournaments. Beyond this, there is also Short Deck (6+ Hold'em) tables.
So, if you're an 8-game specialist looking for some high stakes action, you won't find it here. For the time being, GGPoker isn't offering any of the more "exotic" variations.
That's why in this section, Stars takes the win.
Of course, GGPoker may be expanding its offering in the months and years to come, especially if its upward trajectory continues.
For the time being, though, Stars is the only real option if you're looking for games that can't be described as mainstream.
Tournament Schedule & Cash Game Options: PokerStars vs GGPoker
Both PokerStars and GGPoker offer some exciting options for the players. However, depending on your personal preferences, one room might be the better option than the other.
Here's how they compare in two of the most important categories, scheduled tournaments and cash game tables.
Schedule MTTs & Special Events
When it comes to multi-table tournaments, no room can stand up to PokerStars (for now).
Thanks to its huge traffic and the fact they've been the go-to place for tournament grinders and casuals with a dream for years, Stars continues to reign supreme in this category.
If you're looking for daily and weekly events with big fields and huge guarantees, PokerStars is the place for you. Whether you want to play high buy-in events or build your bankroll playing small-stakes MTTs, all options are on the table.
For serious players, PokerStars organizes regular major online events like Spring Championship of Online Poker (SCOOP) and the World Championship of Online Poker (WCOOP), featuring multiple tiers catering to all bankrolls.
It offers massive guaranteed prize pools across dozens of events.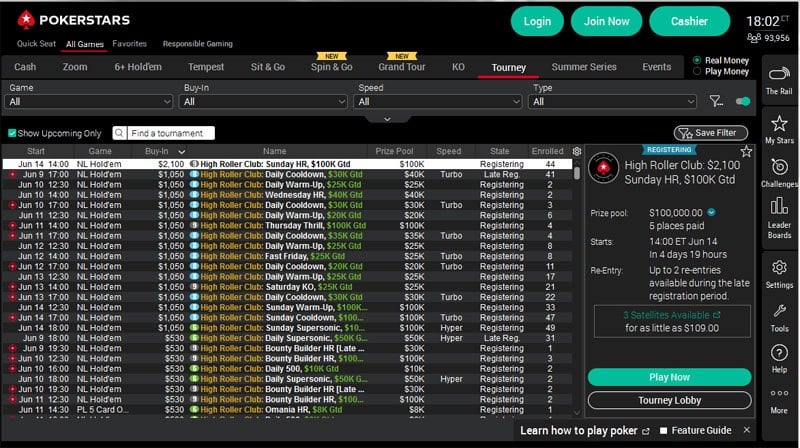 GGPoker may not be as rich when it comes to tournaments, but it's certainly done a great job in creating a schedule that beats the rest of the competition.
You'll find a very good number of events starting around the clock, with decent prize pools every day.
Because GGPoker has stable player traffic, it's able to offer MTTs with generous guarantees without fear of overlay.
Just like PokerStars has Sunday Million, GGPoker has GGMasters. This is its flagship tournament taking place every Sunday, with a guaranteed prize pool of $500,000.
The buy-in is $150, so most players can afford to take a shot once a week. Those who don't can try and earn their seat through one of many satellites running every single day.
GGPoker is showing that it's very interested in attracting tournament players. The room has also launched its Multi MILLION$ series, featuring three significant events every week.
Global MILLION$ features the guaranteed prize pool of $1,000,000 (and the buy-in of just $100), and High Roller MILLION$ guarantees $2,000,000 in prizes for the buy-in of $500.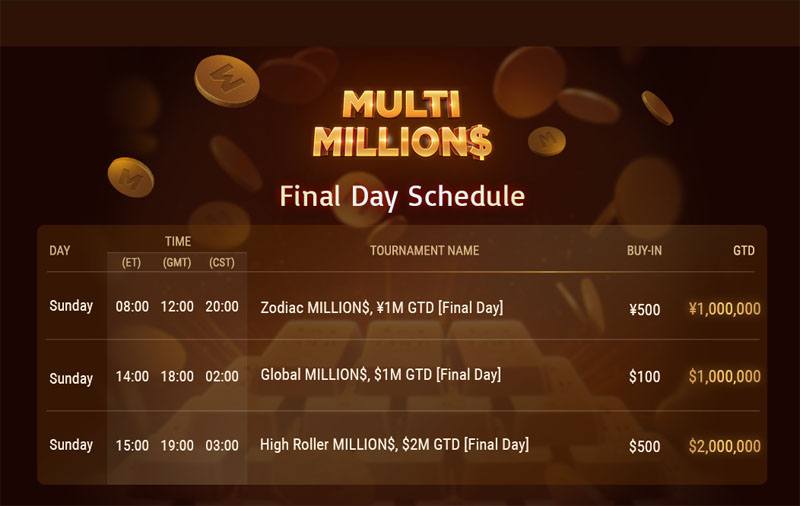 So, while PokerStars remains the leader in this particular category by its tournament offers, GGPoker is definitely an interesting place to explore, especially due to much softer competition.
If you're an MTT player, you'll find plenty of events here, especially if you already have a decent bankroll to work with.
If you're looking to play very small buy-ins, though, PS is probably still a better choice as you'll find more events in every bracket, including micro stakes.
Cash Games – GGPoker Wins (For Those Looking To Make Money)
When it comes to cash game action, GGPoker is seriously threatening to take the top spot and become the go-to place for many players, especially high rollers.
PokerStars still leads the way here, but the team at GG knows what it's doing.
And players seem to be loving it.
To start with Stars, you'll find a great range of tables starting as low as NL2 and going as high as NL40,000. However, you won't find many games over $25/$50 actually running.
When it comes to special functions, PokerStars offers a 'run it twice' feature as well as an all-in cash out feature that, as you might have guessed, lets you cash out your equity when you're all in.
You can use this whenever as it doesn't depend on your opponent's decisions, and you simply cash out your mathematical EV and get the money – regardless of what happens with the pot.
At GGPoker, the lowest stakes available are $0.02/$0.05, so if you are on an exceptionally tight bankroll, you're probably better off starting over at PokerStars. As for the higher stakes, regular games go up to $5/$10, which isn't crazy high.
However, GGPoker also offers VIP high stakes tables where players can start their own games and go as high as they want.
This is an awesome feature that could attract many high rollers, especially as GG gains more visibility and reputation through sponsoring well-known players like Negreanu and Holz.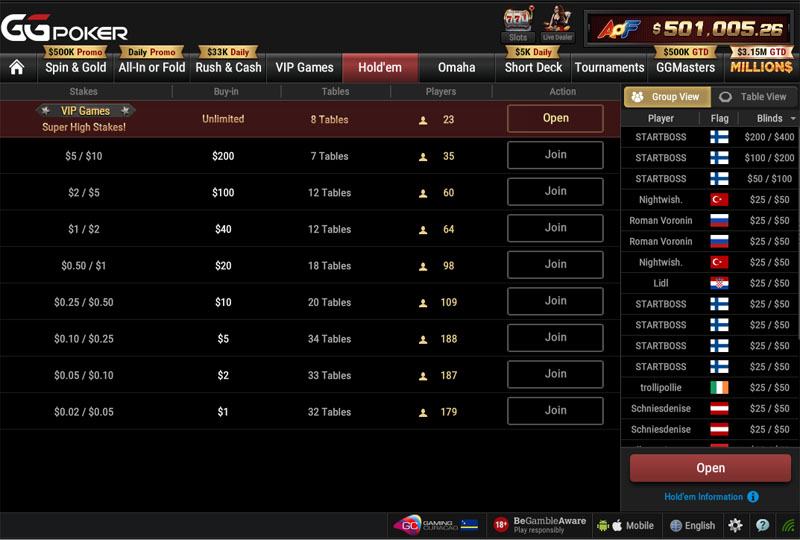 After Full Tilt Poker shut down, no room took over in terms of real nosebleeds. But GGPoker seems to be making a play for this space.
On top of this, GGPoker also offers a variety of fun features that let the players enjoy their sessions more and make the play more like that at the live tables.
Some of the perks available at GG cash game tables include:
All in insurance
Straddles
Run it twice or three times
So, if you're looking to play cash games and actually make money, I'd say GGPoker is a fairly obvious choice.
You'll have much more fun playing and find more players enjoying the games, rather than grinding it through. This means much looser play, straddled pots, and some crazy action.
You just won't find anything like this on PokerStars, even if you play as low as NL25.
Speed Poker: Stars vs GG
Both PokerStars and GGPoker offer their own variations of "speed" poker.
If you don't know what this is, it's the kind of poker where you're moved to a new table as soon as you fold your hand and can jump straight into the action with two brand new hole cards against a new set of opponents.
As you might know, on PokerStars, this is called Zoom, while GGPoker's variation is called Rush & Cash.
Both work similarly, so there isn't much difference between the two. However, at this point, GGPoker only offers speed poker for stakes going as high as $1/$2 for PLO and NLHE.
At PokerStars, you'll find Zoom tables with blinds up to $25/$50, although $5/$10 is the last level where you'll realistically find some action.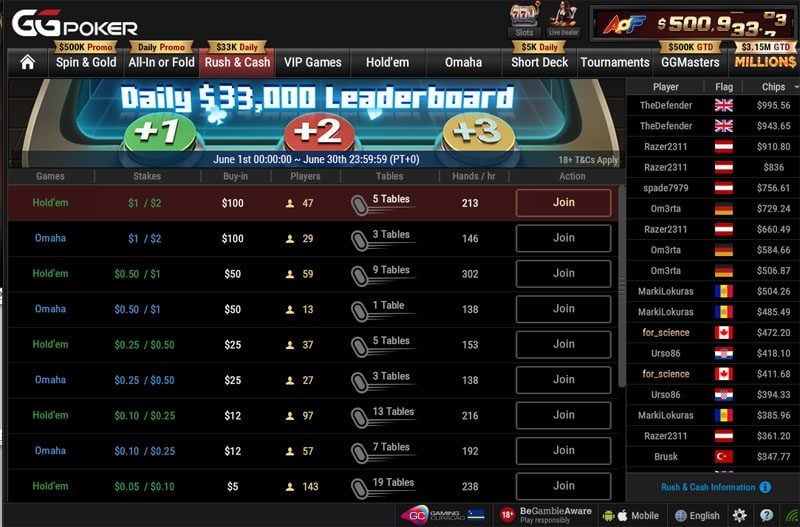 If you want to play fast-fold poker and are looking for higher stakes, you're pretty much stuck with Stars. But for low to mid-low stakes, you're going to do much better at GGPoker.
Just like regular tables, Rush & Cash games are much softer than Zoom, and there are more than enough players to keep the ball rolling at all times.
Jackpot Sit & Go's
Jackpot sit & go tournaments with a random prize have been quite popular lately, and it seems every room has its variation of these nowadays.
You probably heard of Spin & Go's on PokerStars. You pay your buy-in to play against two other players for a random prize between 2x and 10,000x your buy-in.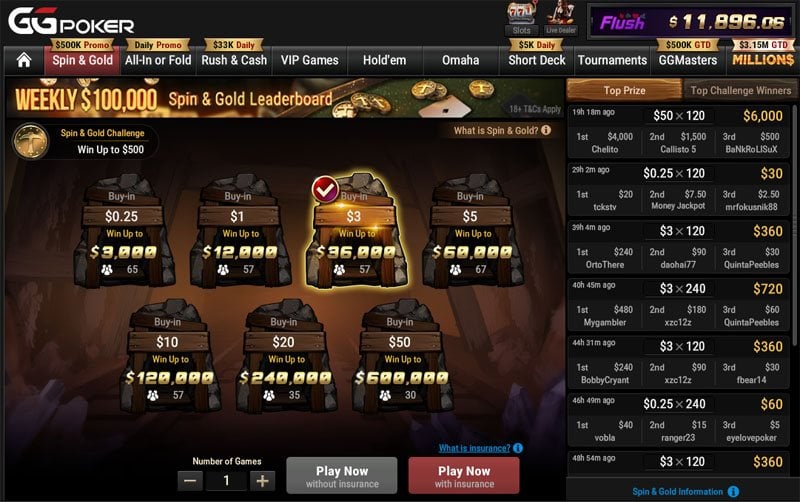 GGPoker has something like this as well. It's called Spin & Gold and works on a very similar principle.
The maximum jackpot you can hit is 12,000x the buy-in, so you're probably better off trying your luck here. If you're going to gambleon this, why not go for the bigger jackpot?
GG also offers an insurance option where you can pay extra to have your buy-in back if you hit a 2x multiplier.
This isn't a mathematically sound choice, of course, but if you're looking to lower your short-term variance while trying to get lucky, it might be worth checking out.
Player Traffic: PokerStars vs GGPoker (PS Wins But GG Looking Good)
PokerStars is still the number one site in terms of player numbers. No surprises there.
It's by far the most visited room that still attracts numerous pros as well as casual players looking for a relaxed game of poker. For many, PokerStars is the first name they think of if they're in a mood for a casual session.
However, GGPoker is in the top three rooms in terms of traffic.
It might not be PokerStars just yet, but its 7-day average at the time of writing this review is 3,300. For PokerStars, it's 10,000, but if we compare GG to some other rooms like 888 or PartyPoker, it is well ahead.
What this means is that at GGPoker, you'll have no problem finding games around the clock or across various stakes.
It's hard to say if GG will overtake Stars at some point, but I guarantee you'll definitely find a lot of action.
Player Quality: What Games Are Softer? – GG Wins
How tough is the competition?
As the biggest online poker room with the largest player pool, PokerStars attracts all sorts of players.
You'll find plenty of recreational opponents at the lower stakes, but as you move up, you'll notice games are getting tougher.
Even though the company has been making an effort to attract more casual players lately, there are still many solid grinders at the tables.
On the other hand, GGPoker has been targeting the Asian market from the get-go, attracting numerous players who just want to have fun. It won't take you a long time to notice that games at GGPoker are much looser and wilder across the stakes.
On average, the competition is much softer at GG when compared to Stars.
If it is the soft games you're looking for, especially if you're planning on playing any meaningful stakes, you should probably head over to GGPoker.
Welcome Bonus: PokerStars vs GGPoker
A welcome bonus can be an essential factor when choosing a room to play at, especially if you're looking to build your bankroll. The bit of extra money you get as you play can help a lot as it adds up over time.
PokerStars offers two different welcome bonuses.
One is 100% up to $600 on your first deposit, and the money is issued to your bonus balance. Every time you earn 180 Stars points, you will get $10 to your balance.
The second option is geared more towards casual players, offering $30 worth of free play for any deposit of $20 or more. The bonus is issued in the form of cash (two $5 increments) and various Spin & Go tickets (worth $0.50 and $1).
You're free to take your pick between the two, but you can only get one welcome bonus.
At GGPoker, the welcome bonus is quite similar to the first offer available at Stars.
You get a 100% boost up to $600 that's released to your account in $5 increments. However, the release rate is actually slightly worse at GGPoker as you'll need to pay $20 in rake for every $5 ($40 for $10), while the going rate at Stars is $36 for $10.

So, if you don't have an account with PokerStars and want to take advantage of the welcome bonus, you definitely should – it's quite solid.
However, keep in mind that you'll need to play with the funds to release your bonus, and games are significantly tougher on Stars on average, so the difference might not be as significant as it might seem at first.
VIP Program (Rakeback): PokerStars vs GGPoker – GG Wins
Those who used to play at PokerStars back in the day will know that this was the best room for serious grinders in terms of rakeback. But those days are far gone.
These days, PokerStars offers a loyalty system that is unified across all of its products (sportsbook, casino, poker).
Players get to unlock chests that contain surprise rewards that should be in line with their level of play and preferences. However, returns from chests are quite low and volatile as the system isn't nearly as "smart" as it should be to make poker players happy.
GGPoker has a more transparent rakeback system, although it's a lot more random.
Players earn points by playing in the games and paying rake. This helps them move through various statuses of Fish Buffet, starting from Plankton and all the way to the Shark.
Each status has seven different levels.
By unlocking a level, players get to spin the wheel to unlock their reward. Although the prize is random, GGPoker offers the list of expected rakeback value.
At the lowest level, you'll only be getting about 15% of your rake back. But, if you can accumulate enough points in a month to reach the Black Shark level, you can expect to receive a rakeback of around 50%.
So, the VIP program at GGPoker is very rewarding and gives players a reason to play more, which could not be said about Stars.
Ongoing Promotions: PokerStars vs GGPoker – GG Wins
When it comes to promotions, GGPoker seems to have the upper hand on PokerStars at this moment.
Stars do have quite a few promos going on but their value isn't that impressive. There are a few Spin & Go leaderboards that may be worth checking out and fighting for, but other than that, there isn't much that catches the attention.
On the other hand, GGPoker seems to have gone all out on promos. Things are happening all over the place, and they are really targeted at poker players.
One of the first things worth mentioning is its New Players' Honeymoon challenge.
Once you open the account with GGPoker and make your first deposit, you'll get to enjoy 30 days of special treatment.
Every day, there'll be new challenges awaiting and, if you can make it, you'll win valuable prizes. The maximum value of the Honeymoon promo is $300.

For the fans of Spin & Gold events, there is a weekly $100,000 leaderboard, which is fairly rewarding for those players who put in the volume and do well in these tournaments.
The leaderboard does favor higher stakes players, though, as points are calculated based on the buy-in and the finishing position in each tournament.
If you're playing at Rush & Cash tables, there is a daily $33,000 leaderboard, so you can get plenty of extra cash just for playing. Now, that's something every poker player likes to hear!
Playing at GGPoker simply feels much more rewarding.
To sum it up, if you like extra cash and need some additional reasons to put in the volume – head over to GGPoker. You'll have a much better time, and your bankroll will grow faster.
Deposits & Withdrawals
When it comes to PokerStars, there are really no issues in the banking department. The room has been operating for a very long time, and it has always honored its players as far as money is concerned.
You can expect your winnings to be paid out promptly and will almost never have to wait more than a few days.
As for the available options, Stars covers them all.
From credit and debit cards to e-wallets and various lesser-known methods, you shouldn't have problems moving money around. Of course, the availability of particular options will depend on what country you're playing from.
If there's one thing that might annoy you at PokerStars, it's the policy that doesn't allow cashouts for 48 hours after making a deposit.
So, if you deposit and win a tournament on the same evening, you'll have to wait a couple of days before you can request a withdrawal. This rule has been in place for a long time, though, and it's just something you'll have to live with.
GGPoker may not support as many methods as PokerStars, but you're still able to use all mainstream options, like MasterCard, Visa, Skrill, and NETELLER.
On top of these usual options, GGPoker also allows transactions in Bitcoin. So if you're into cryptocurrency, that's excellent news.
There have been no legitimate complaints from players about not receiving their money in a timely manner from GGPoker, so everything seems fine in this department as well.
Whichever room you choose to play at, deposits and withdrawals shouldn't represent a problem.
GGPoker is the better pick if you want to use Bitcoin, but other than that, both sites offer a solid range of options and are quick to pay players.
Customer Support
Both PokerStars and GGPoker do a decent job of assisting the players, but just like with attention to the players, PokerStars' support is not as good as it used to be.
You can expect Stars support to answer your emails quickly and give you the information you need, but sometimes, you might need to reach out to them on Twitter to push things along, which isn't great.
Contrary to this, GGPoker is still building its brand, and the team seems very dedicated to staying on good terms with the poker world. There is 24/7 support team at your disposal, and the room is even offering a live chat feature – something that Stars has never done.
On top of this, you can even get in touch with team members via Discord and Telegram.
PokerStars may have once been the best and most-dedicated operator around, but there's been a certain change in the way they treat the players.
You're probably going to receive more attention from GGPoker these days, and they're likelier to appreciate your business.
PokerStars or GGPoker: Which One Is Better For You?
It's tough to compare any room to PokerStars. It's the giant of the online poker world and smaller operators often fall short in certain areas.
But if there is a room that can overtake PokerStars, it is definitely GGPoker.
I think GGPoker is a better option for someone looking to play cash games. While both sites have great traffic, games at GGPoker are just so much softer.
Plus, there are so many good promotions to add some extra cash to your bankroll. And it all adds up.
When it comes to tournaments, PokerStars is probably a better option for lower stakes games and players looking to put in a significant volume every day.
However, GGPoker is just building its schedule, and you can find a lot of value in their games, so it is undoubtedly worth checking it out.
GGPoker has been making some serious moves lately, and it seems to just be warming up…
If it continues at current speed, it could go the distance. If that happens, it would probably be advantageous to know how things work and be ready to reap the rewards that are bound to come with heaps of new players joining the party.
Both PokerStars and GGPoker are safe and trustworthy; Casino.org suggests you only ever play at a recommended online poker site.
More poker site comparisons by Casino.org include PokerStars vs 888poker and PokerStars vs Party Poker.