Top 10 Spas In Las Vegas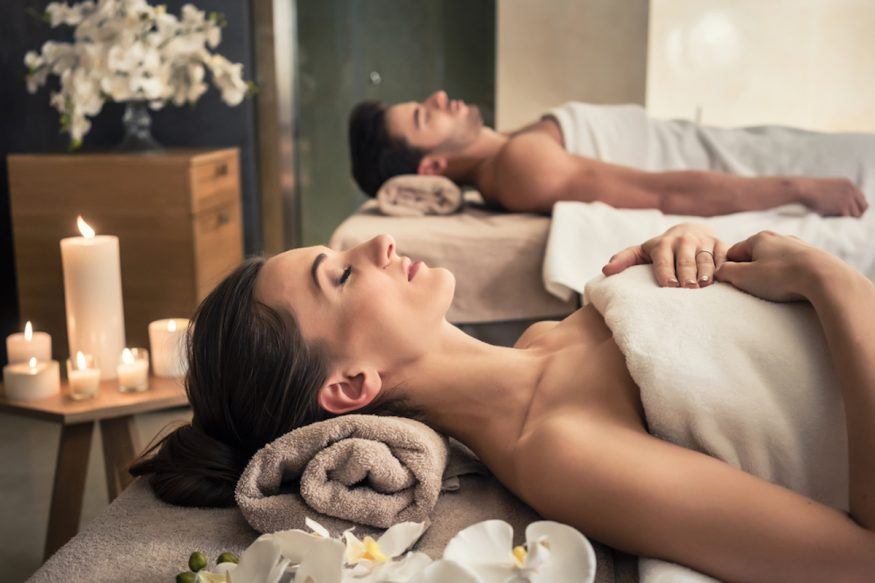 Bright lights, blackjack and luxury hotels: Las Vegas — it's arguably the greatest gambling city in the world.
And while no trip to Sin City would be complete without a circuit of the Strip and a roll of the dice at some of the world's most famous casinos, there's much more to LV than just poker tables and pool parties.
Whether you're a high-roller who wants to splurge their winnings on a wellness experience, need to cure your hangover and rejuvenate after a night (or two) of too much fun, or simply want to pair your casino-hopping with some hard-earned rest and relaxation, there's a spa for you in Sin City.
Sometimes you just need a change of pace, so put your feet up and peruse our list of the top spas in Vegas.
Just remember to call ahead and make sure they're open before you travel. There may temporary closures, or an altered spa experience – pool closures, fewer treatments, mask requirements etc. – due to the pandemic.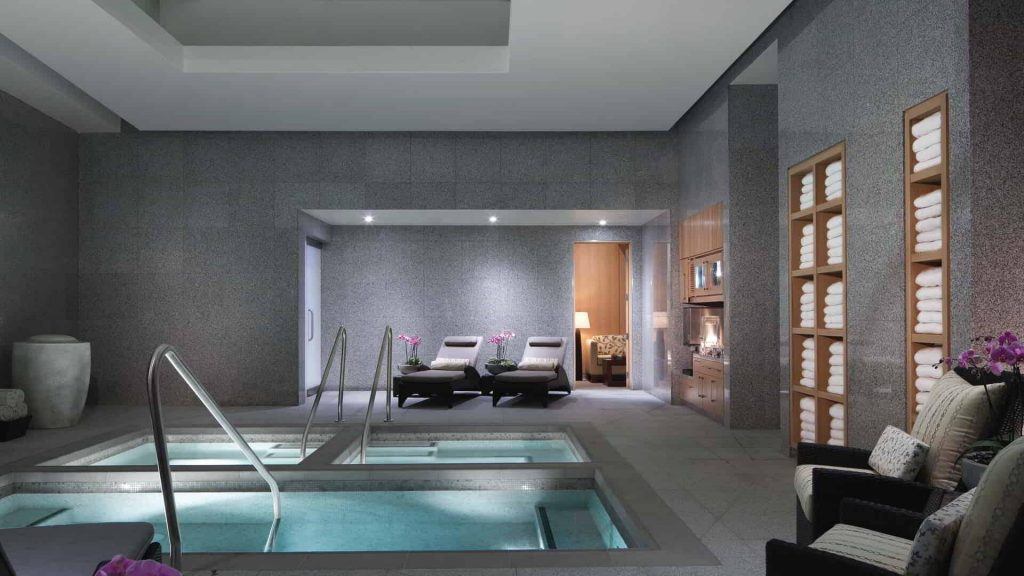 For a five-star spa experience, head to The Spa & Salon at Aria.
What makes this chic facility standout is its private suites. For the full VIP effect, or just a little extra privacy between treatments, reserve an exclusive room for up to four people, where you'll indulge with a lounge area and hot tub.
A day pass may prove the best value at $50 between Monday to Thursday, with a weekend premium of $100.
This is effectively access to all areas, including entrance to the fitness center, 'wet areas', Shio Salt Room and the Ganbanyoku (Japanese heated stone beds for the uninitiated). You'll also gain entry to the therapy pool — an infinity pool with a co-ed balcony and chaise lounges.
Treatments include a changing 'specials' menu that features seasonal options, massages, foot scrubs and hair masks, as well as manicures/pedicures with a complimentary cocktail or glass of bubbles.
Just be aware that there's a 20 percent service charge on all treatments.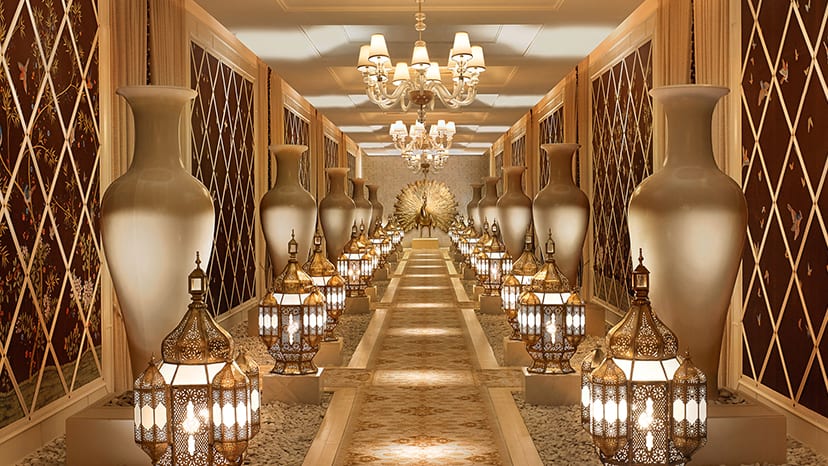 The Spa at Encore delivers style in spades with its grand decor and 61,000 sq ft of pure relaxation space — where you'll find a sauna, steam room, whirlpool, plunge pools and a couples' suite.
Facility access to the spa and fitness center will set you back roughly $40 – $75, with a 50-minute custom massage priced at $180 on weekdays.
Awarded five stars by the Forbes Travel Guide, it boasts a truly extensive menu featuring tempting options such as a Moroccan Mud Wrap, Citrus Soufflé Body and Facial Treatment and a Chinese-inspired 'Good Luck Ritual'.
If you prefer a bundle, opt for a Spa Journey — curated packages that allow you to sample two or more treatments, starting from $305.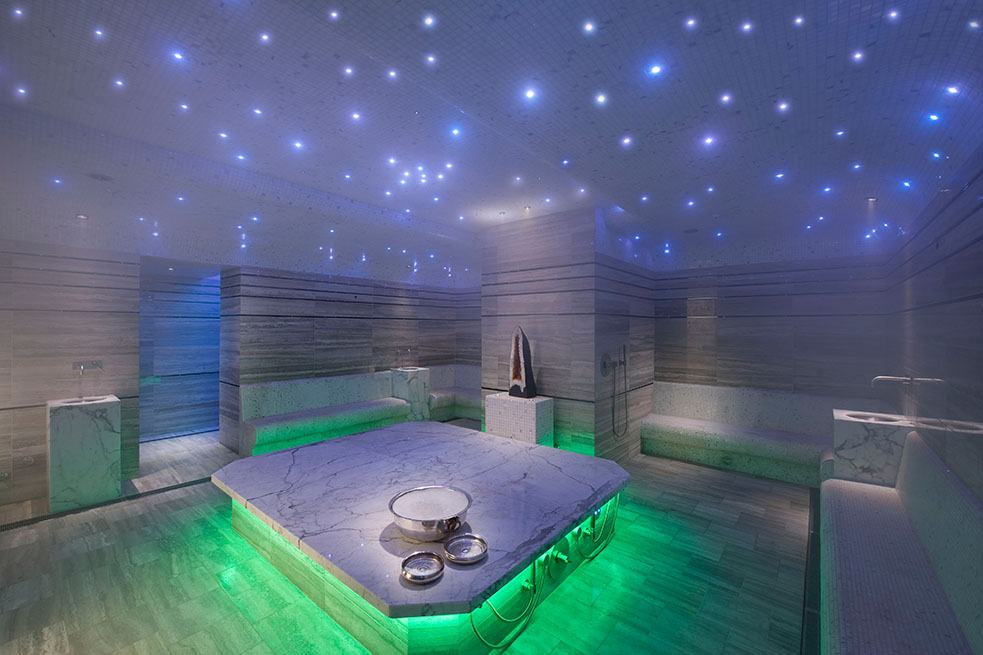 Was a spa at the Waldorf ever going to be anything but decadent?
Named 'Nevada's Best Hotel Spa' by the World Spa Awards in 2019, it has everything you'll need to rest mind, body and soul.
Stretching across 27,000 sq ft, it provides 16 treatment rooms, a beauty salon and 45-minute Turkish-style Hammam sessions for a cool $135.
Hit that hangover hard with everything from tailored multi-hour treatment packages, through to couples' massages and individual body scrubs, wraps and facials. You can even get your hair cut.
But if you'd rather relax your own way, you can snap up a Tranquility Day Pass for an unlimited 'immersive journey' through the facility's shared spaces such as the laconium, herbal steam room, pools, ice fountains, lounges and showers.
For those that aren't celebrating a big win, and who want to be a little more wallet-friendly, there are plenty of options for you, too.
Perfect for massage purists and no-frills seekers, the highly-rated Saffron Day Spa has an array of packages up for grabs — including a 'Spa Sampler' which allows you to select four treatments from an extensive list, all for $125.
For even greater value, time your trip to coincide with Happy Hour Spa Days on Tuesdays and Wednesdays, when you can choose any three treatments from a menu of eight options, for just £60.
A combination of massages, foot treatments, hand rescue, facials and waxing could be just the ticket if you enjoyed yourself a little too much at a real happy hour the day before.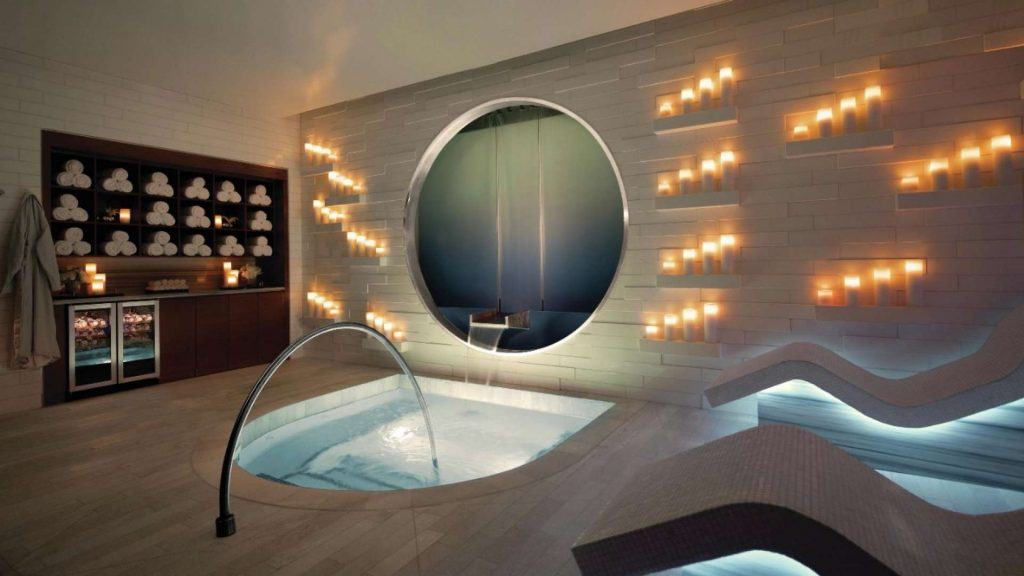 Another proud recipient of Forbes Travel's five-star rating, ESPA at Vdara offers day passes for $40 during the week and $80 between Friday and Sunday — just take note that the two-tier facility also adds a 20 percent service charge to each treatment.
At 16,000 sq ft, this spa is a little more intimate and specializes in multi-functional treatment rooms and a menu featuring massages, facials and customizable options, to ensure your experience is bespoke.
You may prefer to visit before you head out for a night on the casino floor, instead of afterwards, thanks to the brow bar, waxes, tints and nail services.
Oh and there's also the opportunity to treat yourself to a little retail therapy, too.
Another luxe, five-star option, The Spa at Wynn has had a makeover and is now a feast for the eyes as well as a tranquil retreat from the hustle and bustle.
Handily located within Wynn Las Vegas, you can head straight here following a day or night at the roulette wheel.
Designed to evoke the 'serenity of nightfall', the gorgeous decor features dark purples, blues, candles, cozy fires, koi carp and Japanese cherry blossom.
You'll enjoy use of a sauna, plunge pools and a sunlit atrium — but it's the treatments that truly catch the eye, including a 'Four Hands Massage' that utilizes two synchronized therapists, as well as a 'Bamboo Foot Ritual' and 'Gentlemen's Facial'.
There is an entrance fee, but you won't require one of these if you've already reserved a treatment.
If you need to rest your weary feet after an all-nighter, the 'Happy Feet Remedy' at Flamingo may be just the tonic.
You can also take your pick of spa packages, signature services and a host of special treatments, such as reiki.
On average, you'll shell out $130 for a 50-minute deep tissue massage between Monday to Thursday. While massage enhancements, including body butters and scalp treatments are $10-20 a pop, if you want to up the luxury factor.
It's worth keeping an eye out for seasonal deals and specials — we're looking at you, crisp apple facial and frosted berry massage.
But a day pass to simply use the spa facilities, encompassing a fitness center, lounges, dry sauna, steam room and whirlpools, is $25 for hotel guests, or $35 per person for other visitors.
Alternatively, guests can book a service priced at a minimum of $50 to gain free entrance to the rest of the relaxation areas.
And yes, you may come across flamingo-themed decor.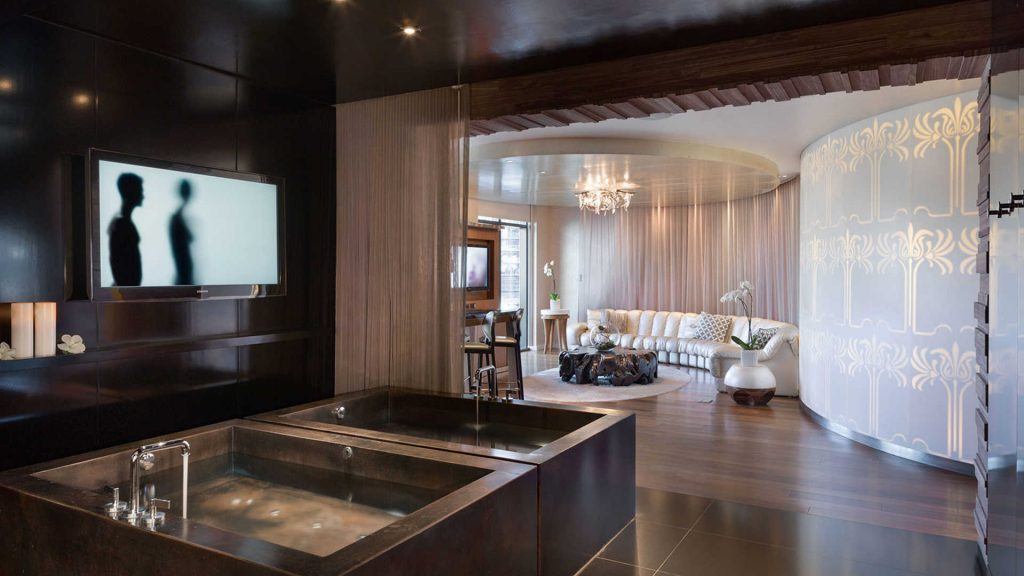 Billing itself as an 'oasis' that's inspired by the desert, Sahra is a Las Vegas wellness retreat that focuses on the peaceful and natural side of Nevada.
Walls represent canyons, silver ceilings recall moonlit nights and long hallways lead guests to dramatic features including a monsoon cave, serenity lounge, steam room and a Hammam room with a heated slab.
The Sahra Select package will see you splash out $340 to $520, depending on the day of your visit and how many treatments you choose, with options including two types of massages, 50-minute facials, a manicure and pedicure, or hair and makeup.
If that's not for you, you can wash away the excesses of your vacation with a cleansing soak, bathing ritual or Hammam experience, instead.
As with many of the spas on this list, you'll enjoy free access with a treatment purchase, in this case worth $100 or more.
For a day pass alone, hotel guests can expect to pay $50 during the week and $75 at the weekend, while non-guests may purchase a day pass for $95, but only for Monday to Thursday.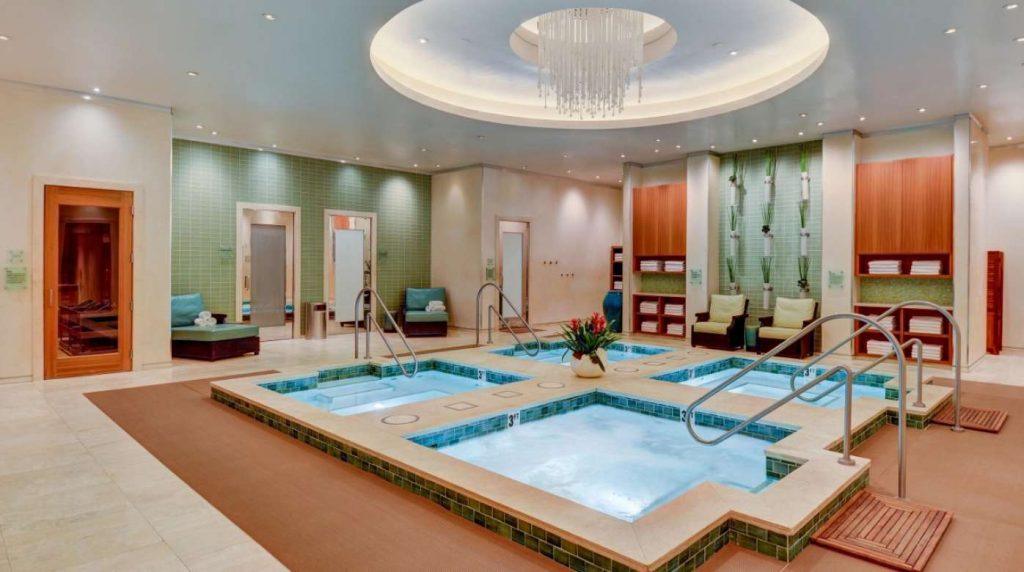 If you're staying at the Bellagio, you'll already know all about the world-class on-site spa and salon.
Inspired by the seasons and offering a specialist barber and makeup artist, it has something for everyone.
Indeed, the spa has a truly international feel thanks to wellness treatments that will whisk you around the world — with rituals from India, Japan, China and more.
Hotel guests need pay only $50 for access to the facility's steam room, sauna, plunge pool and whirlpool, with tea and coffee also on hand to keep you refreshed.
For those who aren't hanging their hat at the hotel, you'll be able to enjoy pass benefits from Monday to Thursday, at a $100 per person price.
If you're after a little more exclusivity, there's even the option to reserve your own suite for a private party of between 25 and 30 guests. But if not, you'll make use of separate men's and women's spas and a co-ed lounge.
The place to go if you've tied yourself up in knots with all-day and all-night parties, and been sat at one-too-many slot machines.
Services at this well-reviewed spa include deep tissue, Swedish, sports, couples' and hot lava stone massages.
Located just 10 minutes away from the Strip, Boracay is well situated for when you need to find a sanctuary.
Pampering packages feature various combinations of a Swedish massage, a scrub and either Shiatsu, aromatherapy or hot stone therapy.
Starting at $149 for 90 minutes, they provide value in Vegas and, if you happen to be travelling as a twosome you can capitalize on a wide selection of special couples' deals, too.