Top 10 Casino Restaurants In The World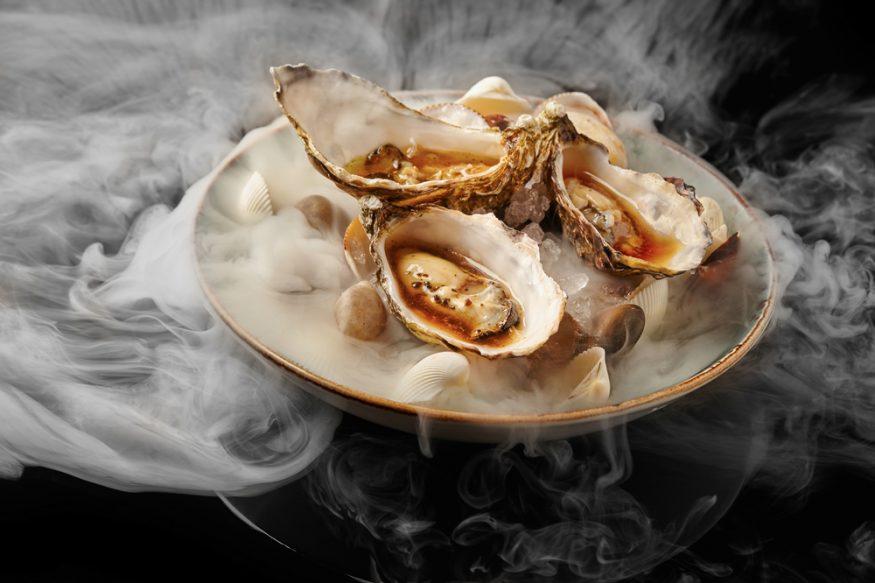 Casinos and top-class restaurants go hand-in-hand. The reasoning is simple — when you're having a great night, or day out, you want good food too.
The world's top casinos, usually home to luxury hotels, keep their customers in the building by housing some of the globe's finest eateries too. There's no need to go anywhere else.
But it's not all about buffets, bar food and big chains. Some casino restaurants are attractions in their own right, offering hungry high-rollers imaginative menus dreamt up by world class chefs, immersive dining, glamorous dress codes and creative cocktails.
Here — while dreaming of our next trip in safer times — we've collated a handy list of our picks for the top 10 casino restaurants in the world. So pop open the bubbly, sit back and decide where you'd like to dine…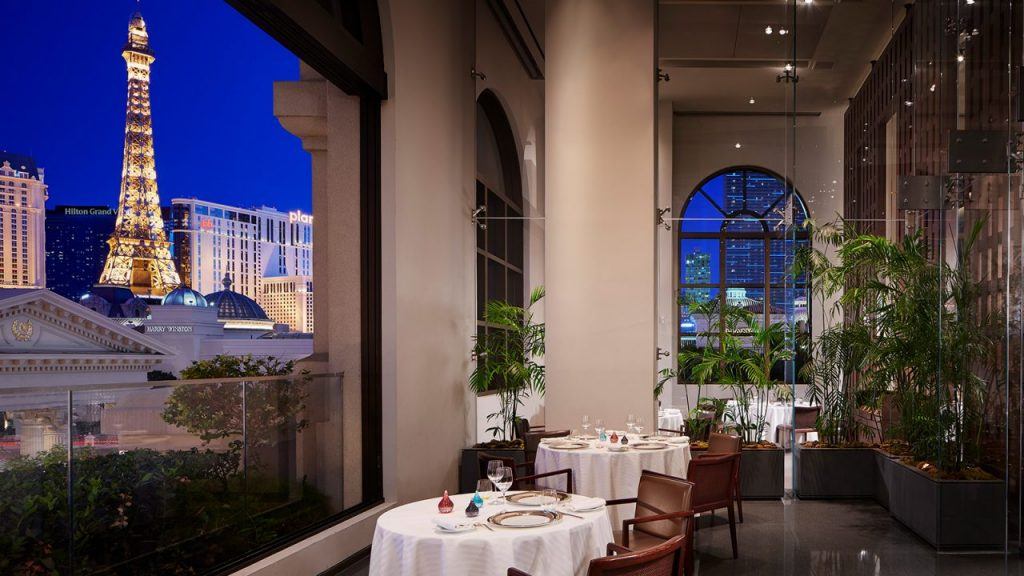 Regularly billed as one of the best restaurants in Vegas, this French fine dining restaurant is hailed by public reviewers and critics alike.
That's no surprise, as Head Chef and owner Guy Savoy has conceived a group of Michelin star-winning restaurants.
Of course, an elegant European eatery at a popular casino such as Caesars Palace was bound to be a big hit.
And at this classy mainstay on the casino food scene, you'll find all the glamorous features you'd expect on the à la carte menu, including oysters, caviar, soup with black truffle and lobster.
Reviewers on Tripadvisor rate the dedicated bread, dessert and Champagne carts, as well as the 13-course tasting menu and overall dining experience.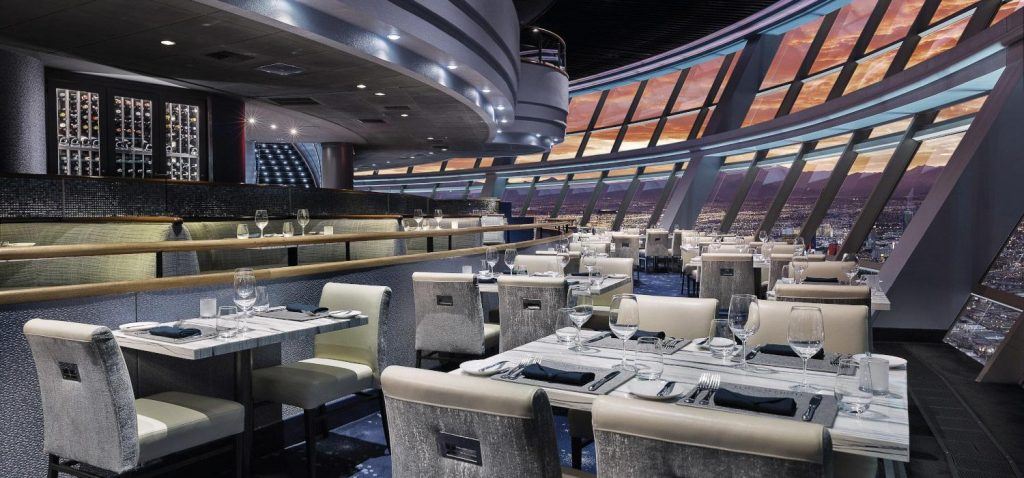 It's tough to go fine dining in Vegas and not try this one.
A fixture as much for the experience as the food, the Top of the World Restaurant at The Strat Hotel & Casino sits over 840 ft above Vegas's valley floor, allowing for sweeping views of the city.
And what's more, this famous dine out destination revolves 360 degrees every 80 minutes, making it a must-see in its own right.
The restaurant has scooped awards for its dining and its excellent wine. Diners can select from a range of seafood including shrimp, oyster, lobster and crab, plus steaks and pasta.
Reviewers on Tripadvisor praise the observation deck, the revolving aspect and the chance to watch bungee jumpers as you eat…
Robuchon au Dôme, Grand Lisboa, Macau, China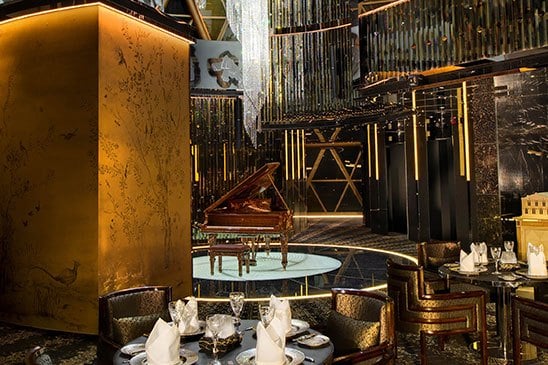 This is special.
Regularly named among the best restaurants in the world, full stop, and arguably offering the top gastronomic experience in Asia, the Robuchon au Dôme sits in the dome feature atop the extravagant and iconic architecture of the Grand Lisboa hotel and casino skyscraper.
Aside from the spectacular aesthetic, including a cascading crystal chandelier, the French restaurant has a wine list reaching into the tens of thousands and has received Michelin stars.
Although top French chef Joël Robuchon has passed on now, his legacy is about as renowned as it gets.
Tripadvisor reviewers talk about the Napoleon cake, dessert cart and French cheeses. Yum.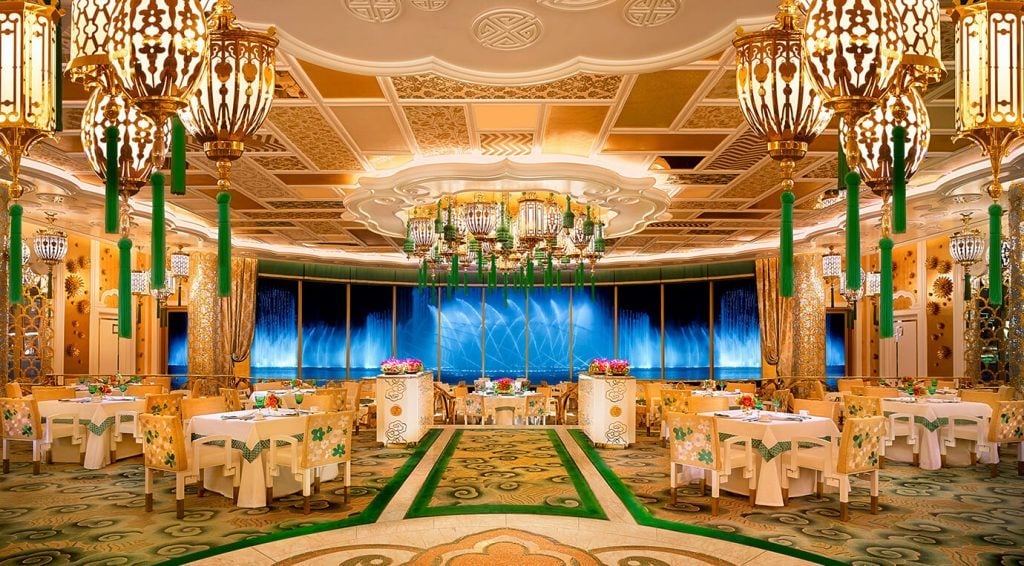 We couldn't leave Macau without giving a nod to a top restaurant showcasing Cantonese food. But Wing Lei Palace deserves its place, having been given the stamp of excellence by many of the world's top guides.
This Chinese fine dining spot hits all the senses as diners drift through a garden filled with thousands of flowers to reach the rather royal gold, white and green-decorated restaurant with views of Wynn Palace's famous 'Performance Lake'.
Customers can book private rooms with en-suite bathrooms and lakeside terraces.
But back to the food, you'll feast on dim sum, bean curd, Peking duck and roasted goose with plum sauce.
Tripadvisor reviewers placed the dim sum as a highlight, along with watching the fountains.
Bobby Flay Steak, The Borgata Hotel, Atlantic City, US
We couldn't complete a restaurant casino top 10 list without heading to Atlantic City, too.
Bobby Flay Steak hits the spot here, with its 'modern twist on the traditional steakhouse'.
Offering classy comfort food right on the Empire Boardwalk, its signature is the 'Philadelphia-style strip steak' but you can also chow down on fare like tuna, burrata and dishes from the 'lobster bar', such as lobster-crab cake.
However, for reviewers on Tripadvisor it's the lamb that's the star of the show. Wash it all down with something from the wine menu or cocktail selection.
Buddha-Bar, Place du Casino, Monte-Carlo, Monaco

Billing itself as a 'lounge-like' restaurant, Buddha-Bar is heavily influenced by Japanese and Thai cultures, design and, of course, food.
Striking features in the converted concert hall include a seven-meter-high ceiling, a huge Buddha statue and open-air terraces.
But the biggest draw is thankfully the food, with the sushi, sashimi and a range of pan-Asian dishes earning rave reviews.
Tripadvisor comments note it for its Champagne, sushi, atmosphere and live DJ.
Le Train Bleu, Casino de Monte-Carlo, Monaco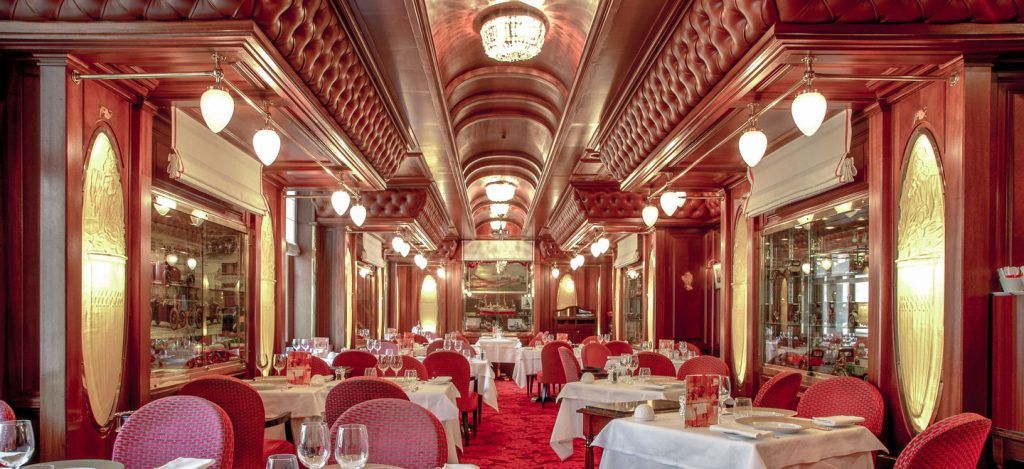 This eatery is so chic it's set in a reproduction of a train restaurant car.
Lauded for a long time by those in the 'casi-know', Le Train Bleu or 'The Blue Train' is actually a fine Italian restaurant…but still with plenty of French (or Monégasque) flair.
Designed with Belle Époque decor, this is a sophisticated spot you'll need to dress up for. Then simply select from an indulgent à la carte menu that's translated into Italian, French and English.
You'll have plenty of seafood, tortellini and saffron risotto to sample, as well as a cheese platter and puddings including a 'dolce del momento' or 'sweet of the moment'.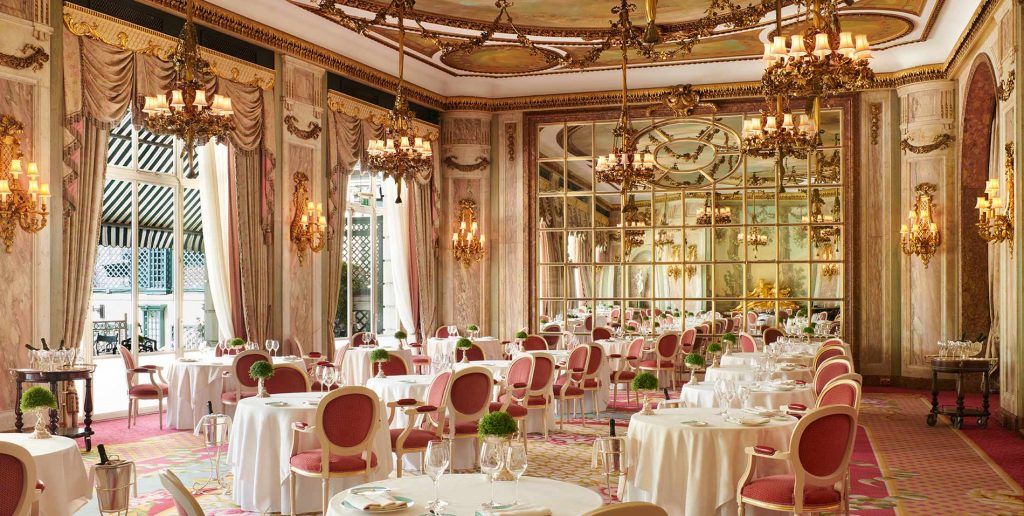 Gentlemen, you must remember to wear a jacket and tie here. Because it's The Ritz and it's London.
The Grade II listed five-star hotel will transport you back to a bygone era and the Michelin-starred restaurant will tempt your tastebuds before you head into the basement Ritz Club casino.
Against a backdrop of chandeliers, marble columns and park views, you'll dine on fancy foods like lobster, crab, local fish or duck liver with damson and pistachio, dig into classic desserts and have access to gourmet vegan and vegetarian food.
If you choose the right night you may even be treated to a live pianist too.
For something just as lovely but a little bit more low-key in London, The Hippodrome Casino is home to what it modestly calls the English capital's 'best steak house'.
We'll leave that up to you decide, but what we can tell you is that the 100-seat restaurant overlooks a casino gaming floor so you can keep an eye on the action. It's also home to a late-night bar.
As well as USDA prime steaks, which you can have topped with lobster tail, there's seriously posh mac 'n' cheese, sea bass, goat cheese 'lollipops' with lemon curd, grilled octopus, vegan sliders, and even almond millefeuille among the desserts.
Waku Ghin, Marina Bay Sands, Singapore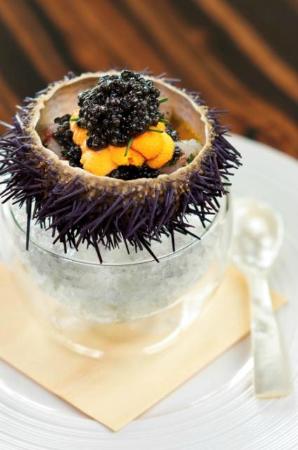 In a city that loves its gourmet street food, you know a casino restaurant must be good if it's as famous as Waku Ghin.
The two Michelin-starred spot serves Euro-Japanese fusion food crafted from fresh and seasonal ingredients.
Top chef Tetsuya Wakuda is famous for his combination of French and East Asian cooking styles and influences that result in mesmerizing plate presentation.
Made for those that love elegant small plates and minimalist style, previous exciting menus have featured sea urchin, Okinawa spinach and yuzu granita.