The 10 Most Instagrammable Spots in Las Vegas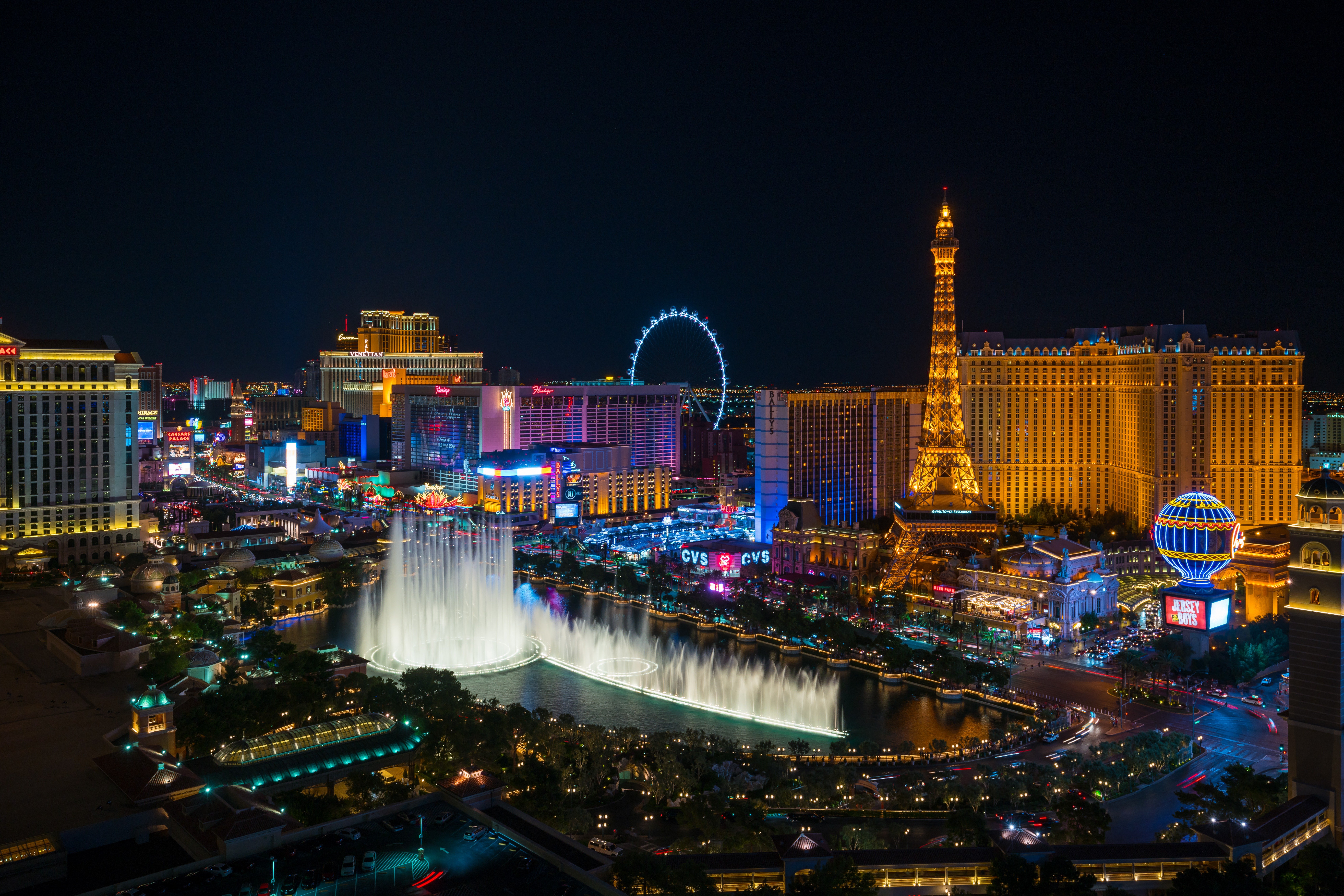 With social media ruling our lives it makes you think twice about where to book your vacation. After all, if there's nothing worthy of the 'gram, then, like, why even bother, right? It's almost like you didn't even go.
That old catchphrase, 'what happens in Vegas, stays in Vegas', died along with that awful sound of the Internet dial-up tone.
With the modern world demanding more and more of an online presence you need to make sure your presence looks good (even if you don't always feel it). So check out our official list of the 10 best Instagram spots in Las Vegas:
1. The Welcome to Las Vegas Sign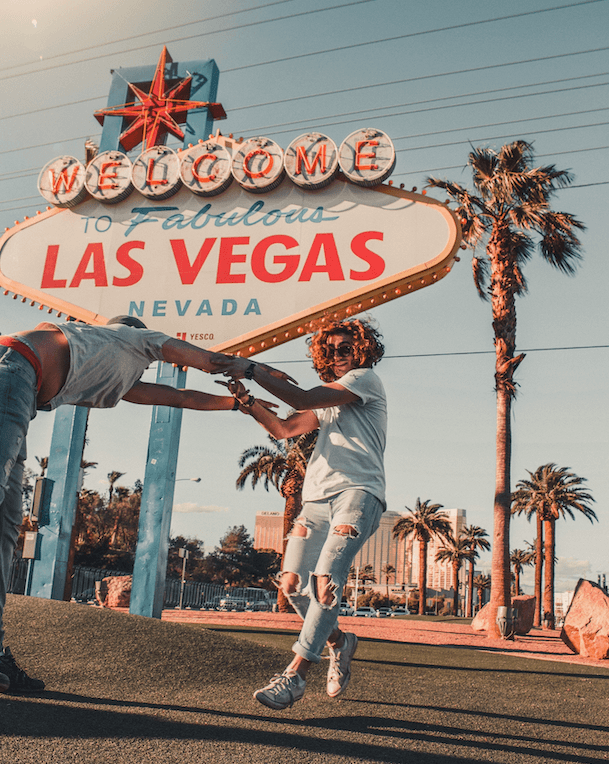 Most iconic so, of course, this is right at the top. If you only have a chance to stop off at Las Vegas for one photo, this is where you need to go. And with a parking lot, it's easy to pull up in your car.
Tip: Get there early to avoid the crowds and bag that sweet snap without the bald dude's head glistening in the background.
Location: 5100 Las Vegas Boulevard South
2. Seven Magic Mountains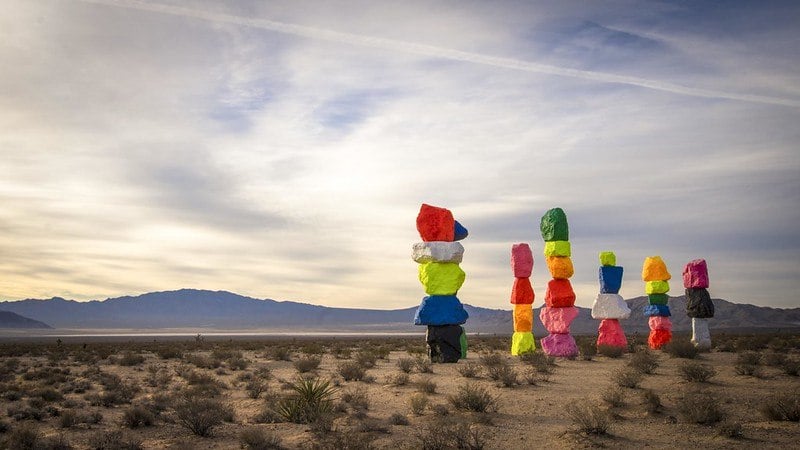 Beautiful, quirky, and cultural? Yes please.
This giant art installation by Swiss artist, Ugo Rondinone, plays with the contrast between nature and the artificial. It's been extended to stay there 'til the end of 2021 so get yourself over there before it's gone!
Tip: This is a real crowd puller so either arrive first thing before the tour buses or come midweek.
Location: 10 miles south of Las Vegas Boulevard and St. Rose Parkway intersection.
3. Venetian Canal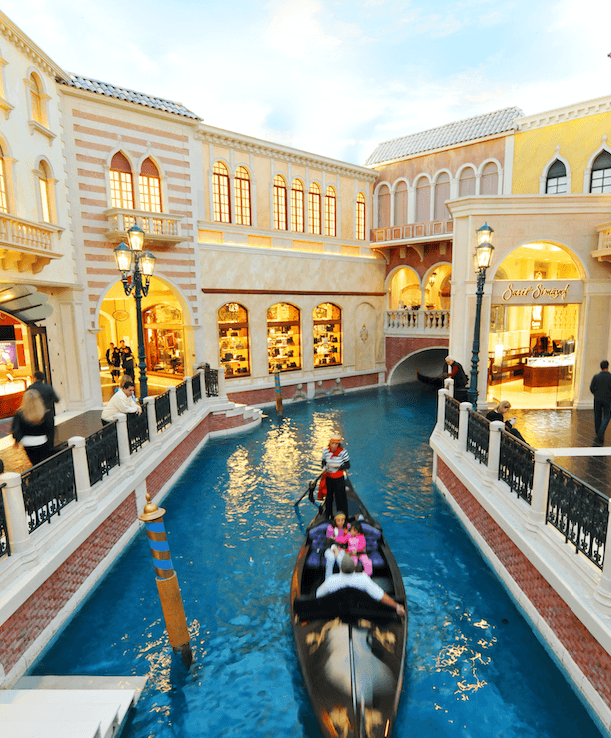 Nothing says European glamor like a Venetian canal and that's why this spot's hot on our list. You may not be in Europe but it sure looks like it…two 'trips' in one as far as your followers are concerned.
Tip: Take a ride on the canal for the ultimate experience.
Location: Inside the Venetian hotel-casino mall at the intersection of the Vegas Strip and Spring Mountain Road.
4. Paris Las Vegas Eiffel Tower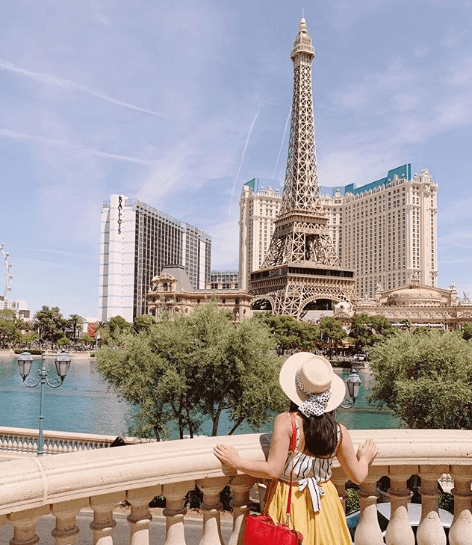 It may be a smaller version of the French original, but some clever angling will soon change all of that. If you get both this and the Venetian canal people will think you're on a tour of Europe!
Tip: At night it's all lit up and looks gorgeous, or keep it quaint and French and stand across the water in the sun.
Location: 3655 South Las Vegas Boulevard
5. Little White Chapel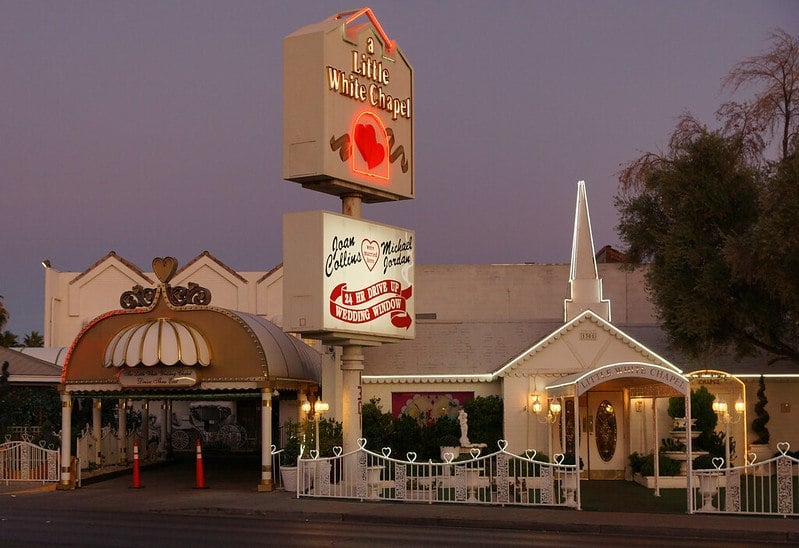 Getting hitched in Las Vegas is all par for the course when you head to the desert gambling destination. Even if you don't say 'I do' you'll want to get papp'd there, believe me.
If you are getting married on a whim, be sure to visit a shop that offers last-minute wedding dresses in Vegas.
Tip: Use a wide-angle lens to capture all the glory.
Location: 1301 South Las Vegas Boulevard
6. The Neon Museum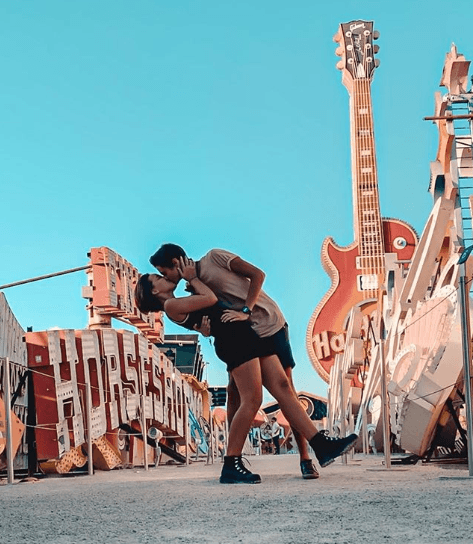 This outdoor museum of Las Vegas's old neon museums is a sight to behold. Great for culture vultures as you dive into the history of Las Vegas, and of course, perfect for boosting followers.
Tip: Take a guided tour to learn all you can, or if you want to snap in your own time get a normal ticket.
Location: 770 North Las Vegas Boulevard
7. The High Roller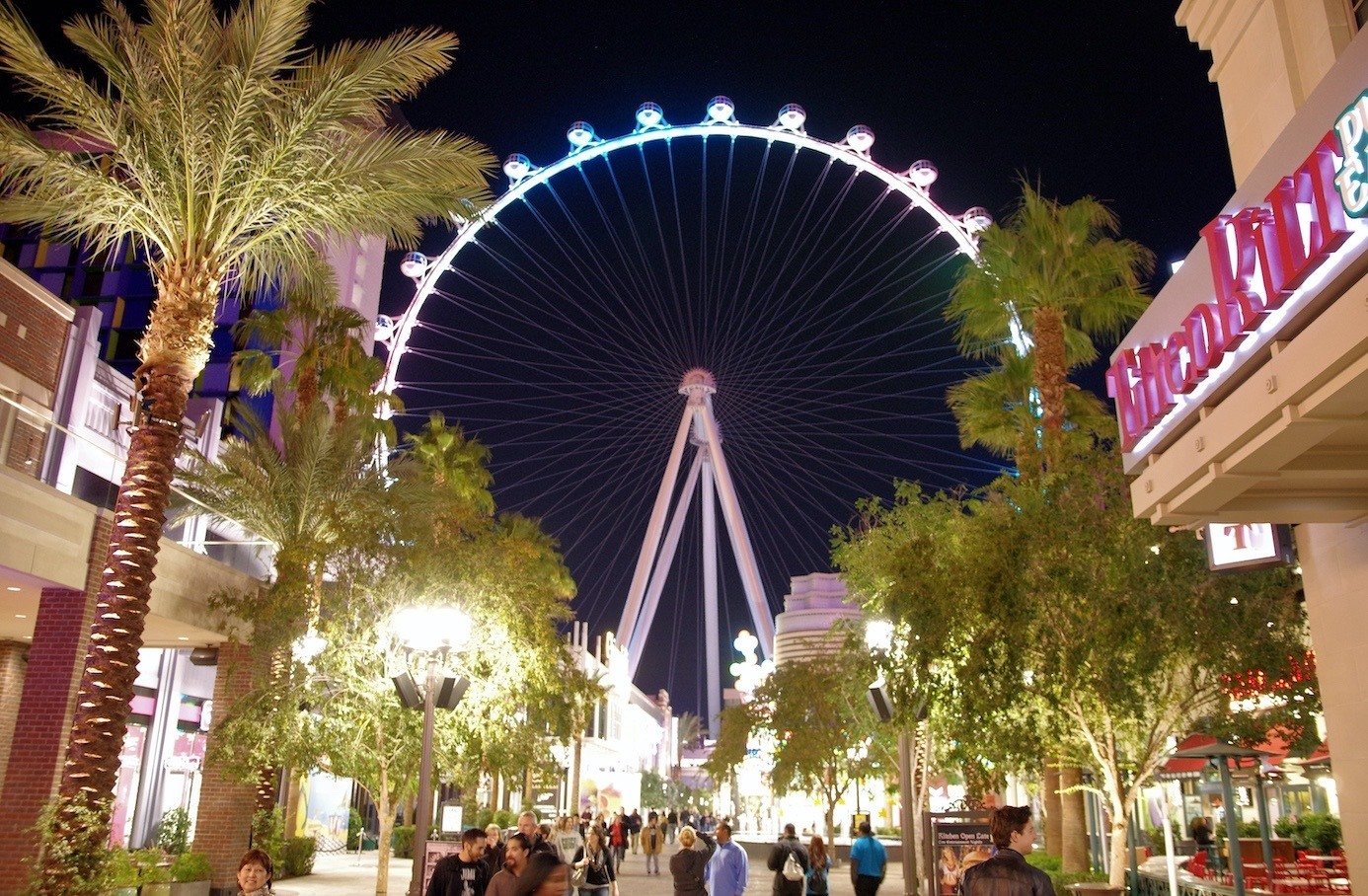 This is the world's largest ferris wheel which is exciting enough itself, but then when you consider the Las Vegas skyline you'll get a view of, it's extra awesome.
Either capture the beauty of the High Roller itself or take advantage of the great heights you'll reach whilst riding it.
Tip: Hop on just before sunset and you'll capture the famous strip in golden light.
Location: 3545 South Las Vegas Boulevard
8. The Influence Pool at The LINQ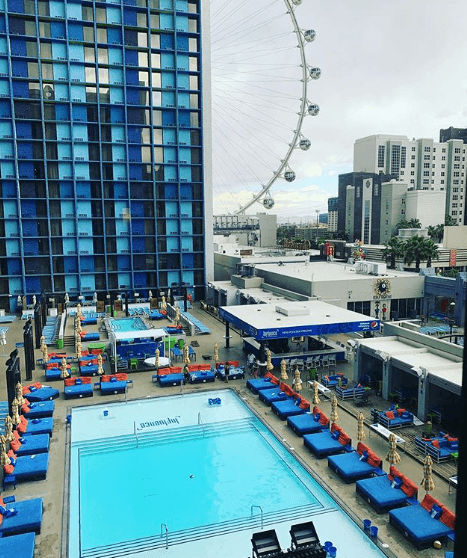 It's almost like this spot was designed with photo ops in mind it's so perfect! A hotspot for parties so you can let your hair down in the sun and make everyone back home jealous of your adventures.
Tip: Go before the parties start so you can get the High Roller in the background without anyone else standing around.
Location: 3535 South Las Vegas Boulevard
9. The High Hat Motel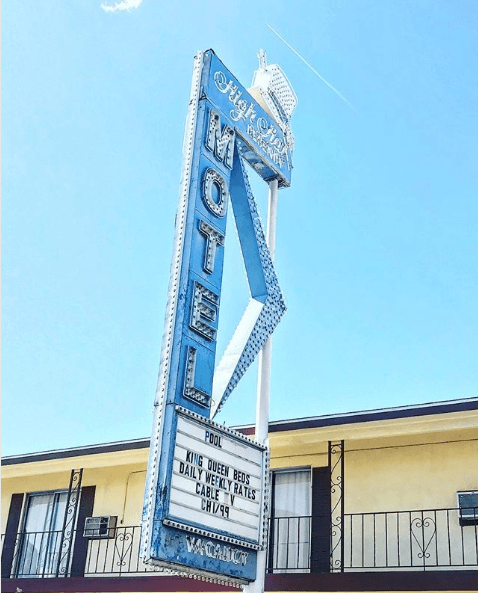 Whilst it might not be the flashiest place to stay, you'll want to get this groovy and old-school looking sign decorating your social media.
Tip: Go in daylight to capture the colour contrast of the sign with the building.
Location: 1300 South Las Vegas Boulevard
10. Downtown Las Vegas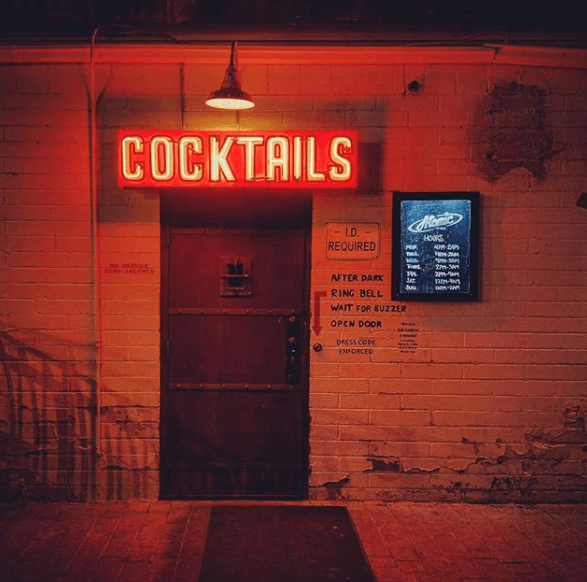 If you're looking for that rough and ready charm of vintage Las Vegas then head downtown. It looks like the movies and the casinos are less fancy so there's charm around every corner.
Tip: If you go at night all the neon lights will show up!
So there you have it, all the best spots in Las Vegas to get those Instagram money shots. You can thank us later when your followers increase. 'Til then, happy snapping!