The Ultimate Guide To Getting Married In Las Vegas
Getting married is one of the most memorable moments in an individual's life, so it makes sense that people want to go big and get hitched in Las Vegas. However, tying the knot is a logistical nightmare at the best of times so throw in the element of Sin City and things get even more complex. So here is our helping hand to guide you along the way.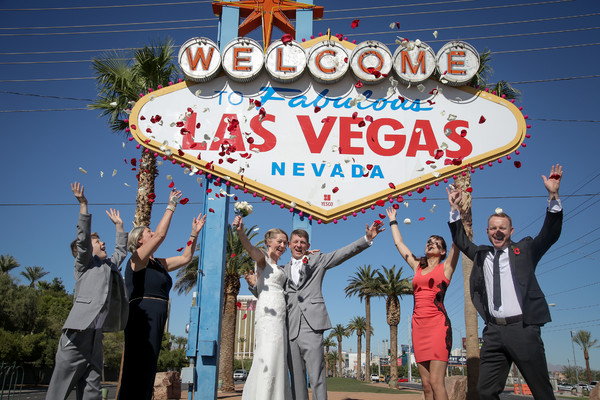 What Licences and Paperwork are Needed?
We start by covering the most important aspects of arranging a wedding in Las Vegas and that is the licences and documentation required. Firstly, anyone wishing to get married in Vegas should look to acquire a marriage licence from Clark County. This costs approximately $60 and is a vital piece of paperwork. Without this, you will not be able to even think about getting married close to the Strip.
It is possible to fill in the application online so if you are travelling from across the US or even further afield, then you do not have to worry about making a personal visit to the Clark County offices to sign the forms. You can then simply pick them up from the courthouse at any time within the specified opening hours at the local courthouse.
Our Tip: Pick up the marriage licence as soon as you arrive in Las Vegas. Do not wait until the day of the wedding or even the day before to pick it up. You just know something will go wrong if you do!
Venue Costs
The costs of a venue depends entirely on what sort of package and what sort of venue you wish to experience. Some of the big name casinos on the Strip can cost an arm and a leg even at their most basic, but then if you throw in the additional perks then it might even cost more. The benefit of getting married on the Strip is that a lot of casinos offer huge complimentary deals for couples becoming husband and wife there.
If you are opting for a cheaper venue then you will still need to consider what you want from the ceremony. Different venues offer different packages, but at the most basic you need about $75 to cover the venue and master of ceremony. Photos, DVDs, and mementos of the day will cost extra so try to budget for those but, again, this will be a personal preference.
Our Tip: A large number of venues offer an additional fee for providing a live streaming service over the internet for family and friends to watch the ceremony online so this is worth considering.
How Much Notice Is Needed?
As you may have come to understand from TV shows and movies, it is possible to literally just turn up and get married at a venue in Las Vegas. The only requirement is that you have a marriage licence from Clark County. Yes, this does mean there is an element of risk of drunken individuals turning up and thinking getting married at the Little White Chapel is a fantastic idea, but it does also generally reduce any hassle for tourists visiting Vegas with the dream of getting hitched in the city.
Our Tip: Don't do a Britney Spears and get married under the influence! Nobody wants an annulment just 24 hours later! If you're doing it, make sure you want it!
Most Expensive and Cheapest Venues
The Strip is the location of the majority of the most expensive venues. As mentioned above, the cost is very much a personal choice. You might opt for a more expensive venue but choose their most basic package and make some savings. Also, with casinos such as the Bellagio or Wynn Las Vegas you will receive a number of complimentary offers as part of the wedding packages. That said, you are still looking in excess of $3,000 per person for the most basic package at those casinos.
In contrast, the Wedding Chapel has packages starting from just $75. It might frighten some people that it is so cheap but this is simply because of its efficiency. They can get through more weddings than casinos on the Strip and they are wedding-specific venues, so there are fewer logistical issues.
Can People From UK/ Australia/ Canada Legally Marry There?
Citizens from the UK, Australia, and Canada will be able to legally marry in Las Vegas. In addition to this, their marriage on foreign soil will be recognized within their native country provided that it complies with the laws of marriage of those respective countries.
Our Tip: Why not celebrate getting married twice? A lot of couples choose to get married in Vegas and then have a wedding party when they return to their country of residence. This ensures that nobody misses out on the celebrations.
Do Ceremonies and Vows Have To Be Religious?
In this modern day, religion still plays an important part in society, but it's less commonly used in landmark ceremonies such as births and weddings. Las Vegas understands this and does not require ceremonies and vows to be religious. The individuals getting married can, provided the venue is not a religious building, customize the wedding to their own desire. So if you want to salsa down the aisle to some Carlos Santana then do it! If you want to wear clown suits on the day then go for it! In a city that has received criticism for its lack of morality over the years, it is quite poetic that it's a place that gives people the freedom to get married in any way they wish.
Is Additional Insurance Needed?
It is always advisable to take out health insurance when travelling abroad but if you are getting married in a foreign country, then it is also advised that you take out extra insurance to cover rings, wedding dress, groom's suit, and any other items included in the wedding ceremony that will hold sentimental or monetary value.
Can I Hire Wedding Dresses and Outfits In Las Vegas?
Yes, you do not need to worry about taking your own dress or outfits out to Las Vegas when you travel. There are a suitable number of hire shops that give tourists the chance to hire a dress and groom's suit on a short-term basis.
Does Las Vegas Permit Same-Sex Marriages?
Yes – same-sex marriage was legalised in Nevada in 2014.