Arsene v. Fergie – The End of an Era
The Greatest of Rivals

The year 2018 witnessed the end of an era when Arsene Wenger officially stepped down from his role with Arsenal after 22 years with the club. The Frenchman will be remembered as one of the greatest managers to grace the Premier League.
It will also be his rivalry with fellow managerial great and former Manchester United boss Sir Alex Ferguson that produced some classic moments. The duo clashed on many occasions in some of the greatest English top-flight title races of all-time.
So, when the two Premier League icons are put head-to-head, who statistically comes out on top? We have done our research to gather together some resources to find out which manager leads the way. Here are our findings…
A Clash of Icons
Wenger and Ferguson are the two longest-serving managers since the advent of the Premier League era back in 1992. Wenger's reign at the north London club started on 1st October, 1996 and ended when his departure came on 13th May, 2018.
Ferguson spent even longer at the Red Devils. His reign began years before the establishment of the Premier League back on 6th November, 1986 and came to an end when he officially retired on 1st June, 2013.
During their time with their respective clubs, the two managers led their teams in some epic clashes. The FA Cup Semi-Final replay in 1999 that saw the stunning solo winner from Ryan Giggs, the 0-0 draw from 2003 that saw the flashpoint between Martin Keown and Ruud van Nistelrooy, and the "Battle of the Buffet" from 2004 are just some of the vintage encounters.
It's All About The Money!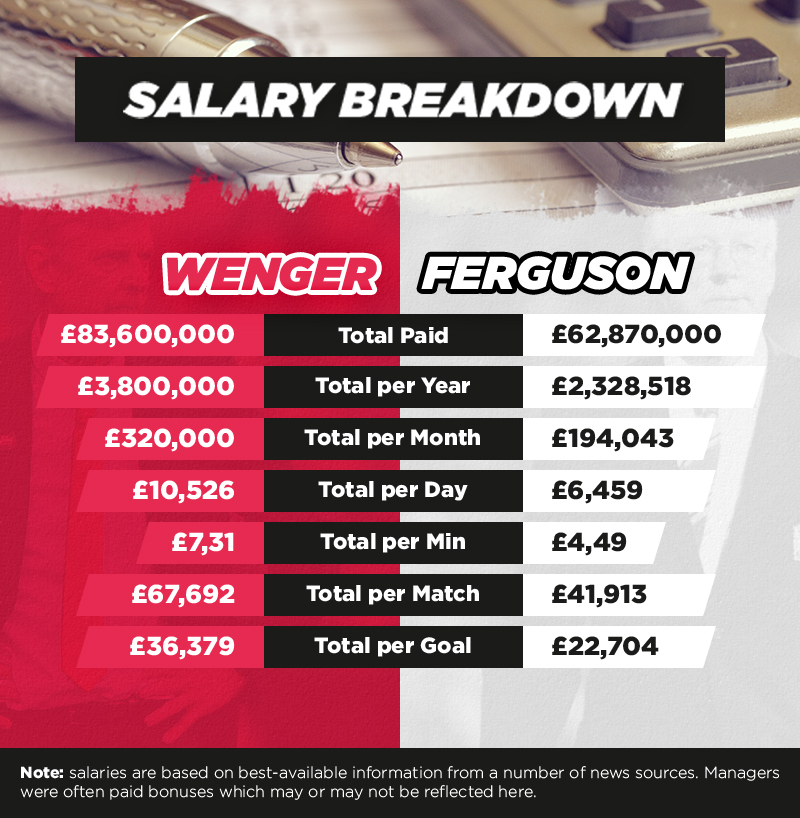 Over the years, Wenger and Ferguson have signed some lucrative contracts. Clearly, their achievements with their clubs warranted such deals. Such successful managers are not easy to find, as United have found out much to their misfortune since Ferguson's departure. Arsenal fans will be hoping their club does not make the same mistakes post-Wenger.
Wenger earned a reported £83.6 million during the course of his career with Arsenal. When he signed his latest contract extension in 2017, it was speculated that he was earning roughly £8 million per year. He'd come a long way from the £1.2 million salary he was earning when he first joined the Gunners.
Even as recently as 2014, it was rumored that Wenger was still only earning £2.5 million per year. Controversial figures, given that the only trophies he won between 2014 and 2018 were the FA Cup in 2014/15 and 2016/17 and the Community Shield in 2015 and 2017.
Ferguson earned an estimated £62.87 million during his time with Manchester United. The Scotsman even admitted in his recent autobiography that in 2010 he signed a contract extension that guaranteed he would earn more than any of his players. A rare thing during this day and age but also a sign of his value to the club.
Interestingly, United then went further and paid Ferguson a staggering almost £3 million to take on the role of the club's global ambassador for a period of just 8 months after he retired between October 2013 and June 2014.
Who Bossed The Merch?

When it comes to the commercial side of their careers, it has been a mixed bag of results for both managers. Merchandize sales are dominated by Manchester United under Ferguson, with the club raking in £1.2 billion compared to Arsenal under Wenger bringing in £921 million. This is no doubt down to Ferguson's influence in turning United into one of the most recognized football brands around the globe.
Ticket sales for the two clubs have been fairly even. United recorded £1.33 billion in ticket sales under Ferguson's tenure. Arsenal made £1.31 billion. These figures were likely affected by the average season ticket price and the average attendance at home games. The most expensive Arsenal season ticket for 2017/18 was £1,768.50, with the cheapest being £891. United listed their most expensive season ticket for last season at £950, compared to the cheapest at £532.
Surprisingly, despite United possessing a wider global fan base, it is, in fact, Arsenal that have earned more in TV profits. United earned just over £1 billion under Ferguson's stewardship. Arsenal brought in nearly £1.5 billion under Wenger. A major contributing factor to those figures has been the rapid increase in TV revenue for Premier League clubs since Ferguson's retirement.
In 2012/13, Ferguson's last season in charge at United, the club earned £60.8 million in TV revenue. Fast forward to the 2017/18 season when Arsenal earned £142 million. In the duration of five seasons, the TV revenue has increased by over 100% thanks to renewed deals with Sky Sports and BT Sport.
Sponsorship Battle

United and Arsenal's approach to sponsorship has been quite diverse. The obvious difference is that the Gunners chose to sell the naming rights of their new stadium at Ashburton Grove to Emirates. This resulted in the home of Arsenal being named The Emirates Stadium. United have not chosen to do that yet with Old Trafford.
It is reported that the decision to ignore stadium naming rights could be costing the Red Devils £23 million each year. The Emirates sponsorship deal for Arsenal has garnered an approximate £450 million for the club.
On the contrary, GM have delivered £420 million worth of sponsorship revenue for United during the length of their deal. The Nike sponsorship deal was the second most lucrative sponsorship deal for United at £287 million. For Arsenal, their second most expensive sponsorship deal came with Puma, but that was only worth £150 million.
Mano-a-Mano

Arguably, the most important statistic is the head-to-head record. On the pitch, how did the two adversaries fare against each other over the years? The duo came face-to-face in 49 competitive matches. Wenger saw his team win 16 of those battles, with Ferguson's side coming out on top 23 times, while 10 draws were contested.
Wenger's record as Arsenal manager when it came to trophies put him up there as the club's greatest. Three Premier League titles, a record-breaking seven FA Cup wins, and seven Community Shield victories is a credible CV.
Ferguson takes it a step further. His trophy collection is as follows: 13 Premier League titles, five FA Cups, four League Cups, 10 Community Shields, two Champions Leagues, one Cup Winners' Cup, one UEFA Super Cup, one Intercontinental Cup, and one FIFA Club World Cup.
The two managers have enjoyed their fair share of bragging rights over each other. Wenger will fondly remember the 1-0 win at Old Trafford on 8th May, 2002 when Sylvain Wiltord's sole goal sealed the title for the Gunners on their rivals' ground. He will also reminisce about the 2005 FA Cup Final win.
Ferguson will also raise a smile when thinking back over some of their clashes. The 1999 FA Cup Semi-Final win in extra-time thanks to Ryan Giggs' superb goal and the outstanding 8-2 victory at Old Trafford on 28th August, 2011.
Transfers – Top or Flop?

The topic of transfers is always a divisive one for fans of Arsenal and Manchester United. Wenger and Ferguson might well rank up there as two of the greatest managers in the history of the English game. Unfortunately, their record with transfers is a little less consistent.
Wenger will always point towards his signings of Thierry Henry, Patrick Vieira, Cesc Fabregas, and Robert Pires. Those players made their mark on the Premier League for sure. It's just a shame that he also signed some flops such as Amaury Bischoff, Marouane Chamakh, David Grondin, and Christopher Wreh.
Ferguson is not void of similar weakness either. Sir Alex brought in club legends like Peter Schmeichel, Roy Keane, Cristiano Ronaldo, and Wayne Rooney. On the flip side, he also thought signing the likes of Eric Djemba-Djemba, Kleberson, Bebe, Gabriel Obertan, and Dong Fangzhuo was tidy business.
The Final Whistle
At the end of the day, there is no denying the impact that both Wenger and Ferguson had on revolutionizing the British game. Wenger introduced a whole new approach to club management evolving how players behaved off the pitch. Diet, fitness, and attitude were critically analyzed. It changed the game forever.
Ferguson added new elements to the way managers interact with each other. Who can forget his notorious psychological annihilation of Kevin Keegan during the 1995/96 Premier League title race? He also showed that teams should put more faith in their youth by proving TV pundit Alan Hansen wrong and winning the title with kids in 1992/93.
When all the stats are put on the table it's a tough call. The duo will certainly be forever remembered as two of the greats of the English top flight. In a tight call, it is fair to say that Ferguson edges it in terms of accolades won and the degree at which the club he was at grew. Take nothing away from Wenger. His influence at the club he managed is unlikely to ever be matched by a future manager at Arsenal. It was a pleasure to see them go toe-to-toe in arguably the best league in the world at the peak of their powers.