Kings Of The Court: The NBA's Wealthiest Players
Michael Jordan has returned to center stage, or rather court, thanks to the recent airing of Netflix documentary The Last Dance. The hit show chronicles his rapid rise to fame with legendary NBA franchise the Chicago Bulls.
Despite finally hanging up his sneakers 17 years ago, MJ is still the world's richest basketball star, even though his heyday was way back in the 80s and 90s.
But who are the other players at the top of the NBA's rich list? And how did they make so much money? Check out our graphics below find out how Jordan and co found their fortunes…
No. 1 – Michael Jordan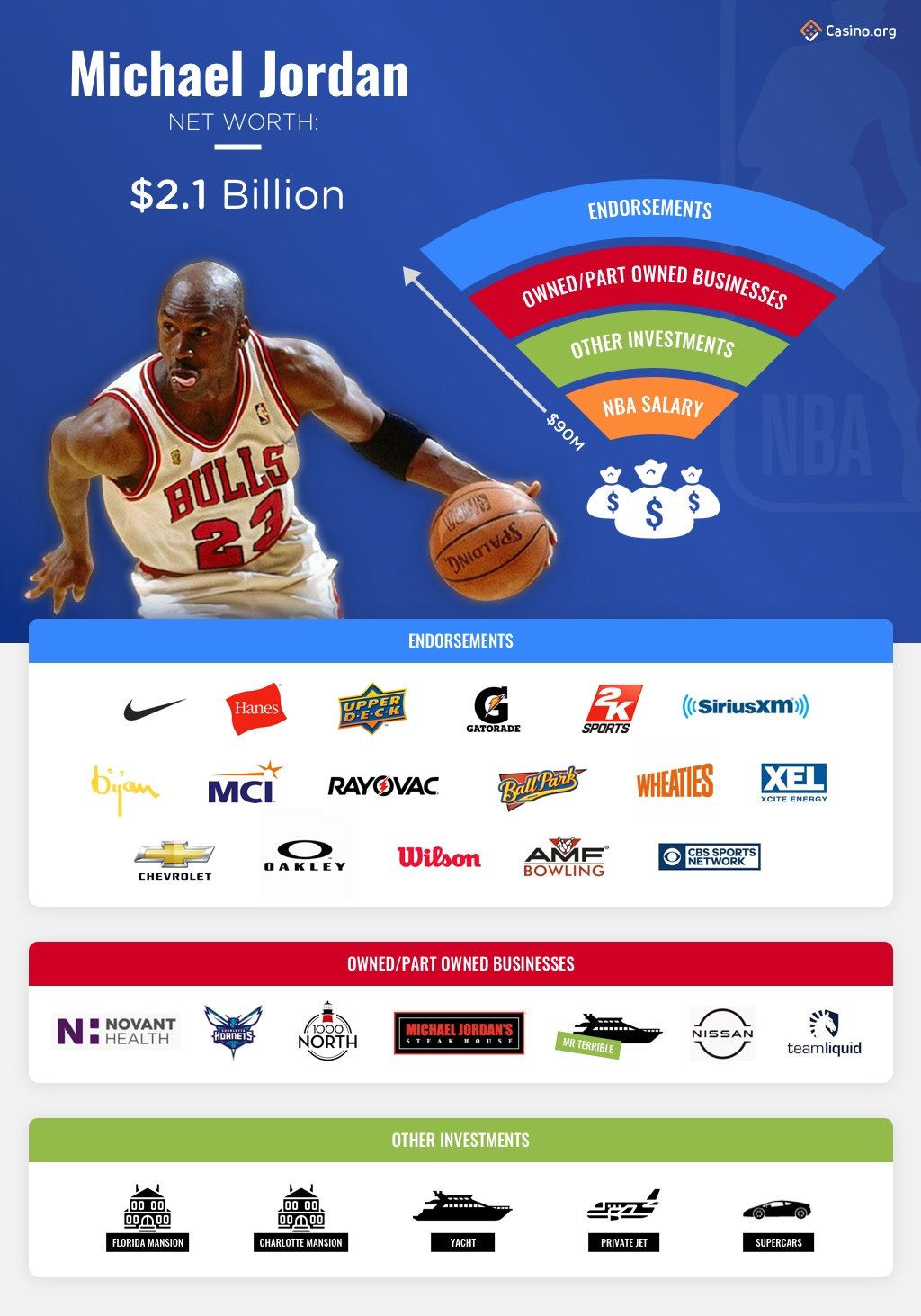 As always, Jordan is way ahead of the pack, including when it comes to his net worth, which stands at a cool $2.1 billion.
What's surprising is that while MJ made serious moolah off the back of his $90 million NBA salary, it's his outside interests that have made him billions beyond Madison Square Garden.
Transcending sport with 'brand Jordan', the former shooting guard earned around $300 million from endorsements alone this decade.
His income includes partnerships with Gatorade, Wheaties and, of course, Nike — which first created signature Air Jordan shoes for the superstar in the 80s, and nets him $130 million per year.
Beyond that, other sources of wealth include principal ownership of NBA team Charlotte Hornets, a restaurant, yacht, private jet, multiple properties and sports cars. Yeesh.
No. 2 – Junior Bridgeman
You may never have heard of Bridgeman before as, while the small forward had a more than respectable NBA career, he didn't hit the sporting heights of many on this list.
It was off the courts that the former Los Angeles Clippers and Milwaukee Bucks man made his mark — and the majority of his $600 million net worth.
While his $350,000 NBA earnings were a good start, the savvy businessman bagged millions via his own company, Bridgeman Foods Inc, and former businesses including a 200 restaurant-strong Wendy's franchise. Tasty.
No. 3 – Magic Johnson
NBA hall-of-famer Earvin 'Magic Johnson' was in a class all of his own when it came to playing as point guard for the Los Angeles Lakers.
And his income reflects that. Roughly $18 million in NBA salary earnings, combined with millions in endorsements from the likes of KFC, Nestle, Nintendo, and Pepsi, as well as various businesses, helped the superstar create a net worth of $600 million. Not bad.
Oh and he also once had a 4.5% stake in the Lakers himself.
No. 4 – Kobe Bryant
Before his tragic death at the beginning of 2020, Bryant also had an eye-watering net worth of $600 million.
When he wasn't making it rain on the court during his 20 seasons as a shooting guard for the Los Angeles Lakers, he was busy doing the same off of it.
Bryant had endorsement deals that were overall set to be worth an estimated $350 million, with brands ranging from McDonald's and Nutella, to Nike, Adidas and Mercedes-Benz.
Other business interests such as Kobe Inc, BodyArmour, and millions of dollars-worth of cars and properties were the cherry on the cake of a $320 million basketball salary.
No. 5 – LeBron James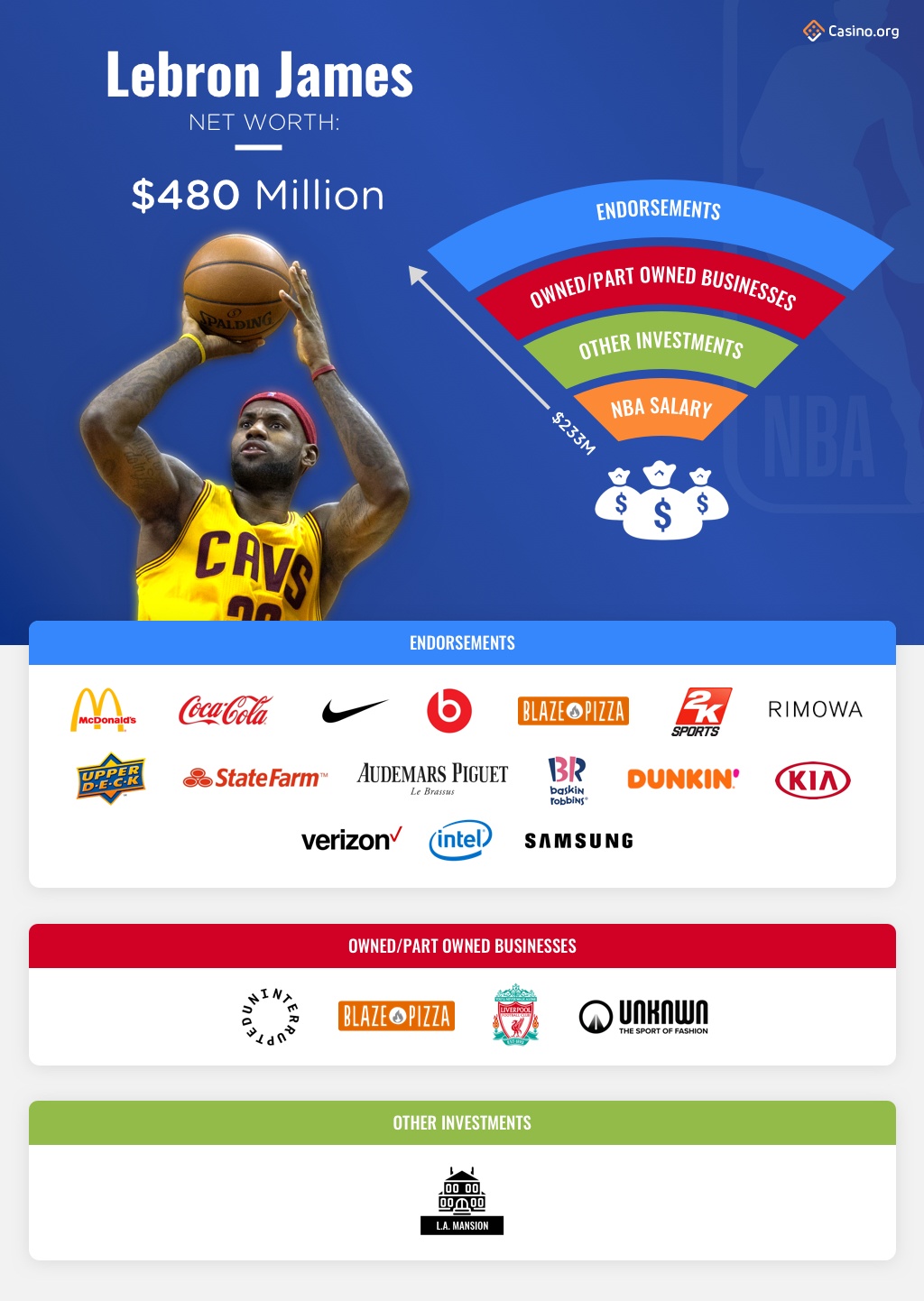 We doubt LeBron James likes coming fifth in any list — but this isn't a bad one to be on.
The power forward packs a financial punch with a net worth of $480 million, including an NBA salary of $233.9 million. And, unlike the rest of our top five, the former Cleveland Cavaliers and Miami Heat star is still playing and earning.
He may be busy droppin' dimes now for Los Angeles Lakers, but he's picked plenty up through $55 million in endorsements — including an ongoing $1 billion deal with Nike.
LeBron is also raking it in with business interests including his own media company and a $32 million stake in soccer club Liverpool FC.
Best of The Rest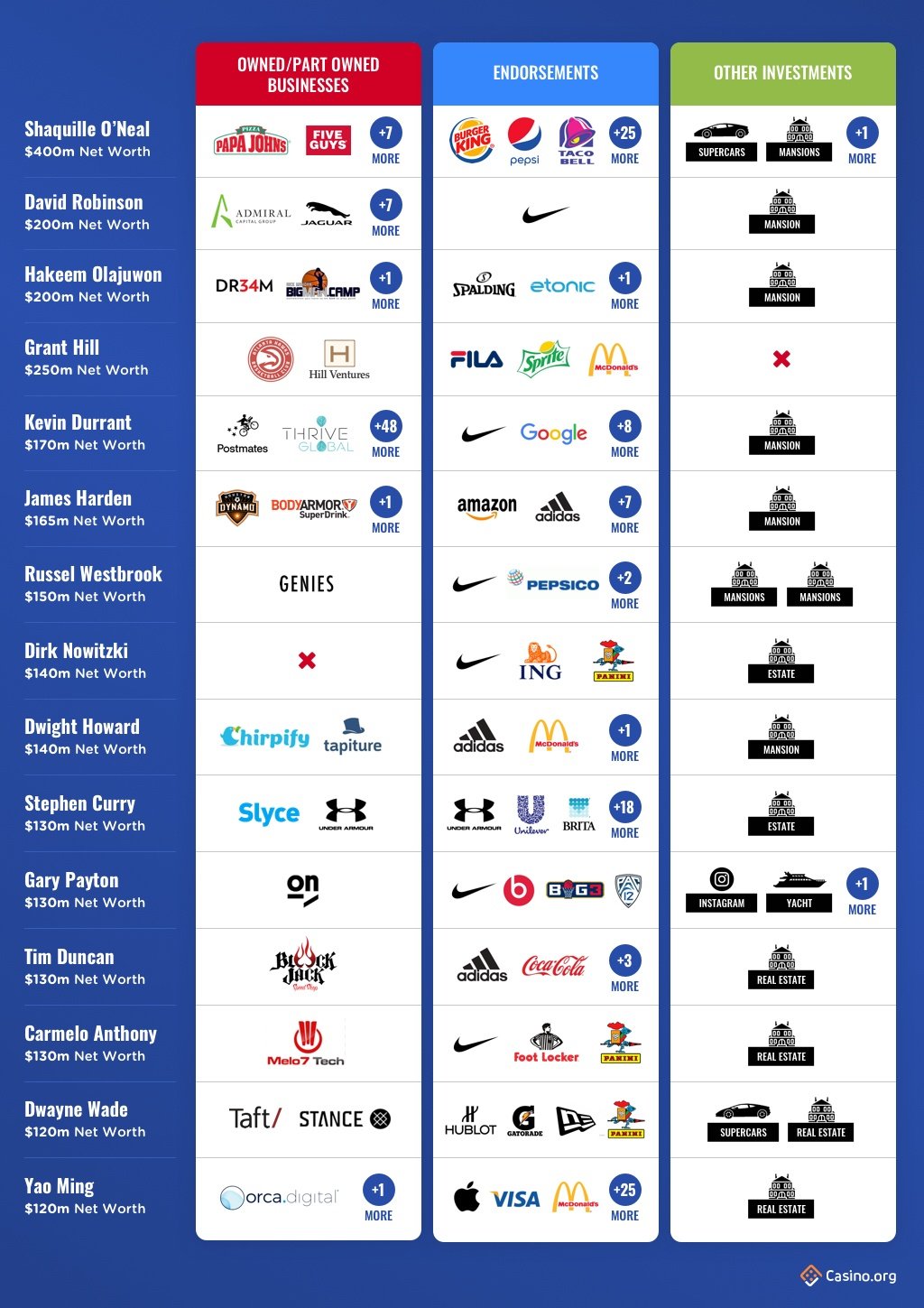 Outside of our NBA top five earners, there are still plenty of big b'ball stars finding ways to capitalize on their sports careers. Find out who else is earning what, and how, with our handy infographic below.
Notable names include $170 million dollar man Kevin Durant, who has a swish $12.5 million Malibu pad.
Then there's another of the Lakers alumni, Shaquille O'Neal and his $400 million net worth. Shaq's financial assets feature endorsement deals with Burger King, Kraft Foods, Papa Johns, and Taco Bell, among others. Sensing a theme?
Every pro athlete worth their salt has to have a stake in fast food, so Shaq also counts 155 Five Guys and 17 Auntie Annie's Pretzels restaurants among his portfolio, too.
Stephen Curry, Dwight Howard, Hakeem Olajuwon and Dirk Nowitzki are also unsurprisingly among the NBA's richest, with their wealth encompassing everything from fashion lines to luxury estates.
Nice work if you can get it!
Enjoyed this? Check out our list of the 10 most popular NBA arenas too.
For a full list of sources please contact Casino.org's Head of Marketing, Paul Taylor, on paul@casino.org.