Philip Rivers: Retirement First, or Baby #10? Here's Hoping You Didn't Bet on The Former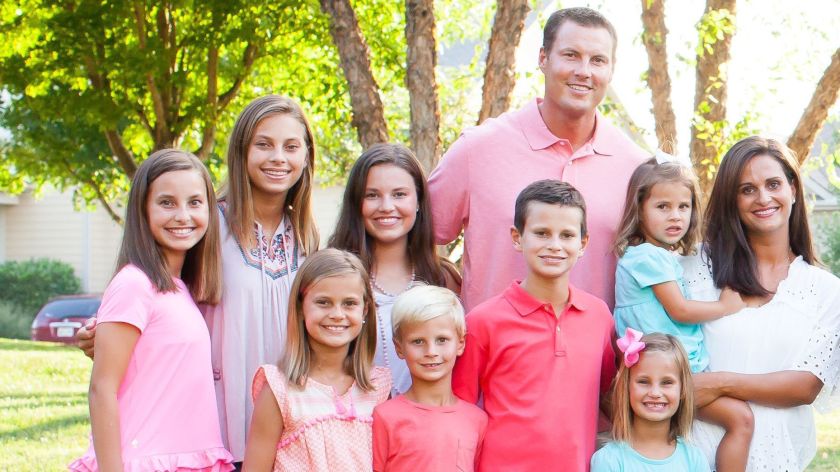 Philip Rivers is a much-loved NFL hero, described by his wife as the "most selfless person in the world".
Family man and sports star, how does he do it all?
Philip Rivers' children are known for being so many that in November 2019, the bookies were offering odds on his future.
Would he retire from NFL or have another baby first?
Since his recent move to Colts, it's become clear he's not showing any signs of retiring soon…so if this is on the cards, how long do we have to wait for another Rivers baby?
How Many Kids Has Philip Rivers Got?
Philip Rivers has nine kids.
NINE!
That's seven girls and two boys, ranging in ages from 17 to 1 years.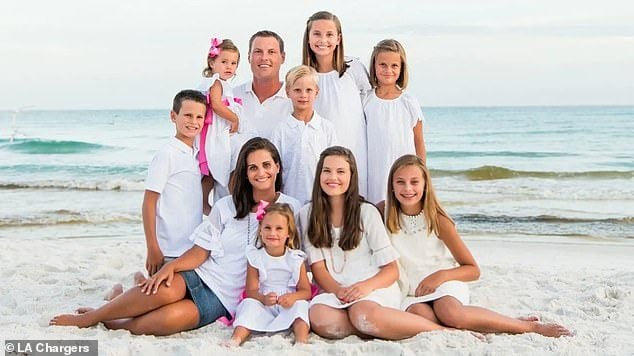 It's incredible that between playing, training, and commuting from San Diego to LA all those years before the move, he still had time to spend with his kids:
Halle (17)
Caroline (14)
Grace (13)
Gunner (11)
Sarah (9)
Peter (8)
Rebecca (9)
Clare (4)
Anna (1)
Both Philip and his wife, Tiffany, are devout Catholics, the church and their faith having only deepened their bond.
And it's their refusal to use contraception, opting instead to use the Natural Family Planning technique that probably has a lot to do with their large family.
Here's the NFL quarterback talking openly about it here:
The most recent addition to their family is little Anna, born in March last year. As the ninth little one of their crew there were jokes on Twitter that Rivers is trying to build up his own family offense.
Only two short at the moment – and Rivers revealed there are no plans to stop just yet!
How Philip Rivers met Tiffany Goodwin
With an ever-growing family of beautiful kids we're all dying to know how Philip Rivers met his beloved wife, Tiffany!
It's a classic childhood sweetheart kinda story.
They started dating in middle school and ended up marrying whilst at college at NC State. Philip was just 19 years old, and Tiffany converted to his faith, Catholicism, the night before their big day.
True love or what?
The Rivers Family is Known For Being Charitable
In 2013 their eldest son, Gunner, aged just five years old at the time, was diagnosed with Type-1 diabetes. Since then the couple have used their influence to raise understanding for this condition.
In aid of National Diabetes Awareness Month in November last year, the couple collaborated with three leading diabetes non-profits to boost public awareness and raise money.
Tiffany's swimwear brand, Hermoza, made hats and t-shirts selling for $30 each with all proceeds going to the non-profit of the buyer's choice if bought in November.
They teamed up with JDRF, Insulin for Life, and Diabetes Research Connection.
The Future is Bright
Clearly having loads of kids doesn't get in the way of this 38-year-old's performance on the pitch! Once the lockdown laws lift, we're excited to see what he brings to the Colts.
For now though, we bet Philip Rivers' kids are stoked to have him home all the time for family fun…
Sources:
https://www.cheatsheet.com/entertainment/how-old-are-philip-rivers-8-children-and-what-are-their-names.html/
https://www.dailymail.co.uk/news/article-6853873/Los-Angeles-Chargers-quarterback-Philip-Rivers-wife-welcome-baby-girl.html
https://fanbuzz.com/nfl/philip-rivers-ninth-child/
https://www.chargers.com/news/a-family-affair-a-look-at-philip-rivers-through-the-eyes-of-his-children