The Top 10 Tallest Jockeys Of All Time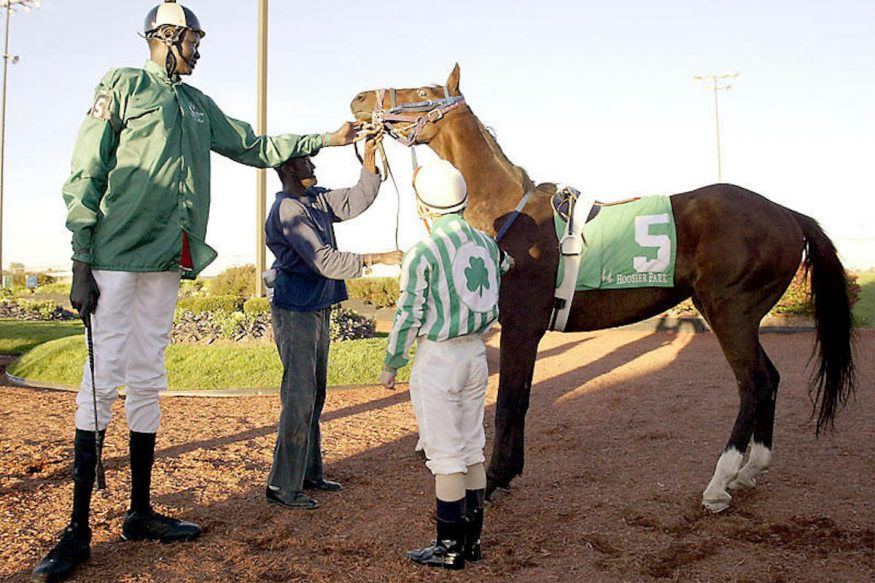 Height is not an advantage when riding racehorses but, as the tallest jockeys ever demonstrate, it's no barrier to success either.
While being small helps keep your weight down, some of the best horse jockeys ever were taller than you might think. It has also meant an early end to careers in the saddle, particularly for professional riders of Flat thoroughbreds.
The tallest jockeys have it tougher, but it's still worth celebrating their exploits on the track. A link between height and weight is the theory behind BMI.
Just to get on our list of the top 10 tallest jockeys ever, riders had to be more or less six feet (around 1.83m) in height.
That means some very famous names from weighing rooms worldwide like Steven Arnold, Richard Hughes, Tony McCoy, Ruby Walsh and Johnny Sellers – the tallest jockey ever to win the Kentucky Derby – miss the cut.
10. Joseph O'Brien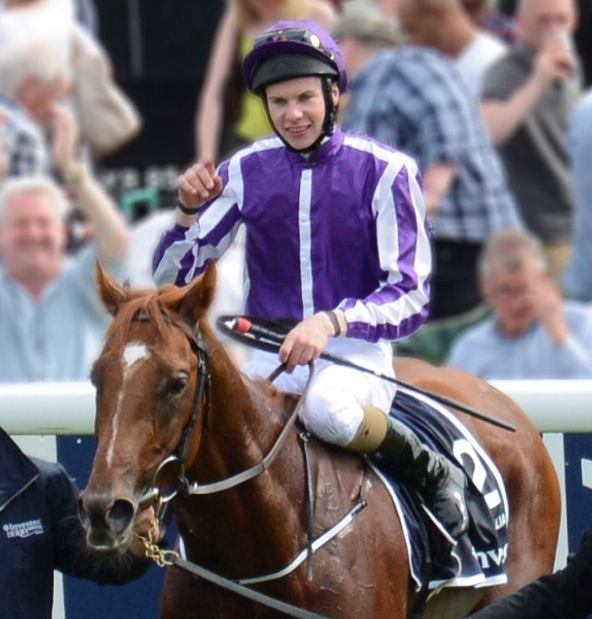 Country: Republic of Ireland
Height: 5ft 11in (1.8m)
At a shade under six feet tall, Joseph O'Brien was born into the powerful Ballydoyle horse racing operation run by famous father Aidan. Despite his height, he was Irish champion Flat jockey in 2012 and retained that crown the following year.
Horse racing is very much a family affair for O'Brien. He enjoyed multiple successes aboard St Nicholas Abbey overseas, and completed Epsom and Irish Derby doubles on Camelot and Australia for owner-breeders Coolmore.
By 2016, however, Joseph found his weight becoming a problem.
He retired from the saddle as a result and began his training career, saddling horses both over jumps and on the Flat. Group and Grade 1 success for the racehorses in his care is no surprise after those great days riding for his dad.
9. Ryan Mania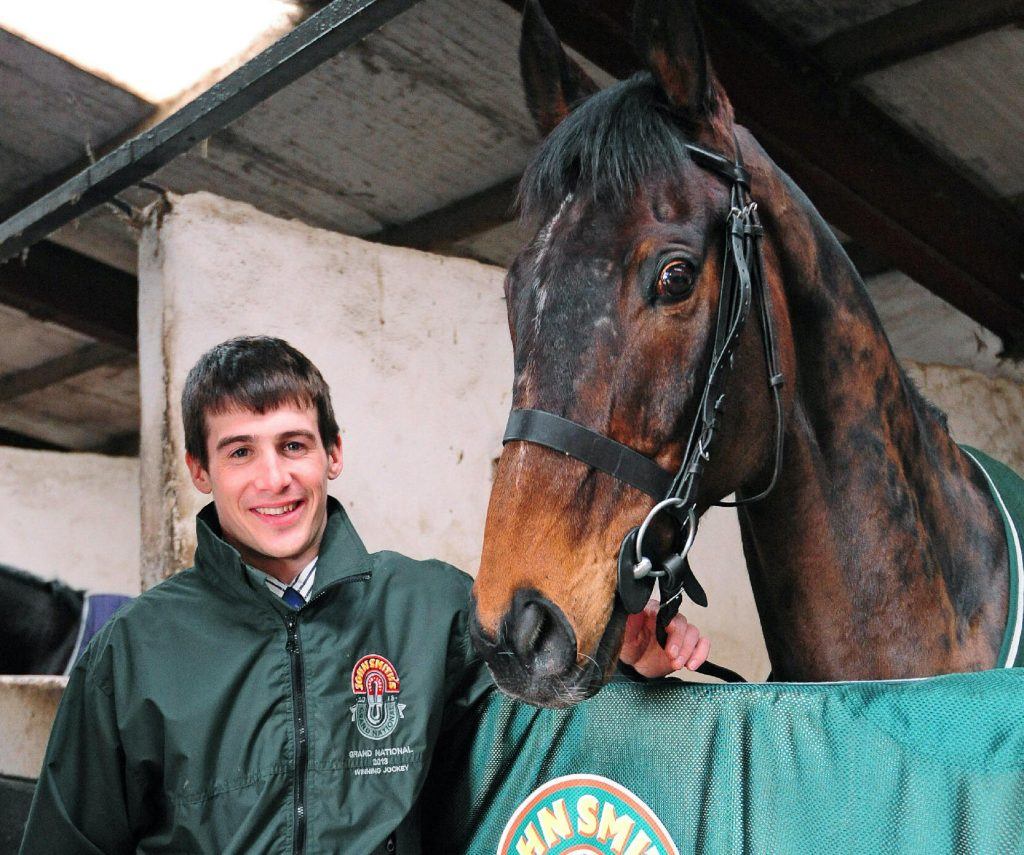 Country: Scotland
Height: 5ft 11iin (1.8m)
Auroras Encore sprung a 66/1 shock in the 2013 Grand National for north of England trainer Sue Smith under tall Scottish jumps jockey Ryan Mania.
After winning the world's most famous steeplechase, just 18 months later this rider found he no longer got a kick out of it all.
Behind the scenes and aged just 25, Mania struggled with his weight, so quit the saddle.
He became assistant to Scottish racehorse trainer Sandy Thomson, but improvements in sports nutrition helped him rekindle his love of riding and keep what he weighed down.
Mania returned as a jockey during the fall of 2019. Since then, he has won three valuable handicaps for the Smith and Thomson stables who have always supported him.
Mania's example highlights that even the tallest jockeys can, with careful management of their diet, prolong their careers.
8. Andrew McNamara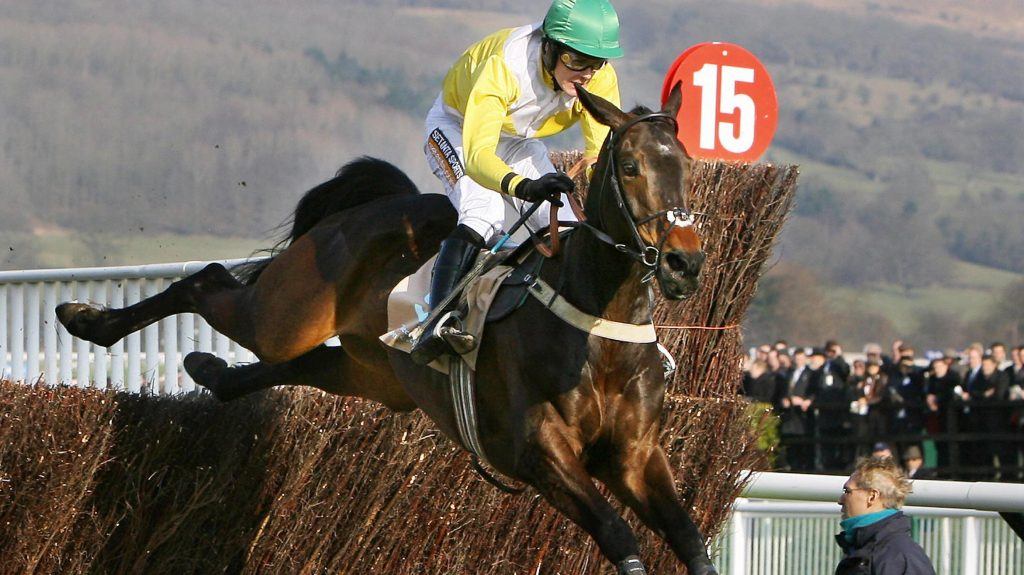 Country: Republic of Ireland
Height: 6ft (1.83m)
O'Brien is far from the only famous Irish family name in horse racing.
Andrew McNamara stood six feet tall in his stirrups, but still had a fabulous career as a jumps jockey. While brother Robbie and cousin John Thomas (JT) both suffered serious injuries, he won some of Ireland's biggest National Hunt races.
They include the Irish Champion Hurdle and Gold Cup at Leopardstown, the John Durkan and Champion Chase around Punchestown, and the 2010 Irish Grand National.
McNamara cited back problems, as well as managing his weight due to his height, as reasons for retiring from the saddle aged 32 in 2015 to become a trainer.
Besides winning Northern Ireland's most prestigious horse race, the Champion Chase at Down Royal, he also enjoyed Cheltenham Festival glory in 2006. McNamara steered Newmill to victory in the two-mile Queen Mother Champion Chase.
7. George Baker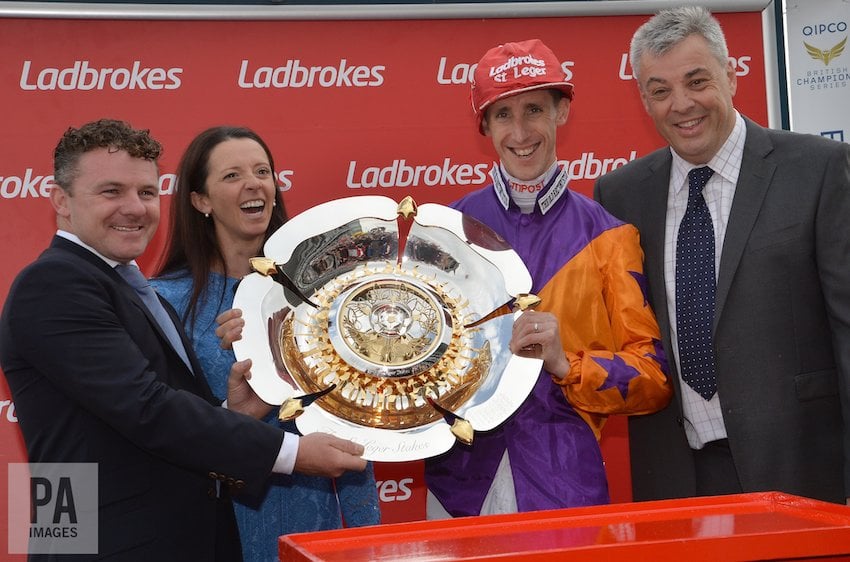 Country: England
Height: 6ft (1.83m)
The son of a farrier in the equine hub that is Lambourn, George Baker grew up in one of the foremost horse racing communities in England. He is the joint-tallest jockey of modern times to ride a winner in one of the British Classics.
Baker piloted Harbour Law to a sensational success in the St Leger of 2016 when odds-on favorite Idaho unseated Ryan Moore at Doncaster. It wasn't his six-foot frame that forced Baker into retirement, but a terrible fall at St. Moritz in Switzerland the following year.
Horsemen and women flocked to the Alpine resort town to take part in a White Turf meet where races took part on a frozen lake.
Baker thankfully recovered from a bleed on the brain and is now an occasional pundit on the Racing TV channel in the UK.
6. Donnacha O'Brien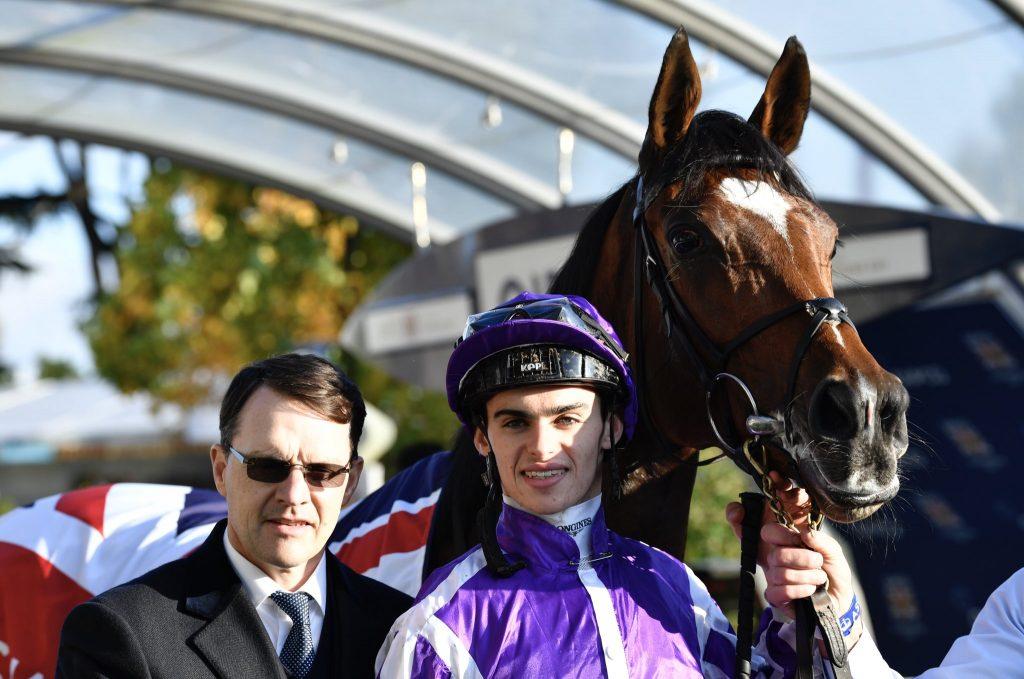 Country: Republic of Ireland
Height: 6ft (1.83m)
Back to the O'Brien family, and the youngest son of Aidan. Joseph's baby brother Donnacha was also a two-time Irish champion Flat jockey during a short-lived career in the saddle.
There were some major highlights, however, like back-to-back 2000 Guineas wins on Saxon Warrior and Magna Grecia.
Donnacha delivered in the 2018 Irish Derby on Latrobe as well. Retirement the following year aged just 21 was inevitable because he was one of the tallest jockeys riding in the British Isles at the time.
Like his father and elder sibling, O'Brien is now a racehorse trainer.
He has wasted no time in developing a reputation for handling promising young fillies. Fancy Blue won the Prix de Diane, regarded as a French Classic and equivalent of the Epsom Oaks, over the summer of 2020 when O'Brien had only been training for nine months.
5. Louise Moeller
Country: Denmark
Height: 6ft 1in (1.85m)
The only female among our tallest jockeys is Danish rider Louise Moeller.
Competing on the Flat, she rode stateside at Gulfstream Park in 2002. Details of her exploits in the saddle are hard to find, but Moeller took out an amateur license the previous year and stood over six feet tall.
By 2003 and following her trip to the US, she became an apprentice before turning fully professional the following year.
Moeller enjoyed at least 70 winners from almost 500 rides and, while that puts her some way off the best female horse jockeys today, she must be regarded as a trailblazer for tall women taking part in races.
4. Bruce Hobbs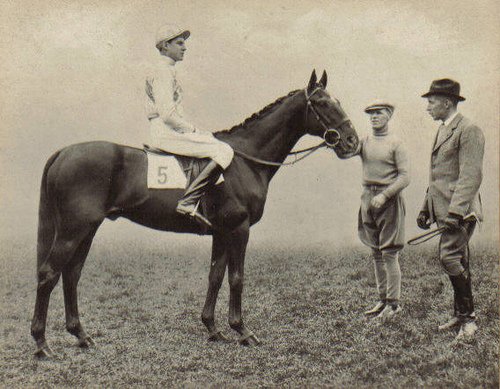 Country: USA/England
Height: 6ft 1.5in (1.87m)
You probably didn't know that the tallest jockey ever to win the world's most famous steeplechase, the Grand National, was born in Long Island.
That was Bruce Hobbs, who partnered American raider Battleship to Aintree glory in 1938 after winning the US equivalent.
Hobbs was also successful in the Welsh Grand National at Chepstow that season aboard Timber Wolf. Although he overcame a career-threatening back injury, he retired aged 25 and began training horses like so many of the tallest jockeys on our list.
A decorated war veteran, Hobbs served the Queen's Own Yorkshire Dragoons during World War 2, making the rank of Captain and receiving the Military Cross.
His Palace House stables in Newmarket are now the site of the British National Horse Racing Museum.
3. Stuart Brown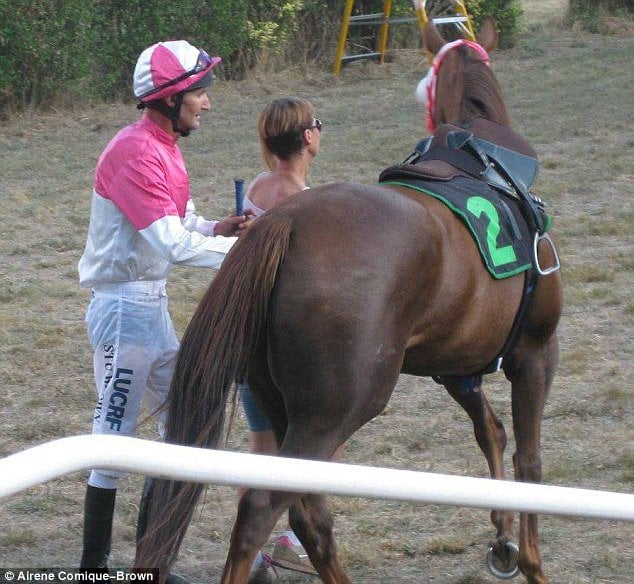 Country: Australia
Height: 6ft 2in (1.875m)
We have to head Down Under to find the tallest professional jockey ever.
Stuart Brown may not have had huge success in famous horse races in Australia of international renown, but he was well known in his native New South Wales.
Some sources say Brown was 6ft 3in, but then quote his height in centimeters at 187. That puts him slightly below that in imperial weights and measures.
Managing his weight was a real issue, according to his mother, to the extent that he abused his body.
The sad story of Brown's death from lung cancer aged 43 in 2015 still highlights lots of issues facing the tallest jockeys today.
Starvation to get down to the required weight can have an adverse effect on both physical and mental health.
2. Patrick Sankey
Country: Wales
Height: 6ft 7in (2.01m)
Besides the professionals, there are amateur riders. Patrick Sankey makes our tallest jockeys list for winning a Point-to-Point race at Bredwardine in May 2019.
Standing at just over two meters tall, he shows that height can be overcome.
On the flip side, Sankey weighed in 10lb overweight. You can mark horse Galbally King up for carrying this extra burden. This again illustrates how difficult it is for a tall person to keep how much they weigh down.
Sankey will probably never be able to turn professional, because a man of his size will have a clear and obvious struggle to make the weights for horse racing under rules.
Between the flags, however, he can say he holds the record.
1. Manute Bol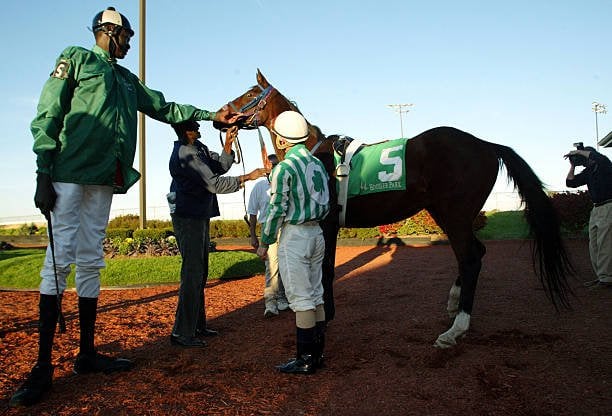 Country: Sudan/USA
Height: 7ft 7in (2.31m)
Here's one thing you never knew about horse jockeys – the tallest to ever ride in a race was NBA center Manute Bol. He was raising money for the war-torn country of his birth, Sudan.
It may have only been in a charity event, but it still counts.
Bol was listed by the NBA as being seven-and-a-half feet tall. He also tried his hand at hockey and boxing. The ride took place at Hoosier Park just north of Indianapolis in the fall of 2003.
If only all of our tallest jockeys were as noble as Bol. Although playing major league sports had brought him a relative level of fame and fortune, he didn't forget where he came from.
Bol passed away in 2020 from kidney failure and is buried in South Sudan.
Lead image: Twitter/si_vault