How Much Do NFL Referees Make?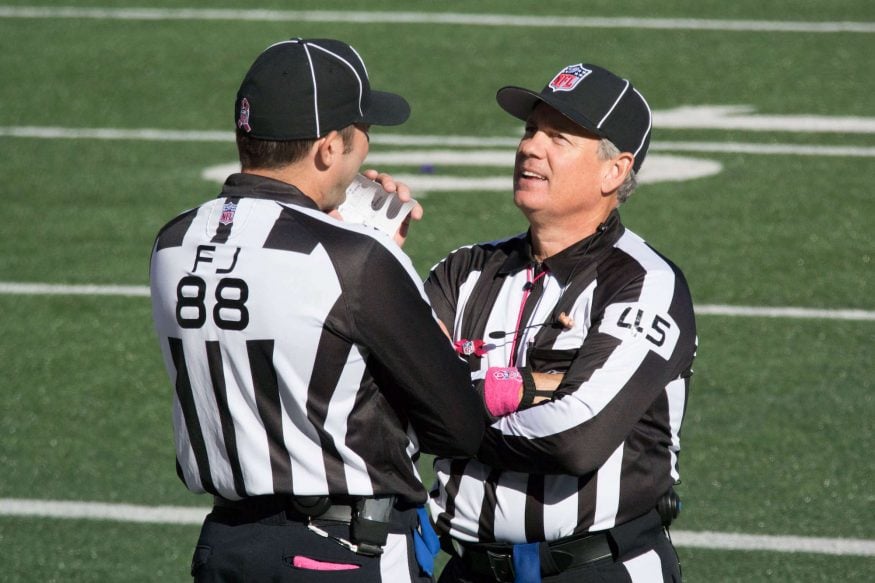 NFL player salaries are no secret. It was well documented that after signing a new contract in 2020, Patrick Mahomes could clear an eye-watering $502 million by 2031.
But what about NFL referees?
If you've ever wondered what the average NFL referee salary is per season, or how their salaries compare with other American sports, then keep reading.
NFL Referee Salaries
An NFL referee's salary has never been officially released by the league, but it was reported in 2019 that they made an average of $205,000 per season.
This number was a $50k increase on reported salaries in 2018, so there is a possibility it has risen again.
Experienced referees earn big bonuses for taking extra post-season games, including the Super Bowl. Officiating legend Walt Anderson made an estimated $250,000 in 2019, his final year of refereeing.
Not bad, right? Even considering some of the explosive atmospheres refs face.
Any volunteers for Washington vs. Philadelphia at The Linc this year? Didn't think so.
How Much Do NFL Refs Make Per Game?
There are 22 game weeks in the NFL, including the playoffs, but it is rare for an NFL ref to take more than 1 post-season game per year.
So, the maximum number of games an NFL official will work per season is 20.
That means an experienced official who works in the playoffs and takes home an annual salary of $250,000 gets paid $12,500 per game.
Even a less experienced ref, who takes home the reported average of $205,000 per season, will still bank a whopping $10,250 per game.
On a game-by-game comparison, this makes NFL refs the best paid in US sports because although NHL, NBA, and MLB refs all reportedly get paid more, they have to cover way more games.
In the NBA and NHL, the regular season consists of 82 games, let alone the MLB that has a giant 162-game regular season.
This means the average salary per game is by far the best for NFL refs.
? Sports' Best Paid Referees Revealed
Who Is The Highest Paid NFL Ref In History?
There is no single stand-out NFL ref that is paid more than their peers, however, there are a handful of elite officials that receive the same highest salaries.
Brad Allen, Craig Wrolstad, and Sarah Thomas are the three active NFL refs that reportedly take home $250,000 annually.
The aforementioned Walt Anderson also made an estimated $250,000 during his final year of refereeing in 2019.
There are no reports that suggest an NFL referee has ever taken home more than $250,000, however, it is possible that salaries may have increased in line with inflation since 2019.
How Much Do Female NFL Referees Make?
Like their male counterparts, the salary for female NFL officials depends on experience and talent.
This is the only criterion that matters when it comes to NFL referee's salaries, so women make the same amount as men in a similar position in their careers.
This is proven by Sarah Thomas, who became the first female official in NFL history when she joined the league in 2015.
Since then, she has gone on to become one of the most well-known referees in the league and paved the way for two other women to join the NFL officiating ranks.
Thomas was rewarded by the NFL in the 2021 playoffs when she worked on both the Divisional Round matchup between the New Orleans Saints and the Tampa Bay Buccaneers and Super Bowl LV where the Bucs beat the Kansas City Chiefs.
In the 2022/23 NFL season, Sarah Thomas, Maia Chaka, and NFL rookie, Robin DeLorenzo make up the league's female officiating team.
How Much Do NFL Refs Get Paid For The Super Bowl?
Again, the NFL has never publicly confirmed what officials get paid for the Super Bowl, however, reports suggest that referees make an extra $40-50,000 for the biggest event in US sport.
This is a significant bonus and reflects the fact that the eyes of the world are on the players, coaches and officials come Super Bowl time.
$50,000 is also considerably more than the reported $1-5,000 NFL officials make in normal playoff games.
Have You Got What It Takes?
The salary, only working for half the year, watching your favorite sport from the best seat in the house… the benefits to being an NFL ref are huge, so you might be wondering how you sign up.
Sorry to break it to you, but it ain't easy making it to the big league… even as a ref.
Before the NFL even considers you, you need at least 10 years of experience as an American Football ref, with five of those covering major college games.
But don't get ahead of yourself. Not anyone can just show up to their local high school game and start throwing flags.
You need to jump through several hoops before you can become a ref, even at the grassroots level.
You need training and state registration as a minimum, then you can start working your way up the refereeing ladder. Extra certifications and a college degree can also help, but just like the players, you have to perform.
The NFL doesn't just scout playing talent. They also scout officials too.
So, best of luck, and if you reach the NFL, you'll deserve every cent.
For something similar on this topic, check out:
? How Much Do NHL Referees Make?
? How Much Do Basketball Officials Make?
Lead image: Keith Allison/Wikimedia Commons