Anthony Joshua – What Fuels A World Heavyweight Champion?
Anthony Joshua has enjoyed one of the most rampant rises to prominence in boxing for many years, bursting on to the professional scene after that incredible 2012 Olympic Gold medal success to eventually become world heavyweight champion.
From his days as a talented amateur, to upcoming professional prospect then a unified world heavyweight champion, 'AJ' has had to put countless hours in at the gym in order to get to his current stature.
At an intimidating 6 foot 6 inches tall, the Briton therefore has a lot of emphasis on his daily diet and nutritional routine in order for him to prepare properly for his fight nights and be able to train for so long every day.
Scroll through the slides to compare AJ's diet to other professions
[smartslider3 slider=3]
Expert dietitian weighs in
When you think of fitness, diet and nutrition at the highest level of sport, elite boxers usually come to mind as they prepare for 12 grueling rounds.
But in other mentioned sports, those in which are under pressure to make certain weight limits such as horse racing, are actually in danger of having a negative health effect.
Allison Childress, Chief Clinical Dietitian at the Nutrition and Metabolic Health Institute, has weighed in and believes this pressure can lead to harmful consequences.
"Eating disorders and disordered eating are common in dancers, particularly ballerinas," she stated. "The pressure to maintain a low weight can also lead to eating disorders in jockeys."
There is no such problem for Joshua, whose specific diet is well-suited to fuel him for a fight according to Childress.
"Based on his height, weight, age and estimated activity level, Anthony Joshua needs about 4,000 calories a day, with 227g of protein, 600g of carbohydrates and 90g of fat," she added.
"It seems as though he has a good handle on nutrition and fuels properly. He focuses on whole single ingredient foods, which tend to have the highest micronutrient values as well."

Along with fame comes the fortune, and Joshua is lucky to be one of the most financially benefiting boxers around after rising to superstardom, considering the amount of expenditure that comes with being a heavyweight champion.
The Briton amasses huge amounts of food bills during camp, with the facts showing it takes almost £15,000 per year to feed himself.
That's a mouth-watering £1,177 per month, £280 a week and £41 daily. It's a good thing he earned over £15 million for the encounter with Wladimir Klitschko and is the biggest earner in the sport with Floyd Mayweather retired!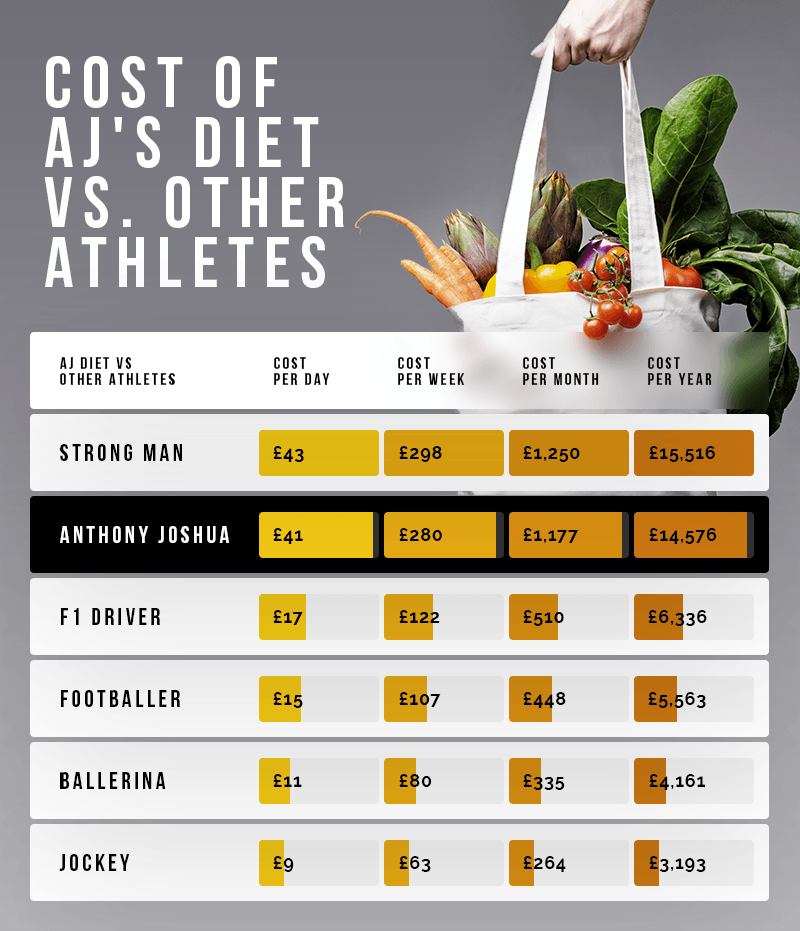 It's a costly sport for heavyweights at elite level, as the stats surrounding Joshua's diet and nutrition prove.
Of course, the huge financial income that comes along with being the face of boxing in the UK and one of the most recognized fighters worldwide is a positive boost for him.
Not all athletes have the luxury of mammoth fight purses, ticket sales and global endorsements with Lynx, Dre Beats and Adidas, to name a few. Compared to others like F1 drivers, footballers, jockeys and ballerinas, 'AJ' has a more substantial cost of dietary, being the much bigger and physically focused athlete.
Of course, footballers are up there with boxers in terms of earnings, while those undertaking the other mentioned sports don't benefit as prosperously.
The diet of a strong man is similar to that of Joshua, with these body builders needing an enormous amount of food every few hours in order to maintain their mass and bulk their muscles as much as possible, pushing themselves to their physical limits.
'AJ' does this to a certain extent but, as boxers require immense cardio to compete, he therefore has some limits as to what he can put into his system each day.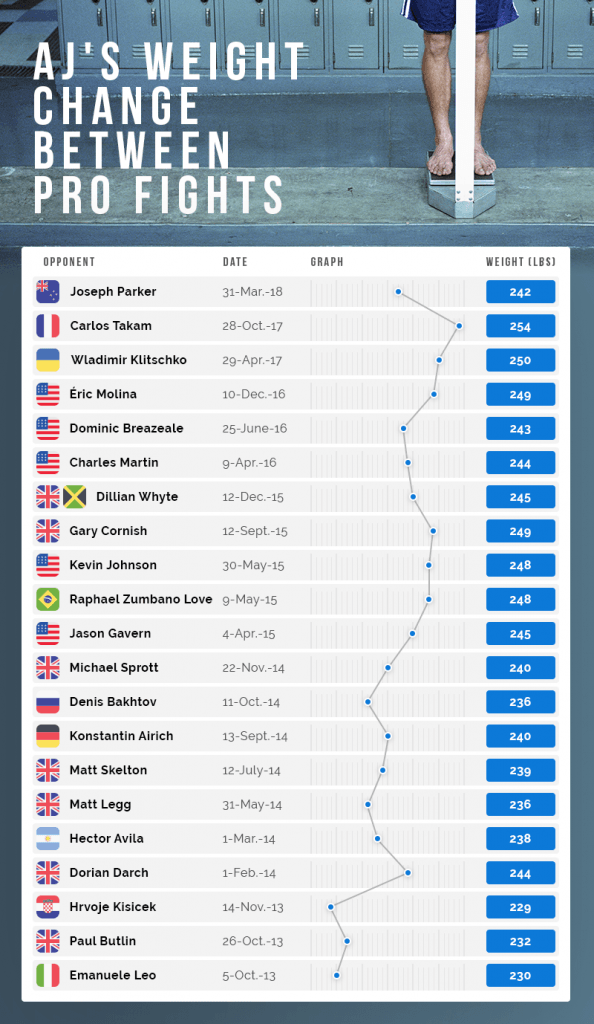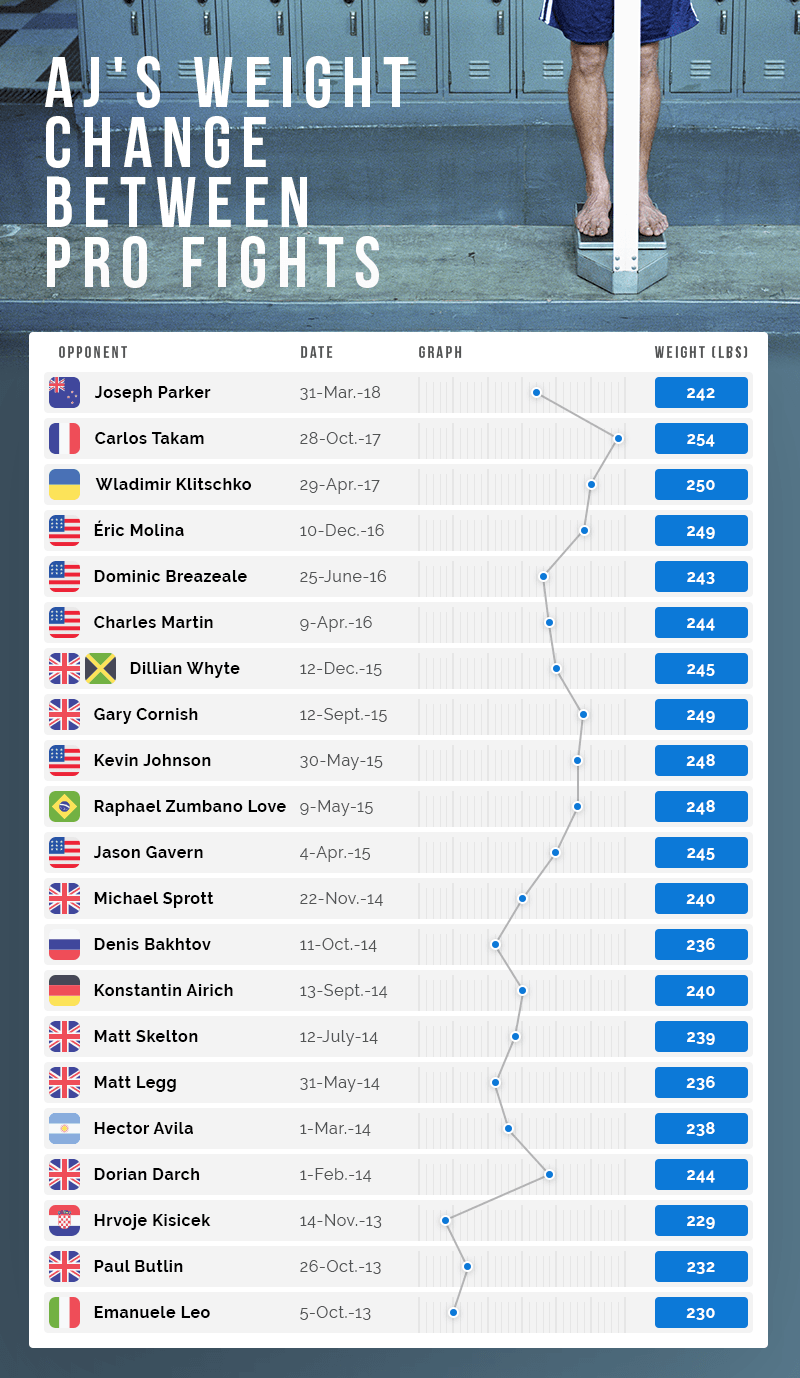 For anyone who has followed Joshua's pro career closely, they will notice how his weight has changed. The 28-year-old is obviously going to grow as he gets older but, when he first started as a pro immediately after his amateur days, 'AJ' was only training for shorter fights.
This came in the form of three three-minute rounds, meaning he had no need to bulk up as much during his training.
As shown in the graphic highlighting Joshua's different weights throughout his time as a professional, he gradually grew in size from making his October 2013 debut.
After adjusting to professional life, his weight took a jump after three fights, while he continued to bulk and become a much more physically distinguished heavyweight.
Once he got to the more serious level of opponents his weight reached over 240lbs, as he grew into a fully-fledged professional heavyweight.
There's a tactical approach to weights here. Against Klitschko, 'AJ' needed to be big and strong but also agile in order to achieve the defining win of his career.
Joshua knew he needed to be the bigger man against Carlos Takam, a short and stocky fighter. This meant bulking further, as he weighed in at a career-high of 254lbs.
He then faced Joseph Parker, who was renowned for his movement and quick hands. This required 'AJ' to come in lighter in order to last the potential 12-round distance, therefore dropping 12lbs.
Mental strength a key component
While there's a focus on Joshua's physical assets due to his towering stature, his mental strength is crucial too.
Matt Nussbaum, CEO of Flex-mitts and pro manager of former heavyweight boxer Fred Kassi whose previous opponents include Dominic Breazeale, Hughie Fury, and Jarrell Miller, outlined: "What's more important is to prepare your fighter's mind to learn and adapt and be creative under fire."
"Joshua picked the lock of Klitschko. That didn't happen just because he was simply faster or stronger, or even tougher – although getting off the canvas to do it was impressive – it was because he was able to collect enough data from the threat in front of him to adapt and counter effectively."
"He didn't panic when he couldn't find a foothold staring down a 3,000ft face. He kept his cool, listened to his corner and saw an opening he could exploit."
Training camp is the ultimate test for any fighter, with many locking themselves away from loved ones to help prepare mentally, including 'AJ'.
"Once the contract is signed and camp is on, the world changes for the fighter and his team," Nussbaum continued.
"The only thing that matters is the fight, everything else is a distraction. The purpose of a boxing camp is to not to overtrain or undertrain, but to find that 'just right' level of training and preparation, to get the fighter as comfortable as possible in uncomfortable situations. And that takes focus."
With Joshua's weight and enormous frame having steadily increased over the years, it's likely his weight will continue to fluctuate frequently in future bouts in order to give him tactical and size advantages.
Links/sources used:
http://boxrec.com/en/boxer/659461
http://boxrec.com/en/boxer/318081
http://www.dailymail.co.uk/sport/boxing/article-4457102/Anthony-Joshua-s-diet-foods-fuel-boxing-champ.html
https://news.sky.com/story/joshua-vs-parker-revealing-the-extraordinary-diet-that-fuels-anthony-joshua-11289271
https://en.wikipedia.org/wiki/Anthony_Joshua
https://en.wikipedia.org/wiki/Alexander_Povetkin
http://www.espn.com/olympics/summer/2012/boxing/story/_/id/8261768/2012-london-olympics-britain-anthony-joshua-takes-super-heavyweight-gold-finale