Top 10 Biggest Horse Races In The World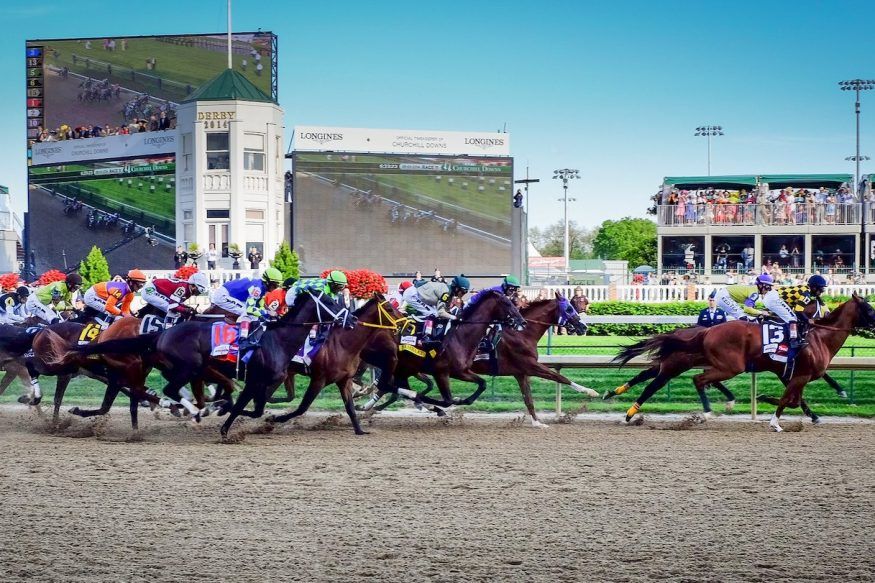 As long as humans have been riding horses, there's been horse racing.
They call it the sport of kings and when you see the prize funds of these famous horse races, you'll understand why.
Ever wondered what the top 10 greatest horse races are? Our experts took these criteria into account when deciding:
Total prize fund (also called the purse) for racehorse owners and trainers
Global betting interest in the race
History, prestige and worldwide significance
Amount of media coverage
Interest from the wider public beyond horse racing enthusiasts
Here's a look at the largest, most financially important, and celebrated horse races in the world:
10. Epsom Derby
Date: First Saturday in June
Location: Epsom Downs Racecourse, Surrey, England, UK
Surface: Turf
Distance: 2,400m (about 1.5 miles)
Prize Purse: About $2,000,000
The biggest horse race in Britain in prize money terms.
Contested since 1780, the Epsom Derby is the premier Flat race in the UK.
Open to three-year-old thoroughbred colts and fillies only. Such races are called Classics.
It's the second leg of the English Triple Crown after the 2000 Guineas at Newmarket, but before the St Leger at Doncaster.
Often attended by British royalty like Royal Ascot, the Duchess's Stand at Epsom Downs Racecourse has 11,000 capacity alone.
9. Saudi Cup
Date: Last Weekend in February
Location: King Abdulaziz Racecourse, Riyadh, Saudi Arabia
Surface: Dirt
Distance: 1,800m (about 1.1 miles)
Prize Purse: $20,000,000
The world's most lucrative horse racing event with a purse of $20 million, with $10 million going to the 1st place winner.
Automatic bids are awarded to the top three finishers in the Pegasus World Cup – Saudi Arabia pay for the travel, accommodation and horse care too.
The first Saudi Cup was held in February 2020, with the winner being Maximum Security. The winning jockey was Luis Saez – he still has not received his winnings after trainer Jason Servis went to jail in 2021 for using illegal medications on horses.  
8. The Everest
Date: Second or Third Saturday in October
Location: Randwick Racecourse, Sydney, Australia
Surface: Turf
Distance: 1,200m (about three-quarters of a mile)
Prize Purse: $14,000,000
Until the Saudi Cup announcement, there was no richer race on planet Earth than The Everest. This valuable sprint was only inaugurated in 2017, so is lower down our list until it builds up some history!
Despite that, horses from all over the world are attracted to The Everest by big prize money for winning it.
This event lacks Group/Grade 1 status and isn't eligible for it yet but looks sure to be awarded that in the future.
It's a weight-for-age sprint contest open to any thoroughbred racehorse whose owner is prepared to pay the $600,000 entry fee. Only 12 slots are available for purchase.
Redzel won the first two runnings of The Everest, showing age is no barrier to success in sprints.
7. Melbourne Cup
Date: First Tuesday in November
Location: Flemington Racecourse, Melbourne, Australia
Surface: Turf
Distance: 3,200m (about 2 miles)
Prize Purse: $5,300,000
Called the race that stops a nation, the Melbourne Cup is our second trip Down Under in this list.
A handicap for three-year-olds and up with weights set by the Victoria Racing Club, it tests a thoroughbred racehorse's stamina.
First contested in 1861, the Melbourne Cup has a long history and gets targeted by horses from all over the world.
Cross Counter became the first British-trained horse to win the race in 2018 – 25 years after Vintage Crop was the first Irish-trained winner.
Makybe Diva is the only three-time Melbourne Cup winner with consecutive victories in 2003, 2004 and 2005.
6. Grand National
Date: Second Thursday to Friday in April
Location: Aintree, Merseyside, England
Surface: Turf
Distance: 7,242m (about 4.5 miles)
Prize Purse: £750,000
In 1929 the Grand National saw a record 66 horses line up for the race. The smallest number came in 1883 when only 10 took part.
The slowest time in the historic competition came in the inaugural one – Lottery took almost 15 minutes to win in 1839.
2019 saw almost 10 million people watch the race, six years after it was first televised on Channel 4.
5. Sheema Classic
Date: Last Saturday in March
Location: Meydan Racecourse, Dubai, United Arab Emirates
Surface: Turf
Distance: 2,400m (about 1.5 miles)
Prize Purse: $6,000,000
Horse racing in the Middle East is beloved by Sheikhs and Princes throughout the region, so valuable races have sprung up there.
The Sheema Classic is one of the most valuable turf races in the world first contested in 1998, but entries into it depend on where a horse comes from.
Southern Hemisphere thoroughbreds can be aged three and up, but the race is only open to Northern Hemisphere four-year-olds and up.
The grandstand at Meydan Racecourse seats over 80,000 people.
An honorable mention goes to the Dubai Turf – an 1,800m race at the same meeting that's worth similar prize money.
4. Breeders' Cup Classic
Date: First Saturday in November
Location: A different venue in North America every year
Surface: Dirt
Distance: 2,000m (about 1.25 miles)
Prize Purse: $6,000,000
The concept of the Breeders' Cup is unique in global horse racing. This two-day meeting is held at different racetracks in the USA (and once in Canada) each year.
A series of qualifying "win and you're in" races are held around the world for various Breeders' Cup events.
The Breeders' Cup Classic is now one of the most famous horse races after first taking place in 1984.
It's a weight-for-age race open to three-year-olds and up. Tiznow is the only double Breeders' Cup Classic winner.
We can't mention the Breeders' Cup Classic without highlighting another valuable race during the meeting, the Breeders' Cup Turf.
3. Prix de l'Arc de Triomphe
Date: First Sunday in October
Location: Longchamp Racecourse, Paris, France
Surface: Turf
Distance: 2,400m (about 1.5 miles)
Prize Purse: $5,600,000
Arguably Europe's most famous horse race, the Arc has almost a century of history behind it after the inaugural running took place in 1920.
This weight-for-age race is open to three-year-olds and up, but geldings cannot enter.
Fillies and mares have a particularly good recent record in the Arc. As of 2018, eight horses are dual winners of the race.
Did you know that during World War 2, the Arc wasn't run at all in 1939 and 1940, while the 1943 and 1944 races were at Le Tremblay?
When Longchamp closed for redevelopment, Chantilly Racecourse took over hosting duties in 2016 and 2017.
2. Dubai World Cup
Date: Last Saturday in March
Location: Meydan Racecourse, Dubai, United Arab Emirates
Surface: Dirt
Distance: 2,000m (about 1.25 miles)
Prize Purse: $12,000,000
Back in Dubai, the most valuable race on World Cup night at Meydan is the eponymous Dubai World Cup.
This weight-for-age dirt race open to Southern Hemisphere three-year-olds and up, and Northern Hemisphere thoroughbreds that are at least aged four takes place on the same card as the Sheema Classic.
Thunder Snow became the only dual winner of the Dubai World Cup in 2019.
First held in 1996, horses trained in the UAE, UK, USA, France and Japan are on its honor roll.
1. Kentucky Derby
Date: First Saturday in May
Location: Churchill Downs Racetrack, Louisville, Kentucky, USA
Surface: Dirt
Distance: 2,000m (about 1.25 miles)
Prize Purse: $3,000,000
While the Kentucky Derby is far from the most valuable event on our list, it's hard to think of more famous horse races than this.
Nicknamed the run for the roses because winners are draped in a blanket of the flowers, it's also billed as the most exciting or fastest two minutes in sports.
As the first leg of the American Triple Crown, the Kentucky Derby was first run in 1875. It's a three-year-olds only race and the US equivalent of the Epsom Derby.
Secretariat is the fastest horse in Kentucky Derby history and one of only two to win in under two minutes.
American bettors gambled an estimated $133,000,000 on the race in 2015 alone. That's why the Kentucky Derby tops our chart as the biggest horse race on Earth!
If you enjoyed this, check out our post on the top 10 racehorses of all time. 
Lead image: GPA Photo Archive/Flickr, CC BY 2.0