Social Casinos vs. Online Casinos: Which Is Better?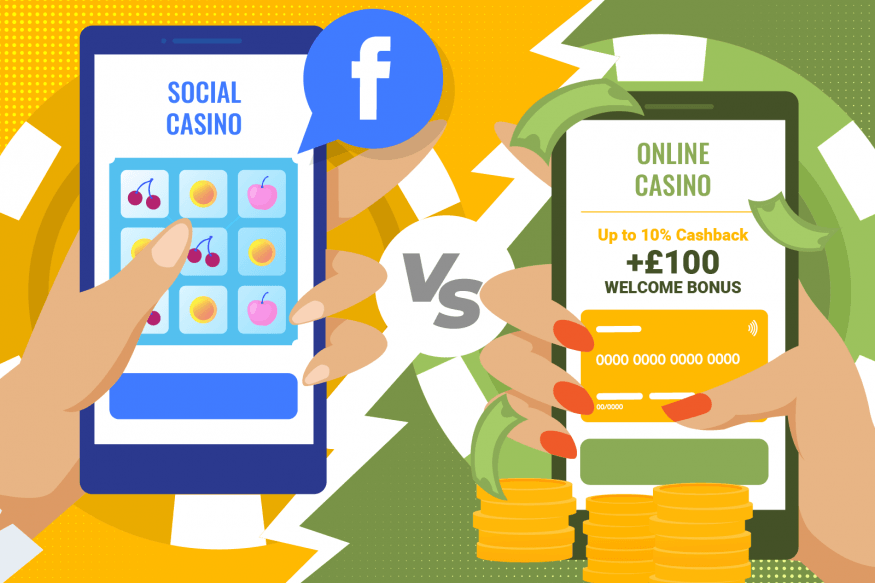 If you're new to the world of gambling, you might be a little confused. On one side, you've got real money casinos, such as the ones we rate and review here at Casino.org, and social casinos that use play money on the other.
Today we'll be looking at the differences between these casino types, why both are popular, and how to choose which is best for you.
Social Casinos
Social casinos allow you to play free online slots, table games and other games, with a strong emphasis on simply having fun.
Pros:
✅ No risk of losing any money
✅ Great way to enjoy yourself with friends
✅ Perfect for practicing before playing for real money
Cons:
❌ You'll never win any money
There are plenty of social casinos out there. Zinga is perhaps the largest of them all, thanks to its heavy presence on social media, but you'll also find names like Slotomania and Big Fish Casino too, which also have impressive numbers of players on their platforms.
All free casinos are completely legal and don't require any type of regulation, simply because it's not possible to lose any money playing at them.
However, whether playing free games can fuel addiction is a debatable topic.
You'll find numerous games to play at social casinos, although the most popular are free slots. It's also possible to play table games, including blackjack and roulette, plus there are also many social poker sites.
While there's no money to be won and lost, you'll still be playing for something. This is because social casinos have their own free currency.
Many social casinos make money from this, allowing players to purchase more currency.
Online Casinos
Online casinos allow you to play a variety of games for real money, meaning that you could win or lose cash in a playing session.
Pros:
✅ Potential to win money
✅ Exhilarating
✅ Huge variety of online casinos to choose from
Cons:
❌ Risk of losing money
There are far more online casinos than social casinos which, while great news for gamblers, also means there are more bogus casinos that could scam you out of your money.
Be sure to only play at a trusted online casino, like the ones recommended in our casino reviews.
Online casinos have one main difference from social casinos: it's possible to win – and lose – money when playing at them. This boosts excitement by a huge amount, as you're constantly on edge over whether you'll walk away a winner.
You'll also be able to play games for free at most online casinos, allowing you to practise without risking any money in the process.
As with social casinos, the main draw is the slots section, which can be populated with hundreds – or even thousands – of different titles.
Table games, video poker and scratchcards can also be offered, plus most online casinos now also offer live dealer games, which are played with a real dealer via a webcam.
Unlike social casinos, playing at an online casino is a solitary experience. If you're looking for real money games that are a little more sociable, we'd recommend heading to an online poker or bingo site instead, both of which offer chat features.
So, Which Is Better?
The answer to this question is: It depends.
If you're the kind of person looking for a good time, but who doesn't want to spend any money in the process, social casinos are for you.
They're also great if you're an avid social media user and want to play games that connect you with others on the platform – the games are single player, but there's nothing stopping you from posting your wins and commenting on posts or tweets from others.
On the other hand, if you're eager to try winning some money, and don't mind the fact that you could instead lose, online casinos with their real money games should be your number one choice.
You'll also find that online casinos have a far greater variety of games to enjoy, which is perfect for those who like to flit from game to game quickly.
It all comes down to a matter of personal preference and what you want to get out of your gaming experience.
Where To Play
You'll find plenty of social casinos out there. A quick search of Facebook will bring up loads, all of which can be played for free, or you can find some of favorites in our guide.
The choice is even larger for those looking to play real money games. As previously mentioned, you'll need to first find somewhere safe and secure, which is regulated properly and offers the safety features you should expect, such as SSL encryption.
You'll then need to compare the games offered by each casino, as well as the various bonuses on offer. Also, be sure to check your favored payment method is available, and that the customer support is strong.
Take a read through our independent reviews and you'll easily be able to find a site that's just right for you.