How Did Bingo Originate? The History Of Bingo Explained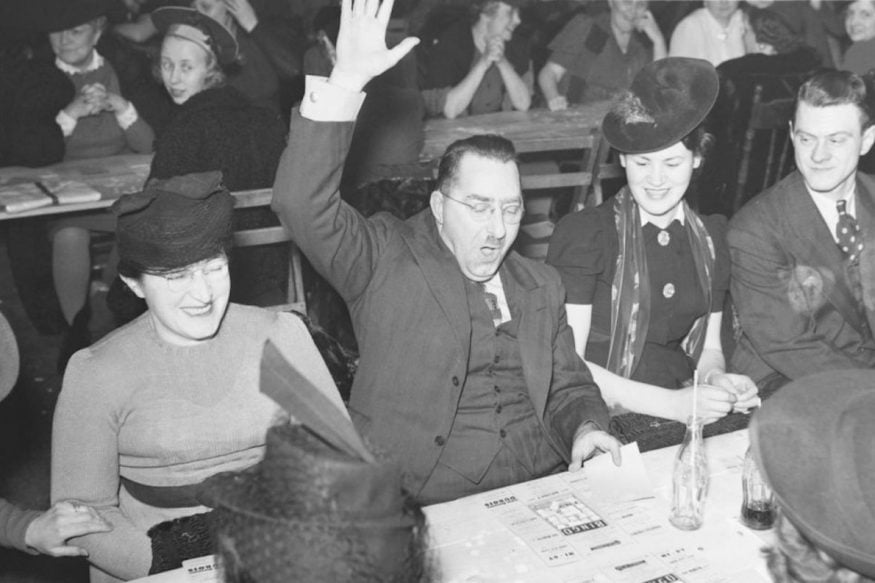 Bingo is still one of the most popular games and forms of gambling played today. That's pretty impressive staying power, considering it's estimated to be around 490 years old.
After experiencing a huge boom period in post-World War II Britain, Bingo's popularity slowly dived into decline during the 1990s. But recently, its conversion into an online game has helped breathe new life and excitement into this gambling old-guard.
But how did Bingo begin? And where did it come from? Stay tuned as Casino.org takes a look at the history and future of the famous game…
Where Bingo Began
Bingo's origins are believed to be in Italy, where it is said the game began life as a lottery called 'Il Gioco del Lotto d'Italia', in 1530.
From there you can trace its path roughly as a favorite of the French aristocracy, where it was known as 'Le Lotto', before finally arriving on British shores.
It's thought that bingo evolved into something resembling the game of chance we know and love today, when it first arrived in France. And by 1778 it was roaringly popular.
By the 18th century, the game had found a lasting home for itself in Britain, being widely played across industrial towns and cities, before finding a market in other nations, including the US.
Where Bingo Got Its Name
Evidence suggests the game was first dubbed 'Bingo' in the US, in 1929.
Legend has it that a toy manufacturer from Long Island, named Edwin S Lowe, first played the game at a carnival in Georgia, where it had become known as 'Beano' due to beans being used to mark numbers.
As the story goes, Lowe loved the game so much he popularized it by playing with his friends, one of which was so elated at winning she shouted "Bingo!" instead of "Beano!".
And so it began.
Lowe is said to have gone on to print cards, increase the number of possible combinations, and package it as a game before selling it under the name of 'Bingo'.
Fun fact: this success led to Lowe eventually selling another iconic game, Yahtzee.
In its golden age, Bingo became popular with US troops, and British army and navy personnel during World War I and World War II.
The game was often used as a distraction and form of entertainment during the difficult interwar and post-war years, which was when it also began to be used as a way to raise funds for community and charity projects.
The Online Revolution
Gambling and gaming are sectors that have embraced the online world with enthusiasm. Players can now access a wide variety of games online with just a touch of their keyboard, or a swipe of a touchscreen.
So it's easy to see how technology has revived once popular games that were previously teetering on the brink of 'extinction'. Bingo is one such game.
Bingo is big business, with the industry being worth an estimated £1.3 billion in the UK alone. And online Bingo is having a notable impact.
Cyberbingo.com, which was established way back in 1996, is believed to have been the first ever online Bingo site.
But it was not until 2003 when, in co-ordination with the massive online poker movement, virtual bingo really made a name for itself with many dedicated sites being created.
Another notable milestone occurred 2013, when 15 Network — an online bingo players' network — officially launched and enabled the game to move into the lucrative mobile gaming market.
It hasn't looked back since, with revenues increasing every year.
But it's not just due to online innovations either, with Bingo venues managing to attract increasingly younger audiences and even students through inventive twists surrounding music, nightclubs and dance moves, as well as cheap food and drink.
What's Bingo-ing On?
Bingo has undoubtedly come a long way from its 16th century Italian origins. And it's now even almost unrecognizable from its glory days in 1950s and 60s Britain.
But its rich history, ability to adapt and travel well, and to endure evolutionary phases, is all part of its charm.
Originating in Italy, evolving in France, being revolutionized in Britain, and becoming commercialized in the US; it doesn't get more international than that.
And Bingo's latest boom is showing no signs of slowing.
The game has even taken the coronavirus pandemic in its stride, by the playing of socially-distant games on streets, online and via communication platforms such a Zoom.
One particularly inventive idea includes playing Bingo with friends while watching movies together over streaming platforms and live chats, by noting down famous phrases and lines you expect to hear, instead of numbers.
We can't wait to see how the game reinvents itself next.
Sources:
https://www.bbc.co.uk/news/business-35075336
https://www.swlondoner.co.uk/how-bingos-been-brought-into-the-21st-century/
https://www.independent.co.uk/life-style/coronavirus-games-zoom-houseparty-facetime-quiz-charades-bingo-video-chat-a9430326.html
https://www.iwm.org.uk/collections/item/object/30082751
https://en.wikipedia.org/wiki/Bingo_(British_version)