What Ever Happened To Tom "durrrr" Dwan?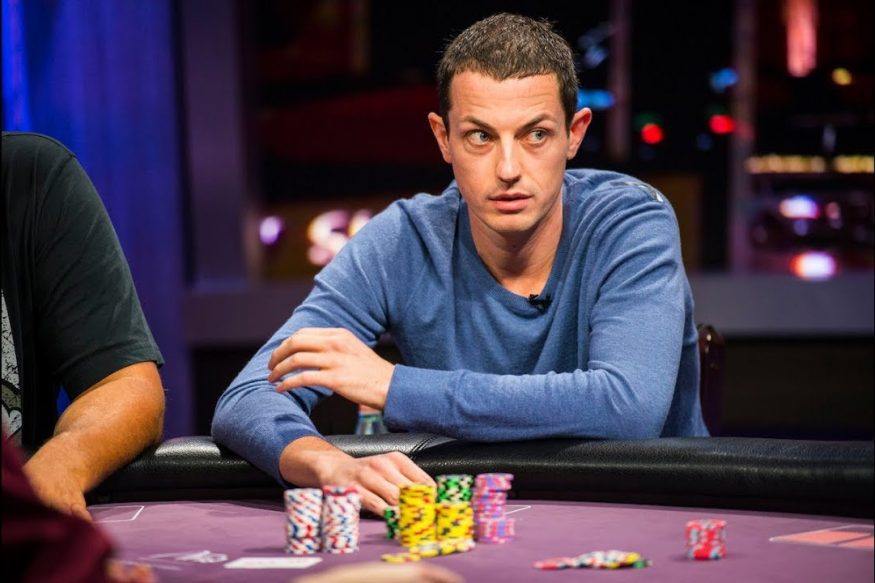 Those of you who have been poker fans for some time probably know the name Tom Dwan and his famous online nickname "durrrr".
Born in 1986, Dwan made his biggest mark in the poker world in the last few years of the 2000s.
Like many from his generation, Tom fell in love with poker in the post-Moneymaker period.
Young, motivated, and with a natural talent for the game, he managed to build a multi-million bankroll from a measly $50 deposit.
Dwan didn't shock the poker world just with his results.
His aggressive and fearless playing style has always been a treat to watch and a nightmare for his opponents.
The man who picked a weird-sounding nickname to annoy other players has made his most notable results on the virtual felt.
Although Dwan has appeared in numerous TV shows over the years, the online environment has always been more of his natural arena.
That's probably the main reason why he's been pretty much missing in action in recent years. With online nosebleeds pretty much dying off, "durrrr" had to move on and look for his fortune elsewhere.
According to the available information, "elsewhere" seems to be Macau, the Asian gambling hub hosting some of the craziest games in poker's history.
But, as is often the case, these games are shrouded in a veil of mystery, and nobody really knows what's going on behind the closed doors of fancy high stakes rooms.
So, what's Tom Dwan been up to lately?
Back For The Reboot Season Of High Stakes Poker
If you've wanted to see Dwan back in action, the good news is that he's featured in the new episodes of High Stakes Poker hosted by PokerGO.
PokerGO has made all eight seasons of the cult poker show available on its channel.
So, if you are up for some crazy action and want to see one and only "durrrr" pulling his crazy bluffs and heart-stopping over-bets, you know where to go.
Macau Games And Triad Rumors
Besides his latest tweets, Dwan has been mostly keeping to himself in recent years.
He's completely disappeared from the online arena, and his only public appearances were in Triton Series cash games and tournaments.
This raised many unsubstantiated rumors about the current living arrangements of the poker phenom.
It's no secret that Dwan spends a lot of his time in Macau.
This is the place for all high stakes players looking for action as Macau has pretty much redefined nosebleeds. Games with $1,000/$2,000 blinds seem to be the norm here, and the rumor has it that stakes go much higher once things heat up.
According to Dan "Jungleman12" Cates, another player with access to Macau games, Dwan once lost a $20,000,000 pot.
Although Cates wouldn't share any more details about the particular hand, the size of the pot tells you all you need to know about the kind of stakes played here.
Not Open To The Public
Macau games are pretty much private. You can't just pull up a chair and start playing. Even if you have the money, you have to be invited – and that invitation doesn't come easy.
Apart from the professionals, these games gather lots of rich Asian businessmen who are a dream come true for any serious poker player.
They love poker, they're crazy about action, and they don't mind dropping a few million for entertainment purposes.
Tom "durrrr" Dwan has found his place in this world.
He's been friends with Paul Phua, a Malaysian businessman who created the Triton Poker Tour and has also been one of the regulars in Macau games.
But, the poker community has a vivid imagination, and not everyone accepts such a simplistic explanation.
Instead, many have been connecting Dwan to the Triads, the infamous Chinese crime syndicate.
Some went as far as to say that "durrrr" was kidnaped by these criminals and held against his will, forced to play poker.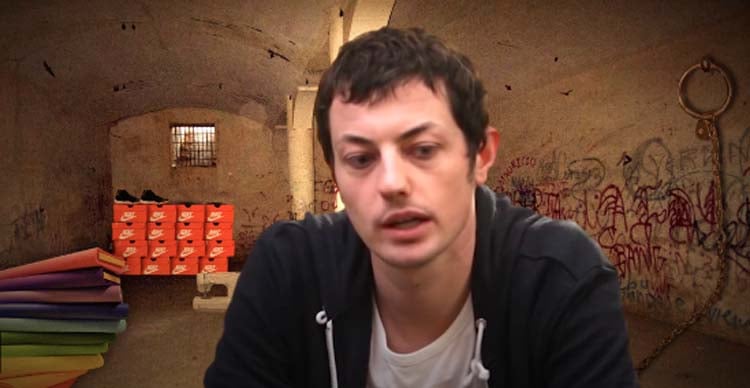 These rumors received some extra fuel when Phua was arrested back in 2014 under the charges of running an illegal sports betting operation.
Dwan was one of several people who posted the bond for the Malaysian businessman, and although Phua was later acquitted, the rumors lived on.
Although Tom is the only one to know the full truth, the Triads kidnapping story just doesn't seem very likely. But, you can't beat a good conspiracy theory.
What's Up With "durrrr" Challenge?
Another thing that Dwan owes his fame to is the notorious "durrrr" challenge.
During his glory days, Dwan issued a challenge to the entire poker community, offering to play anyone heads up at $200/$400 stakes, giving 3 to 1 odds.
The challenger was allowed to pick the game (NLHE or PLO), and they would have to play at least 50,000 hands.
His close friend Phil Galfond was the only one excluded from the challenge. Everyone else was welcome to take a shot.
Although "durrrr" was regarded as a very competent player, the odds were simply too good to pass on.
High stakes pros like Phil Ivey and Patrik Antonius were eager to take a shot. If the challenger could make a profit after 50,000 hands, they'd get the additional $1.5 million on top of whatever they won during the match.
Things didn't go too well for Antonius. After 40,000 hands, the Finn decided he'd had enough.
Dwan was up around $2,000,000, and Patrik decided to settle things privately instead of playing out the remaining 10,000 hands.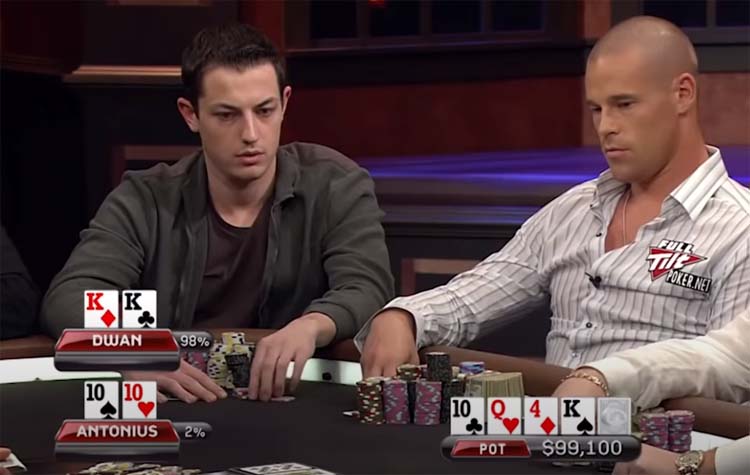 But then came Dan Cates, aka "Jungleman12", the man whose intimate knowledge of the game and his experience with the poker software made him a very dangerous opponent.
The match against Cates started in August of 2010, and it wasn't long before it became obvious that Dwan might have made a horrible mistake.
After close to 20,000 hands, "Jungleman12" was up $1.2 million, and he was showing no signs of backing down.
But then came April of 2011.
When Black Friday struck, Full Tilt went under, and the "durrrr" Challenge came to a halt.
Today, almost a full decade later, the challenge is still pending and the poker community is awaiting the resolution.
Will Dwan Ever Complete The Challenge?
Over the years, there've been tons of rumors about the possibility of the match between Cates and Tom Dwan resuming.
However, there's been no serious effort on Dwan's part to get it resolved up to this point.
A few years back, the two agreed that "durrrr" would pay penalties for postponing the match.
According to Cates, Dwan did end up paying around $700,000 or $800,000 in penalties, but the payments eventually dried up.
There have been several attempts at resuming the challenge, but none of them really materialized.
Cates and Dwan have been in touch over the years, which is hardly a surprise seeing they play in the same games.
There doesn't seem to be much bad blood, if any, between the two over the challenge. Cates does hope it will resume one day, but he's not making too much fuss over it.
Of course, poker forums and Twitter are an entirely different story.
Every now and again, there is a new thread or a fresh tweet commenting on the "durrrr" Challenge and calling out Dwan for dodging the action.
At this point, it's really hard to say if the challenge will ever be completed. The latest rumor in 2019 was that PartyPoker might offer the platform for the two to complete the match.
The news sparked the spirits in the community but, sadly, nothing came of it.
Tom "durrrr" Dwan was once a much-feared high stakes online pro.
However, in recent years, he's been completely missing from the world of internet poker. At this point, he's probably not eager to complete the challenge and will avoid it if possible.
That said, stranger things have happened in poker, and perhaps this decade-old challenge will be completed at some point in the future.
Many people would love to see it as it would be one of the best poker throwbacks in the game's history.
So, still keeping my fingers crossed for that one.
Tom Dwan's Recent Results
For the first few years following his disappearance from public view, Dwan was nowhere to be seen.
His online career came to a rather abrupt stop following Black Friday, and he was also missing from major tournaments in the US and Europe.
With the Triton Series launch, Tom "durrrr" Dwan finally came back into the limelight, at least to some degree.
Although he no longer enjoys the same kind of popularity he once had, there are still thousands of poker fans out there who were happy to see Tom was alive, well and still grinding away.
In the past few years, Dwan's had several six-figure cashes, for a cumulative total of over $750,000.
But "durrrr" has never been a tournament player, so the lack of results in this particular area isn't much of a surprise.
On the other hand, he's been very active in cash games accompanying various Triton Series events, and many of these sessions are available on YouTube.
These "televised" sessions are probably just a small part of Dwan's overall play in recent years, but it's nice to see Tom in his natural habitat.
Regardless of how much time has passed since the glory days of High Stakes Poker, "durrrr" always seems to belong in these nosebleeds games.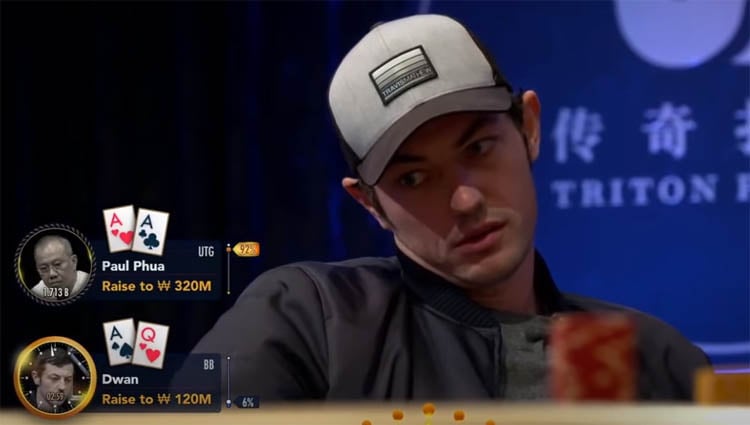 Of course, there is absolutely no way to tell how much he's won in the post-2011 period.
There is no official site tracking live cash game results, and those in the know aren't too keen to share the information.
It does seem like Dwan has been able to make a very comfortable life for himself in Macau, and he clearly has the bankroll to deal with swings that must be quite brutal at these stakes.
It's possible that he's playing partially backed as well since this is a common practice in the modern poker world, but, if true, that's between Tom and his backers.
Will Tom "durrrr" Dwan Make A Big Comeback?
To this day, the name of Tom "durrrr" Dwan remains part of poker history.
He was an inspiration for countless young players seeking poker glory. Having built his bankroll from $50 to millions of dollars, challenging and beating the best in the game, Dwan has shown that anything was possible in poker.
Was he lucky at the very start?
Probably.
But that doesn't take away from his tremendous success.
The fact he did what he did with just $50 is amazing, but if he had to make a hundred more $50 deposits, his story would still be just as inspirational.
The question on everybody's mind, though, is: will Tom Dwan make a big comeback to the poker scene at some point?
His appearance in the new season of High Stakes Poker would be a great way to do it.
Apart from the quarrel with Cates, there is no bad blood between "durrrr" and the poker community at large. If he wanted, he could come back, and he'd be welcomed.
Unfortunately, I don't see that happening.
Dwan has clearly found a new home in Macau and he feels good there.
Games are good, money is good, and if stories are to be believed, high rollers seem to like having "durrrr" around.
He's an action player and knows his way around these games, which couldn't be said for all high stakes scene members.
If online nosebleeds return in style, maybe Dwan will be tempted to dust off his old alias and give the virtual felt another go.
Other than that, he seems to be happy where he is right now, and you can't knock that down.
Pro players have always followed good games, and they don't come much better than in Macau!
For more articles in this series, check out:
Lead image: YouTube