The Most Memorable Moments In Poker History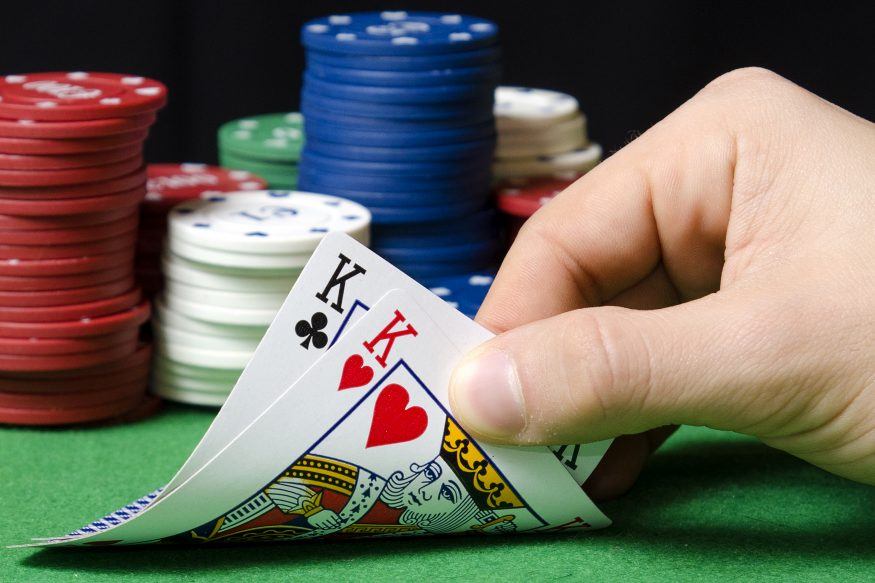 The game of poker has been around for centuries and has come a long way from saloon tables to where it is today.
The game has turned into a global phenomenon over the years, and the number of people who play poker (recreationally or professionally) has gone through the roof.
There have been many important milestones for poker over its relatively recent history, some of them turning out to be a major positive or negative influence on the game.
It's fair to say that the past few decades have seen more significant events for poker than all those centuries combined, so today, I want to mention ones that you should know.
In this article, we'll take a short trip down memory lane to remember some of the biggest, most important events that have marked poker history forever – for better or worse.
January 1, 1998 – The First Online Poker Site Goes Live
1998 may seem a bit early for poker as most major events took place quite a few years later.
However, it was on that very first day of 1998 that the very first online poker room launched under the name of Planet Poker.
The site was founded by Randy Blumer and Mike Caro, poker legend and author of the famous Caro's Book of Poker Tells.
In those days hardly anyone knew about online poker, so it was a huge success for the room when it reached its first milestone in February by keeping up a single cash game table running the entire night – something hard to imagine today!
Of course, the site had to deal with a ton of difficulties as they started to grow, most of which were technical in nature.
Slow internet speeds, disconnections, and other problems made the online poker experience a lot different twenty-odd years ago compared to what it is today.
But it was a huge milestone, nonetheless. The pair's pioneering efforts started what would later become a multi-billion dollar industry.
Planet Poker ceased real-money operations in 2007 and continued to exist as a subscription-based play money site until 2017.
May 2003 – Chris Moneymaker Wins WSOP Main Event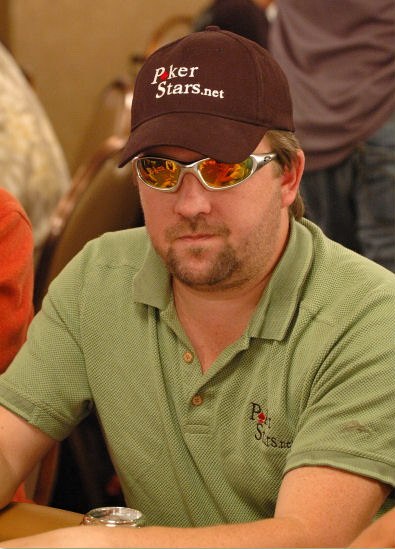 Back in 2003, an unknown accountant from Atlanta, Georgia, won his seat in the Main Event from an online satellite at PokerStars from a small buy-in of $86.
That year, WSOP Main Event saw a total of 839 entrants in the biggest yearly tournament and had the massive first-place prize of $2,500,000.
This was the time before all the crazy high rollers and huge fields with thousands of entrants, so the $2.5 million for the winner was the poker dream.
And it was especially the dream for the aptly-named Moneymaker, who under zero circumstances could be considered a professional player.
Yet, Moneymaker made it all the way through to the final table and beyond, going into the heads up match for the title against legendary Sammy Farha.
An experienced pro, Farha was dubbed a huge favorite going into the final stage of that 2003 Main Event.
However, Moneymaker had different plans.
With some help from Lady Luck, he eventually got all the chips in the middle with bottom two pairs against Farha's top pair. His hand held through the river, and he became the first-ever Main Event champion to have qualified online.
This started a chain reaction that was later named the "Moneymaker effect." Millions of people across the globe suddenly became attracted to the idea of playing poker.
"If Chris can do it, I can do it as well."
Everyone thought they could win their entry online for a few bucks, instead of paying the full amount of $10,000.
The dream was born.
Poker boomed in the following years, attracting an ever-growing number of new players visiting World Series of Poker every year.
January 2006 – High Stakes Poker Starts to Air
By 2006, poker was already a pretty big thing as player numbers swelled in the years following the Moneymaker's win.
In fact, it seemed that everyone wanted to see more poker, and people couldn't get enough of it.
Up to that point, pretty much all of the televised events were just streaming tournaments, so it was a good time to change things around.
It was the perfect time for the perfect poker show.
High Stakes Poker producers decided to take a different direction and bring nosebleed cash games to TV, featuring some of the biggest and best-known names out there: Doyle Brunson, Sammy Farha, Phil Hellmuth, Eli Elezra, Barry Greenstein, Jennifer Harman, and many other big names.
The game was, of course, No-Limit Hold'em, and stakes were $400/$800 – by far the biggest that viewers could see anywhere at the time.
After a few episodes, it became clear the show was pure gold. Everyone was tuning in to watch their heroes battle it out in massive six-figure pots.
Although we can't prove it, it's probably fair to say that High Stakes Poker was one of the biggest factors for the popularity of poker across the globe.
Having an opportunity to see these players live at the Golden Nugget in Las Vegas was a huge inspiration for anyone who was already flirting with the game.
The show was canceled in 2011, and that announcement saddened the entire poker world to some degree.
Although the final seasons of High Stakes Poker lost some of its initial magic, many agree that it was the best poker show we've ever seen on TV.
Whether you agree or disagree on that point, this simply has to make the list.
2006 – 2008 – The Absolute Poker / Ultimate Bet Cheating Scandal
One of the biggest scandals in the history of online poker happened on Absolute Poker when several players were discovered to have had access to information about other players' hole cards.
They used this information to make perfect decisions in all spots, winning substantial amounts of money over the course of time.
It was in September of 2007 that the cheating allegations were first brought up. The play by one specific account, "Potripper", during a particular tournament was brought in question.
After a careful analysis of all hands, it became clear that this player had the information about other player's hole cards by a super-user account.
Then, in 2008, the same thing happened on Ultimate Bet, the room owned by the same person and using the same gaming license.
The investigation revealed six players playing under different aliases, which were using the information provided to them by super-user accounts to play perfect poker and cheat unsuspecting players out of their money.
Eventually, Ultimate Bet admitted there was cheating going on, and the gaming commission confirmed players lost millions of dollars due to these actions, as this was going on since 2004.
However, the room continued to operate and had to pay only a $1.5 million fine.
Those aware of the situation left the site never to return, but many recreational players who missed the entire story continued playing.
2009 – The Year of Isildur1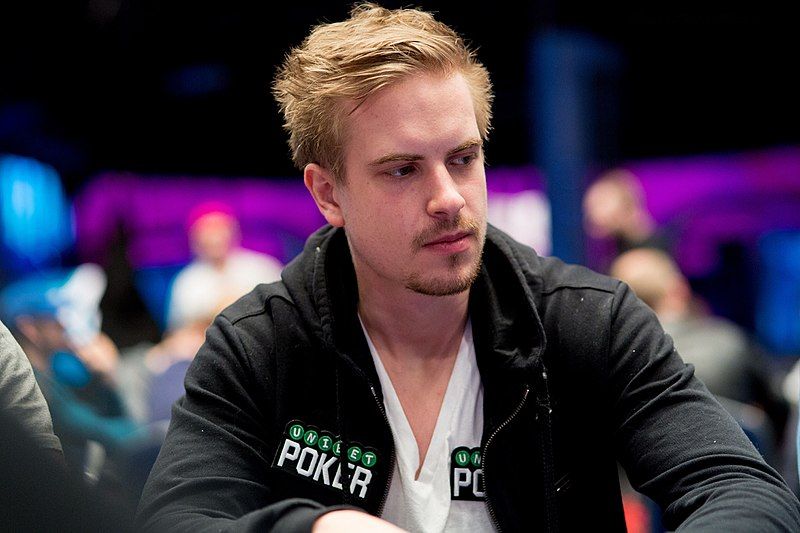 By 2009, online poker was in full swing, and there was some massive high stakes action happening around the clock, especially on Full Tilt Poker, which gathered all of the best players out there.
Many of them were sponsored pros or involved with the room in one way or another.
Their presence helped bring other pros and rich recreational players looking to mix it up the best, so everyone was happy.
In this highly competitive arena, out of nowhere, a new player emerged, playing under alias "Isildur1".
No one knew who he was or where he came from.
Anything anyone knew was that this new player apparently had a big bankroll, was playing a crazy style, and was willing to play anyone – no questions asked.
Initially, the poker public believed pros would make quick work of the anonymous hero, but he kept beating everyone, taking on the likes of Phil Ivey, Tom 'durrrr' Dwan, Patrik Antonius and many more.
However, his winning streak was eventually stopped by several pros who broke down Isildur1's game by sharing his hand histories – a move that was deemed quite questionable at the time.
In 2010, the identity of the man behind the Isildur1 moniker was revealed as that of Viktor Blom, a young Swede who was no stranger to high stakes action on other sites before coming to Full Tilt.
Blom was briefly signed up by PokerStars, and he continued his poker career over the years to come.
However, those few months that left the entire poker community completely confused over who this person was and how far they'd go are definitely a significant part of online poker history.
Never before, or after, have we seen someone or something generate so much attention with countless forum posts and people from all over the world firing up their Full Tilt clients in the middle of the night just to see who Isildur1 would take on next.
April 15, 2011 – The Black Friday
Anyone who used to play poker back in 2011 will likely remember this date for the years to come.
If we had to determine the order of magnitude for this event, it would likely be just as big as Moneymaker's win (if not bigger) – but with the opposite effect.
On this day, the USA Department of Justice seized the domains of several leading online poker operators, namely PokerStars, Full Tilt Poker, and Ultimate Bet on account of violating the UIEGA.
People who were trying to figure out what was going on and why they weren't able to play were greeted by the scary message: "This domain name has been seized by the F.B.I…"
Perhaps you remember seeing this?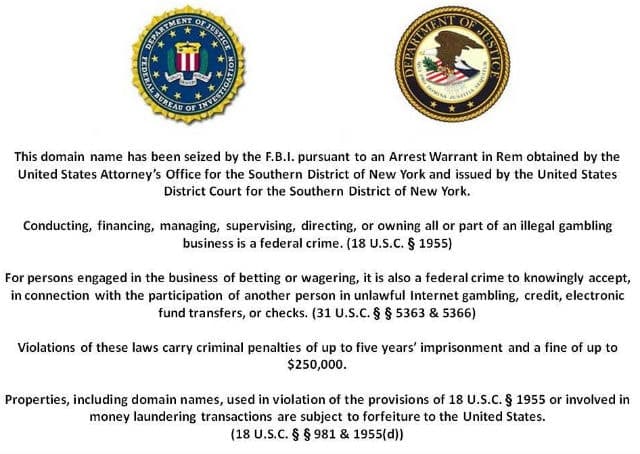 Poker's Black Friday created a wave of panic throughout the poker community, unlike anything before or after.
Hundreds of thousands of people had their bankrolls on these sites, and, for many, this was their livelihood.
No one had any idea about what was really going on and what would come next, so the next few days were filled with anxiety and anticipation.
It was soon revealed that what was happening behind the scenes would only affect US players, while it would be business as usual for the rest of the world.
But for the US players, especially the professionals, this was a huge blow. No one from the States could access the rooms, and they had no idea when, how, and even if their money would be returned.
PokerStars answered the challenge, and US customers were able to start withdrawing their balances about 10 days after the Black Friday.
Absolute Poker and Full Tilt weren't as effective, though, with a lot of empty promises but no money coming players' way.
Then, at the end of June of 2011, Full Tilt went dark once again, but this time for everyone. Their gaming license was suspended, and everyone had their balances stuck on the site.
In the meantime, Absolute Poker has gone completely under, and it has become pretty clear that players wouldn't see a cent from them.
Happenings of the Black Friday and its aftermath did a huge amount of damage for online poker on a global level.
US players were forced out, many players lost money in the process (or it was stuck for the perceivable future), and all of this sent a huge shockwave, scaring many away from the idea of playing online poker.
It wasn't the end, of course, but the impact on the poker economy was huge.
July 31, 2012 – PokerStars Buys Full Tilt Poker
The drama over Full Tilt funds continued over the months after Black Friday, and players were slowly losing hope they'd get their money back.
Then, late in July of 2012, it was announced that PokerStars would acquire Full Tilt with all of its assets and would pay all players' balances as the part of the transaction.
It was a great day for the rest of the world's players as they were finally given access to their funds, and PokerStars truly delivered on its promise.
Everyone was repaid in full and could easily withdraw their money or transfer it to PokerStars and continue to play there.
For US players, the process was much more complicated, though. It wasn't until 2014 that the first payments were made towards US customers.
Eventually, everyone who filed the required paperwork did get their money back, but it was a long and painstaking process.
July 2012 – The First $1,000,000 Buy-in Tournament
When the World Series of Poker announced the first $1,000,000 buy-in event called the Big One for One Drop, the news created crazy excitement among the fans and players alike.
With those wanting to participate having to pay a cool one million each and the number of seats limited, this was going to be one of the most exciting and entertaining events that people at home could enjoy on their TVs.
As many reading this probably know, the event was started by Guy Laliberté, the founder of the One Drop Foundation, and a sizeable chunk of every buy-in was going towards the foundation that helps provide people with clean drinking water in crisis areas around the globe.
The first iteration of the Big One for One Drop saw 48 players in total, and, as expected, the tournament attracted some of the biggest names around – the likes of Phil Hellmuth, Daniel Negreanu, Brian Rast, and many others.
In the end, it was Antonio Esfandiari who took home the title and the massive $18.3 million first place, defeating Sam Trickett in the heads-up skirmish.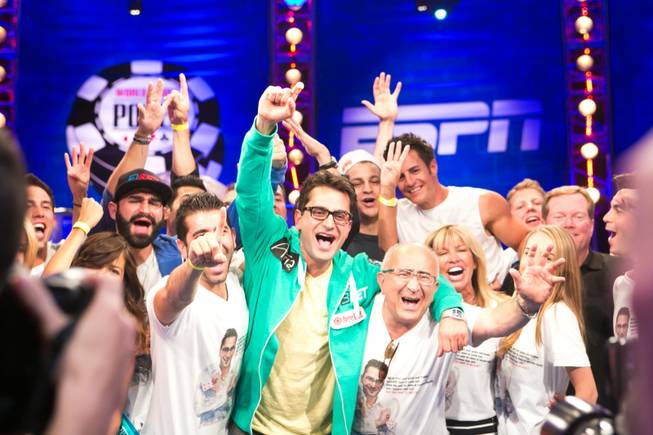 Whether it was because of the Big One for One Drop or not, in the years to follow, we saw a sharp increase in high roller tournaments.
There were high stakes events popping up all over the place, featuring $50,000, $100,000, and $250,000 buy-ins, often offering players a chance to reenter if they bust early on.
In a way, this ushered a new period in poker history, the era of high rollers, with numerous events with big buy-ins and huge prize pools.
The number of tournaments offering seven-figure prizes for top finishers swelled tremendously, which had its positive and negative sides.
On the one hand, these big events were good for TV, but, on the other, it made prizes in "smaller" buy-in events seem less impressive to a casual viewer.
April 30, 2013 – Regulated Online Poker Returns to the US
It took a couple of years after that fateful Black Friday for regulated poker to come back to the US through the small door.
Finally, on April 30, 2013, the first regulated online poker room went live in Nevada.
It was Ultimate Poker, and it was only available to the players physically located in the state, but it was a significant landmark nonetheless.
Several other states would follow suit in the months and years to come, including Delaware, New Jersey, and, most recently, Pennsylvania.
While there is still a lot of work to be done if online poker is ever to be regulated on the federal level and no one knows when US players will be able to rejoin the global pool, the launch of first state-regulated rooms was a big step in the right direction.
What's Next For Poker?
Many of the events described in this article had a huge impact on the game, playing a defining role in its future.
We'll likely see many more milestone events moving forward. Just look at how the global pandemic caused a new poker boom – anything could happen at any point.
We've had our fair share of negative milestones over the years so let's hope that the cards fall the right way, so we can enter the golden era of poker once again.