The 10 Most Popular NBA Arenas, According to New Data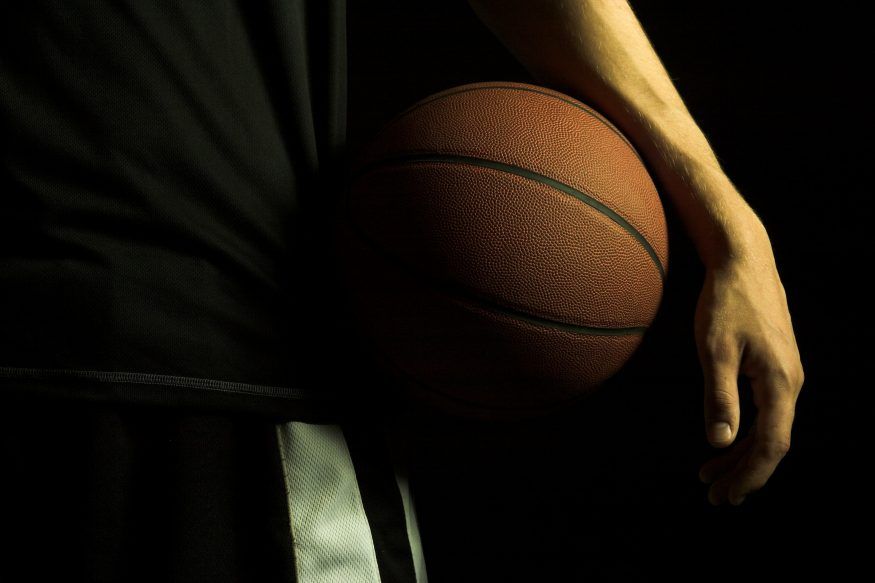 The NBA might be on hold at the moment, but it's a great time to pause and look back on all we love about the game.
Sure there's the sporting drama, the iconic moments, elite athletes, celebrity-stuffed finals, all-star line-ups and, of course, the game day snacks.
But what makes a sport is its crowds, and those passionate fans need a stadium worthy of housing them each week. When it comes to grand stages, the NBA certainly knows how to supply.
From historic structures built way back in the 60s, through to modern stadiums packed to the rafters, the NBA has some of the most Instagrammable arenas in the world of sport.
But which are the most popular NBA arenas? We've crunched the numbers and trawled through millions of social media snaps to find out which basketball arenas have been Instagrammed the most. How many have you been to?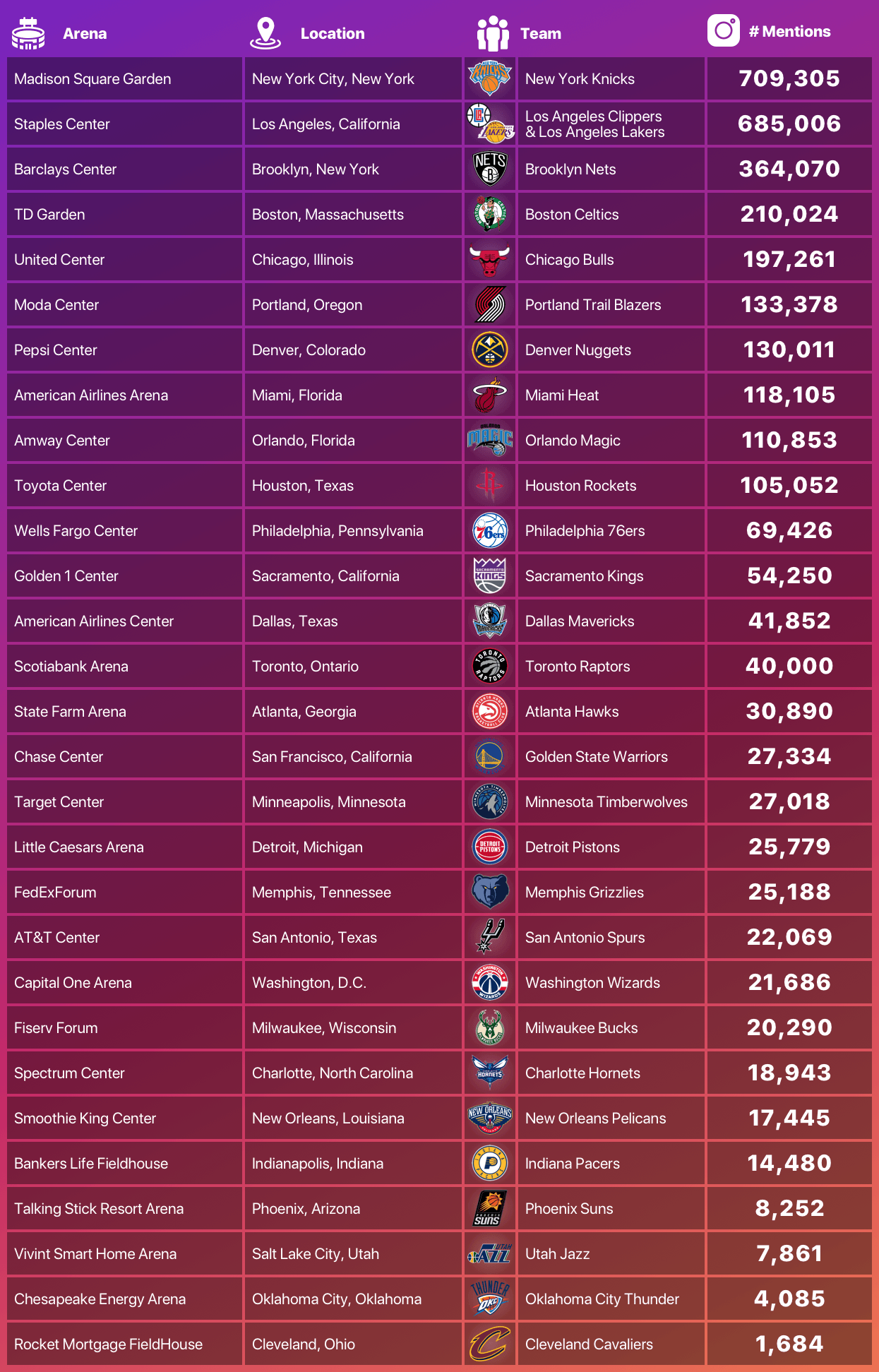 That's a whole lot of photos. Here's a bit more about the top 10 NBA arenas from our list:
1. Madison Square Garden
Location: New York City, New York
Team: New York Knicks
No of IG # mentions: 709,305
It's no surprise that The Garden is the queen of all NBA arenas, with over 700,000 Instagram hashtag mentions.
The Knicks are not the powerhouse they used to be, but that hasn't stopped them having the most snap-happy fans in the league. And who could blame them? It can be tough to get tickets, so you'd want proof you were there.
The spherical theatre is as iconic as US stadiums get, with a capacity of around 20,000. It is also now the oldest still in-use NBA arena, having opened in 1968.
And the arena, which is also an NHL venue, attracts a ton of tourists due to its Manhattan location and hosting of pop concerts.
MSG and the Knicks are such a NYC staple that they even popped up in the sitcom 'Friends' a couple of times. "Guess who has six tickets to the Knicks game tonight?"
2. Staples Center
Location: Los Angeles, California
Team: Los Angeles Clippers and Los Angeles Lakers
No of IG # mentions: 685,006
Next time you visit LA, swing by the Staples Center for a selfie outside this glamorous spot, which regularly hosts the Grammy Awards.
The arena can house around 19,000 basketball fans, and has the snap-worthy Star Plaza outside, which showcases statues of famous LA athletes and sports broadcasters.
We reckon this stadium has a bit of an advantage over its rivals, however, as it's home to not one but two top-flight teams. Fans of both the Los Angeles Lakers and the Los Angeles Clippers flock to watch sport and take photos of themselves doing so, surely giving this arena double the IG presence.
Still, who wouldn't want to stop by and see what is known as the 'House that [Kobe] Bryant Built'?
3. Barclays Center
Location: Brooklyn, New York
Team: Brooklyn Nets
No of IG # mentions: 354,070
Grab a hot dog, fries, and a soda and do what over 350,000 snap-happy fans have done and take a pic of New York's second most popular NBA stadium.
A mainstay on any sports sightseeing trip in the Big Apple, the Barclays Center seats around 19,000.
Home to the Nets, as well as NHL team the New York Islanders, it opened in 2012 with a Jay-Z concert. Not a bad start to stadium life.
4. TD Garden
Location: Boston, Massachusetts
Team: Boston Celtics
No of IG # mentions: 201,024
A mix of pinewood and club green colors makes TD Garden one of the prettiest arenas on Instagram — and clearly over 200,000 amateur photographers agree.
For Boston Celtic fans weighing up the odds on whether their favorite team will make it to the NBA finals and wanting to see their heroes shoot some hoops, it offers over 18,500 seats.
It's also a venue for hockey and concerts, which sees an estimated 3.5 million people visit the arena each year.
5. United Center
As home to NBA royalty the Bulls, and the largest arena by capacity in the NBA, we expected this basketball behemoth to be further up the list.
But the UC, also known as the 'House that [Michael] Jordon Built' still gets a respectable number of IG snaps.
It's function over art from the outside, so you might not want to take all your selfies there. But look a little further and you can capture a snap of the recently completed atrium, or the famous Michael Jordan statue.
Surely being home to the greatest basketball player of all time makes it worth a trip to the Windy City?
6. Moda Center
Location: Portland, Oregon
Team: Portland Trail Blazers
No of IG # mentions: 133,378
A scan through Instagram reveals that the Moda Center in Portland is a big hit with families and kids. It used to be known as the Rose Garden which, we have to admit, is a much nicer — if misleading — name.
It can fit over 19,000 NBA fans per game night, and many come to snap themselves in front of their favorite court and team.
But if you happen to be in Portland, you can also visit the venue for ice hockey, lacrosse, concerts, and…circuses…
As it has been named one of the five ugliest buildings in the city, it probably doesn't draw the same IG influencers as Madison Square Garden.
7. Pepsi Center
Location: Denver, Colarado
Team: Denver Nuggets
No of IG # mentions: 130,011
Denver Nuggets might not be the first team you think of when it comes to the NBA. But the Pepsi Center seems to punch above its weight when it comes to IG fame, and regularly packs out its over 19,500 capacity basketball seating.
Instagram is full of NBA fans posing in front of full crowds, players on court and, unsurprisingly, a lot of Pepsi.
8. American Airlines Arena
Location: Miami, Florida
Team: Miami Heat
No of IG # mentions: 118,105
As you'd expect, the home of The Heat has plenty of glitz attached to it.
The American Airlines Arena (AAA) features Florida's largest theater, plus 80 luxury suites and 76 private boxes. But what visitors usually take snaps of is the cool color-changing scoreboard.
It also has a row of palm trees along the main facade, making for a perfectly Insta-worthy picture. And when you're done you can join up to 19,600 other basketball fans and watch the Heat in action.
And the best bit? You won't be far from the beach.
9. Amway Center
Location: Orlanda, Florida
Team: Orlando Magic
No of IG # mentions: 110,853
Not one to be outdone by fans of Sunshine State rivals Miami Heat, Orlando Magic's Instagram presence isn't far behind, with over 110,000 tagged images.
What are all these people taking photos of, you may ask? The arena and its seating bowl were designed with basketball in mind. But there's also an impressive Floridian and sport-themed art collection.
And if it's picture opportunities you want, check out the Orlando Magic wall graphics or the rooftop bar.
10. Toyota Center
Location: Houston, Texas
Team: Houston Rockets
No of IG # mentions: 105,052
The Toyota Center in Texas rounds-off our top 10 most Instagrammed NBA stadiums.
While not much to look at from the outside, fans still flood to take photos of the arena, which was once controversial and almost never built. But it is the stage that James Harden, the NBA's MVP 2018 and 2018-19 Scoring Champion, graces every week.
When you can next get to a game, make sure to — safely — take a photo of yourself up high in the stands, with the crowd and the players far below.
Honorable Mention
While we're here, it's worth giving a nod to the only NBA stadium outside the US, too.
The Scotiabank Arena in Toronto was no slouch in the IG arena stakes either. The home of the Toronto Raptors, and the NHL's Toronto Maple Leafs, has clocked up around 40,000 hashtag mentions.
Formerly known as the Air Canada Center, is was reportedly Canada's most photographed location on Instagram in 2017. Yes, really.
Not So Instagrammable Arenas
But what about the least popular NBA arenas on Instagram?
Supporters of the following teams are among the least snap-happy NBA fans in the land.
Chesapeake Energy Arena
Location: Oklahoma City, Oklahoma
Team: Oklahoma City Thunder
No of IG # mentions: 4,085
Previously known as the Seattle SuperSonics, the NBA team upped sticks and moved to Oklahoma in 2008.
Considering The Thunder last celebrated a championship in 1979, before their name and location change, it's understandable that fans may have not had much to celebrate and share online recently.
Rocket Mortgage FieldHouse
The Cavs won their only NBA title as recently as 2016, with division and conference titles in 2018 too. They even had LeBron James on their books for a while.
But that bounce doesn't seem to have transferred to Insta snaps and popularity, as the team from Ohio's stadium has only 1,684 hashtag mentions on the platform.
We can't blame them entirely, as the arena's name does not rank among the most inspiring.
So there you have it! A list of the top 10 most popular NBA arenas. Tweet me your favorite @KeatonBrooke.
Sources:
https://globalnews.ca/news/3901402/canadas-most-instagrammed-locations-in-2017/
https://arenadigest.com/2017/10/12/nba-arenas-oldest-newest/
https://en.wikipedia.org/wiki/Madison_Square_Garden
https://en.wikipedia.org/wiki/New_York_Knicks
https://en.wikipedia.org/wiki/Staples_Center
https://en.wikipedia.org/wiki/Los_Angeles_Lakers
https://en.wikipedia.org/wiki/Los_Angeles_Clippers
https://www.barclayscenter.com/center-info/about-us
https://en.wikipedia.org/wiki/TD_Garden
https://en.wikipedia.org/wiki/Barclays_Center
https://en.wikipedia.org/wiki/United_Center
https://en.wikipedia.org/wiki/Moda_Center
https://en.wikipedia.org/wiki/Pepsi_Center
https://en.wikipedia.org/wiki/American_Airlines_Arena
https://en.wikipedia.org/wiki/Miami_Heat
https://en.wikipedia.org/wiki/Amway_Center
https://en.wikipedia.org/wiki/Toyota_Center
https://en.wikipedia.org/wiki/Scotiabank_Arena
https://en.wikipedia.org/wiki/Oklahoma_City_Thunder
https://en.wikipedia.org/wiki/Cleveland_Cavaliers