10 Of The Most Influential LGBTQ Sports Stars Of All Time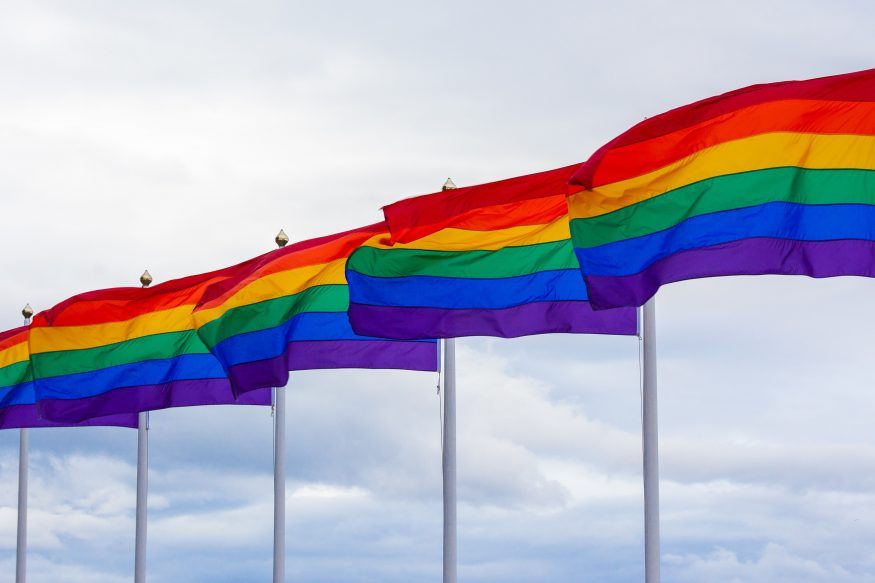 The LGBTQ community has been historically under-represented in the sporting world. Nowadays – and while there's still a long way to go – the sports world is opening up, and this is thanks in part to some of the great LGBTQ ambassadors, who have broken barriers and shattered stereotypes.
As we celebrate Pride globally this month, we wanted to look at 10 amazing LGBTQ athletes who have really pushed the agenda and attempted to make the world of sports a more welcoming place for all.
1. Renée Richards – Tennis
Dr. Renée Richards isn't the most famous name on this list, however she was a trailblazer.
Over 40 years ago, she won a court battle to play in the 1977 US Open as a woman following gender reassignment surgery. The following year, she reached the final of the US Open women's doubles tournament.
Richards would then go on to become a spokesperson for transgender sportspeople, plus she'd eventually coach tennis great Martina Navratilova, who'll you'll find further down this list.
2. Megan Rapinoe – Soccer
Megan Rapinoe is the current captain of the US national team, as well as the winner of both the Golden Ball and Golden Boot awards at the 2019 FIFA Women's World Cup – a tournament she won along with her team.
Rapinoe works alongside a number of LGBTQ organizations and has been awarded a place on the board of directors at the Los Angeles Gay and Lesbian Center.
She is also a spokesperson for Athlete Ally, which aims to stop homophobia and transphobia in the sporting world.
3. Ian Thorpe – Swimming
Australian Ian Thorpe – known by many as the "Thorpedo" – is one of the most successful swimmers of all time.
He has won five Olympic gold medals, which is the highest number won by any Australian athlete. He has also won 11 gold medals at the World Championships.
Thorpe came out in 2004 on a UK TV show.
In 2017, he was a high-profile supporter of the Australian Marriage Law Postal Survey, campaigning in support of same-sex marriage to be legalized in Australia – something that happened that same year.
4. Justin Fashanu – Soccer
Justin Fashanu was the first British pro soccer player to come out as gay, which he did back in 1990 via an interview with the UK tabloid The Sun.
Eight years later, Fashanu tragically took his own life following allegations of sexual assault made by a teenager in the US.
Despite the tragic end to his story, Fashanu became a symbol for the struggle for acceptance by LGBTQ players and supporters.
5. Billie Jean King – Tennis
Billie Jean King is a tennis icon, having won an unbelievable 39 Grand Slam titles.
She was, and still is, a great advocate for the LGBTQ community, as well as someone who pushed the subject of gender equality.
King is a member of the National Gay and Lesbian Sports Hall of Fame.
She has been outspoken recently on the homophobic and transphobic comments made by Margaret Court and thinks that the Margaret Court Arena – one of the courts used at the Australian Open – should be renamed.
6. Brian Boitano – Figure Skating
Brian Boitano was a huge name in sports during the 1980s and early 1990s, and the pinnacle of his career came when he won gold at the 1988 Olympics in Lillehammer.
He also won the World Championships twice and the US National Championships four times.
Boitano did not come out as gay while competing.
Instead, he revealed his sexuality in 2013, when he was appointed to the US delegation at the 2014 Winter Olympics in Sochi, Russia.
He said that until then he had never wanted to come out.
7. Tom Daley – Diving
Tom Daley is an English diver, with two World Championship medals.
The first of these medals came when he was just 15. He is also the youngest diver to ever compete in an Olympic final.
Daley came out as bisexual in 2013 via his YouTube channel, declaring he'd been in a relationship with his partner Dustin Lance Back since earlier in the year. They married in 2017.
He has been active in campaigning against anti-gay laws in Commonwealth countries and is also a patron of LGBT+ charity Switchboard (UK).
8. Orlando Cruz – Boxing
Boxing could arguably be seen as the most macho of sports, which makes Orlando Cruz even more remarkable.
The Puerto Rican came out as gay in 2012, while still an active boxer, and went on to challenge for the WBO Featherweight title in 2013 and the WBO Lightweight title in 2016, losing both bouts.
In 2013, Cruz married his partner in Central Park – the same year he was one of the first class inducted into the National Gay and Lesbian Sports Hall of Fame.
In 2018, he was also Grand Marshall for the Chicago Pride Parade.
9. Michael Sam – NFL
Michael Sam is a former defensive end, who was drafted in 2014 by the St. Louis Rams.
When Sam was drafted, he became the first publicly gay player ever in the NFL, having come out a few months beforehand.
Unfortunately, Sam's career wasn't a long one.
After being cut from the Rams, he was picked up by the Dallas Cowboys, however never made it past their practice squad.
He would then go on to spend a year in the CFL. He retired in 2015 due to mental health reasons and is now a motivational speaker and author.
10. Martina Navratilova – Tennis
Finally, we come to Martina Navratilova, who is regarded as one of the greatest tennis players of all time.
She won an unbelievable 59 Grand Slam titles, including 18 in singles competition, and spent 332 weeks as the world's number one female tennis player.
Navratilova is now known as an outspoken advocate for LGBTQ rights.
She has previously spoken at the March on Washington for Lesbian, Gay and Bi Equal Rights and Liberation. Navratilova also supports animal rights and humanitarian causes.
There are obviously a ton more amazing sports stars we would have loved to include! If you enjoyed reading this why not check out our other similar posts, like 10 sports stars who meditate or 10 sports stars who cheated.
Sources:
https://en.wikipedia.org/wiki/List_of_LGBT_sportspeople
https://www.thesportster.com/entertainment/top-15-famous-transgender-athletes/
https://www.insider.com/professional-athletes-who-are-lgbtq