Everything You Ever Wanted To Know About WSOP Chips And Cards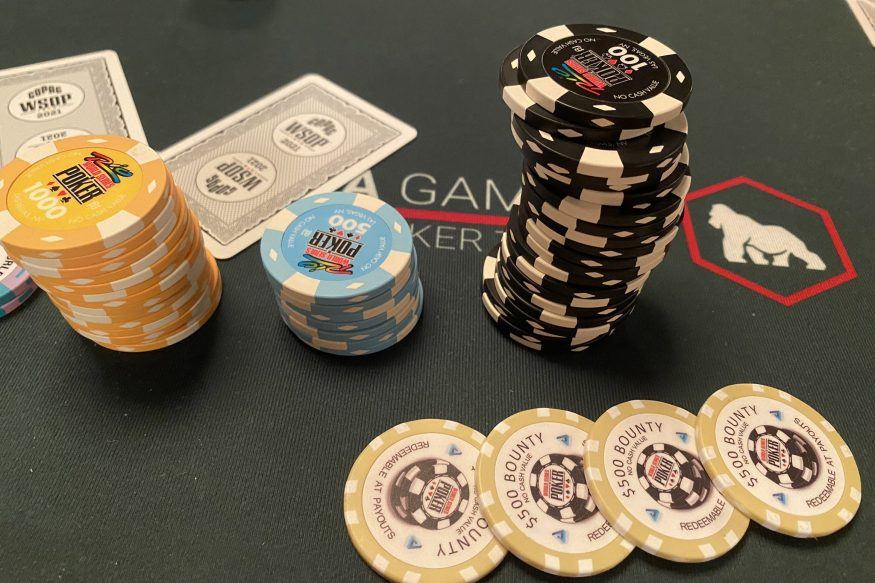 No matter how many events there are on the WSOP schedule or how many people make their way to Las Vegas, things always run smoothly and almost without a glitch.
This only shows that people behind the World Series are masters of their trade in every way imaginable.
Still, that's just one side of the coin.
Setting up such a big tournament series requires massive logistics support. You need countless decks of cards and enough chips for every player on the field, and with the WSOP having a reputation to uphold, these have to be of the highest quality.
Obviously, these things don't just happen by magic.
Someone has to supply all these items and ensure that those visiting Vegas to play some poker have everything they need at the tables.
In this article, I'll look into the driving forces behind the World Series of Poker to try and answer what companies are in charge of the logistics and how they can keep up with what must be rather tall demands year after year.
Where Do WSOP Chips Come From?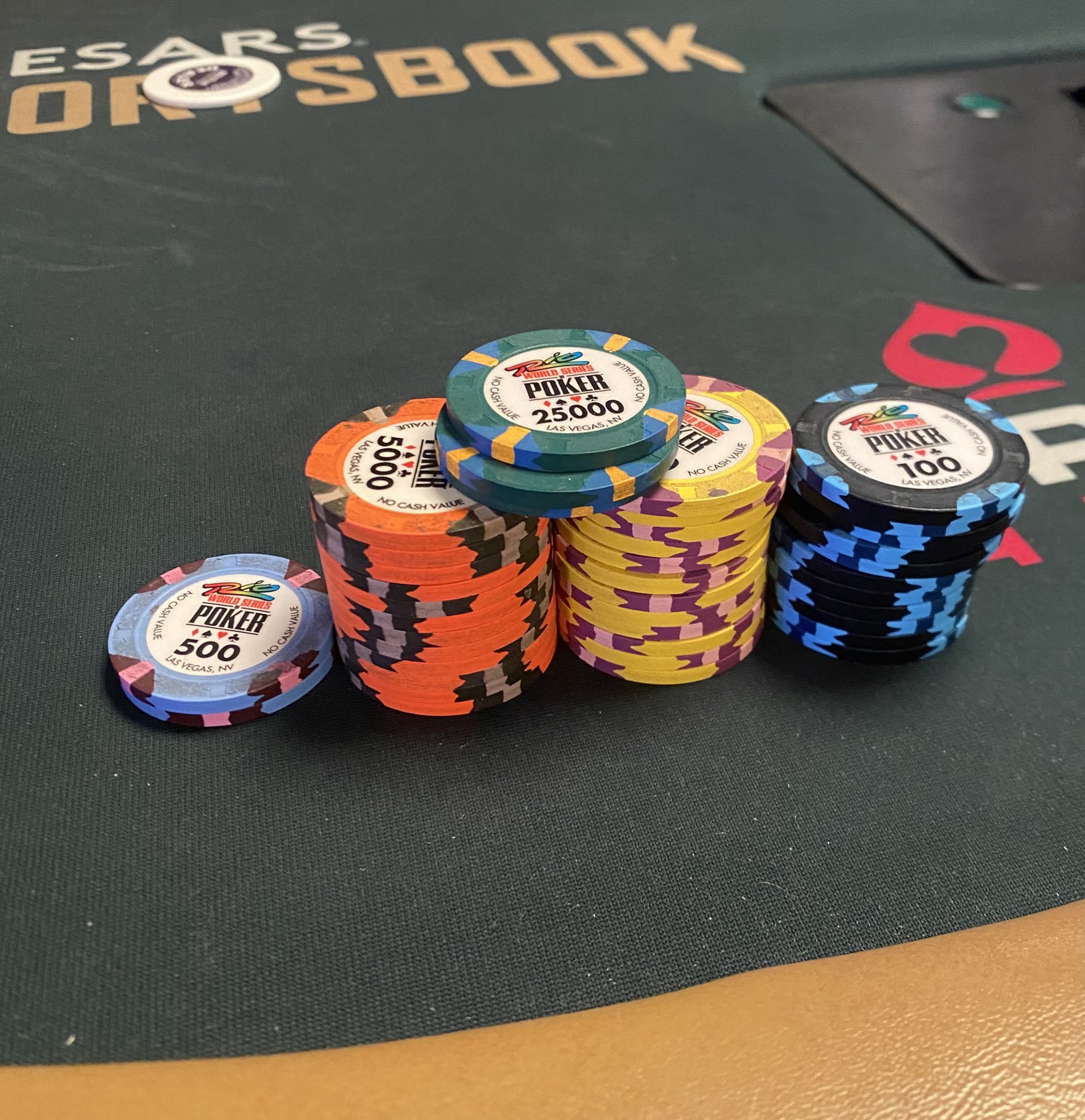 The World Series of Poker chips are some of the best you'll get to play with.
The organizers understand the importance of providing players with quality chips as they play a huge role in the overall experience.
If you've ever had an opportunity to play with quality clay or ceramic chips, you know how much better they are than their plastic counterparts.
At the World Series, there could be thousands of players playing at the tables at any given moment. These players are provided with their starting with anywhere from 20 to 50 individual WSOP chips of different denominations.
So, the organizers need to have access to hundreds of thousands of chips at any given time to make sure things run smoothly and without interruptions.
The WSOP has been going for some time now, so they definitely have plenty of chips to go about, but the company with exclusive rights over World Series of Poker chips is Excalibur Electronics, Inc., based in Miami, Florida.
So, they are probably the ones the WSOP turns to if they need to up their stock.
That said, the information about the World Series of Poker chips is somewhat lacking. Excalibur Electronics has seemingly shut down, so perhaps the Series has a new partner now.
No, You Can't Buy WSOP Chips
The official WSOP chips aren't available to buy – and for a good reason.
The organizers are trying their best to stay in control over the number of chips in play, and allowing people to buy them could create a lot of problems.
Someone could easily sneak in some of their own chips into the tournament area and add them to their stack without anyone noticing.
If these were the official chips made and sold by the WSOP, it would be very hard, if not impossible, to tell the difference.
That said, you can still get your hands on some WSOP-themed chips.
If you do some digging online, you'll find companies and individuals providing custom chipsets with the WSOP branding.
The quality of these chips varies, as do the prices. It all depends on how deep your pockets are and how much you're willing to spend on a set of chips.
Finding these chips isn't easy since the WSOP doesn't sell them, and those that do probably don't have the license.
The World Series of Poker is a massive brand, and they don't exactly let people use their name to boost their products' sales however they see fit.
However, if your heart is set on obtaining a set of WSOP chips to use in your home games, there are decent options out there.
Who's In Charge Of WSOP Cards?
While poker chips, especially quality ones, are quite durable and can be used for many years, cards are not. Even the best of decks can only take so much abuse from the players before they need to be replaced.
It's easy to imagine the World Series goes through thousands of decks every year.
That said, players do get to play with the highest quality cards that aren't as easy to damage and have a solid weight. This makes it easier for the dealers and the players alike.
The company officially in charge of all WSOP card needs is Copag Cards.

They've recently extended their deal with the World Series, so Copag will likely continue to be the exclusive supplier of WSOP decks for the foreseeable future.
If you've only played poker recreationally and aren't too serious about the game, you might think that the type of cards in use isn't a big deal – but you'd be wrong.
Back in 2017, there was a pretty big controversy over the cards used for the World Series that year.
These were decks provided by Modiano, another major company in this space, but players were very unhappy about the overall quality.
There was a loud outcry that the cards were too thin, which made them easy to mark, threatening the integrity of the games.
Related article: Top 7 Ways To Avoid Getting Cheated With Marked Cards
Although the organizers fought back for a little while, they caved in eventually and ordered some better cards.
Players have certain expectations when they come to play at the WSOP, and rightfully so.
This isn't just the biggest poker event on the yearly calendar. It's no secret the organizers make a pretty penny from the rake, so players have the right to demand quality cards and chips.
Where To Buy Official WSOP Cards
Unlike WSOP chips, which are really hard to come by, WSOP cards are readily available all over the place.
You can even purchase original decks used at the location, although these will usually have small holes punctured through them.
If you want to buy some new decks, you can do so right on the Copag official site.
There are many different options as you can buy card decks used in different years. This includes 2019 WSOP decks with a cool 50th-anniversary design on the backs.
The prices are quite reasonable. You can get a single deck for $5.99 or two decks for $11.95, with pricier options for the newest editions.
These cards don't just look cool, they are actually quality playing cards that you can use in your home games, making them a good purchase whether you need an actual deck to play with or you just want them for decoration.
Other WSOP Memorabilia
While cards and chips are essential to the World Series of Poker, many other items can be found inside the Rio during the Series or purchased independently.
Like with any other major brand, there are all sorts of WSOP memorabilia that you can get your hands on.
There is even an official online WSOP shop where you can purchase all sorts of branded items like caps, T-shirts, hoodies, limited-edition collector item chips, and more.
The WSOP licenses these products, so you can expect high quality and good customer support, which isn't necessarily the case when buying poker goodies from other merchants.
Besides the official stuff, you can also find all sorts of WSOP memorabilia being sold online by individuals, including original chips, usually just one or a few pieces, and even real World Series of Poker bracelets.
All in all, whether you are a WSOP fan, a poker player looking for quality chips and cards, or both – you now know what your options are.
Unfortunately, official WSOP chips aren't available to the general public, but you can get your hands on as many decks of WSOP cards as you like, so that's something at least.
Lead image: Twitter/maszatmarci