Everything You Ever Wanted To Know About WSOP Bracelets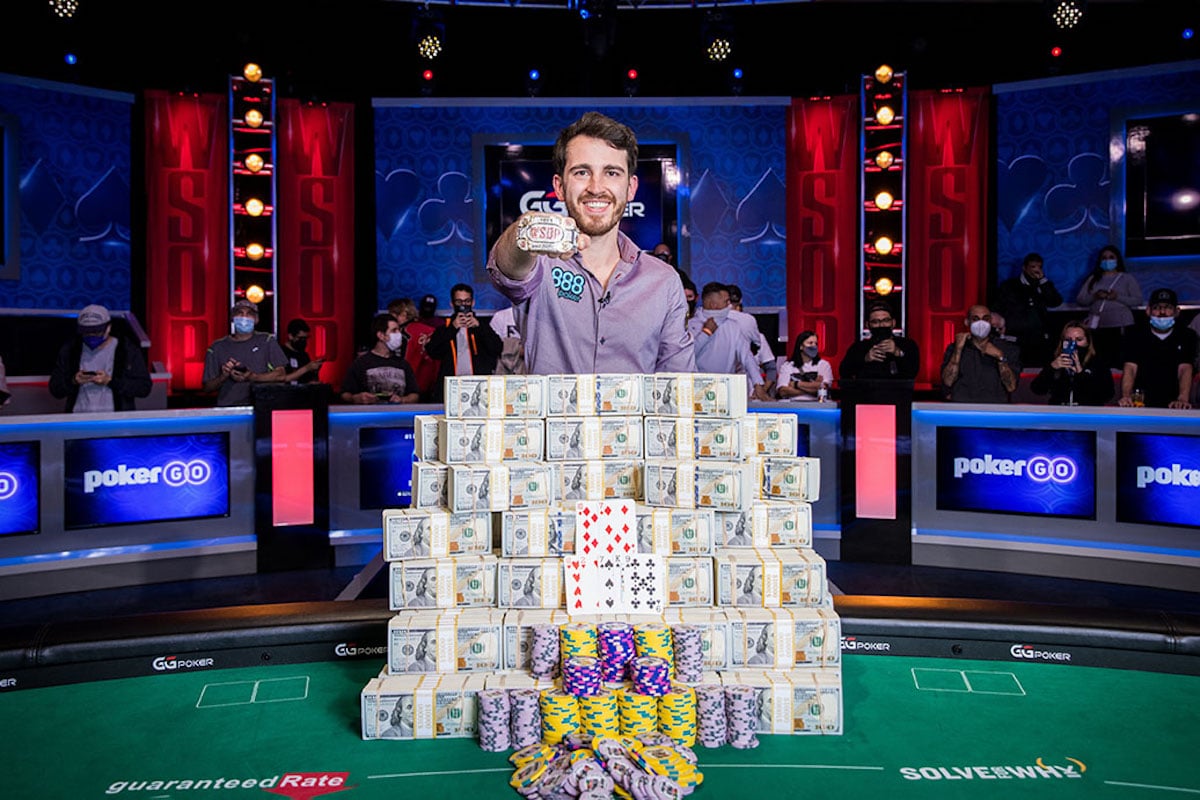 The WSOP has been awarding bracelets to the winners for decades now, and if you've ever wanted to know why, who makes them, or how much they're worth then you're in the right place.
We'll cover everything you need to know, including whether you can get your hands on one without actually winning a World Series of Poker event.
Where The Idea Of WSOP Bracelets Came From
When the World Series of Poker first kicked off in 1970, winners weren't awarded bracelets. Instead, they got a cup and a fairly common-looking plaque.
It was a nice trophy to have, but it wasn't unique in any way.
Then, in 1976 Benny Binion – the man who came up with the WSOP concept – thought of the idea to start awarding bracelets instead.
Benny figured that introducing bracelets for tournament winners would help set the game apart and make it different.
Additionally, bracelets were something players could actually wear while playing, so their competitors could see they were up against a WSOP champion.
Albeit somewhat unusual, the concept was well-received by the players at the time and WSOP bracelets were adopted for the years to come.
During those initial years, the number of bracelets awarded every year was fairly small.
However, as time progressed and poker became more and more popular, the number of bracelet-awarding events increased as well.
How Much Is A WSOP Bracelet Worth?
The World Series of Poker bracelets are probably the most coveted trophies in the poker community, so it's hard to put a fixed value on them.
As well as this, over the years the design of bracelets has changed quite a bit, and so has its monetary value.
The first bracelet that Benny Binion came up with in 1976 was worth around $500.
For the sake of discussion, it's worth mentioning that $500 was worth quite a bit more back then than it is now.
The WSOP bracelets of today look quite different, and the ones awarded in most events are probably worth around $1,500.
This is not accounting for the bracelet's sentimental value or prestige but simply looking at the value of materials used to make them.
However, not all WSOP bracelets are created equal.
Bracelets awarded for the Main Event winners are much more valuable and much flashier.
Year after year, they've become nicer and more expensive, really setting them apart from all other bracelets.
Some of the modern Main Event bracelets have been estimated to be worth hundreds of thousands based on the value of the materials and the design.
These WSOP bracelets contain gold and precious stones, making them fairly expensive pieces of jewelry. But we'll get back to that in a minute.
Can You Buy A WSOP Bracelet – And For How Much?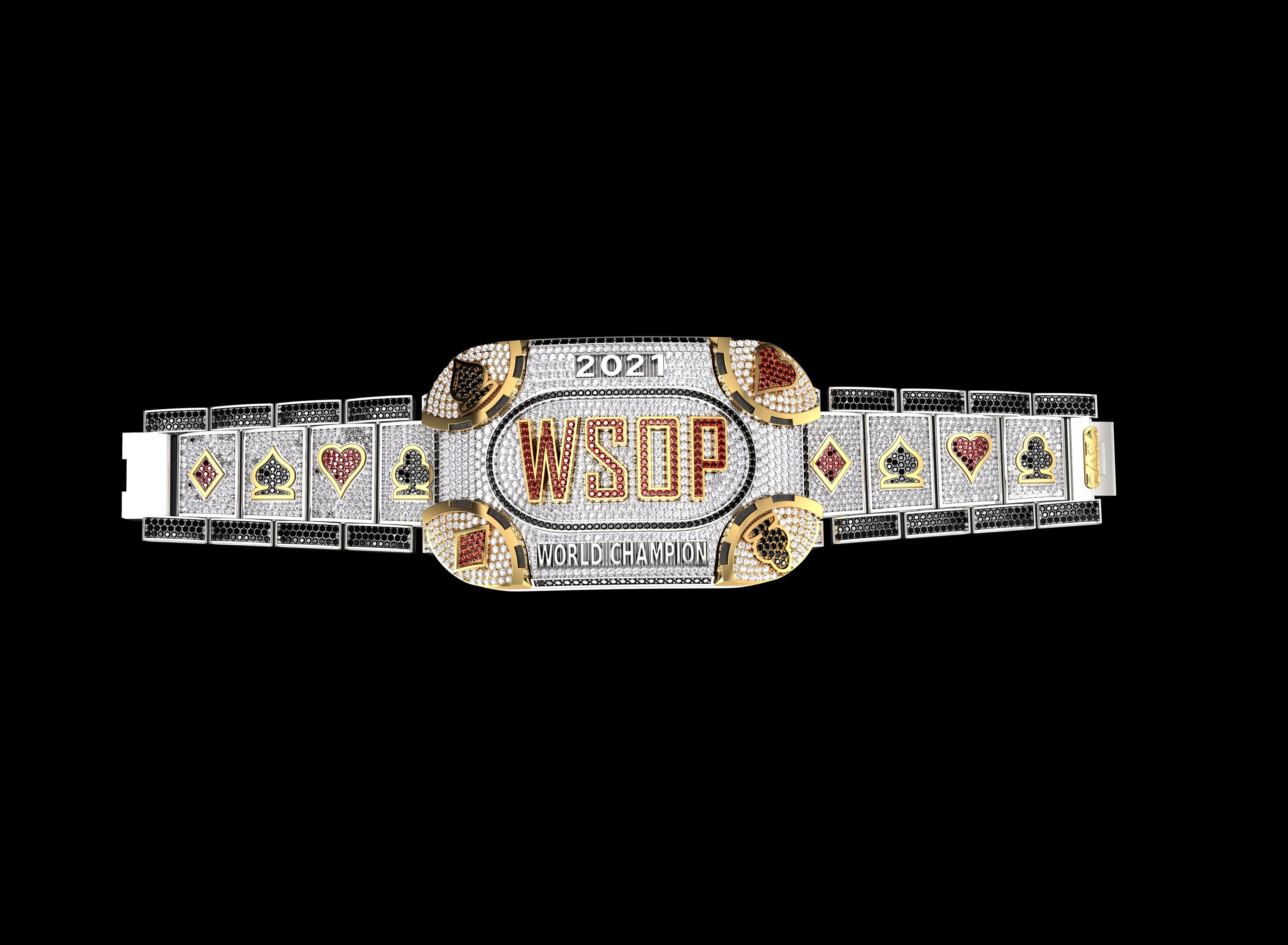 When it comes to sports memorabilia, the value of an item often doesn't have much to do with its physical value.
Usually, it comes down to what someone is willing to pay for it, and over the years, there have been several examples of WSOP bracelets being bought and sold online.
In 2019, a WSOP bracelet won in a $2,500 Limit Omaha event was put up for an auction on eBay. It reached the final price of $50,000, which was quite a hefty sum for an "ordinary" bracelet.
Perhaps the most famous case of a WSOP bracelet being put up for sale happened in 2013.
In that year, the 2006 Main Event bracelet popped up on an auction site. It was the largest Main Event in history that was won by Jamie Gold, who banked $12 million for his efforts.
The bracelet was eventually sold for more than $65,000, but later on, Gold went on record to say he had nothing to do with the auction, and it was out of his hands. He said that if it were up to him, he'd never give up on it.
Another fairly notorious WSOP bracelet auction happened in 2010, when Peter Eastgate, another Main Event winner, put up his bracelet for sale.
Unlike Gold, Eastgate was happy to sell his bracelet, with all proceeds going to charity. It went for $147,500 and the money went to UNICEF.
But, not all bracelets sold on eBay reached five-figure amounts. For example, TJ Cloutier sold his 2005 Hold'em bracelet for a mere $2,500.
All in all, WSOP bracelets pop up on eBay and other sales sites from time to time.
How much you'll have to pay for one will depend on how much interest there is. You can probably get your hands on a "regular" bracelet for a few thousand dollars.
It's also worth noting that the number of bracelet-awarding events has been growing every year, so there are more and more bracelets floating out there.
In 2020, the World Series of Poker took place entirely online, making bracelets even more accessible.
This is to say that we could see an increased number of WSOP bracelets sold online in the years to come.
With more of them being available, average prices might drop down as well, so don't be surprised if you see one of them with a starting price of just a few hundred.
If you take a look at discussions on Reddit, you'll see there's a lot of debate surrounding their worth, which shows that it's hard to pin a value on a bracelet.
Who Makes WSOP Bracelets?
If you check out a WSOP bracelet, especially the ones awarded for Main Events and other major tournaments such as Players Championship or Big One for One Drop, you'll notice that they're fine-crafted pieces of jewelry.
There's quite a bit of work that goes into making them.
So, who actually makes these WSOP bracelets?
Over the years, the World Series of Poker has worked with several companies, each of them putting their own touch into crafting the finest and most-coveted poker jewelry to attract players from all over the world.
In recent years, the WSOP has been working with a company called Jostens to design and create bracelets for the tournaments.
They were the ones behind the 2019 Main Event bracelet, which was very special, as this was the year the Series was celebrating its 50th anniversary.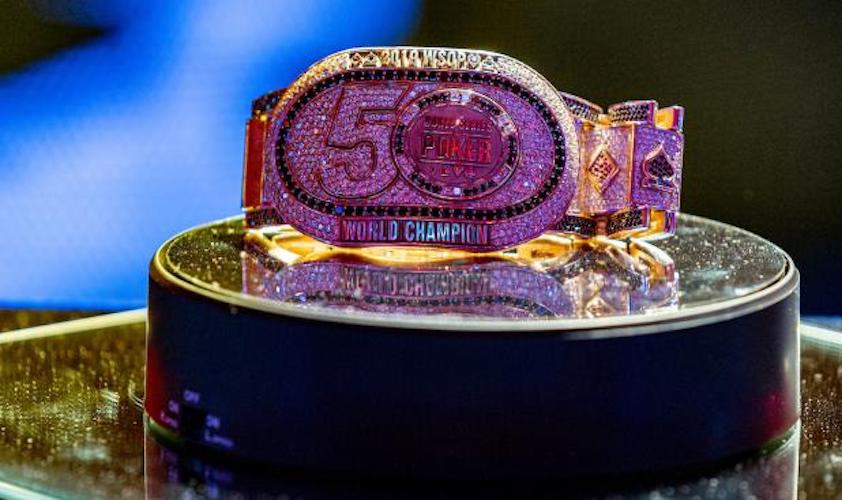 This particular bracelet was made out of 10K gold and contained 2,252 gemstones – 77 rubies and 2,175 diamonds.
This brought its total weight to 40 carats of gems, making it one of the most precious trophies you can find.
This beautiful piece of jewelry, alongside the $10 million first prize, went to Hossein Ensan.
In general, WSOP bracelets are crafted by companies experienced in making high-value jewelry and sports trophies, like Jostens.
It's not just about the value of the materials used but also about making these bracelets look unique and exquisite.
Future Of WSOP Bracelets
For over 45 years, the World Series of Poker has awarded bracelets to the tournament winners. By this point, bracelets have become synonymous with the WSOP.
It would be very strange if the organizers decided out of the blue to change this tradition and start awarding cups or different trophies.
So, for the foreseeable future, there is no reason to think WSOP bracelets are going anywhere.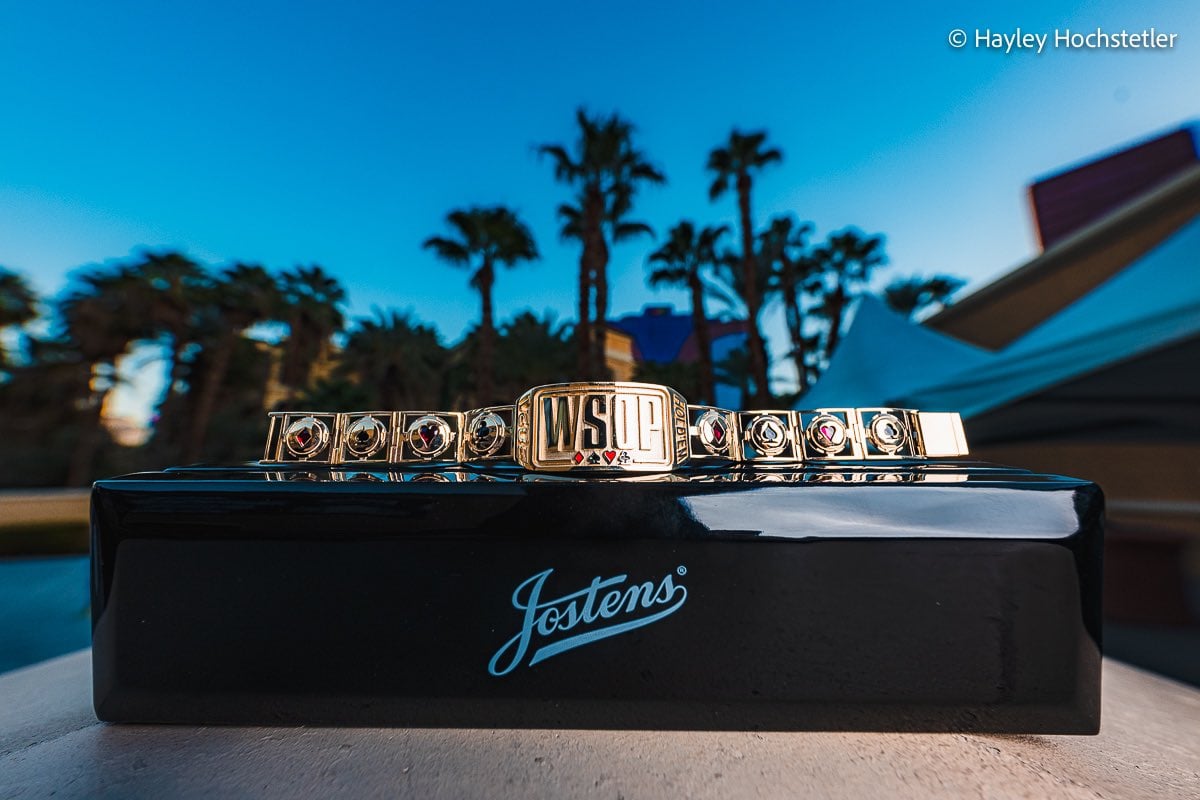 That being said, there has been some debate about the overall value and prestige that come attached to these trinkets.
With the number of WSOP events constantly increasing and the addition of online tournaments, claiming a World Series bracelet no longer represents the challenge it once did.
Year after year, there are more and more bracelets awarded, which has led some professional players to question the WSOP and their intentions.
The main objection is that having so many bracelet-awarding events hurts the value of a bracelet.
If they're so easy to come by and you can get one by playing from home in a tournament with the buy-in of just a couple of hundred dollars, it'll start to lose its appeal and prestige.
There is definitely some weight to this argument, but there's also the other side of the coin.
With WSOP bracelets no longer being so "exclusive" it could serve as an inspiration for more players to get involved and jump into the action.
What Are WSOP Rings?
Pretty much everyone who's been following poker knows about WSOP bracelets. These are covered quite heavily by the poker media every year, and every bracelet winner gets at least one article written about them.
But, you may have also heard about WSOP rings, and this could be a bit confusing.
If there are already bracelets, what are rings for? Do bracelet winners also get rings, or how does this work?
The WSOP rings are actually awarded to winners of an entirely different competition, known as the WSOP Circuit, or WSOPC.
These are tournaments with smaller buy-ins that take place all over the United States, Europe, and other parts of the world.
Although the competition is organized by the same company, WSOP rings and WSOP bracelets don't have much in common.
These are trophies awarded for completely different tournaments.
The WSOP Circuit isn't nearly as prestigious as the World Series of Poker, but winning a ring or two is still quite an accomplishment.
In fact, the competition in WSOPC tournaments is often much harsher than what you'll encounter at the actual World Series, as these events attract many serious players who play poker for a living.
No Real Price Tag
This article pretty much covers everything you need to know about WSOP bracelets.
These coveted pieces of poker jewelry certainly have quite a bit of history behind them and are something that many poker players and fans are interested in.
It's hard to say how much a WSOP bracelet is actually worth, as numerous aspects come into it.
At the end of the day, a WSOP bracelet will always have a different value for different people beyond its actual market value.
For some, it's a valuable piece of memory and proof of their poker abilities.
For others, it's just a piece of metal with no sentimental value to it – and that's just how it is.
Lead image: Hayley Hochstetler via Twitter/WSOP