The World's Most Expensive Pieces Of Sporting Memorabilia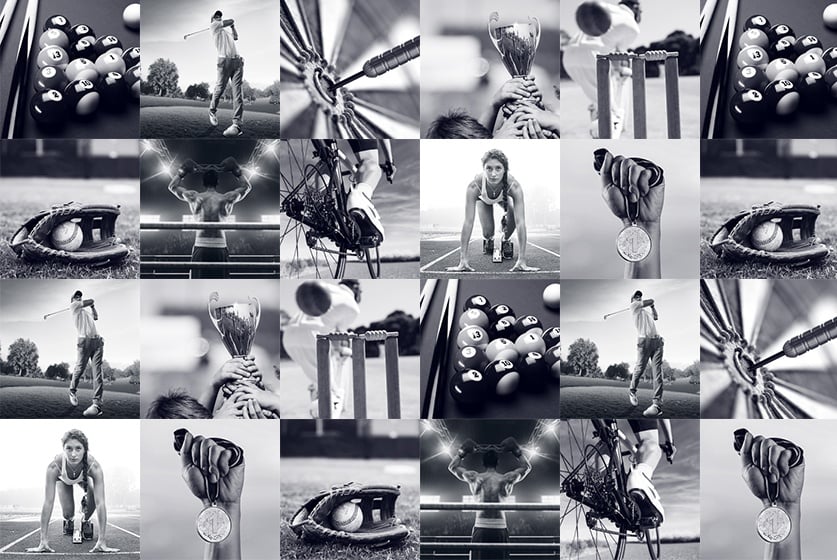 Sporting memorabilia comes in all shapes and sizes, from signed shirts and photos to the winning ball or stick.
The items often range in value depending on the name, or year attached. Memorabilia from legends such as Mike Tyson, Michael Jordan, and Babe Ruth all come with a hefty price tag.
But which sports (and sporting stars) are behind the most costly memorabilia?
Most Expensive Sporting Memorabilia Of All Time
If you want to bag yourself a signed memento from your favourite player or athlete, you can expect to pay into the hundreds or maybe even thousands of dollars in some cases.
But even that pales in comparison to the amounts that have been paid for some of the most expensive pieces of sporting memorabilia of all time.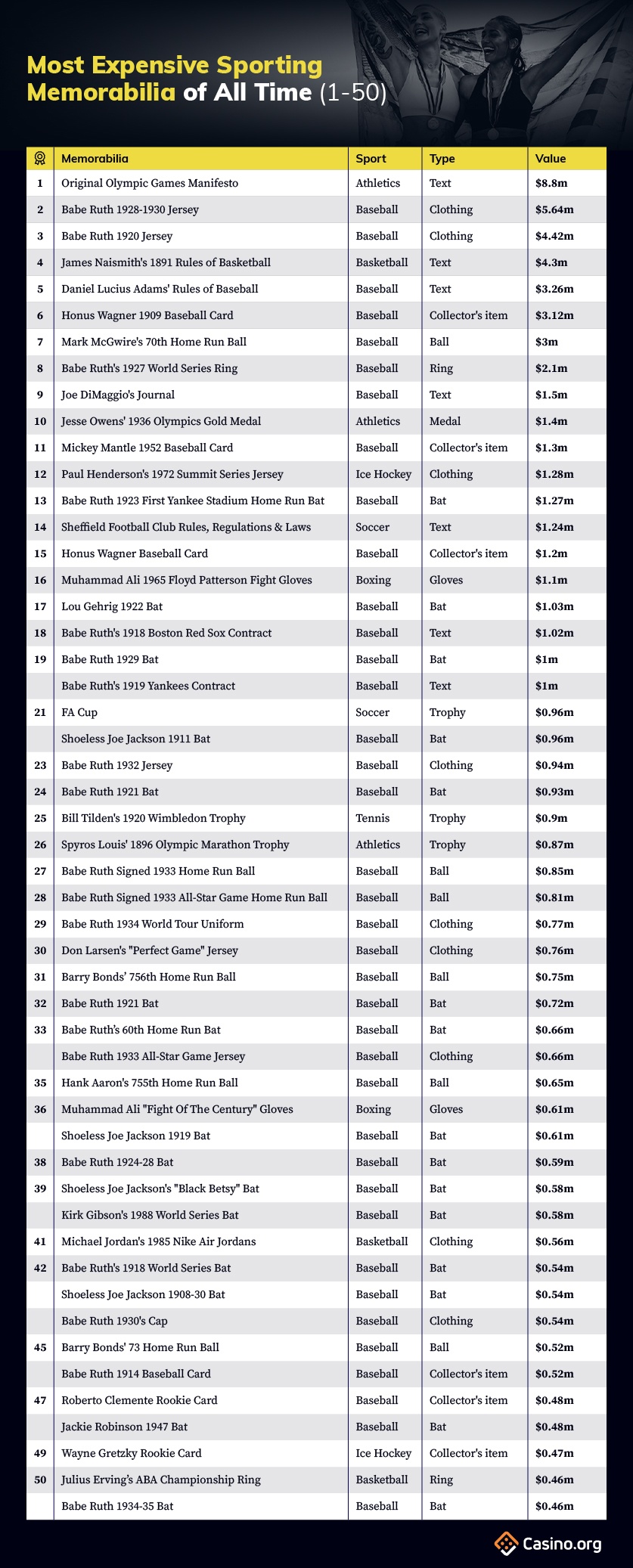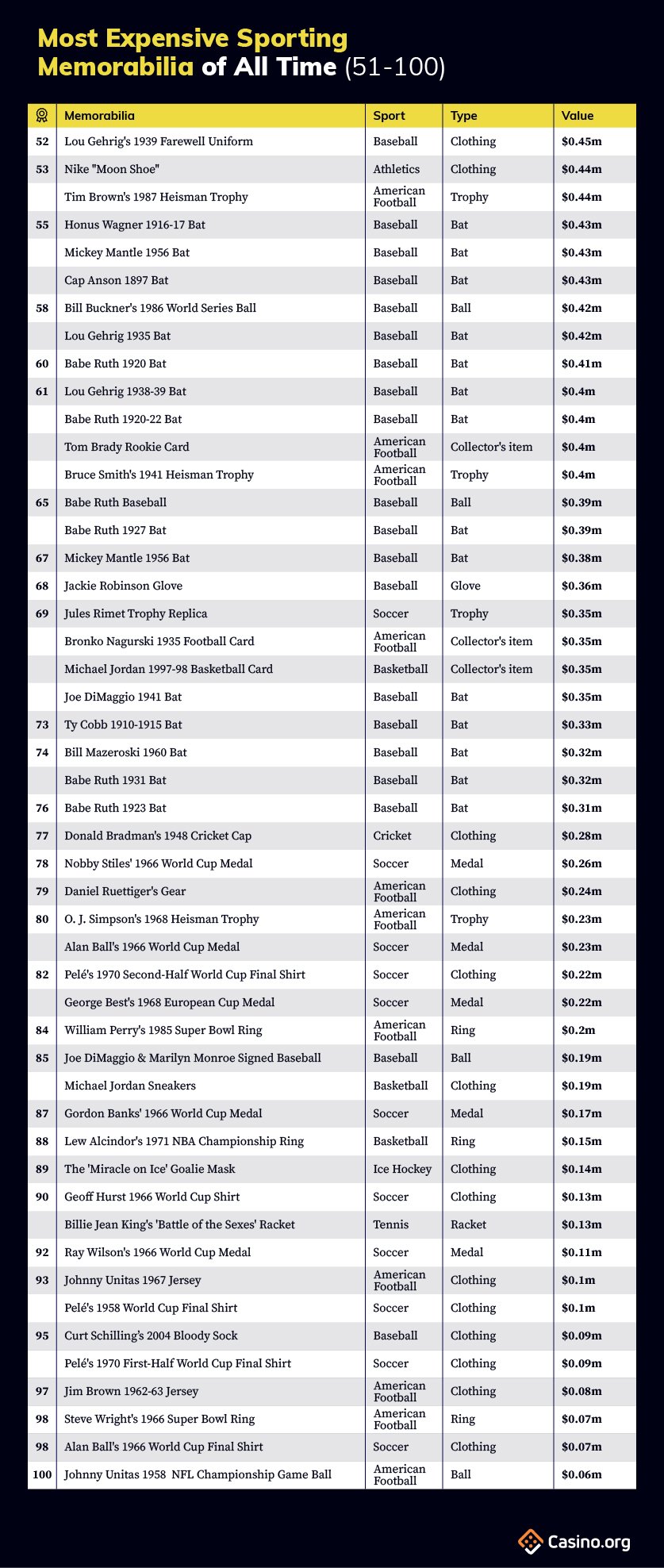 Top 3 Most Expensive Pieces Of Sporting Memorabilia
1. Original Olympic Games Manifesto – $8.8 million
The Olympics are one of the most iconic sporting events of all time and a couple of years ago, the manifesto outlining Pierre de Coubertin's vision for the modern day revival of the ancient competition smashed the previous record for the most expensive piece of sporting memorabilia, fetching just over $8.8 million at Sotheby's.
2. Babe Ruth's 1928-1930 Jersey – $5.64 million
Babe Ruth is an icon of American sporting culture, as evidenced by the fact that no fewer than six of the pieces on our list belonged to the legendary baseball slugger.
The most valuable of these was one of Ruth's jerseys which dates from between 1928 and 1930 and sold for $5.64 million at a New York auction in 2019.
3. Babe Ruth's 1920 jersey
Another of Babe Ruth's jerseys previously held the record for the most expensive piece of sporting memorabilia, this time one from the 1920 season.
This is actually the earliest known surviving jersey of Ruth's in existence and it sold for over $4.4 million in 2012.
Average Cost By Sport
We also took a look at how much the average cost of sports memorabilia looks today, and how this varies across different sports.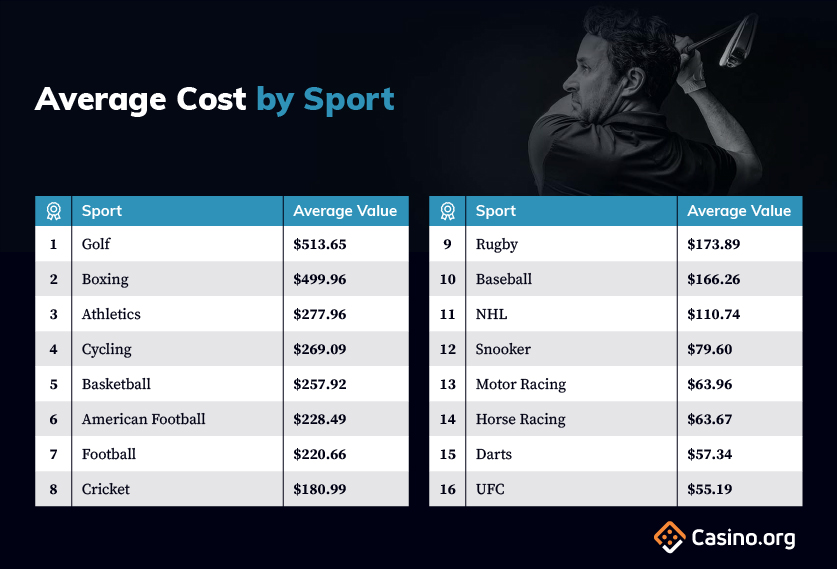 1. Golf – $514
While golf isn't necessarily the most popular sport for collectors, it was actually the most valuable, with the average piece costing $514.
As well as signed pictures, valuable items signed by the likes of legends Tony Jacklin, Nick Faldo and current stars like Lee Westwood and Sergio García also include things such as tee markers and Ryder Cup clothing, including signed caddie bibs!
2. Boxing – $500
Behind football, boxing is one of the most popular sports when it comes to memorabilia, whether it's signed gloves, shorts, or other pieces and was also the second most valuable on average, at $500.
While those signed by the likes of Mike Tyson, Joe Frazier and Lennox Lewis all command high prices, there one name whose signature was clearly worth more than anyone else, that of Muhammed Ali, with some pieces bearing the signature of "The Greatest" selling for up to $14,000.
3. Athletics – $278
Track and field athletes have always been some of the most recognizable and respected names in sport, but taking a look at the types of items which are currently on sale (with an average value of $278), it's clear that Team GB's heroes from the 2012 games have helped boost the value of athletics memorabilia, with some of the most expensive items on sale featuring the signatures of the likes of Jessica Ennis-Hill, Mo Farah and Jason Kenny.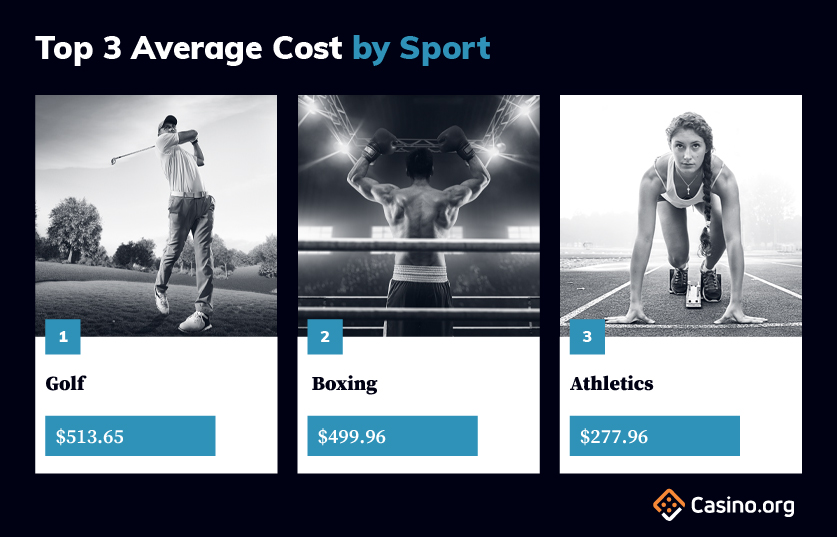 Average Cost By Athlete
While some sports are obviously more sought after than others, it's the personalities that we really fall in love with when it comes to sports.
These are the athletes that command the highest fees when it comes to their all-important signatures.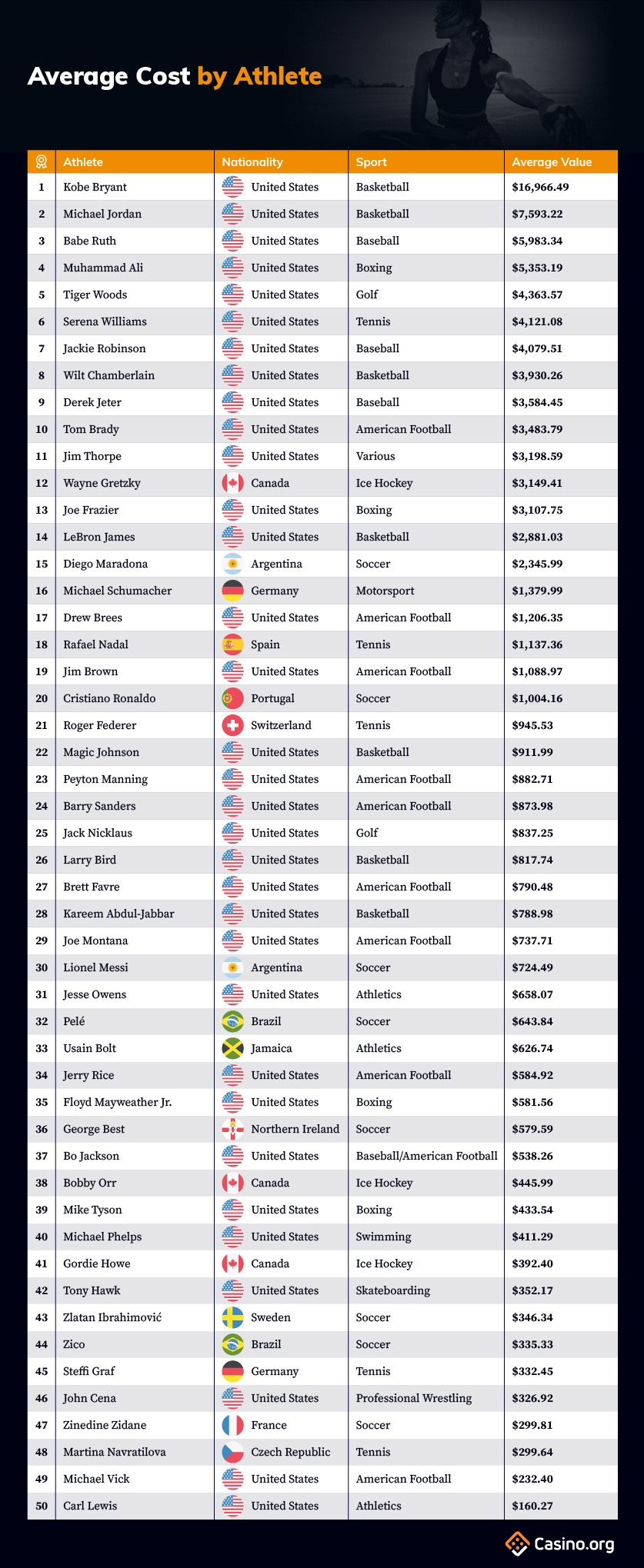 1. Kobe Bryant – $16,966
Unfortunately, the reason that basketball legend Kobe Bryant is so far ahead at the top of our list is a tragic one, with his death last year meaning that demand for memorabilia to commemorate his life skyrocketed, with an average value of just under $17,000.
Of course, Bryant was already a legend before his passing, helping the Los Angeles Lakers to five NBA championships as an 18-time All-Star.
2. Michael Jordan – $7,593
In second place was another icon of the NBA, Michael Jordan, with items bearing the signature of Michael Jordan selling for over $7,000, on average.
MJ is possibly the greatest basketball player of all time and is also known for his endorsement of the hugely successful Air Jordan sneakers.
In fact, a pair which were worn by the man himself in 1985 once sold for $560,000 at Sotheby's.
3. Babe Ruth – $5,983
As we've seen, Babe Ruth has perhaps been the biggest name in history when it comes to sporting memorabilia, with his name appearing throughout the list of most valuable pieces ever.
Jerseys and bats used by the Bambino have set records when it comes to valuable memorabilia and it seems that to this day, he's still one of the most popular athletes for collectors.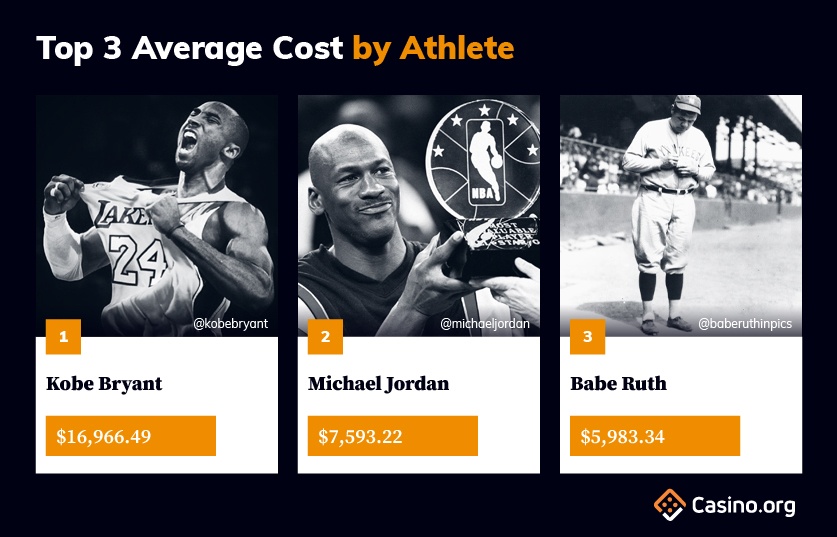 Methodology
Most Expensive Sporting Memorabilia of All Time
Sourced from various news articles. You can view a full list of the sources used here.
Average Cost By Sport and Athlete
Sourced from thousands of listings on A1 Sporting Memorabilia and SportsMemorabilia.com, correct as of March 9 2021.