It's now two months on from one of the most shocking moments in US political history when Republican candidate Donald Trump won the election. In just a matter of hours, the business magnate will be inaugurated and his tenure in the White House will officially begin.
But what can we anticipate will happen over the coming months of his presidency and what are the chances of it happening?
Let's take a look at the odds of some outrageous things happening during Trump's presidency.
Odds of the Ridiculous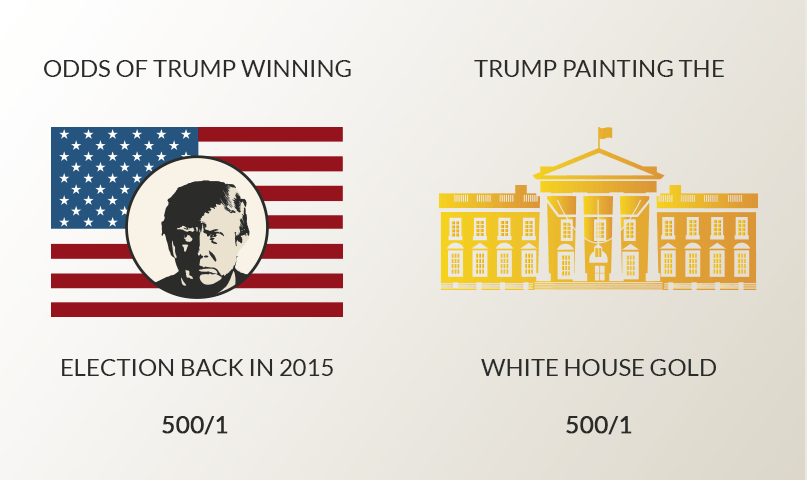 Believe it or not, one bookmaker is actually offering odds of 500/1 that Trump will paint the White House gold during his time in power.
That won't happen… surely? Be careful. Trump was available at similar odds to win the US Election when he started his campaign in 2015!
Trump In The Wrestling Ring
It's well publicised that Trump has a solid business and friendly relationship with World Wrestling Entertainment owner Vince McMahon. Trump has made cameo appearances at WWE events in the past. He even once received a Stone Cold Stunner from Steve Austin at Wrestlemania 23.
The chances of Trump making another guest appearance at a WWE showpiece event during his first term? 250/1. Not bad.
Will We See Trump Making It Rain?
You've probably read about the infamous golden shower footage that is allegedly in Russian hands right now. You have to ask yourself if Trump looks like the sort of man that would partake in such a bizarre recreation?
Well, bookmakers are offering just 5/1 that the elusive footage will appear on pornography website RedTube.
Tempting odds for Trump to join the privileged group of celebrity sex video participants that already include Paris Hilton and Kim Kardashian. Must be something about hotel moguls.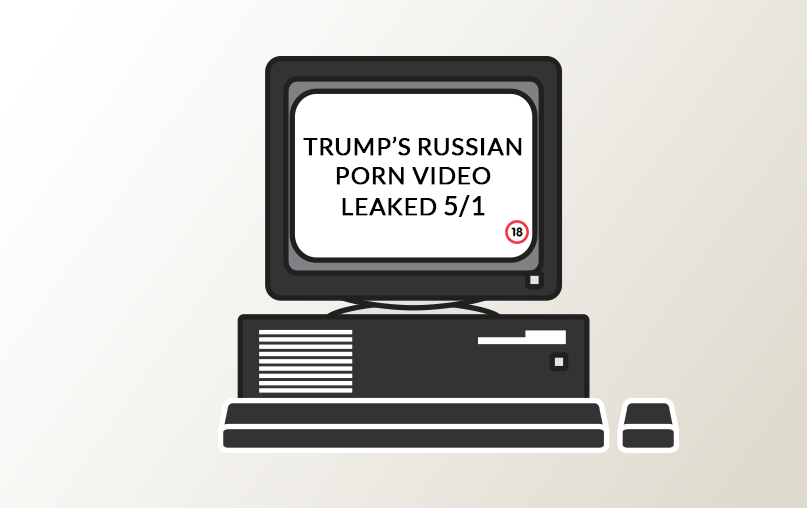 Grab Em By The…
Trump was the centre of negative attention during his campaign for being caught on camera saying that all you need to do to women to get them to do what you want is "grab 'em by the pussy". A disgusting quote to say the least.
The bookies think there's a small chance he could use that phrase again in the public domain when he's President. 50/1 if you fancy it?
What's With The Hair?
The Trump haircut has become the stuff of legend over his campaign. The question of what on earth it actually is has been asked many times. Rumours have suggested it is a living creature.
Is there a chance that Trump will change his hairstyle during his time in the White House? You'll get odds of 100/1 on that happening.
Getting Serious: The Odds
On a more serious note, there are some genuine concerns and hopes over Trump's presidency.
He often referenced building a wall along the border with Mexico. The odds on that actually happening are available at 6/1.
Likelihood of Assassination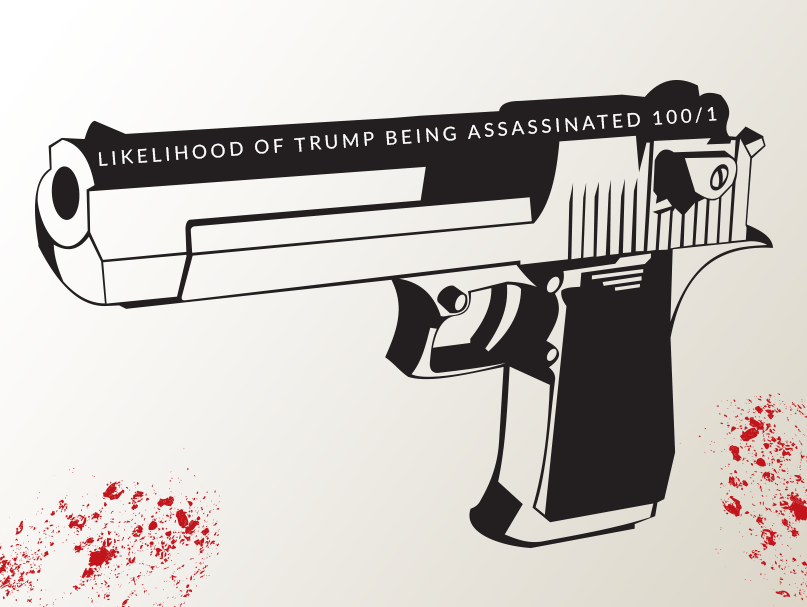 If you want to talk about Presidents not being able to fulfil their full term in office, then assassination is the darker departure route for the commander-in-chief.
Previous assassinated Presidents have included Abraham Lincoln and John F. Kennedy. Do you fancy Trump being added to that list at 100/1?
Even Money On Trump Being Impeached
US Presidents resigning before their time in office is complete is something that has happened more than once before. Think Richard Nixon and Watergate, plus Bill Clinton and Monica "I did not have sexual relations with that woman" Lewinsky.
Bookmakers are offering Evens on Trump being impeached or resigning before his first term has finished.
Nuclear War
A more depressing set of odds are on Trump starting World War III. Fortunately, relations between the US and Russia appear to be better than ever with Trump and Putin buddying up on the global arena.
However, Trump's attitude towards China is less amicable. Even former close aides of Trump have suggested his temper could be enough to launch a nuclear warhead. 250/1 on offer that Trump does bring the apocalypse.
Brace Yourselves!
Whatever the next four years bring it's certainly going to be a rollercoaster ride. Trump has been hailed as the new President of the Divided States of America. There is no telling what will happen. Whether it is the good, the bad, or the ugly, you might as well place your bets now…Need a little something to help you get over the uncertainty ahead? Check out Alec Baldwin's impromptu Trump impression, recorded at the Trump inauguration protest last night: