PokerStars vs PartyPoker – Which Is Better?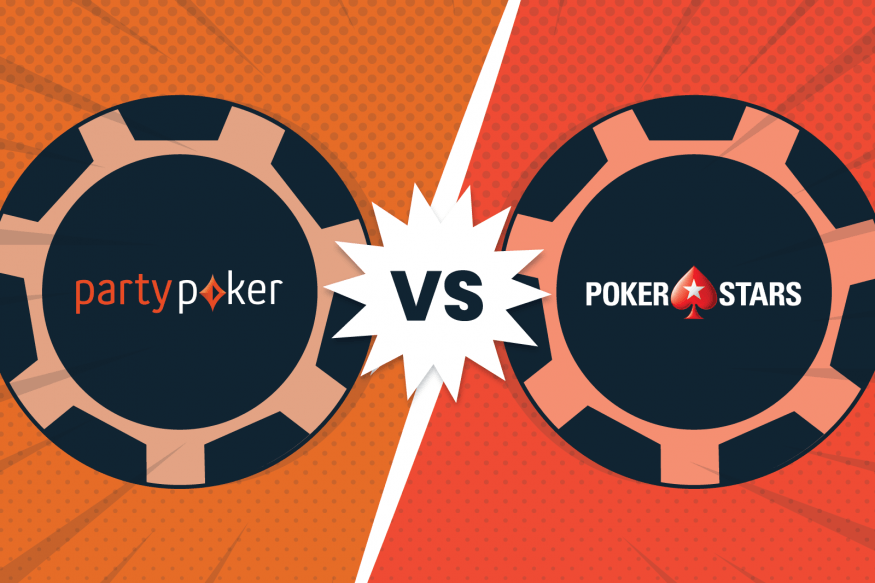 More poker site comparisons by Casino.org include PokerStars vs GGPoker and PokerStars vs 888poker.
When talking about online poker, two names are synonomous with game. One is PokerStars, of course, and the other is PartyPoker.
Both rooms played a huge part in popularizing poker. It's fair to say that without them, the game would likely be much different today.
However, there is one big difference between Party and Stars.
When the UIGEA was passed in 2006, PartyPoker decided to leave the US market, while PokerStars continued business. This helped grow the brand even further and become the number one online room that it is today.
PartyPoker moved to offer games to the rest of the world and has always remained one of the top choices for serious grinders and casual players alike.
But what about now?
This comparison review should give you a fairly good idea of what to expect from both sites in terms of software, player traffic, game selection, rakeback, bonuses, and much more.
So, armed with all that information, you'll be able to make an informed decision about which room is the best option for you.
Software: PokerStars vs PartyPoker – PS Wins (Only Just)
One thing that you'll notice immediately about any poker room you choose is its software.
Whether you're an experienced pro or someone just getting into the world of online poker, the design of the software – and how well behaves – won't go unnoticed.
PokerStars – Software
When it comes to PokerStars, the company has done a great job in this department. Its software is considered the best out there, and very few rooms can even come close in terms of quality.
There are several things that make PokerStars stand out from the rest:
Overall design
Stability and functionality
Game filters
Customization options
Excellent mobile app
The computer version of the software offers everything you could possibly need.
First of all, the client is very stable and doesn't suffer from random disconnects that have been plaguing some other operators, which can be very annoying and quite costly.
Filtering and sorting games at PokerStars has been turned into a science. You have so many different filters available to you that you can easily pick out the exact type of games you want to play.
The number of players at the table, the buy-in range, ante or no-ante, game type, and many other options are at your fingertips.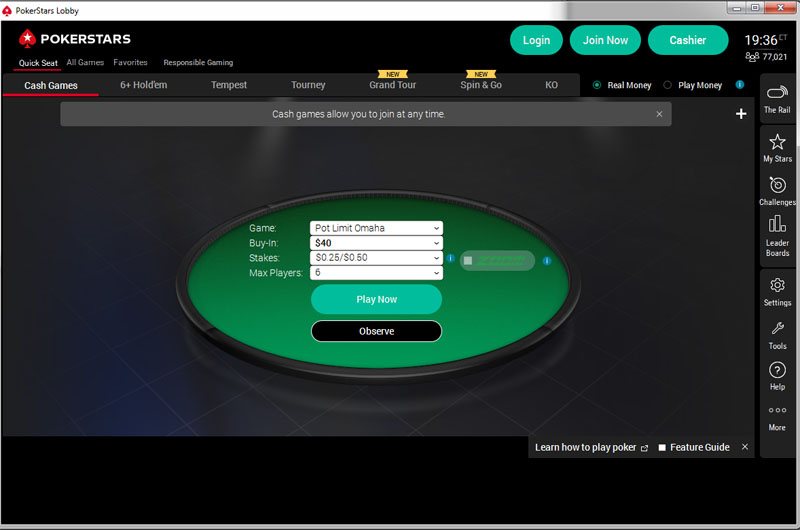 PokerStars also provides a multitude of customization options.
Players can choose different table backgrounds, easily set their preferred seats, fine-tune auto-rebuys for cash games and tournaments, and access a variety of options designed to help you play multiple tables at the same time.
Finally, for those who want to play on the go, Stars offers the best mobile app out there.
Available for both Android devices and iPhones, the app provides a seamless poker experience. The room has addressed many of the common issues players had to deal with in various mobile apps over the years and now offers a really polished and highly functional product.
With the support for multiple tables and offering a very player-friendly system to switch between the games, PokerStars is really an excellent choice for those who want to play on their phones and tablets.
PartyPoker – Software
PartyPoker has been through many changes in terms of software design.
For a while, the client may have been one of its biggest problems because it felt and looked outdated, especially when compared to its biggest rivals.
After trying out different designs and approaches, Party has finally settled with a new and modern client that looks the way it is supposed to.
The current version of the software has everything a player could ask for:
Nice design
Stability
Solid game filters
A good number of customization features
The PokerStars client is probably more comprehensive, but Party has come a long way from its early days.
You'll definitely enjoy smooth sessions and it's unlikely you'll notice the missing features since all the essentials are in place.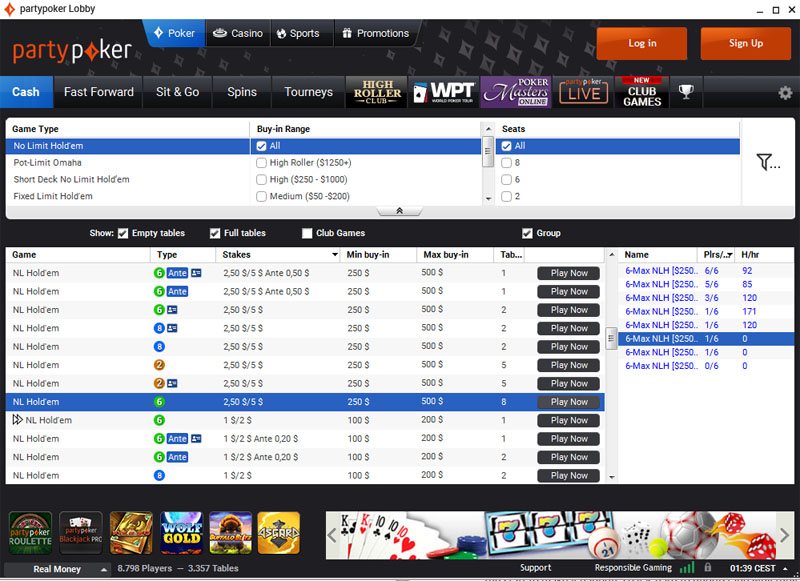 When it comes to the mobile app, PartyPoker offers great on-the-go experience, with more entertainment options than what you'll find at Stars. One of them is the ability to throw emoticons at your opponents.
All in all, PartyPoker isn't far behind PokerStars in terms of software.
For most players, there won't be too much difference. You'll be able to set up both clients the way you like, and both offer robust filters that make it easy to find the games you want to play.
This category is close to a tie.
PokerStars takes a marginal victory as its software is more advanced in some aspects, but most players won't get to take advantage of these. If you're really heavy on multi-tabling, PokerStars might be easier to set things up the way you want them to be.
Game Variety: PokerStars vs PartyPoker – PS Wins
When it comes to popular game types, most players are after games like Hold'em and Omaha. That's why most rooms focus on providing these variations with maybe one or two extra options for those who need or want them.
PokerStars is the only operator out there that offers almost every single version of poker you can imagine.
This is one of the reasons why the brand is so strong and why a certain segment of players remains so loyal to PS.
Beyond different versions of Omaha and Hold'em, PokerStars also offers:
Seven Card Stud
Five Card Draw
Deuce to Seven Triple and Single Draw
Eight Game Mix
Razz
HORSE
Badugi
6+ Hold'em
5 Card Omaha
6 Card Omaha
Clearly, PokerStars is the place to be for all those who seek action in lesser-known and not-so-popular variations.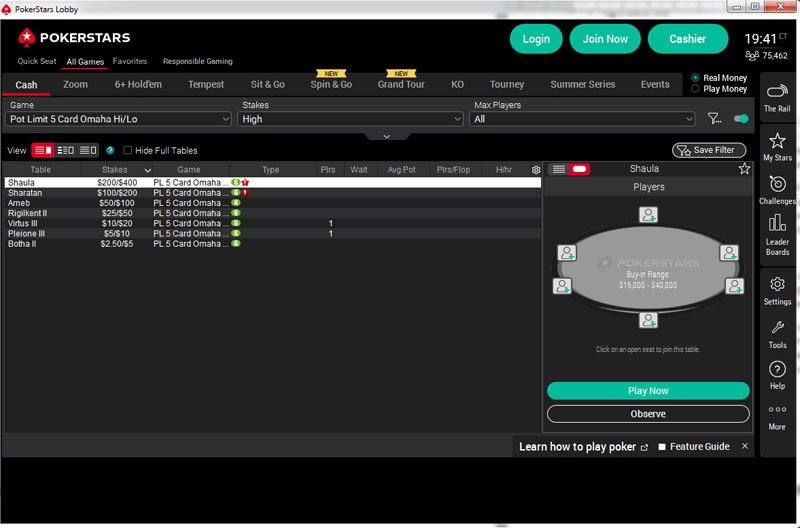 What's also really good about Stars is that these different games are offered across all sorts of stakes and often in both cash game and tournament formats, so you will surely find games suitable for your bankroll.
PartyPoker is undoubtedly more mainstream in terms of available variations.
In addition to No-Limit Hold'em and Pot-Limit Omaha, it only offers 6+ (Short Deck) Hold'em. So, if you're an expert in a different game or are looking to learn a new variation by playing, you won't find what you're looking for here.
PokerStars takes an easy win in this particular department.
If PLO and Hold'em aren't your cup of tea, then you really won't find much to do on PartyPoker. Of course, this isn't relevant for the majority of players as most people gravitate towards these two variations anyway.
To be completely honest, it does come as a bit of a surprise that Party didn't put in more effort towards creating a comprehensive platform that would offer more variety.
Being one of the oldest and longest-standing rooms around, it definitely has the technology, the know-how, and the staff to make it happen – it's hard to understand why they wouldn't.
Cash Games: PokerStars vs PartyPoker
Given that Stars has much bigger player traffic (more about that shortly), the total number of cash game tables running at any particular moment is almost always higher at PokerStars than on PartyPoker.
Beyond that, it's interesting to see what kind of stakes are on offer on both sites.
PokerStars has a great range of cash tables with games starting as low as $0.01/$0.02 for almost all game variations, or at least for no limit and pot-limit games. This means that even players with very small bankrolls can get started here and slowly build their way up.
At the far end of the spectrum, Stars offers games as high as $200/$400.
These tables are mostly empty, though, or inhabited by pros waiting for someone to sit down and play them. The highest games that are actually active are $10/$20, with some action happening at $25/$50 during busy evening hours and on weekends.
PartyPoker also offers an excellent range of stakes, from $0.01/$0.02 up to $50/$100.
However, it does seem that there's not a whole of action past $5/$10. Occasional $10/$25 games do kick-off but hardly often enough to make them viable for serious grinders who regularly play on these stakes.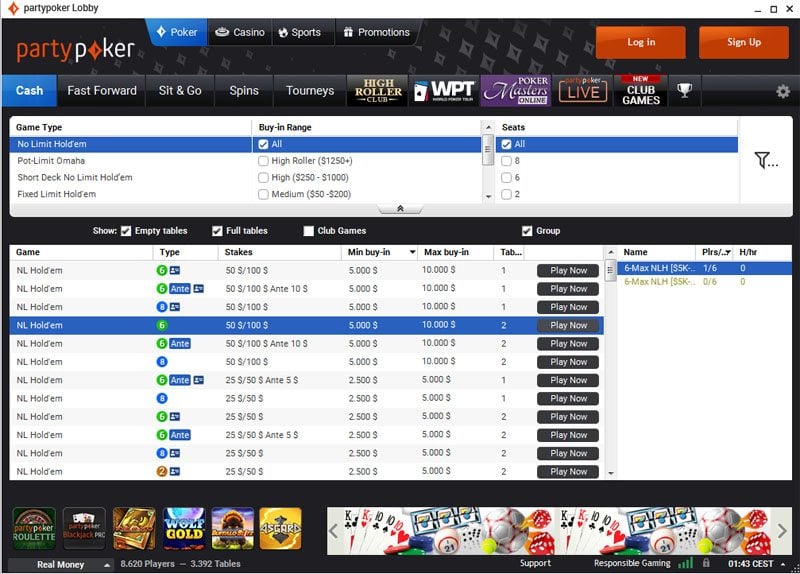 Low to mid-stakes grinders are probably better off at Party because the room offers softer games and better rakeback. The number of tables running at any given point isn't that big, but it's still big enough for most players.
However, those looking to play higher than NL500 will probably have to stick to Stars.
It doesn't seem there is enough action going on at higher stakes to allow for enough hands to be played during a session. Of course, because of other benefits, combining Party with another room could be a decent option and provide better benefits than playing exclusively on PokerStars.
Fast Cash Tables
Ever since Full Tilt Poker introduced Rush, different speed poker variations became hugely popular and today are enjoyed equally by pros and casuals.
Allowing for faster action and more hands per hour, fast-fold games have their appeal.
As you might know, these are called Zoom tables at PokerStars.
The room offers Hold'em and Omaha tables with stakes from $0.01/$0.02 to $25/$50 for 6-max. There are also heads up Zoom table starting at $0.25/$0.50 and going as high as $50/$100.
If you're planning on playing Zoom, the action is available only up to PL/NL500. All tables above those stakes are pretty much a ghost town, and there are never enough people in the pool to have proper fast-fold action.
PartyPoker offers Fast Forward, which is pretty much the same thing.
However, there are only 6-max tables and no heads up action. Available stakes run from $0.01/$0.02 to $2.50/$5 with a much smaller player pool than you can find on Stars.
Fast fold poker is an interesting variation that does require a fair few players to run as it is supposed to. From that point of view, PokerStars is a better option as 30 or 40 players in the pool like you might find on Party probably isn't quite optimal.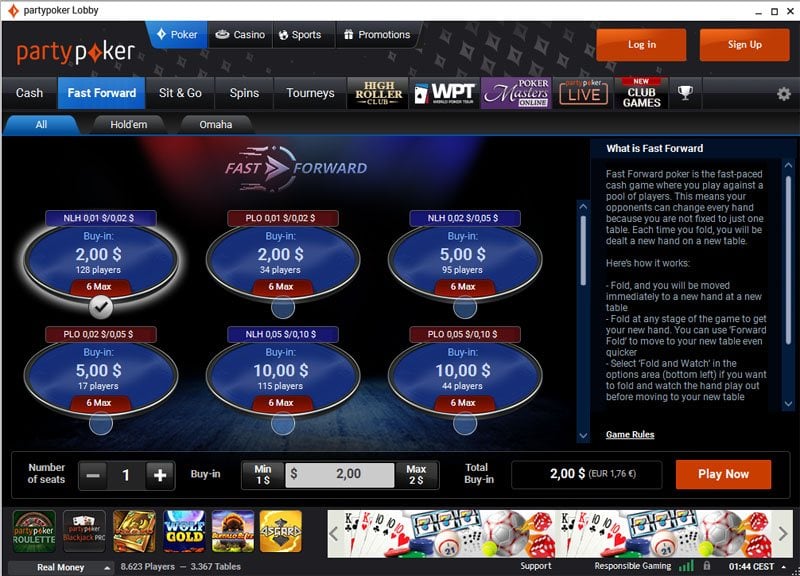 At the same time, higher stakes Zoom games on Stars are super-tough. I wouldn't suggest getting involved with NL200 or NL500 unless you're really, really good.
At NL500, especially, you might find yourself sitting across some of the best cash grinders in the world.
Party isn't a walk in the park, either, but games are softer by default.
Tournaments: PokerStars vs. PartyPoker
All tournament players know that PokerStars is the place to be.
There is no other room that offers nearly as much action across all stakes, every single day of the week. Daily tournament schedules on Stars are enough to fill any players' day, no matter what their average buy-in is.
Of course, PokerStars is also home to some of the best-known events like Sunday Million and major online series like WCOOP, SCOOP, Micro Millions, etc.
It also features numerous satellites to live events, especially for European Poker Tour tournaments. If you want to earn your seat in one of these, you can try your luck and skills on PokerStars and potentially build your way up from as little as $1.
This may not be a big deal for serious players, but these opportunities attract armies of casual players over to Stars.
They still come to chase their dream of making it big playing poker, and many of them actually manage to qualify for major EPT events, sometimes even making deep runs and reaching final tables.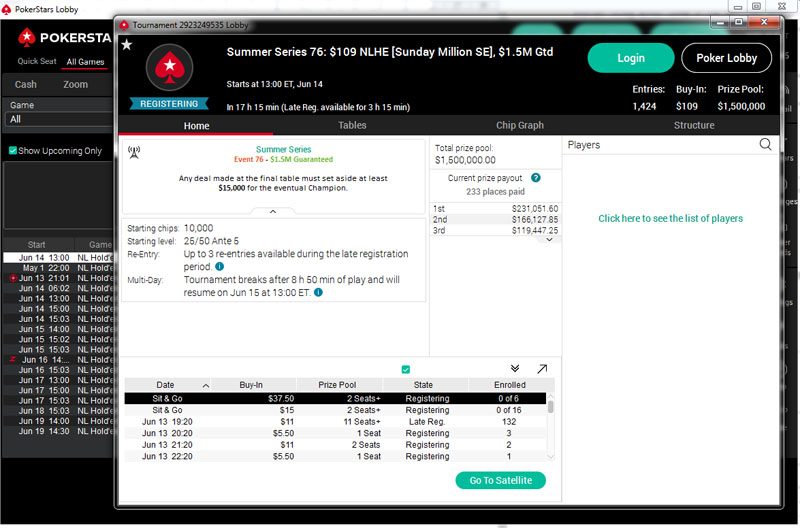 The combination of all these elements has made PokerStars what it is today. When people think about tournament poker, PokerStars is the first room that crosses their minds.
Even with the latest changes that many players aren't happy about, Stars is still the absolute leader in this particular segment.
So how can PartyPoker compete with that?
Well, Party has done a lot to improve its schedule of daily and weekly tournaments so you'll find plenty of events to suit you. The range of buy-ins is also quite substantial, so there is something for every bankroll.
The most significant difference between PartyPoker and PokerStars tournaments is that the former usually doesn't have guaranteed prize pools nearly as big.
Party doesn't attract the same number of players as Stars, so it can't afford to put massive guarantees on all of its events.
Of course, there are still some big tournaments such as PartyPoker Million, which is the room's answer to Sunday Million, but it inevitably falls short in these offerings.
On the flip side, the fact that guarantees aren't as big also means that tournament fields are smaller and more manageable. More experienced players will know this means lower variance and more frequent cashes, which could be a nice thing if you have a smaller bankroll.
So for this, it's really about what you prefer and what you're most comfortable with.
Spin & Go vs Spins
There is hardly a poker player out there who hasn't at least heard of PokerStars' infamous Spin & Go hyper tournaments.
Envisioned as special 3-player sit & go's, these tournaments have a random element to them, as the prize for the winner is determined by chance.
You could be playing for just double your buy-in – or 10,000x your buy-in (and anything in between).
Spin & Go's have been a huge success for Stars. While regulars weren't too thrilled about the idea, casual players love it.
The chance of winning $10,000 in a $1 tournament against just two players (as small as it may be) is simply the stuff that dreams are made of.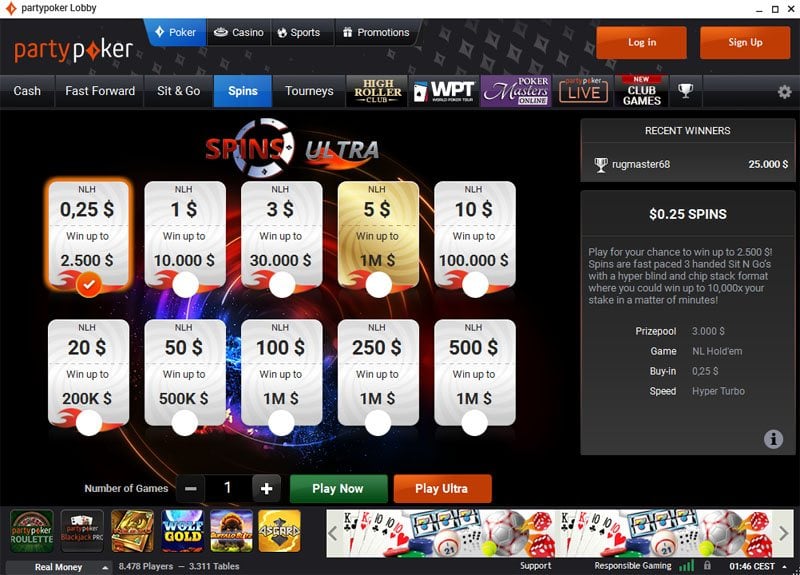 Not surprisingly, PartyPoker has its own version of these tournaments, called Spins. The structure is very similar to Stars' events, and the maximum prize is also 10,000x the buy-in.
The level of play may be somewhat lower at Party, as some grinders have managed to master Spin & Go's and now play them regularly.
If you want to try this format, perhaps you should give PartyPoker a chance. Games are likely to be softer, which is definitely a big plus in a format that has such high variance.
Player Traffic: PokerStars vs. PartyPoker – PS Wins
In today's poker climate, player traffic has become one of the biggest things to look at when choosing where to play.
It's fair to say that golden days of online poker are behind us; it's no longer the situation where all rooms are bustling with action. Picking a site that has enough players to provide games around the clock is very important.
When it comes to PokerStars, pretty much everyone knows they are the leaders in terms of player numbers. No other room can really compare to Stars in player traffic as they can offer busy cash game and tournament tables around the clock and across all stakes.
PartyPoker is sitting in the 5th spot of PokerScout's rankings at the time of writing this comparison, with a 7-day player average of 1,900 players. This is well behind PokerStars' 9,600.
But what do these numbers mean for you as a player?
While PokerStars is clearly the room with much better traffic, that doesn't mean that Party isn't able to offer plenty of action as well.
You'll find that PartyPoker is also quite busy, especially during evening hours, and you won't struggle to find the games across most stakes.
So, to sum it up, although no room can compare to PokerStars in terms of sheer player traffic, PartyPoker is a solid alternative. Unless you want to play a crazy number of tables at higher stakes, you'll have no problems at Party.
Player Quality: What Games Are Softer? – PP Wins
The quality of competition is another essential consideration when deciding what the best room for you is. Ideally, you want to play on a site that has decent traffic, but where your average player isn't outstanding.
How do Party and Stars compare in this particular aspect?
The general consensus is that games are softer over at PartyPoker.
Although PokerStars has been focusing a lot of attention on recreational players lately, it seems to attract more customers to its other products (casino, betting). Poker tables remain quite heavily riddled by grinders, especially at higher stakes.
At the same time, PartyPoker offers more poker-focused promotions, which do attract a lot of casual poker players to the tables. This is why you're likely to find softer games at Party.
However, it must be said that the grinders to casuals ratio at PartyPoker has been changing lately.
One of the biggest reasons for this is the fact Party has started to offer good rakeback opportunities in an attempt to attract some of the PokerStars regulars. This strategy has worked out well to an extent, as a fair few professional players have found a new home at PartyPoker.
Overall, there are more competent players on PokerStars, but Party isn't the "fish pond" it used to be once, either. Games are softer than on Stars, but the difference isn't that big.
Welcome Bonus & Promos: PokerStars vs PartyPoker
If you don't have an account with PokerStars as of yet, you'll have two welcome bonuses available to you when you make the first deposit:
Option 1: 100% up to $600
Option 2: Deposit $20 or more and get $30 bonus bundle
The first offer is quite straightforward, and it's the standard welcome bonus that you might be used to. Any amount you deposit will be matched in full and added to the bonus balance.
As you play, the bonus will be released in increments and added to your cash bankroll.
The second option is geared more towards casual players looking to get some fun for their money. The bonus bundle includes two $5 cash boosts and a variety of $0.50 and $1 Spin & Go tickets.
These won't be given to you all at once, but across your first several days at Stars.
Clearly, the first option is more valuable for serious players, but if you're only depositing $20, you should probably take the second option.

As for other promotions, there are a few interesting ones, like:
Spin & Go leaderboards
Platinum Pass (Road to PokerStars Poker Championship)
Zoom Early Bird
Realistically, though, these aren't particularly rewarding for casual players or worth the effort for regulars either. You could say the promotions found at PokerStars are average at best.
How does Party stack up?
PartyPoker also welcomes players with first deposit bonus.
The offer is clearly geared more towards casual players. It might not be that sttractive if you're someone who already has a solid bankroll and knows what they want to play.
Players can choose from two options when they make their first deposit:
Deposit $10 and get $10 worth of Spins tickets
Deposit $20 and get $30 worth of Spins tickets
Clearly, the second option is more valuable, and it's what you should be going for in all cases. But the whole welcome bonus at Party seems rather pale, especially when compared to PokerStars.
That said, the room more than makes up for it through its rewarding cashback system that I'll talk about next.
In terms of other promotions, PartyPoker is definitely more colorful. Perhaps the most interesting are the leaderboards for every type of game: cash games, tournaments, and Spins.
So, whatever your game might be, you'll have a chance to win some extra cash along the way, which is always a great incentive to grind more.
Rakeback System: PartyPoker Gives More
As mentioned already in this review, PartyPoker has introduced some changes that all regular players and grinders love.
When Stars decided to get rid of its Supernova and Supernova Elite statuses, it left many players in a bad spot as they didn't know where to turn to for their rakeback earnings.
PartyPoker came up with a system where players can get up to 40% of their rake back each and every week, which is very attractive in today's online poker climate. There aren't many rooms that offer this kind of a deal, at least not the ones that are trustworthy and also have good player traffic.
To receive your cashback at PartyPoker, you need to opt-in manually. Once you do this, you'll become eligible for a percentage of your rake back as soon as you accumulate 25 points (pay $25 in rake).
Level 1: Up to 149 points – 20%
Level 2: 150 – 599 points – 25%
Level 3: 600 – 1199 points – 30%
Level 4: 2,000+ points – 40%
This is a system that really favors grinders and those who put in serious volume at the tables. By doing this, Party has managed to come up as maybe the only room these days that shows they want serious players instead of pushing them away.
Compared to PokerStars' Chests, Party's cashback system is far superior.
The whole idea of Chests and surprise rewards for the players has some allure to it, but it's not what you want. There are far too many random elements, and the rewards you can get from these chests just aren't nearly as valuable as what you can get playing at PartyPoker.
This is one crucial segment where PartyPoker takes an easy win at this point in time.
It's become clear that PokerStars just isn't interested in keeping regular players happy anymore, and PartyPoker has managed to profit from this. Its system may not be as good as what Stars once offered, but for today's environment, it's really solid.
Deposits & Withdrawals
When it comes to banking options, both PartyPoker and PokerStars cover a wide array of methods.
The giants they are in the world of iGaming, both rooms can offer almost all options you can think of. You can use everything, from credit and debit cards to e-wallets like PayPal, Skrill, and NETELLER, plus various other alternatives.
There is a catch, though.
Both Stars and Party run a reasonably tight ship when it comes to various laws and regulations, so you might find that certain countries only have access to a limited selection of options.
This isn't that great if you come from one of the "smaller" countries and are restricted to only a few choices, but it is what it is.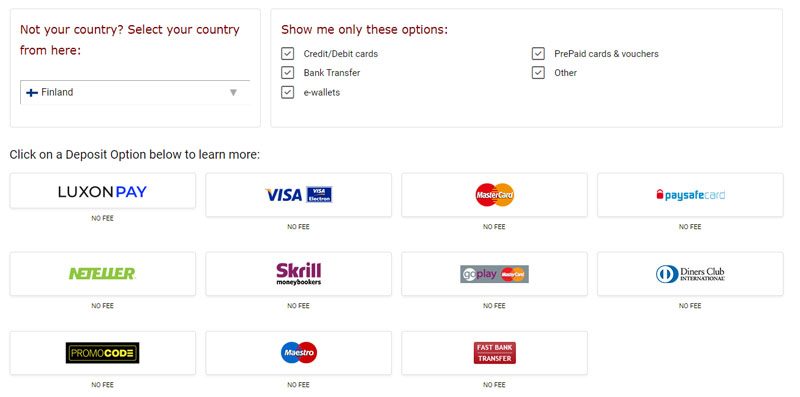 Both rooms are really quick to send players their money. You won't have to wait long to receive your winnings, but do be prepared to undergo a serious verification procedure when you first join.
It's fair to say that both rooms are quite similar in this particular department.
They are doing an outstanding job to ensure players have access to a good variety of options and are quick to pay out when the time comes.
The specific country restrictions are annoying, but it's a complicated issued that rooms themselves often can't fully control.
Customer Support
The final segment to be discussed in this comparative review between PartyPoker and PokerStars is the support department. Customer support can really make or break your overall experience, so let's take a look at what the two rooms offer.
PokerStars offers support via email and their social media pages, particularly Twitter.
While you can expect to receive answers to your emails quickly, support can sometimes seem reluctant to work with you to resolve the problem or give you the unnecessary runaround. This isn't to say that their support department isn't doing a good job, but there is definitely room for improvement.
This is especially true since Stars support used to be regarded as the best there is. A lot has changed in recent years, and PokerStars of today is failing to live up to these expectations.
Contrary to this, PartyPoker provides assistance via email, live chat, and phone.
They also have a rather elaborate help center that takes you step by step to try and answer any questions that you might have. So, Party is working harder to keep its players happy.
At the end of the day, you'll get the help you need from both rooms, but your experience might be more pleasant with PartyPoker. Their agents seem easier to get in touch with and more willing to work with you to resolve your issues.
PokerStars or PartyPoker: Which One Is Better for You?
This review should give you a pretty good idea of what these two rooms have to offer, but you'll have to make the final call yourself.
I've written down some quick tips that might give you the final push, though:
If you want a solid rakeback, good poker-focused promotions, and softer cash tables, you'll have better luck at PartyPoker.
Its cashback system is far superior to what Stars has to offer, and its leaderboards offer better additional rewards to boost your bankroll.
PokerStars is still the better choice for tournament players if you want events with large fields and massive guarantees. Party offers a solid schedule and some options, but its regular tournaments usually don't have huge guarantees attached to them.
Finally, Party is only a viable option if you're planning on playing Hold'em or Omaha. The room offers no other variations like Stud or Mixed games, so if these are your cup of tea, you'll pretty much have to stick with PokerStars.
Both PokerStars and PartyPoker are on Casino.org's list of recommended online poker sites. Only ever play at a site that is trustworthy and has a solid reputation.
More poker site comparisons by Casino.org include PokerStars vs GGPoker and PokerStars vs 888poker.