41% Of Football Fans Won't Attend Games Due To Concerns Of Contracting Coronavirus

Even for non-football fans, the NFL's 2020 season represented a glimmering light of hope amidst the pandemic.
While other professional seasons were suspended, the timing of football season and the occurrence of the draft suggested that we actually could have a "normal" sports season after all.
After having a conversation with more than 1,000 football fans across the country, we're starting to understand what their new normal looks like and how it will fit or clash with stadium rollouts.
We asked each fan to share how they felt about going to games in the middle of a pandemic and how mask requirements impacted their decisions. Their answers were compared by team preference, age, and even political affiliation.
Keep reading to find out which stadiums will likely be looking at a very different subset of fans (if any) this year.
2020 Game Plans
The first part of this study asked respondents to consider a simple question: If you could get the tickets, would you attend an NFL game in 2020?
Their answers were compared by the team they said they supported.

Even football's most ardent fans were split. Given the opportunity, exactly 52.3 percent of fans would attend a game in person this year.
41 percent specifically said COVID-19-related fears would make them stay home. That said, some fans were more than willing to go despite the threat of the pandemic.
Fans of the San Francisco 49ers were the most likely to say they wouldn't attend a game this year. In order to actually attend, however, fans would have to get pretty lucky. The 68,500 seat Levi's Stadium will likely face a drastically reduced capacity mandate, and the team has already shared that "ticket availability is not guaranteed for any member this season."
Santa Clara County (home to Levi's Stadium) was one of the earliest adopters of large-scale event bans. Fans are also not permitted in stadiums until the jurisdiction's initiation of Stage 4 reopening procedures. Considering the state's spike in COVID-19 cases, 49ers fans will likely face a long wait.
The Arizona Cardinals were the least likely to feel dissuaded by the pandemic. Only 15 percent said they would avoid a game due to fear of contracting COVID-19.
Though the state of Arizona faced a relatively large second wave of the illness, recent reports show a slowing of both new cases and hospitalizations in the area.
The Cardinals shared a vague statement of their plans for this season at Farm Stadium: "We are developing contingency plans for the different scenarios and potential stadium seating configurations."
If they do choose to sell tickets, their fans appear more ready to purchase than any others.
Fans In Fear Of COVID-19
It became immediately apparently that certain demographics of fans were more ready to attend games than others.
The next part of this study momentarily put teams aside and instead analyzed fan willingness to attend based on their age and political affiliation.
That said, everyone included in this study was united under their common self-identification as football fans.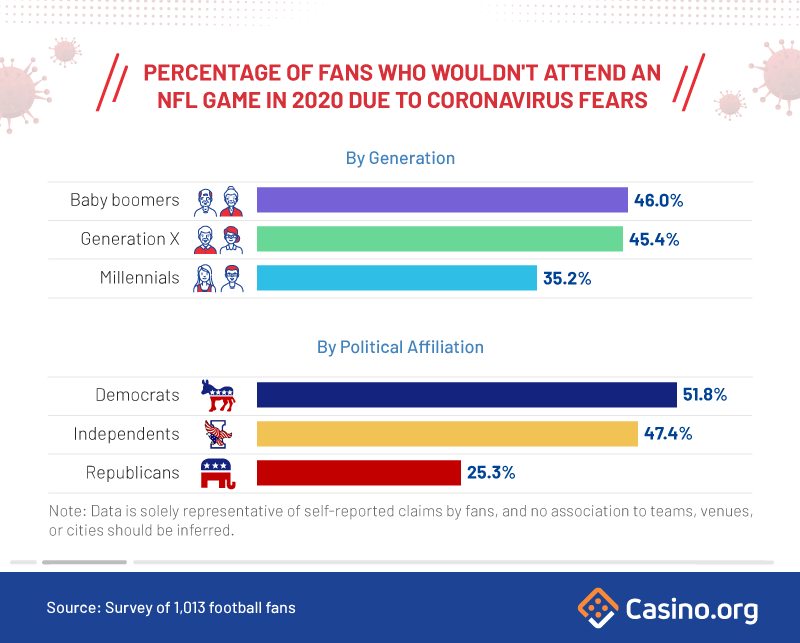 Older respondents were the most likely to say they would not be attending any games this year, even if they had the chance.
But when we say older, we're not necessarily referring to senior citizens or those we stereotypically think of as high-risk individuals.
Instead, Gen Xers and baby boomers alike were often unwilling to consider going to a football game this year, with 45.4 percent and 46 percent of each generation saying they would opt out of games, respectively.
As of 2020, Gen Xers are between the ages of 41 and 55 years old, while baby boomers cap at 76 years old. Though this second group is literally hundreds of times more likely to die from the disease than those under 50, the two groups were equally as likely to prefer staying home.
Millennials, on the other hand, had only about a third stating they'd stay home if given the chance to go to a game this year.
Unfortunately for all parties involved, politics effectively dictated fan reactions to the disease. Without indicating which approach is "right" or "wrong," it is clear that Republican football fans feared the disease far less often than did Democrats or Independents.
While 51.8 percent of Democrats said fear of COVID-19 would make them stay home instead of attending a game, only 25.3 percent of Republicans said the same.
This is even more interesting when you consider that Republicans often skew older than their Democratic counterparts and are, therefore, more at risk.
Fan Attitudes Toward Face Masks
Face coverings are currently recommended by the CDC to function as a "simple barrier to help prevent respiratory droplets from traveling into the air and onto other people."
They also share the emerging evidence to support this stance, though they're clearly hesitant to make a definitive stance on overall effectiveness. In other words, we know it's effective, just not how effective.
The next part of this study asked fans if they would attend an NFL game mandating face coverings.

Let's assume that 0 percent of fans actually enjoy wearing face masks. Data showed, however, that most fans (66.5 percent) would still attend an NFL game in person, even when having to don a mask.
For those that do snag limited tickets, those mask requirements will be their reality. The NFL has already said their stadiums will all require face masks, even in areas where local ordinances say otherwise.
Fans of the Dallas Cowboys were the most likely to say a mask requirement would prevent them from wanting to attend a game. The state of Texas has produced a large portion of anti-mask protests and rallies, with people gathering in streets and at the governor's mansion.
Cowboys fans showed similar adamance against the mask, with 26.5 percent of fans saying they wouldn't want to go to a game if they had to wear a mask.
Though Texas has seen large surges of the coronavirus in recent days, Philadelphia Eagles supporters were almost as likely to share their fan's anti-mask sentiment.
26 percent of this fan group said a mask requirement would make them want to stay home.
This is ironically in spite of the fact that Philly has been retightening its COVID-19 prevention measures in response to increased outbreaks and even in spite of Miami Marlins players and coaches testing positive for the disease after staying in a Philadelphia hotel.
Game On
Fans have ultimately shined a light on what the new normal may actually look like for stadiums.
Available tickets will still sell (more than 60 percent of fans said they would still go given the chance), but the people that fill the stadium will be a drastically different subset of the general fan population.
Older fans and even Gen Xers are looking to stay home, no matter the mask requirement or social distancing practices. And Independents and Democrats won't be in the seats nearly as often as Republicans.
Not to mention this new and limited audience will sit mask in tow among many (or even mostly) empty seats.
What comes of 2020's football season is still to be determined. Many teams are insisting that they still have time to decide, while the times surrounding the decisions continue to change rapidly.
What we ultimately do know is that certain fans will be ready to attend, no matter what.
Methodology and Limitations
We surveyed 1,013 football fans via Amazon Mechanical Turk. To qualify for the survey, respondents had to indicate that they were fans of the NFL. Of the 1,013 fans surveyed, 36.9 percent were female, 63 percent were male, and less than 1 percent identified as nonbinary. Additionally, 63 percent of respondents identified as millennials or younger, 26 percent were a part of Generation X, and 11 percent identified as baby boomers. Forty-two percent of respondents were Democrats, 37 percent were Republicans, and 21 percent were Independents. The main limitation of this study is the reliance on self-report, which is faced with several issues such as, but not limited to, attribution, exaggeration, recency bias, and telescoping. Data is solely representative of self-reported claims by fans, and no association to teams, venues, or cities should be inferred. This survey ran between July 24–25, 2020.
Fair Use Statement
Which fan sentiment do you share? Do you think others would agree? If you know some football fans that would have an opinion on this topic, you're welcome to share our data. Just be sure your purposes are noncommercial and that you link back to this page so its contributors can receive credit for their work.