PokerStars vs 888poker – Which Is Better?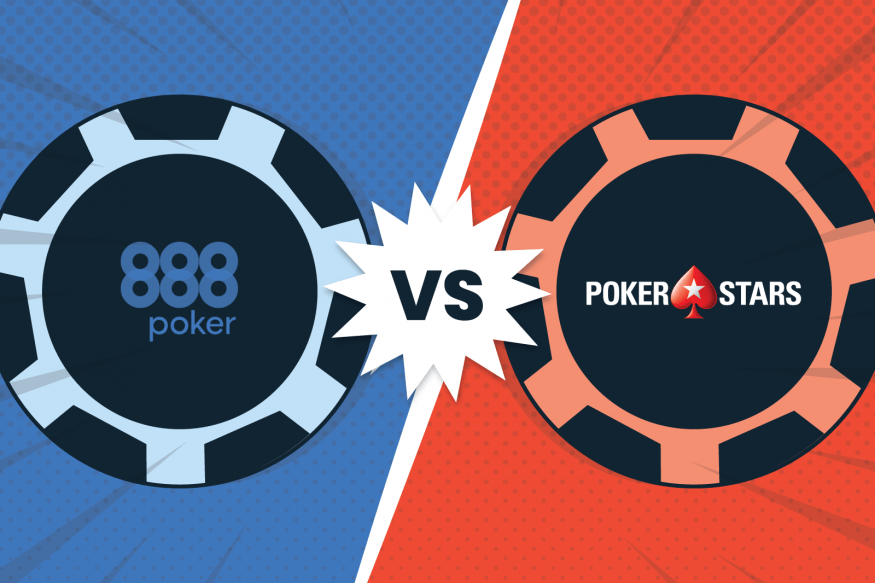 More poker site comparisons by Casino.org include PokerStars vs GGPoker and PokerStars vs Party Poker.
Whether you're a casual player or a serious pro, picking the right poker room to play on is one of the most crucial decisions you'll make. And there are many things to consider when making that choice.
These are several major rooms in the online poker market, and PokerStars is often seen as the first choice for many since it's the biggest one. However, some alternatives are worth looking into.
888poker is definitely one of the largest operators out there, and it's fair to say it is worthy competitor to PokerStars in many aspects. They are both on Casino.org's list of recommended poker sites but choosing which one you play at is ultimately your decision.
This in-depth review will compare PokerStars and 888poker. It will give you all the information you need to make up your mind and decide what option might be best for you.
PokerStars vs 888poker: History
Before plunging into specifics about the software, player traffic, and available games, it's worth looking into the history of both rooms. If you're not interested in this part, just skip straight to software.
PokerStars: The Staple Name in Online Poker
PokerStars has become synonymous with online poker.
For years now, it's been the most significant and best-known poker room out there. Attracting huge player numbers and organizing some of the biggest tournaments around, both online and live, it's earned its place in the poker hall of fame.
The site launched in September of 2001, but its rise to stardom began in 2006 when PartyPoker decided to leave the US market after the UIGEA was passed.
PokerStars stayed in the States, which helped it become the market leader – a title it's managed to hold on to since.
The room has been through many changes over the years, the biggest one being the acquisition by Amaya (now The Stars Group Inc.) in 2014.
In a transaction worth $4.9 billion, Amaya became the new owner of PokerStars. This was a start to a ton of changes in the room's policy, many of which were frowned upon by the most loyal and devoted players.
Despite all of this, PokerStars has managed to stay the number one online poker room. Its marketing efforts, high-quality software, and tournaments featuring huge prize pools have kept it on the throne.
888poker: Slow & Steady
888poker was originally launched in 2002 under the name Pacific Poker. Only through the later rebranding process, the site came to be known as 888poker.
Like many others, 888 decided to leave the US market in 2006 when the UIGEA was passed, which is probably part of the reason why PokerStars managed to achieve such a significant advantage in terms of player numbers.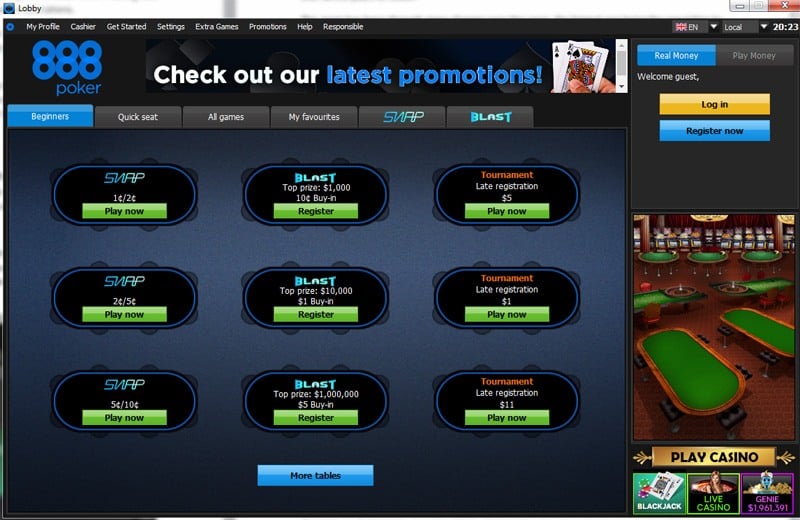 The site kept going, always staying in the top 10 poker rooms around, though.
In recent years, 888poker has been picking up more speed and media exposure, mainly thanks to the fact it took over the WSOP sponsorship in 2014.
The room has partnered up with other popular tours and started to organize high-profile live events to improve its media presence. Thanks to this, it's seen a significant surge in player traffic, and they've started to gain a lot of ground on PokerStars.
Software: PokerStars vs 888poker – PS Wins
With software, we are looking at both quality and stability. It's what most people notice first and if this segment isn't quite right, they'll likely go looking for another option.
Let's compare the software of the two rooms:
PokerStars – Software
PokerStars has had one of the best software solutions out there for years now.
This title was only ever contested by FullTilt Poker, but since the company went under, PS reigns supreme in terms of the gaming platform.
Over the years, the developers working behind the scenes have created a poker client that meets the needs of even the most demanding players.
The lobby is divided into several sections, designed to give you an easy way to get around and find the games you want to play. Main parts featured in the PS lobby include:
Tournaments
Sit & Go
Cash
Zoom
Spin & Go
6+ Hold'em
Events
On top of this detailed categorization, PokerStars also features a very elaborate filter system that gives you full freedom to isolate the exact type of games you're interested in playing.
These filters include game type, buy-in range, number of players at the table, tournament structure and subtype (KOs, rebuys, etc.), and much more.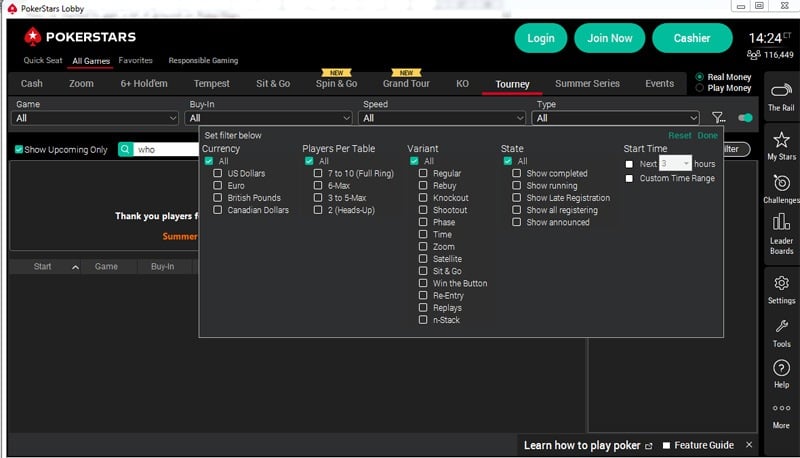 The PokerStars software also lets you adjust it to your needs and offers a high level of customization.
You can choose from several different language options, various table themes, select your preferred seat, adjust auto-rebuy settings for cash games and tournaments, and more.
Yes, it can be a drag to figure out these options and set them up just the way you want them, but you can make PokerStars your own in every way. It's worth doing.
This is especially important for those who spend a lot of time playing and makes multi-tabling much easier.
888poker – Software
888 has done a lot of work in recent years to make its software better and more in line with the expectations of modern-day players. Although there's still room for improvement, the software is good as it is right now.
The main lobby is divided into several sections and sub-sections.
Under the 'All Games' heading, you'll find all the different game types on offer as well as the tournament lobby. SWAP and BLAST games have their own lobbies.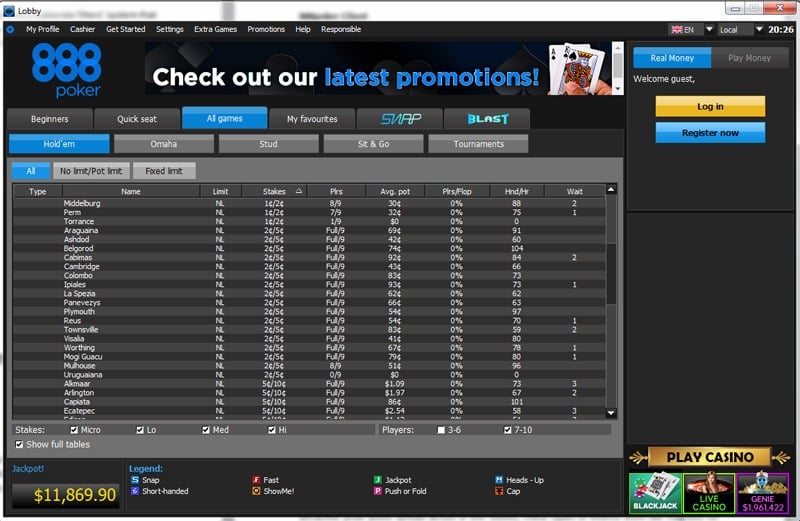 888poker's game filters aren't as elaborate or as advanced as your options on PokerStars.
That said, you can easily filter out particular games by buy-in ranges and the maximum number of players at the table, so most players won't have any problems with this.
However, for the pros with higher requirements, PS does offer more in this particular department.
In terms of customization, PokerStars offers more options, but 888poker still offers great options. You won't find as many different table backgrounds, but main settings such as auto-rebuys, are there.
Game Variety: PokerStars vs 888poker – PS Wins
Not all players are bothered about having access to a wide variety of games. However, having access to many different options on a single site attracts more players, and this is where PokerStars is ahead of 888poker – and pretty much anyone else out there.
PokerStars – Games
If you just look at the game filters on PokerStars, you'll see that this room has almost every game variation you've heard of, and some you might not even know. It really does have it all.
Over the years, the room has done a lot to expand its range of variations to meet different player profiles, building an impressive portfolio.
Poker variants you'll find at PokerStars include:
Texas Hold'em (No Limit, Limit, and Pot Limit)
Omaha (PL, NL, Limit)
Omaha 8
Seven Card Stud
Razz
5 Card Omaha
2-7 Single / Triple Draw
5 Card Draw
Badugi
8-Game Mix
6+ Hold'em
Most of these games are offered in tournament formats and cash games alike across various stakes, so PokerStars really has a platform for all types of players. Whether you're an experienced pro looking for a high stakes 8-Game Mix table or just want to learn Badugi playing micros, you can.
Cash Games – Pokerstars
The range of stakes on PS cash game tables is pretty much as wide as it gets. Most games can be played as low as $0.01/$0.02 while the highest stakes games feature $200/$400 blinds.
There are also various other options such as CAP and Deep tables, so you have a lot of freedom to choose your games and build your bankroll at your own pace.
The only thing missing is the ultra-high stakes tables that were available on Full Tilt Poker back in the day. PokerStars chose to get rid of them, and it doesn't look like it'll be bringing them back any time soon.
Tournaments – Pokerstars
If there's one room that caters to tournament players, that's PokerStars.
There is no other poker site offering such an extensive daily schedule of tournaments for every level. From freerolls and super-small buy-ins to high stakes events, PS provides a wide array of events for everyone.
In addition to daily tournaments, PokerStars hosts a ton of weekly staple events, including its legendary Sunday Million. This tournament has been happening for years now, attracting experienced pros and enthusiastic amateurs alike.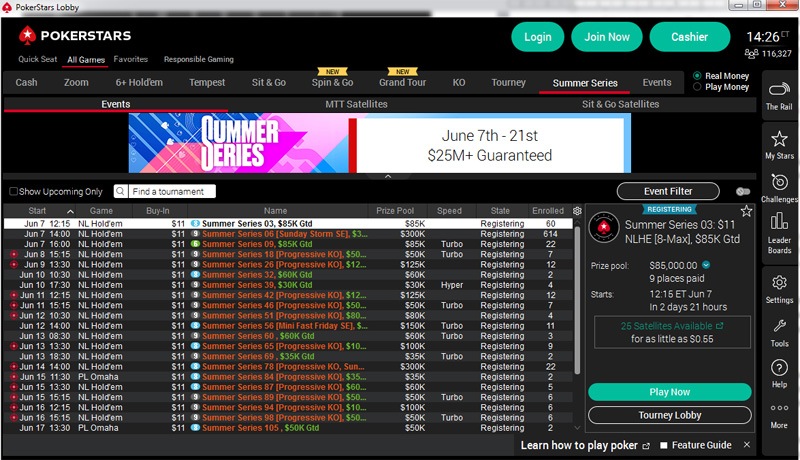 To top it all off, Stars has been offering numerous tournament series over the years such as its SCOOP and WCOOP events, as well as Micro Millions.
Featuring dozens of MTTs with attractive prize pools spread across a few weeks, these types of events work like magnets for tournament grinders and recreational players.
PokerStars is also one of the most creative rooms when it comes to different tournament structures and formats.
From deep stack to hyper-turbo tournaments, it offers a type of action for every player. To add to the excitement, you'll find regular and progressive knockouts, satellites to big online and live events, and so much more.
Special Formats – Pokerstars
One of the beauties of online poker is that it offers a lot of room to try new things and find out what you like.
PokerStars has done an excellent job here, experimenting with various new game formats and settling with those that caught the most attention from players.
We can take Zoom cash tables as an example, which are hugely popular.
You don't have to sit around, waiting for the new hand to start. The moment you fold, you're taken to a new table and dealt a new hand. The pros and the amateurs alike love this format.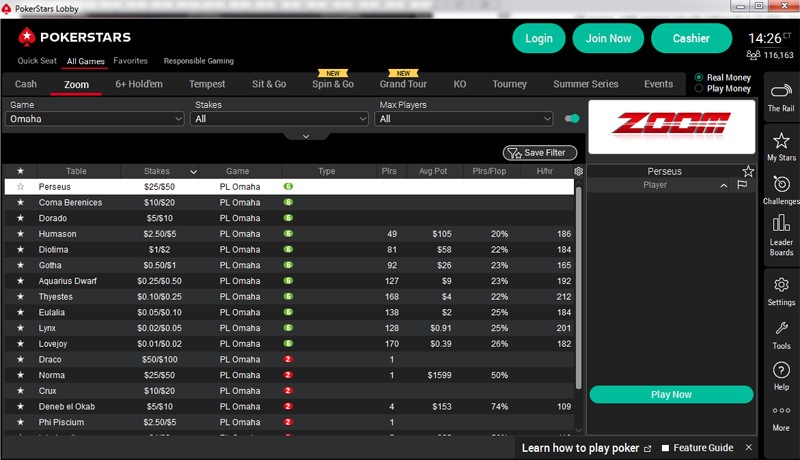 For the pros, Zoom is a great way to put in a lot of hands in a short time, which can help improve their hourly rate. For casual players, this is a great way to actually play some hands instead of spending your entire session without much happening at all.
Then, there is the Spin & Go format.
These lottery-style sit & go games have been hugely popular with players. They offer a chance for the winner to win a random amount of cash, up to the maximum of 10,000x the stake.
So, you could, in theory, win $10,000 playing a $1 sit and go against just two other players!
Of course, odds against actually hitting that 10,000x multipliers are huge, and pros weren't too happy when Stars came out with this idea.
However, recreational players love it for the buzz, and professionals have eventually come around and figured out how to get an edge in these games as well.
888poker – Games
888poker isn't PokerStars, and it can't compete when it comes to the range of different game types on offer. However, as mentioned already, most players aren't exactly looking to play 2-7 Triple Draw, so it's not that big of a deal.
When it comes to main game formats, the room has the area pretty well covered, offering:
Texas Hold'em
Omaha
7 Card Stud
7 Card Stud Hi-Lo
Cash game tables are offered for all of the available variations, while tournaments are predominantly Hold'em and Omaha.
Cash Games – 888poker
888poker offers a substantial range of cash game tables, starting as low as $0.01/$0.02 and going up to $25/$50 for No-Limit Hold'em and Pot-Limit Omaha games.
So, it's only at the very top end of the spectrum where the room lags behind PokerStars as players can't play in games with blinds over $25/$50.
It's also worth noting that full-ring tables only go up to NL200. If you want to play higher than this, you'll have to join 6-max games.
This is an interesting decision by the room, but it was probably driven by the fact there isn't much demand for higher stakes games among full ring players.
Tournaments – 888poker
While 888poker may not be PokerStars when it comes to tournaments, it's probably the second-best room for MTT grinders. There are a ton of events held daily, which cover a wide range of buy-ins and formats.
The room has its own staple events, such as the $100,000 Sunday Mega Deep the $25,000 Sunday Challenge.
So, those looking for tournaments with decent prize pools will definitely find something play. There is no lack of MTT action at 888poker, and fields are somewhat smaller and more manageable.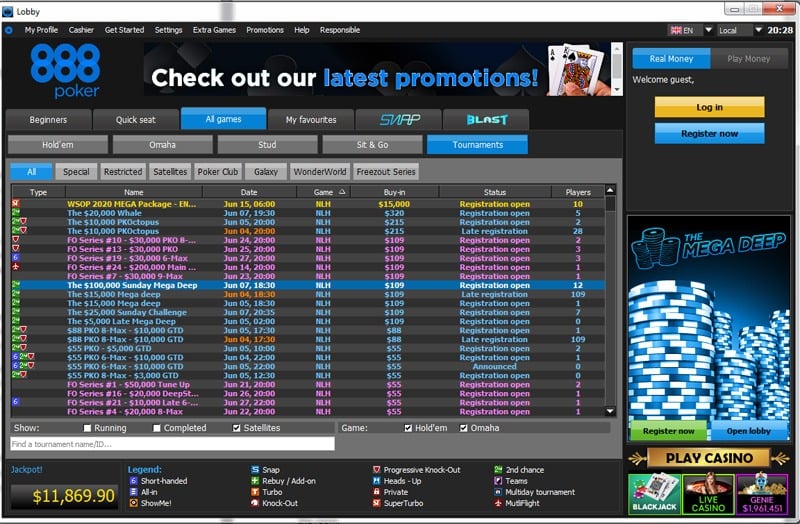 Since the site is the official partner of the World Series of Poker, you'll also find various online satellites for the WSOP here.
If you want to punch your ticket to Las Vegas online and want to give it a shot starting from a smaller bankroll, 888poker is probably your best option.
Special Formats – 888poker
Like PokerStars, 888poker has introduced a couple of special formats to the mix, and these have found a lot of success with its player base.
These are, in fact, quite similar to what Stars has to offer, so if you're switching from one site to the other, you won't be surprised by these.
SWAP is pretty much the same thing as Zoom. This is a quick fold format where you're moved to a new table and receive a new hand as soon as you click fold. However, for regular games, you'll only find tables up to NL200.
There are also special Push or Fold Zoom tables with blinds of $5/$10, but this is an entirely different format, as the name suggests.
BLAST sit & go events are quite similar to PokerStars' Spin & Go tournaments. They offer a random prize that can be as high as 10,000x your buy-in.
These are three-handed tables that also feature a timer. If the event doesn't end before the timer reaches zero, all players will be all in for the rest of the hands until there is a winner — quite an interesting twist.
So, in terms of these formats, both PokerStars and 888poker have a somewhat similar offering.
While you can find higer stakes games and bigger tournaments on PS, 888poker offers smaller fields that can actually be an advantage if you don't have the whole night to spare for playing.
Player Traffic: PokerStars vs. 888poker – PS Wins
Without enough people to start tables and join tournaments, even the best-made poker room can't last for long. So, how do PokerStars and 888poker compare in this aspect?
It's a well-known fact that PokerStars is the leader when it comes to player numbers. According to Poker Scout, the leading site for tracking traffic stats, the site has a daily average of over 10,000 players.
What this means is that you'll never struggle to find a game at PokerStars, no matter what stakes you're playing.
The daily average at 888poker is around 1,300 players, which is quite a bit behind Stars.
This doesn't mean there aren't games going on at 888poker, though. There's still plenty of action, but once you move past micros, you won't have nearly as many tables available.
Another vital point to keep in mind is that the action is intense at PokerStars almost around the clock, but it isn't necessarily true for 888poker.
You'll find a fair number of players going at it during European evening hours, but if you want to play during mornings, for example, you might struggle to find enough tables, especially on higher stakes. Obviously it depends where you're based.
So, if you want more flexibility with your schedule, PokerStars is your best option.
The number of players at Stars is much higher so you won't have any problems finding action at any time of day or night. If you pick 888poker, you'll likely need to tweak your schedule according to the busiest times for the best experience.
Player Quality: What Games Are Softer? – 888 Wins
Where are you more likely to win?
This correlates directly with the ratio between recreational players and serious grinders that play at the site. As important as it is, this category isn't always easy to define across the room.
Generally speaking, the level of play on PokerStars is higher than on 888poker. After all, PS has long been home to many of the top players across various stakes, so you won't find many "fish" duking it out on the higher limits.
888poker attracts a fair number of casual players, so you might find some soft spots even at higher buy-ins. If you're patient and have the time, though, cash game tables at 888poker are likely to be softer and more profitable.
As for the tournaments, 888poker is likely to be softer as well.
While lower stakes PokerStars events attract many recreational players, 888 is probably a better choice at high levels. Well, at least in regards to weaker competition since higher PS games are riddled with pros which you'll have to deal with eventually if you make a deep run.
All in all, if game softness matter most to you, you should probably go with 888poker.
The only exception is if you're just looking to build your bankroll from the smallest of stakes.
Due to Stars being so famous, you'll find many super-soft spots at the lowest levels while there are likely to be more grinders at 888poker, even at NL10 and NL20.
Bonuses & Rakeback: PokerStars vs 888poker
When it comes to promotions, PokerStars used to be the favorite place for grinders because they got heavily rewarded for their play on the site.
In recent years, though, there have been many changes, and PS has turned more towards casual players, recreating its entire rewards scheme to cater more to amateurs.
888poker is more focused on casual players as well.
Its loyalty scheme doesn't include any of the usual rakeback deals. So, for the grinders, neither of these two rooms is really all that good in terms of what they can expect to get back for the time spent at the tables.
Welcome Bonus
When it comes to the welcome bonus, PokerStars offers two main options.
The first is geared towards more serious players, while the second is for the recs looking to get a small boost to their bankroll:
Option 1: 100% bonus up to $600
Option 2: 100% bonus up to $30 + Daily Rewards (Spin & Go tickets + extra cash)
The option you choose depends on what your goal is. Claiming the full $600 certainly has its benefits if you'te looking to play more and are ready to clear it.
For someone just looking to kick-start their poker career, though, the bonus bundle with extra tournament tickets and cash is probably the better option.
888poker offers a single welcome bonus for all players: a 100% boost up to $400 and a number of tickets for special events.
The nice thing about these is that you'll get them regardless of how big your initial deposit is, so even if you deposit the minimum amount of $10, you'll still get to claim a total of 10 tickets for some nice tournaments:
7 x $500 guaranteed events tickets
2 x $1,000 guaranteed events tickets
1 entry into the Depositors' Challenge event awarding tickets for Sunday Challenge
PokerStars does offer a bit more cash if you're going for the full amount, though. As for the additional value, it's down to what you're more interested in.
Do you feel like chasing your luck in Spin & Go's, or would you rather take a more skilled approach and test your tournament skills? It just comes down to a matter of preference for this one, really.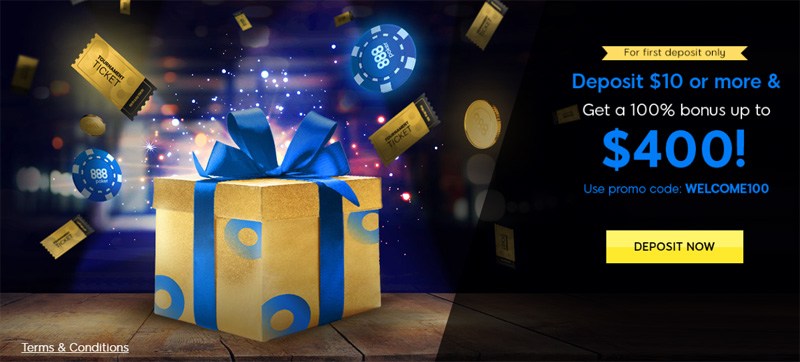 Loyalty Club & Perks
As mentioned, neither PokerStars nor 888poker offers traditional rakeback deals.
The Stars Rewards program is quite strange, to say the least. You'll collect points for your play across all Stars products (casino, sportsbook, and poker), which will help you unlock chests. These chests are supposed to contain personalized rewards that fit your general playing habits.
So, if you primarily play poker, you can expect to receive tournament tickets and cash bonuses. However, the whole idea of the Stars Rewards hasn't been that well-received with the poker segment of their player base, and its real value is quite low.
So, simply put, your rakeback percentage at PokerStars is very low at the end of the day.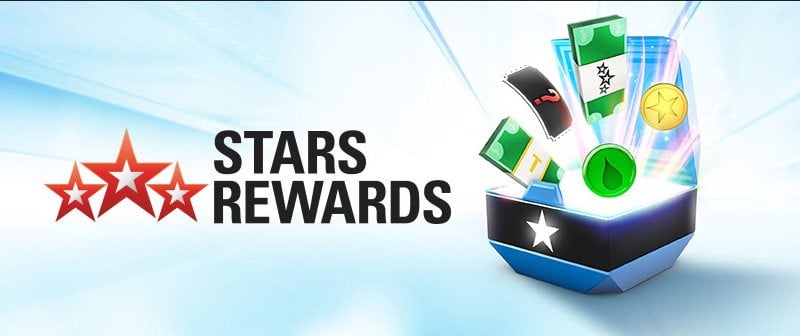 The 888poker Club is similarly geared more towards casual players.
To claim your rewards, you'll need to pick up and complete various Club Challenges. By completing these challenges, you'll get to move up through the levels and unlock Golden Tokens.
For every new level, you'll receive a certain number of Gold Tokens. These tokens can be exchanged in the site's shop for tournament tickets, bonuses and such.
So, unlike PokerStars, 888poker at least gives you more control over how you want to spend your accumulated points.
Even though 888poker isn't particularly rewarding towards its regular players, it's fair to say its loyalty scheme is better than what Stars has to offer.
Ongoing Promos
You'll find variety of different promos happening in both rooms all the time.
PokerStars takes the crown though, as it makes the effort to make them as colorful and as entertaining as possible for casual players.
The promos are generally geared towards different types of players, so PokerStars covers its player base pretty well overall. The fact it even has promos for play money tables (albeit only awarding play money rewards) shows that the room is interested in its casual players.
At 888poker, there aren't that many promos.
The most interesting one is Hand of the Day, which rewards you with bonuses, cash prizes, and a ticket to the daily $1,000 freeroll if you win with a specific hand.
Completing daily space missions at 888poker will also earn you entries to their Galactic Freerolls. The more challenges you complete, the better, as you can win tickets for $2,000, $10,000, and even the $100,000 event.
Deposits & Withdrawals: PokerStars vs 888poker
Both rooms have done a great job in terms of banking options players can use to deposit funds and withdraw winnings.
This is hardly a surprise given the fact both 888poker and PokerStars have been industry leaders for many years now and fully understand the importance of giving players as many convenient options as possible.
At PokerStars, you can use a great range of methods (availability may change depending on where you're based):
Skrill
NETELLER
WebMoney
MasterCard
Visa
Ecopayz
AstroPay
Paysafecard
Much Better
Wire transfers
888poker features just as rich a selection of payment options, allowing deposits and withdrawals via:
Visa
MasterCard
NETELLER
Skrill
iDebit
ecoPayz
QIWI
Sofort
Nordea
iWallet
PayPal
Yandex
Apple Pay
AstroPay
Paysafecard
Wire transfers
Both rooms offer a simple way to send money to other players via the player-to-player transfer functionality. It's definitely a very convenient option to have.
Other than this, both PokerStars and 888poker are quite fast with withdrawals.
You won't have to wait long for your cashout to be processed as long as your account is fully verified and in good standing.
Customer Support: PokerStars vs 888poker
The final link in the chain. Customer support at both rooms seems to be doing an outstanding job.
Although you don't have a live chat functionality on either PokerStars or 888poker, there is a decent knowledge base covering a variety of topics, and you can always get in touch via email.
In my experience, all emails are responded quite promptly, so you shouldn't have any problems getting your questions answered in any of those rooms.
PokerStars or 888poker: Which One Is Better for You?
There is just one question that remains to be answered: which room is a better choice for you as a player. Clearly, there are some things that PokerStars does better than 888 and vice-versa, so where should you go?
The answer is, surprisingly, it depends.
If you're exclusively a tournament player, I think PokerStars is the better option. Because of its extensive daily schedule and impressive guarantees, there is simply no better option for MTT grinders out there.
However, if you don't want to multi-table as much and are still building your tournament skills, it's fine to stick to 888 for a while. Field sizes are more manageable, and the level of play is probably lower on average, especially in smaller buy-ins.
For cash game players who play at reasonably high stakes, 888poker is probably better. You might not find as much traffic all the time, but you'll find many more soft spots at your tables.
PokerStars tables are quite flooded with experienced grinders, so you're better off adjusting your schedule and playing your sessions over at 888.
You won't go wrong either way as both of these are top choices, but poker is all about finding small edges and playing where you feel the most comfortable and picking the right room plays a huge part in this.
After all, you can always try both, right?
Both PokerStars and 888poker are on Casino.org's list of recommended online poker sites.
More poker site comparisons by Casino.org include PokerStars vs GGPoker and PokerStars vs Party Poker.