The Most Vulgar NBA Fan Bases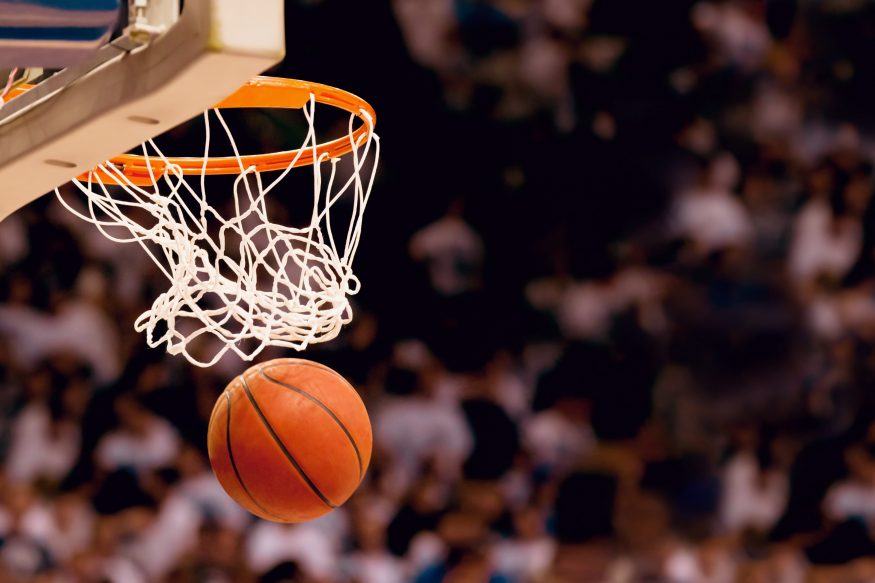 Tensions tend to run high on gameday in the NBA. We all know that. But while on-court action gets heated, things usually get even hotter by the bleachers or, in this case, the virtual bleachers.
NBA fandom is global, so internet chat is a way for legions of basketball followers to blow off steam after a win, a loss, or anything in between. And it doesn't always make for pretty reading.
But who are the rudest NBA fans of them all? We braved a barrage of bad language to see which support base uses the most swears by analyzing the top 100 posts of every NBA team's subreddit, wading through over 50,000 comments overall.
So, what did we find out? Take a look at the graphics below…
Most Vulgar NBA Fanbases
The NBA features some of the most famous sports teams on the planet, with passionate support to match and, understandably, this sometimes spills over into bad manners.
But across all of the league's foul-mouthed fanbases, who makes the most swears? Look away now, Jazz fans.
Yup, leading the profanity pack are followers of Utah Jazz, with a whopping 8% of comments on the Salt Lake City-based team's subreddit containing swearwords. It's not one for the kids to read before bedtime.
Elsewhere, New Orleans Pelicans fans sit in joint-second place alongside Miami Heat support with a still sweary 6%, and fans of the Philadelphia 76ers, Minnesota Timberwolves, Phoenix Suns and Charlotte Hornets jostle for third spot with 5% of comments containing curse words.
But what about the b'ball's most polite fans by comparison?
According to our stats, only 2% of comments made by Washington Wizards fans contained curse words.
League-wide Profane World Usage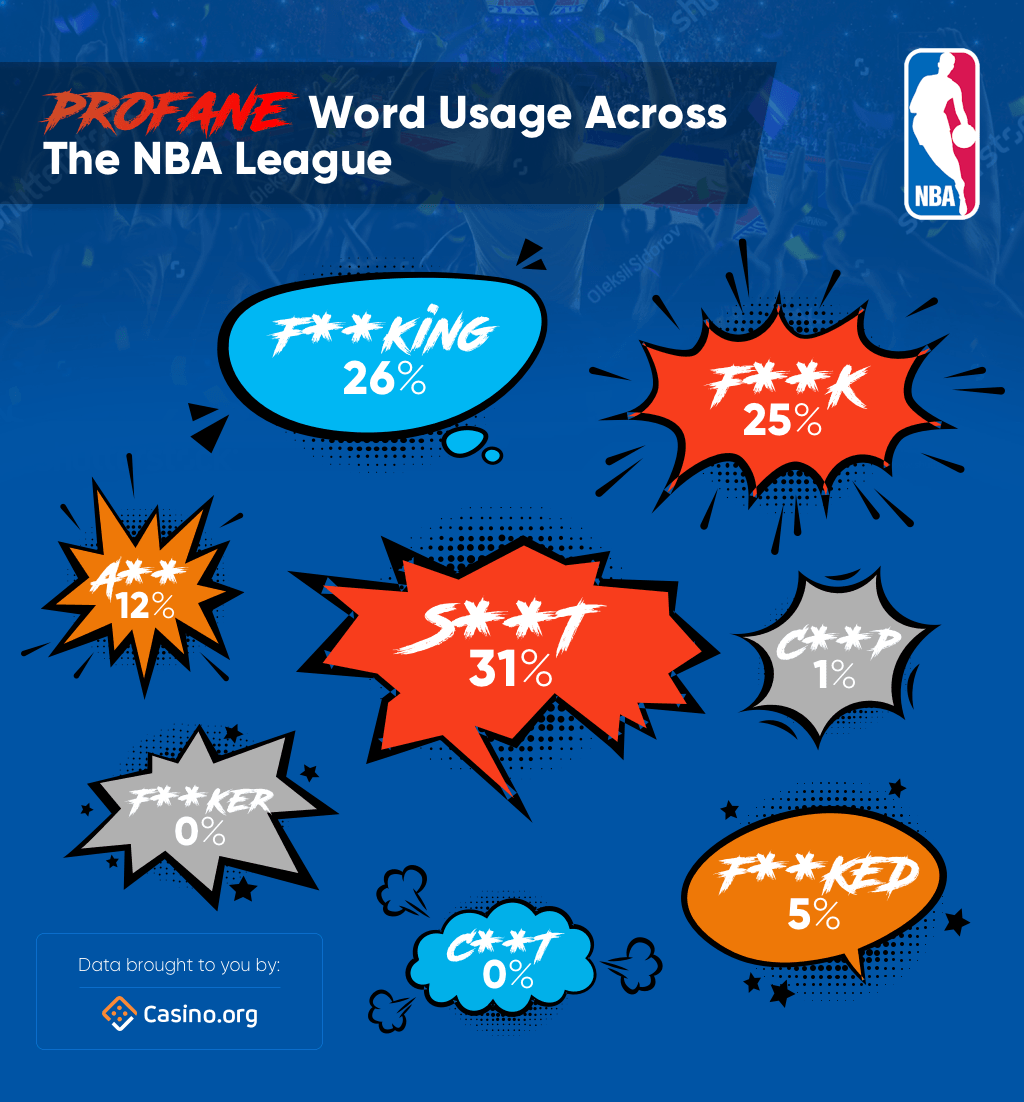 When it comes to the most popular profanities among all NBA fans, 'S**t' is unsurprisingly top of the championship, accounting for 31% of all swear words in our subreddit search.
It is, after all, a word that can be applied to anything.
And the best of the rest? When it comes to words with a tint of blue about them, 'F**king' is the second most common curse on 26%, just ahead of plain old 'F**k', which accounts for 25% of league-wide swears.
Not a lot of variety there. You can do better than that, NBA fans. Time to up your game.
Most Popular Swear Per Team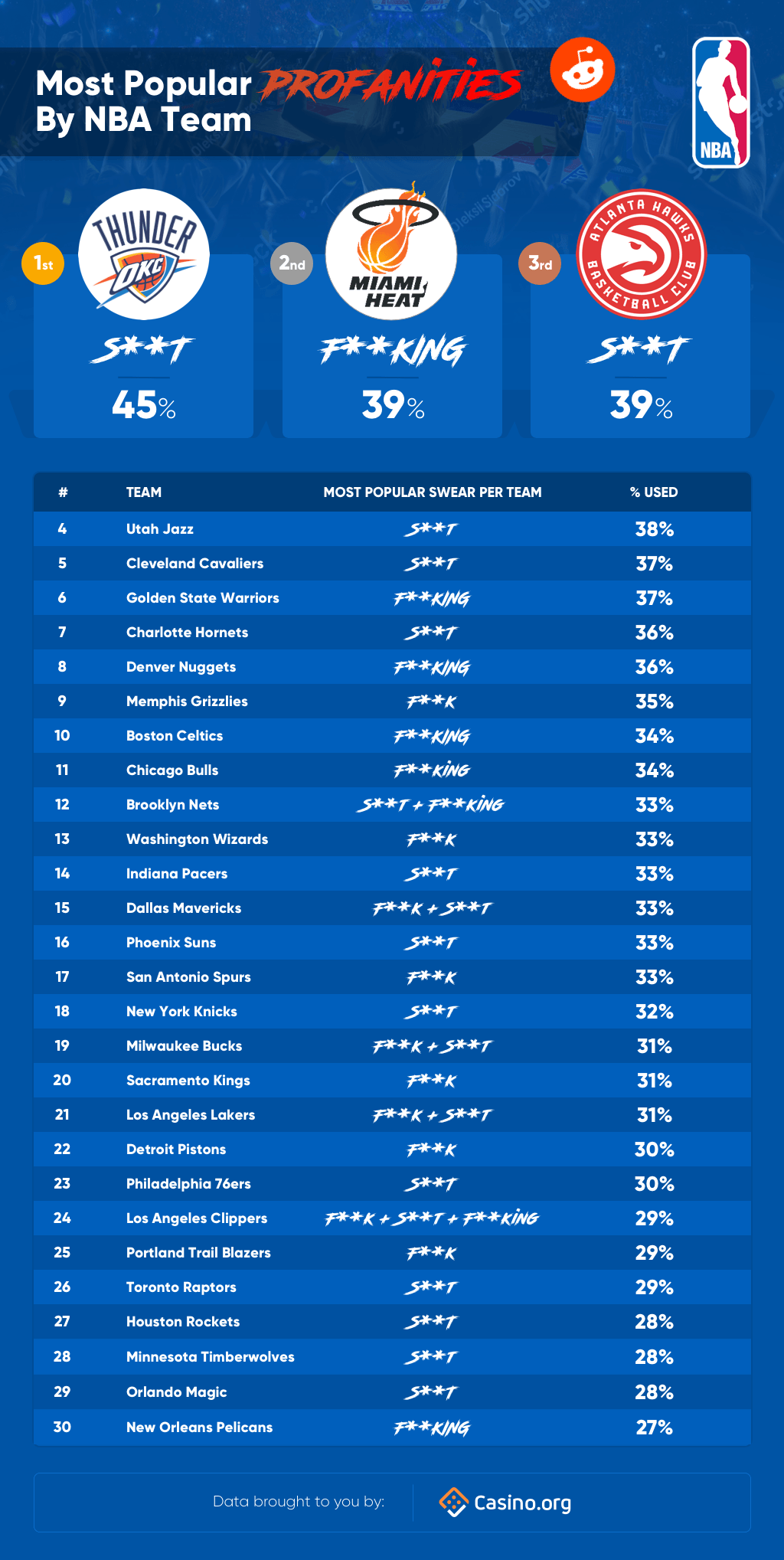 Now we're getting down to the details, as we take a look at the most popular profanity per NBA team fanbase.
Fans of Western Conference team Oklahoma City Thunder have a clear favorite when it comes to colorful language, with 45% favoring 'S**t'.
This was also the top curse word for fans of Atlanta Hawks, Charlotte Hornets, Cleveland Cavaliers, New York Knicks and Orlando Magic, among others.
Elsewhere, 39% of Miami Heat fans and 35% of Memphis Grizzlies fans went with 'F**k' as their profanity of choice.
While, LA Clippers posters were the most flexible among the foul-mouthed, preferring to mix it up, with 'F**k, 'S**t' and 'F**king', all on 29%.
Top NBA Team For Each Profanity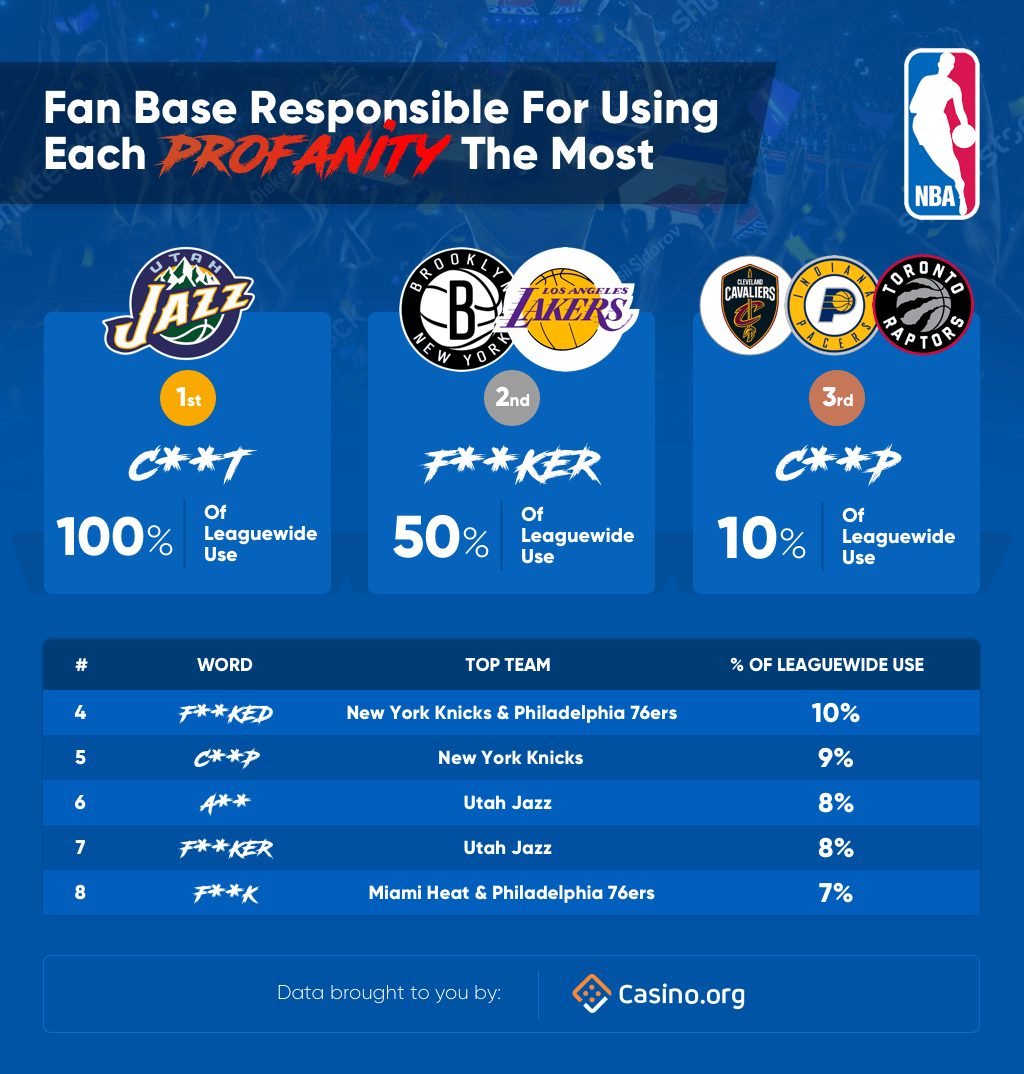 The results here are a little more surprising. When looking at which fanbase was responsible for the heaviest use of each profanity, Utah Jazz fans made a name for themselves yet again.
Hardly known for being wallflowers when cheering on their team in person, Jazz fans are top of the charts for use of the world 'C**t', with their support accounting for 100% of mentions in our research.
But that's not all, the swear-happy support also use 'S**t' and 'F**king' more than any other fanbase in the league.
But we can't lay it all at the Jazz's door.
When it comes to use of the word 'F**ked', fans of the New York Knicks and Philadelphia 76ers are right up there too, being equally responsible for 10% of league-wide use.
Knicks followers also account for 9% of the use of 'A**'. It hasn't been a great season for the long-suffering Big Apple-based team, so we can understand that one.
And if you want to know who is most likely to say 'C**p', then look no further than Toronto Raptors, Cleveland Cavaliers and Indiana Pacers.
With the NBA season finally about to restart, and plenty still to play for, we're expecting the colorful cursing to continue — especially if fans are forced to stay online only.
Surprised by these results? Let us know which sports teams you think have the rudest fans.
For something similar, check out the rudest Premier League fans or our data on the most toxic NFL fans.