Confused About WSOP 2021 Events? This Guide Explains Everything You Need To Know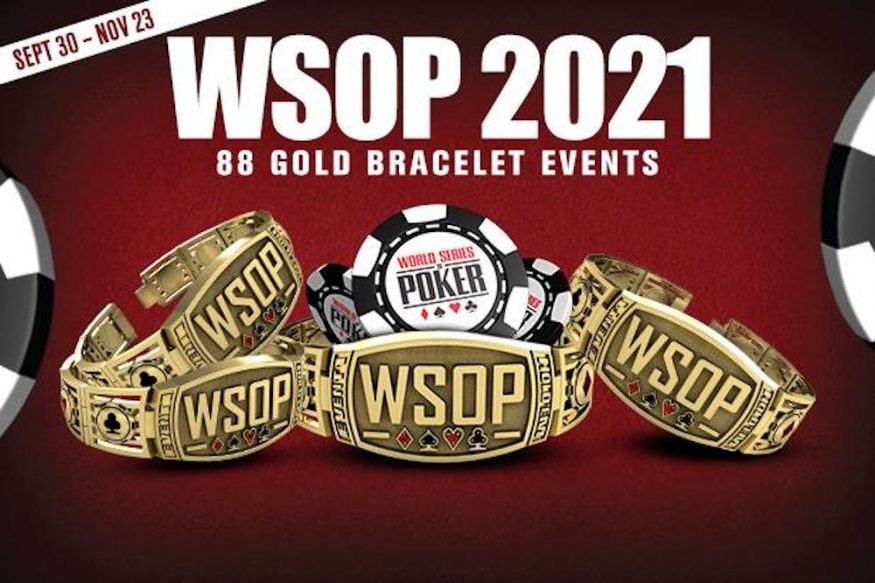 There's only a couple of weeks to go before WSOP 2021 kicks off on September 30 in Las Vegas. If you haven't started preparing your schedule yet, it's time to do it now!
Planning your World Series of Poker adventure isn't easy, especially as since last year there's been live and online tournaments in the mix. This has made it more accessible in general but also a little more confusing.
This article will explain how WSOP events are structured, as well as give you an idea of what to expect in terms of buy-ins, qualifying satellites, blind structures, and playing schedules.
With this information, you'll be much better equipped to plan and figure out what WSOP tournaments you might be interested in playing this year.
WSOP Online
As mentioned, the World Series of Poker was moved entirely online in 2020. The pandemic made it impossible to host a live event gathering dozens of thousands of people from all over the globe.
This year it is a combination of both although the online events for 2021 have now finished. The WSOP Online 2021 took place on WSOP.com (US players only) and GGPoker (international players).
As expected, buy-ins for online WSOP tournaments are significantly smaller than the ones for live events.
This sparked controversy in the community, with some players voicing their concerns that this actually devalues WSOP bracelets. However, this debate didn't change the organizers' minds.
Live WSOP Events
For years now, the World Series of Poker has been taking place at the Rio in Las Vegas.
WSOP officials usually publish the full schedule of events on the site at least a couple of months prior to the start, giving players a chance to plan everything in advance.
While you can register for some tournaments online and pay your buy-in using a bank card, this doesn't apply across the board.
For all tournaments with the buy-in over $1,500 or $2,000, you'll need to get in early, wait in line, and register in person.
This is something to keep in mind if you have no WSOP experience, as these registration queues can be longer than you could expect. Try to do it early and don't leave it for the last moment.
In recent years, World Series organizers have expanded the schedule quite a bit, so you'll find a number of bigger events worth playing. Some of them are even not that expensive but still feature massive prize pools.
To avoid any surprises and give you a chance to prepare, we'll cover some of the events you will find and what to expect in terms of structure.
The Main Event
Let's kick things off with the pinnacle of WSOP, the Main Event.
The tournament features a buy-in of $10,000, and this number hasn't changed since the series was founded. There are no plans to change it in the near future, even though $10,000 today is much different from what it used to be back in the 1980s.
You probably know that almost every Main Event these days features thousands of players.
This means that it is physically impossible for all of them to play at the same time. Instead, there are multiple starting days, or "Day 1s", as you'll find them described on the tournament schedule.
Traditionally, the Main Event features three starting days: Day 1A, Day 1B, and Day 1C.
If you register early enough, you can pick whatever day you want to play in. There are no significant differences, as all players get to play under the exact same rules.
However, if you're only going to Vegas to play the Main Event, Day 1C is your best option, as you won't have to pay for the room for the extra day or two.
After all first days are completed, players still in the event will come back for Day 2. Since this is still a big number, there will be two or three Day 2s as well. You no longer have an option to choose, though. The organizer will assign you the day.
After that, if you make it to Day 3 and beyond, it plays like any other tournament, but it will still take a few days to complete. If you make it all the way to the final table, you can expect to play for 10 days in total and spend about two weeks in Vegas.
Not that anyone would complain about it, but it's still good to know what to expect.
As for the tournament structure, the Main Event is played fairly deep. You get 60,000 chips to start with, and blinds kick off at 100-200 with levels lasting 120 minutes, so you'll get plenty of play for your $10,000.
The money bubble usually bursts late into Day 3 or during the first levels of Day 4, depending on the number of participants.
Millionaire Maker
The Millionaire Maker event has become a regular staple on the WSOP schedule due to being very popular with the players.
Although it's a small buy-in event, requiring only $1,500 to enter, it guarantees at least $1,000,000 for the winner, so that makes it pretty appealing.
It's worth mentioning that while having thousands of entries every year, this tournament doesn't take as long as you might think.
There are two starting days to allow everyone interested in playing to enter the tournament. After this, however, all players come together and play until the winner is crowned.
The final table usually takes place on Day 5 and there are no rest days. So if you enter Millionaire Maker, be prepared to put your grinding pants on.
The starting stack is 25,000, and blinds start at 100/100 with 60 minutes levels. While blinds escalate relatively quickly, there is still plenty of room for play, but not nearly as much as what you get in the Main Event.
The Colossus
The Colossus is a bit of a controversial tournament because of its very low buy-in of just $400, but the numbers show players enjoy it.
In 2019, the event saw more than 13,000 entries, and the winner pocketed over $400,000 for his efforts.
Despite the great number of entrants, the Colossus doesn't take too long to complete either.
Day 1 features two flights, but they're both played on the same day. On Day 2, fields from both starting flights combine, and on Day 3, the tournament plays down to the winner.
The starting stack is 40,000 chips, but levels only last 40 minutes, which is a very fast structure for a live tournament.
Still, considering the buy-in, the Colossus offers a very good experience, and more importantly, a shot at a really big, life-changing prize.
Side Events
The term "side events" basically applies to all WSOP tournaments that aren't "championship" events.
There is a lot of variety here, as buy-ins can range from as little as $500 to as high as $5,000.
You will usually start with a stack of 200–300 big blinds, and blind levels will last from 40 to 60 minutes. This is more than what you'll get in most local tournaments, which means there will be plenty of play, at least for the first levels.
In some events, especially in the lower-buyin bracket, the structure is often such that blind levels will be shorter on the first day (like 30 minutes) and then bumped up to 45 or 60 minutes on the second day.
This ensures players get some room to play when things really start to matter as the money approaches.
Championship Events
Championship events are tournaments featuring the $10,000 buy-in, and they take place for different game variations, like 7 Card Stud, PLO, Omaha 8, etc.
The Main Event is basically the No-Limit Hold'em Championship, and that's what it's often referred to in the schedules as well.
With such a big buy-in and being dubbed "championships," these tournaments feature better structures than most side events. For games played in a limit format, levels usually last 60 minutes.
Turbo Events
If you don't feel like sitting around for a few days and would rather try your hand at some fast-paced action, the WSOP has you covered there as well.
Check out the schedule for any events with the word "turbo" in the name.
These usually feature very short, 20-minute levels and rarely extend to a second day.
Of course, you can expect much more push and fold action in these, and you'll need some assistance from Lady Luck to survive all the flips along the way, but it's a nice option to have nonetheless.
Satellites
Satellites can be a great way to win your seat in some WSOP events and make the most out of your bankroll.
If you're aiming for the Main Event, you can find heaps of satellites running pretty much all year round on all top poker sites.
But what about other WSOP tournaments?
You'll find many of these at the Rio at the time of the Series, allowing even those with limited bankrolls to get their seats in some of the smaller events.
As for the structure of these live satellites, you shouldn't expect anything special. These are mostly fast-structured tournaments designed to wrap up in a few hours and award some entries for the real thing.
One question that players often have is whether satellites are worth the time and money, and this really depends on multiple factors.
If you're a good player with solid fundamentals, you'll probably do quite well in these and improve your overall EV.
But, like with all other fast tournaments, the variance can be brutal, so you better be prepared for it beforehand.
Get Ready For WSOP 2021
It's hard to fully describe the World Series of Poker as there are so many different events, and the schedule has been growing in size and versatility every year for the past few years.
That said, this guide should give you a decent idea of what things look like in Las Vegas during the biggest poker event of the year, as well as what to expect in terms of time commitment, buy-ins, and other important aspects.
Of course, you'll ultimately have to do some research on your own to figure out the exact tournaments you want to play in, but at least you should have a good starting point.
Lead image: WSOP.com