Michael Shackleford Wizard of Odds interview
We're Off to See the Wizard…
If you're a regular at Casino.org you'll know we strive to bring you information on the best sites out there on the worldwide web, guide you through the minefield of bad casinos, show you which games to avoid, and offer some top strategies to help you win.
But one man has been helping players improve their game for so long, if there's ever an Internet Gaming Hall of Fame set up, his name will be first under the engraver's knife.
Michael Shackleford – AKA 'The Wizard of Odds' – has been head of one of the first – indeed, one of the best – gambling websites since 1997.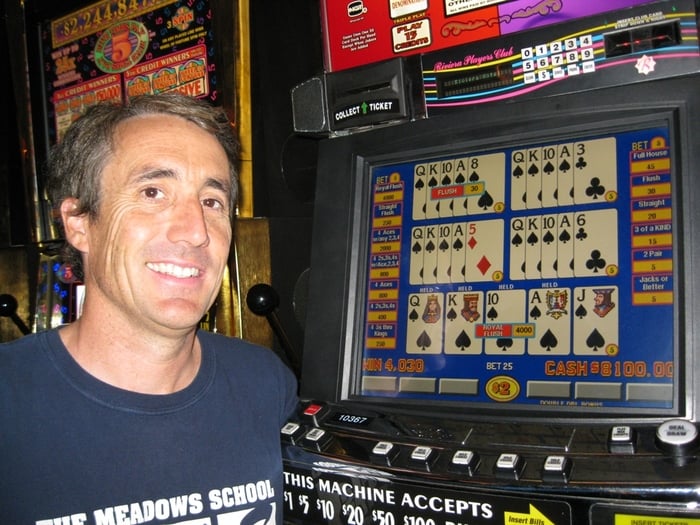 If I Only Had The Hearts…
www.WizardofOdds.com was originally set up as Mike's Gambling Page, and while it took him about, ooh, 5 seconds to realize that title sucked, he changed the URL, pumped a ton of original and exclusive betting content onto the site, and the rest is history.
As Casino.org clicked its heels three times, slipped on the red shoes, and followed the yellow brick road, (substituting the hallucinogens for a strong math brain) to meet the self-styled overseer of the gambling Emerald City, we found that the title wasn't all his own idea.
"I must confess, I'm not the first to think of it [Wizard of Odds]," explains Michael. "It was the nickname of a Chicago mobster called Donald Angelini [a member of the 'Chicago Outfit', who specialized in illegal gambling operations] but Jeopardy presenter, Alex Trebec, also hosted a gameshow called the Wizard of Odds once."
Heart, Brains, Courage – and a Gambling Mentality
After the website took off, Michael left his government job to devote his attentions to bringing the best, most mathematically correct strategies and info on every casino game out there.
Some math/economics graduates go off to work in video games, banking or technology. For Michael, it was gambling. Starting out as "a fun project" WizardOfOdds.com started attracting a keen following of like-minded casino nuts.
In 2000 Michael moved to Las Vegas and began getting more involved in the gambling scene, acting as a consultant on casino game design.
But WizardOfOdds continued to grow, and is now the one-stop shop for all things gambling strategy-related, with Michael personally working on odds for various games ("a minute for easy games like roulette", he explains, while harder games like Pai Gow "can take a month.")
The Road of Internet Gambling
It's fair to say that the casino sites you find today are very different to the ones that were kicking around when Michael started his journey.
"There's no doubt online casinos are convenient – the world can enjoy gambling from their home or smartphone," explains Michael. "Not only that, but online casinos generally offer better odds than land-based casinos too. Oh, and of course, there's no second-hand smoke to worry about!"
But, according to Michael, even though there are far more Internet casinos around these days, there's still work to be done, especially when he talks about the apparent ineffectiveness of one of the major licensing jurisdictions in stamping out crooked games.
"The level of integrity of the industry could be a lot better," says Michael. "The Gibraltar Regulatory Authority really did nothing when one of its licencees was caught dealing what I would call a cheating game. It was alleged they even prevented the casino from refunding affected players. It would be nice if there were some regulatory body with teeth out there."
You Do the Math…And Win
If you are after the odds of hitting 32 Red on an American Roulette table – and the house edge of the same bet at an online casino – chances are, WizardofOdds will carry it; perhaps you want to analyze the probabilities and returns on a particular range of hands in Big Split Video Poker; and maybe you're just after a little brush-up on Pai Gow tactics ("Somebody, somewhere, should offer Pai Gow tiles online," bemoans Michael), the Wizard of Odds is your omnipotent being.
But that's not to say a math degree is essential to understanding the many calculators, strategy articles and systems Michael features on his site.
"To be honest, I rarely use anything more advanced than algebra and basic statistics. Computer programming skills comes in much handier," he says. "I have a page called MathProblem.info which is devoted to teaching math in a fun way though challenging and interesting problems."
While we all dream of bringing' down the house, it's good to know there are pioneers like Michael Shackleford doing the legwork so eager gamblin' beavers like the rest of us can adopt his strategies and go for the wins ourselves. And if you're in need of some further reading, check out Michael's book, Gambling 102, with some invaluable advice on many of the most popular casino games around.
Now, there's just time to study up on some Rock, Paper, Scissors strategy before hitting the Playtech tables…