10 Famous Boxers Who Became Actors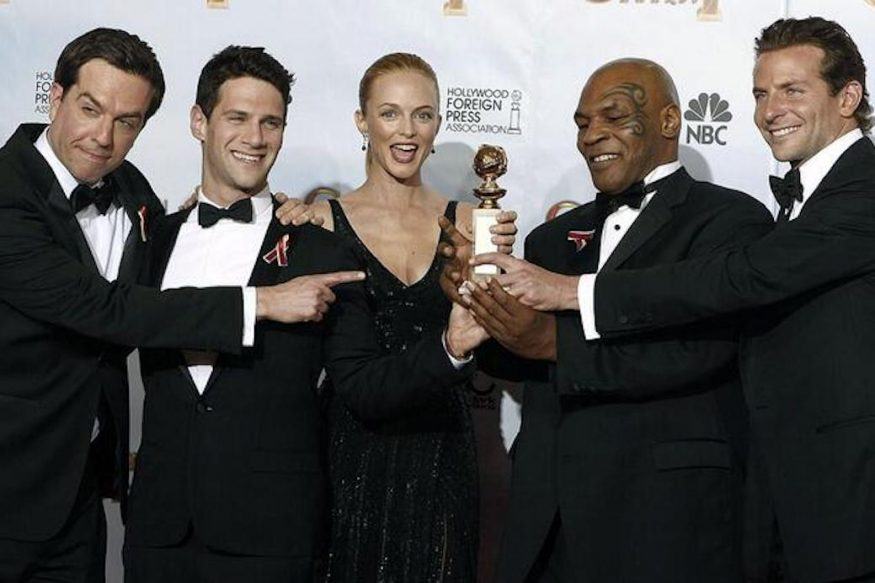 1. Jack Dempsey
Former heavyweight champion Jack Dempsey took the 'Roaring Twenties' by storm, becoming a cultural icon in his native America and one of the first true superstars of the sport.
Known for his brutal knockouts and aggressive approach in the ring, the legendary "Manassa Mauler" also featured in almost 20 movies between 1920 and 1958.
He appeared alongside one of four eventual wives and silent film star Estelle Taylor in the Broadway show The Big Fight and 1925's Manhattan Madness among many others.
2. Roberto Duran
"Manos de Piedra" is one of the greatest fighters of all time.
The Panamanian legend competed from 1968 to 2001, reigning as world champion in four divisions and cementing his legacy as one of the very best in history.
While his own life and career have been portrayed in film and documentaries, Roberto Duran also featured in some movies himself.
Most notably, he made a cameo as Rocky Balboa's sparring partner in Rocky II, as well as minor roles alongside Eddie Murphy in Harlem Nights.
3. Joe Frazier
In Sylvester Stallone's original 1976 Rocky movie former world heavyweight champion Joe Frazier appeared as himself.
"Smokin' Joe" takes to the ring in front of a rapturous crowd, waving to everyone as he's introduced by the announcer.
The legendary 'Fight of the Century' victor offers some words of encouragement to Rocky Balboa and shares a laugh with Apollo Creed before the two famous characters collide on screen.
4. Roy Jones Jr
Arguably the most dominant fighter of the 1990s, Roy Jones Jr took time away from a hugely successful ring career for a brief cameo in 2003.
One of the most gifted boxers in history played Captain Ballard in the second instalment of the popular Matrix trilogy, The Matrix Reloaded.
5. Tony Danza
Brooklyn-native Tony Danza is more widely known as an American actor and TV personality but he actually started off with a prize-fighting career.
Back in 1976 he made his professional debut and went on to have 12 bouts in total, finishing just three years later with a record of 9-3.
Luckily, Danza found a much steadier option in acting, starring in American sitcom Taxi for five years and Who's the Boss?, for which he was nominated for an Emmy Award and four Golden Globes.
He also appeared in movies such as Crash, The Hollywood Knights and Don Jon.
6. Antonio Tarver
Known as "The Magic Man" the ring, Antonio Tarver enjoyed a highly decorated career as an amateur and then in the paid ranks.
The Orlando southpaw earned a Bronze medal for America at the 1996 Atlanta Games before going on to become light-heavyweight world champion.
He most notably handed Roy Jones Jr his first proper defeat (his first official loss was a controversial disqualification) in 2004 with a huge second-round knockout.
Two years after that high-profile victory Tarver played the role of Mason Dixon in Rocky Balboa, who tempts Sylvester Stallone's iconic Hollywood character out of retirement for an on-screen clash.
7. Mike Tyson
Once widely recognised as 'the baddest man on the planet', former world heavyweight champion Mike Tyson was one of the most ferocious and intimidating fighters in the sport's history.
That formidable persona and superstar status later saw him make the move to Hollywood as well.
As one of the most recognisable athletes ever "Iron Mike" has made many cameos in the movies as himself or minor characters, with the most prominent being his appearance in The Hangover films.
8. Tex Cobb
Before taking to the movie screen Tex Cobb was a solid world heavyweight title contender, having once contested then-champion Ken Norton for the WBC crown in 1982.
The American spent 16 years as a professional. He earned impressive wins over Leon Spinks, Earnie Shavers and Bernardo Mercado but also appeared in many movies and TV shows.
His biggest movie roles included Coen Brothers, Police Academy, Raising Arizona and Ace Ventura, as well as programmes Miami Vice, The X-Files and Texas Ranger.
9. Tommy Morrison
Three years before reigning as world heavyweight champion, beating the legendary George Foreman for that honour, Tommy Morrison appeared in Rocky V as Tommy Gunn.
Rocky takes the character under his wing and trains him on his road to glory before a fallout and subsequent street brawl.
In real life Morrison endured a tragic end, retiring from boxing in 1996 after testing positive for HIV and eventually passing away in 2013 following a sad battle with illness.
10. Michael Bentt
Following on from an exciting amateur background for the United States, London-born fighter Michael Bentt achieved a dream of winning a world title as a professional too.
The British-American conquered Tommy Morrison in 1993 to claim the WBO heavyweight title but quickly lost it when suffering a maiden defence defeat at the hands of Herbie Hide the following year.
That bout proved to be his last as he sustained brain injuries from the seventh-round knockout loss. He turned his attentions to acting and is best known for his portrayal of Sonny Liston along Will Smith in the 2001 movie Ali.
From The Ring To The Movies
Whether it's a temporary change of trades for a cameo during the course of their careers or a completely new venture once they hang up their gloves for good, fighters throughout history have often stepped away from the ring and on to the movie screens.
We hope you enjoyed this list of boxers who became actors at some stage during their lives.
For something similar, check out our post on sports stars who became actors.
Other notable boxers who became actors: Tony Bellew, Victor Ortiz, Gabriel Rosado, Andre Ward, Butterbean.
Lead image: Twitter/MikeTyson