DraftKings Enters UK Market, Secures EPL Team Sponsorship
Posted on: February 10, 2016, 02:46h.
Last updated on: February 10, 2016, 02:46h.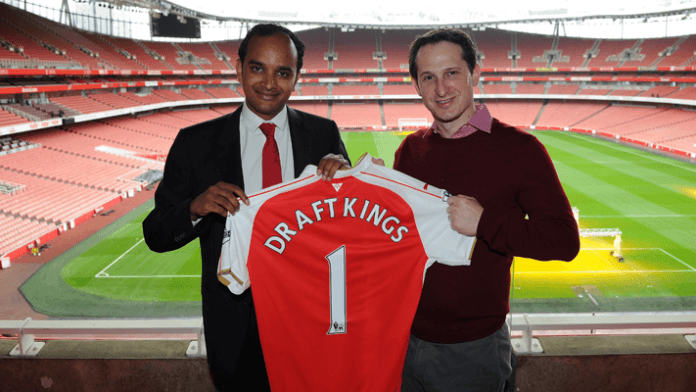 Daily fantasy sports (DFS) operator DraftKings rolled out its much-anticipated UK operations this week, the first phase of an expansion plan that will see the Boston-based start-up move into selected markets in Europe, Asia, and Latin America in 2016.
The move comes on the heels of months of controversy in the US, with state attorneys general and legislatures battling it out for or against DFS.
In July of last year, the daily fantasy sports market leader was able to raise almost $300 million to help finance its international ambitions, $150 million of which came from Fox Sports for an 11 percent stake in the company.
The UK platform is now live, with players free to compete in 11 different sport categories, including American sports leagues like the NFL and NBA. However, DraftKings says it's only too aware that Premiere League soccer will be the primary draw.
Arsenal, Liverpool, Watford Sponsorship
As such, it has widened the scope of its soccer product for the UK market, broadening the scoring range to incorporate 18 different in-game events, rather than the somewhat limited "goals," "saves" and "assists" categories of its previous offering.
DraftKings also announced that it had secured commercial partnership with three Premier League clubs, in Arsenal, Liverpool and Watford, which will see the company brand visibility throughout the grounds during domestic events. DraftKings will also be promoted through each of the teams' digital and social media channels.
"We're under no illusion that our top three sports here won't be anything else than football, football and football," said Jeffrey Haas, an online gambling industry veteran, previously of PokerStars and bwin.party, who has been brought in to oversee the expansion. Haas called the UK "a logical fit" for DraftKings.
American ex-pats could be confused if they play on DraftKings across the pond, because what's called "soccer" on US soil is referred to as "football" in England.
Troubles at Home
DraftKings announced it had received a license to operate in the UK in August 2015. Since then, times have been trying for the company in the US, as a lawsuit launched by New York Attorney General Eric Schneiderman seeks to shut down its operations in the Empire State, its biggest market.
The company had planned to launch in the UK in December of last year, but domestic turmoil in New York and other states postponed the move, as the company's legal troubles mounted.    
While in New York, DraftKings' lawyers argue that its contests should be exempted from state gambling laws on the grounds that they are skill-based and not gambling games, in the UK, the company applied for a gambling license just like any other operator.
This may be seized upon by opponents of DFS as an admission by the industry that the games are as much gambling as sports betting is, but it also suggests a willingness of this largely self-regulated industry to embrace regulatory oversight where such oversight exists.