NHL Player Thomas Vanek Linked to Illegal Gambling Ring By Team Paycheck
Posted on: November 4, 2014, 08:50h.
Last updated on: November 3, 2014, 07:36h.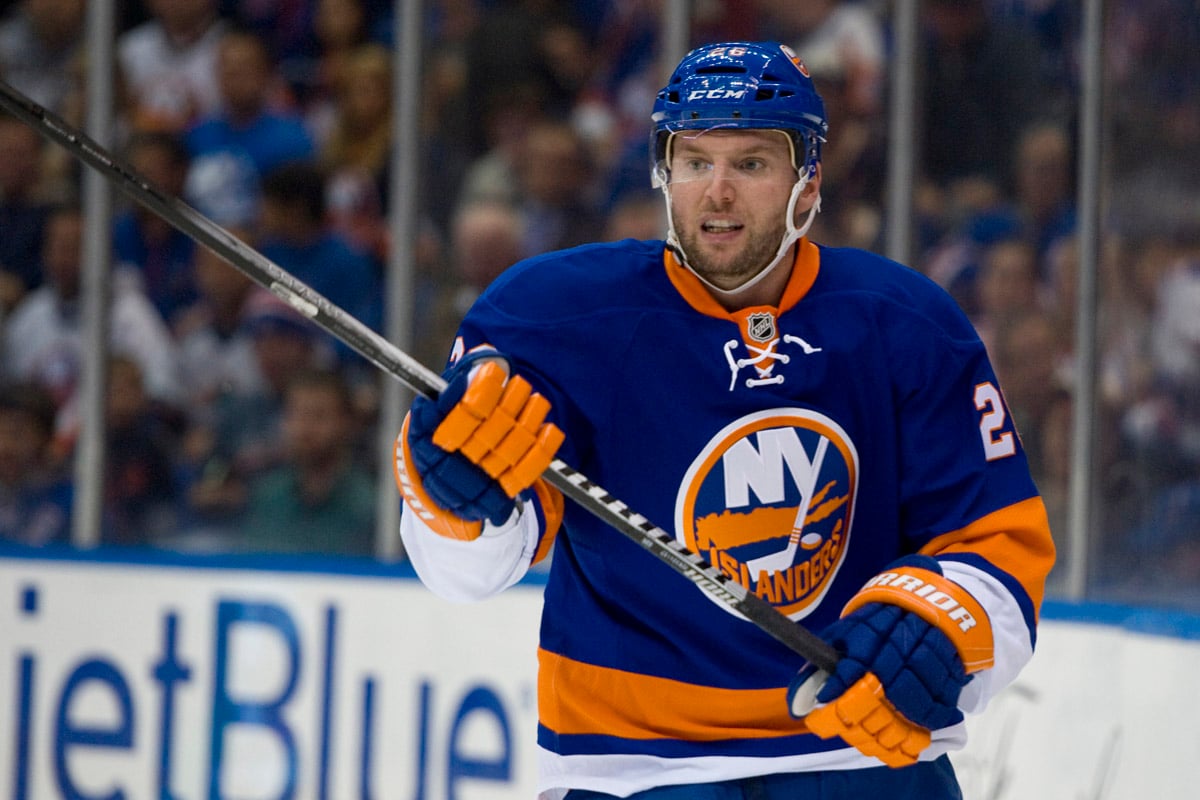 NHL star Thomas Vanek was already linked to an alleged gambling ring in the Rochester, New York in the past. Now, a check that was a key component in the case against one of the bookmakers in that ring has once again been traced back to Vanek, even if his name hasn't conclusively been attached to the evidence.
Mark Ruff pleaded guilty in federal court last Thursday to charges of illegal gambling and money laundering. Ruff admitted that he had helped his brother Joseph Ruff, along with Paul Borrelli, run the gambling operation in upstate New York. Those other two men are still awaiting trial.
Islanders Check Mentioned in Plea Hearing
One would imagine that a guilty plea would likely keep a lot of the details of the case from coming to light, and indeed, Vanek's name wasn't explicitly mentioned as a part of the plea. But Ruff did talk about receiving a $230,000 check from a bettor, then laundering that money by passing it along to "N.R.", a Connecticut man who has only been identified by those initials and has yet to be charged. That man then deposited the money before getting it back to the Ruffs. That bettor supposedly owed more than $1 million in total.
Interestingly, that check was said to have been a salary check that came from the New York Islanders. Moreover, the timing of the check came while Vanek was still playing for the Islanders. Vanek had also previously played for the Buffalo Sabres, as well as the Rochester Americans of the American Hockey League (AHL).
Nobody involved in the case specifically used Vanek's name when speaking about the check in question. But given the fact that Vanek had already been questioned in connection with the ring, having allegedly made large bets with the group, it seemed clear to many that it was Vanek who signed over the Islanders check for that debt.
Vanek Questioned About Case in July
Back in July, federal authorities summoned Vanek to Rochester to talk to him as a witness in connection with their investigation into the gambling ring. At the time, his agent said that there was no reason to believe that Vanek had done anything that was against the law.
"He is not going to be charged," said agent Steve Bartlett. "He won't be charged with a crime because he hasn't done anything wrong."
Bartlett was the one who ultimately confirmed that the check was, in fact, the Islanders check signed over by Vanek to the betting ring in order "to get them off his back." According to Bartlett, Vanek was betting on NFL football, and is not accused of betting on hockey games, which would be prohibited under the collective bargaining agreement between the NHL and the NHL Players' Association.
Bartlett made the admission while also admonishing comments made by Jim Wolford, a lawyer for Ruff, who had alluded to the check coming from Vanek and suggesting that the NHL star shouldn't be "claiming complete innocence."
"If you read it quickly or you listen to his comments, it almost alludes to the fact that Thomas Vanek was involved in money laundering, which is totally false," Bartlett said.
Vanek commented on the case over the weekend, saying that he no longer gambles and that he never placed bets on hockey.
"I'm not proud of the decisions I've made, but as a person, I just have to move on from it and learn from your mistakes," Vanek said.
Thomas Vanek has scored 254 goals over his ten-year NHL career. He is currently playing his first season for the Minnesota Wild, having previously played for the Buffalo Sabres, New York Islanders and Montreal Canadiens.