DraftKings and FanDuel Shut Down in New York State Pending September Appeal
Posted on: March 21, 2016, 02:25h.
Last updated on: March 21, 2016, 02:53h.
DFS sites DraftKings and FanDuel will cease offering their services to residents of New York State immediately, the attorney general's (AG) office announced on Monday.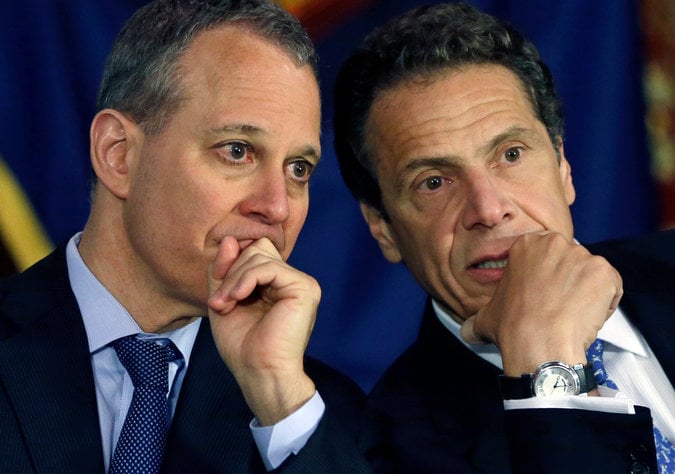 This is part of a settlement which will see the AG's office refrain from pursuing litigation that would hold both sites liable for billions of dollars in player restitution and fines.
Last December, AG Eric Schneiderman amended his lawsuit against DFS and FanDuel to seek the return of all the buy-ins paid by customers who played in New York State throughout 2015, plus a $5,000 fine per head.
With 600,000 customers collectively, New York represents the sites' second-biggest market after California, and liabilities would amount to around $3 billion in fines collectively, with millions on top of that in returned buy-ins.
Instead, the AG has agreed to postpone his litigation until September, when an appeal against the lawsuit will be heard.
Legal Skirmishes
Schneiderman initially took action against the two sites via a cease-and-desist letter in November, informing them that their operations in New York amounted to illegal gambling.
Sensing the inevitable, DraftKings and FanDuel attempted to obtain temporary restraining orders, barring the AG from closing down their operations until the matter could be settled in the courts. These failed, and the expected injunction followed swiftly, later amended to include the fines and restitution.
"As I've said from the start, my job is to enforce the law, and starting today, DraftKings and FanDuel will abide by it," Schneiderman said in a statement issued on Monday. "Today's agreement also creates an expedited path to resolve this litigation should that law change or upon a decision by the appellate division.
"Regardless, our key claims against the companies for false advertising and consumer fraud are not affected by the agreement and will continue," added the New York AG.
Hope for Regulation
The sites' best hope between now and September is that New York legalizes and regulates DFS during the current legislative period. That would preclude the need for an appeal and allow them to apply for gambling licenses and pay taxes to the state.
There are several DFS bills in the offing, with S 6793, sponsored by State Senator John Bonacic, considered the most likely to succeed.
"New York is a critical state for FanDuel," said the company in an official statement today. "FanDuel is headquartered in Manhattan, where we employ more than 170 young, smart, passionate fans who are committed to innovating and providing the best fantasy experience possible.
"We are proud to be one of New York's largest startup companies, and while it is disheartening for us to restrict access to paid contests in our home state, we believe this is in the best interest of our company, the fantasy industry and our players while we continue to pursue legal clarity in New York."