Top 10 Movies About Gambling You Need To Watch Right Now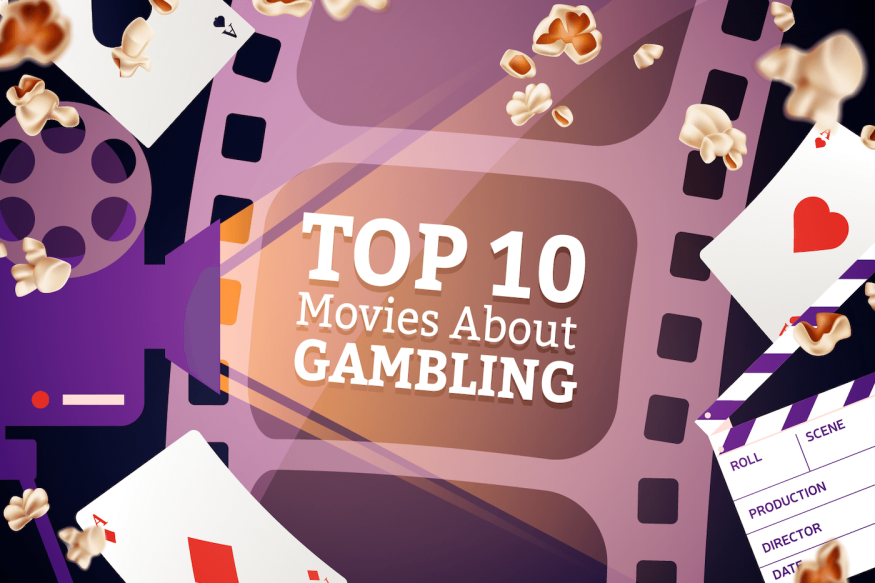 Movies about gambling have been popular for decades. After all, the high stakes, emotion, and desperation that people associate with extreme gambling is almost tailor made for the big screen.
From the genre's heyday in the 1960s and 70s to the modern feature films produced today, there have been many brilliant movies about gambling. Here, we have selected our absolute favorites.
Some of these movies use gambling as a backdrop for intense storylines and thrilling action. Others focus on the psychology and satisfaction that comes with dominating the tables. 
But what do all these movies have in common? They will keep you on the edge of your seat until the closing credits. 
1. Casino (1995)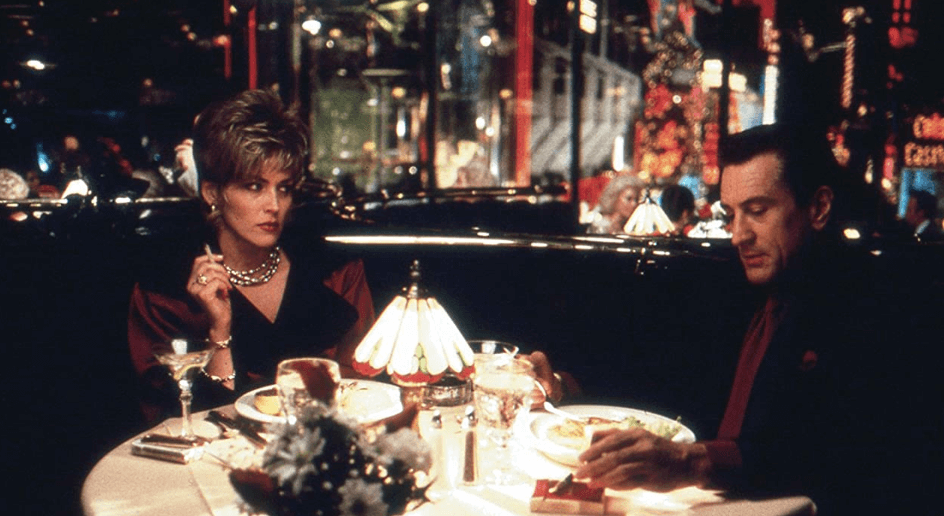 Starring the incredible duo of Robert De Niro and Joe Pesci, Casino is a classic that everyone should watch.
Like many other Martin Scorsese films, Casino is based on true events that occurred when the Mob dominated Las Vegas during the 1970s.
? 7 Completely True Events The Movie Casino Is Based On
The film follows Sam "Ace" Rothstein (De Niro) who manages casinos for the Chicago Mob. He works alongside made-mobster Nicky Santoro (Pesci).
Together they master the cutthroat business of casino work and earn massive profits for the crime outfit, until Ace finds his attention distracted by Ginger McKenna (Sharon Stone).
As Ace's life begins to unravel and the Mob's grip on Las Vegas loosens, Casino takes on a frantic energy.
This thrilling excitement is what makes Casino one of the best movies about gambling ever made.
2. The Gambler (1974)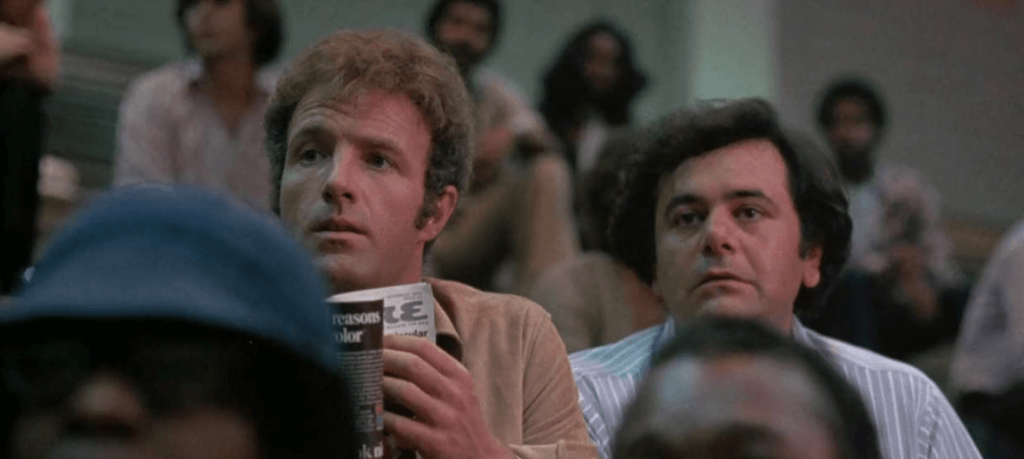 A brilliant James Caan stars in The Gambler as English professor, Axel Freed.
Apart from a love of literature, Freed also has a debilitating gambling addiction. Faced with $44,000 worth of debt and a rich family that is ashamed of him, Freed travels to Las Vegas in the hope of winning big. 
The film was well received when it was released and has stood the test of time as a fantastic study in the damaging effects of compulsive betting. This honest, raw look at gambling has seen it become a classic.
Unfortunately, a 2014 remake starring Mark Wahlberg did not turn out so well.
3. Uncut Gems (2019)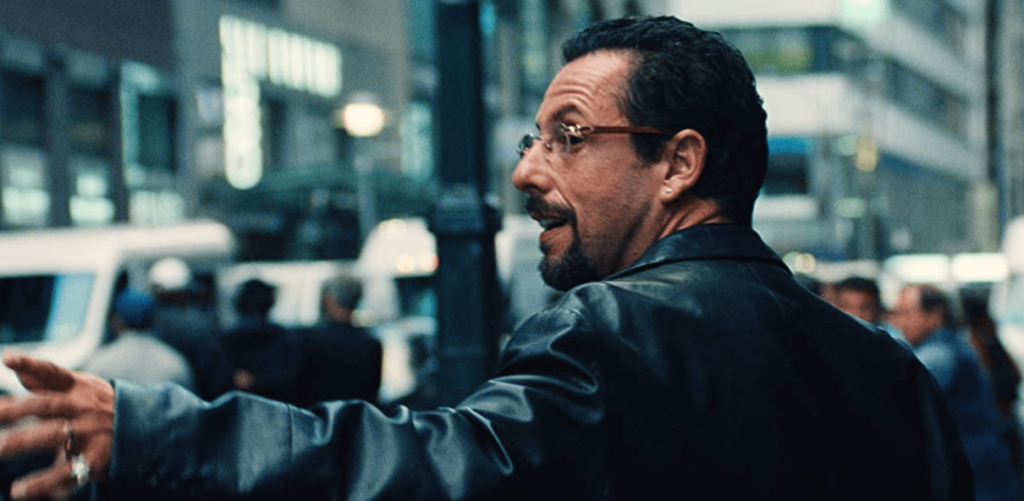 Uncut Gems is one of the few recently made movies to feature on this list.
Despite only coming out a few years ago, Uncut Gems is already seen as one of the best movies about gambling thanks to its incredible pace and stressful soundtrack.
Adam Sandler breaks away from his typically comedic roles to play Howard Ratner, a New York City jeweler who has an atrocious gambling habit.
A set of lucky circumstances sees Ratner develop a professional relationship with NBA star Kevin Garnett. With some insider information, Ratner sets up a bet on the NBA Championship Finals.
If this bet comes in, all of Ratner's problems will be solved. But several loan sharks risk derailing it all.
4. California Split (1974)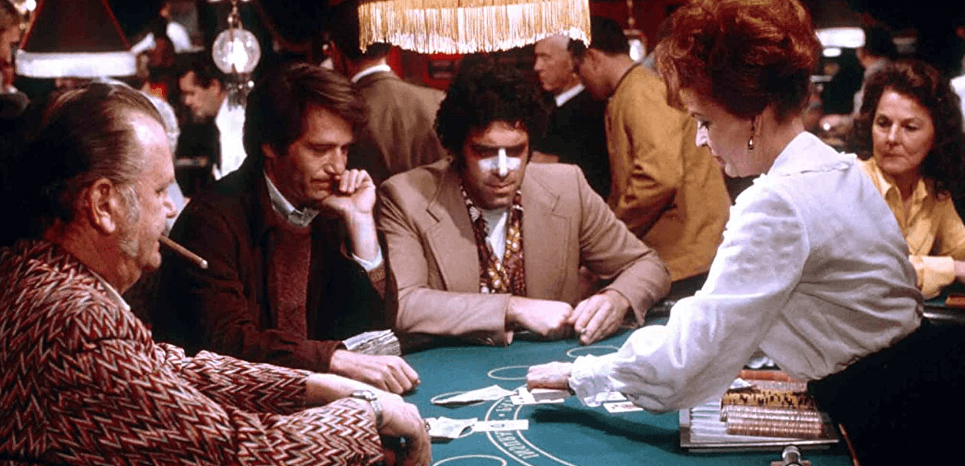 California Split thrills audiences while also teaching them some important life lessons.
Amateur gambler Bill (George Segal) becomes friends with a professional player called Charlie (Elliott Gould).
Their new friendship sees them both commit everything to a scintillating gambling trip to Reno.
The film also focuses on friendship, the psychology of gamblers, and that most important piece of gambling wisdom: When to quit.
This makes it an important watch for everyone, whether you fancy being a player at the poker table or not.
5. The Hustler (1961)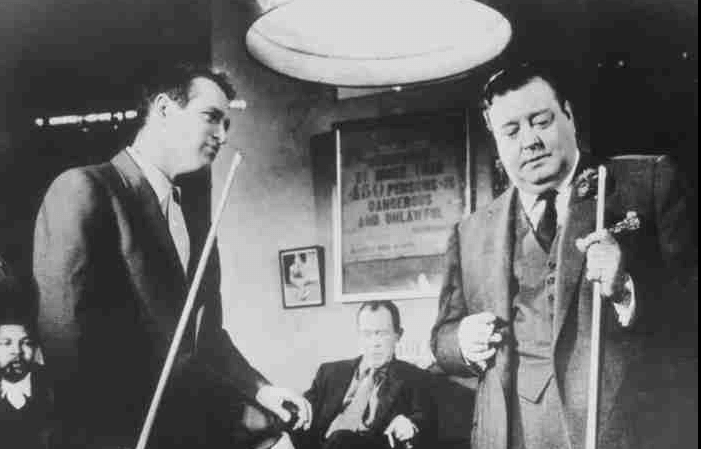 As the only movie on this list that features pool as the main source of gambling, The Hustler is definitely a film of its time.
But just because pool hustling has fallen out of fashion in recent decades doesn't make this film any less worthy of a place on this list.
This is because The Hustler is a story about grit and determination. What's more, it's backed up by brilliant performances from Paul Newman, Jackie Gleason, Piper Laurie, and George C. Scott.
The Hustler was a huge success upon release and opinions have not changed.
In 1997, the movie was selected by the Library of Congress for preservation in the United States National Film Registry.
Six years later the Academy Film Archive preserved The Hustler to make sure future generations can enjoy it.
If that's not an indication of quality, we don't know what is.
6. Molly's Game (2017)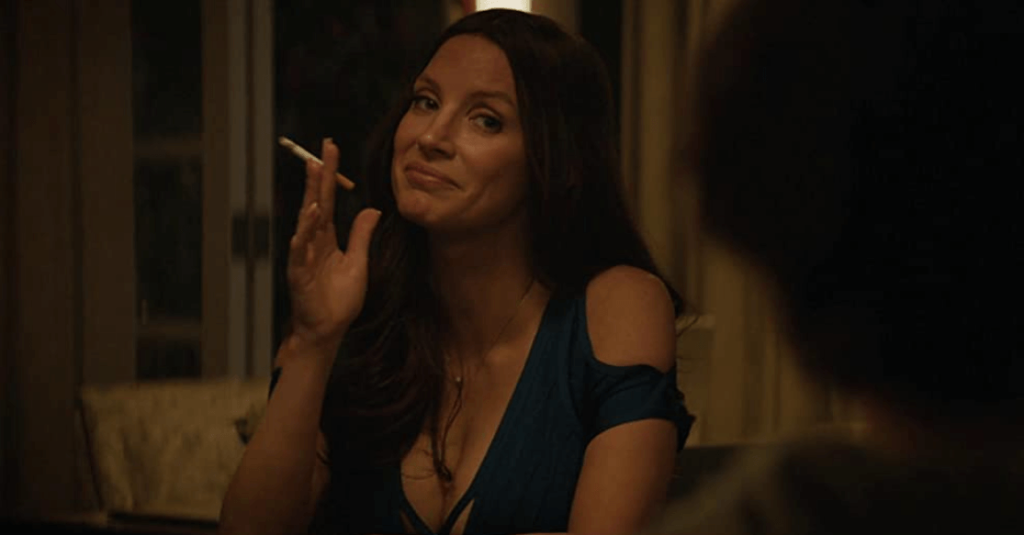 This list has been dominated by masculine films led by male stars, which unfortunately reflects the genre as a whole.
All too often women in gambling movies are limited to love interests, or that classic cliché – a prostitute with a heart of gold.
However, this isn't the case in Molly's Game.
Instead, this refreshing film takes a different approach entirely, by telling the true story of Molly Bloom (Jessica Chastain), a lady who runs an underground poker empire for Hollywood's rich and famous.
Everything is going well until her multimillion-dollar business is put at risk when the FBI comes knocking…
7. The Cincinnati Kid (1965)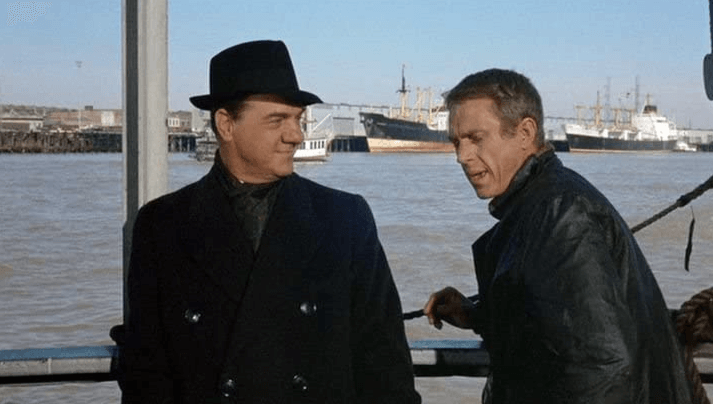 Steve McQueen plays a cocky upstart in this classic movie about poker.
His character, "The Kid," wants to prove himself against "The Man" – the best player around.
As the film is nearly exclusively about poker its popularity has continued to grow as the game itself goes from strength to strength.
Tension, a classic storyline, and strong acting are only slightly affected by the near impossible poker hands that pop up during the film.
However, McQueen is electric and the penultimate scene, when the final hands are revealed, is one of the best ever filmed.
8. Hard Eight (1996)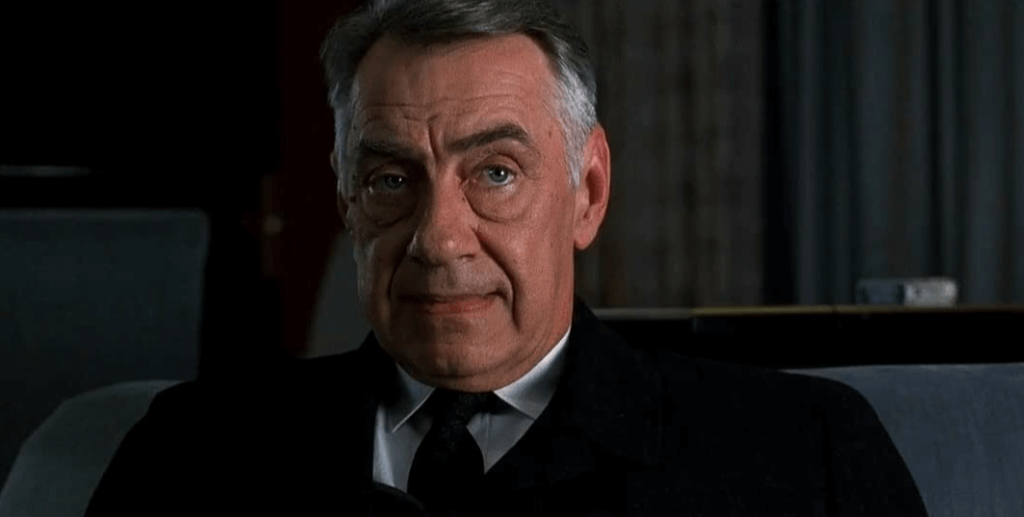 An excellent cast is led by Philip Baker Hall who plays Sydney, an aging, quiet gambler that takes a young homeless man, Jack, under his wing.
After being taught the gambling ropes, Jack's attention begins to be diverted by a cocktail waitress. A distraction that quickly transforms all the characters' situations.
Supporting roles from Gwyneth Paltrow, Samuel L. Jackson, Philip Seymour Hoffman, and John C. Reilly brilliantly highlight the range of strange and interesting characters that you can find in any casino.
In other words, no other gambling movie explores and portrays people who gamble quite as well as Hard Eight.
9. Rounders (1998)
Rounders is a story of two friends: One a well-groomed law student (Matt Damon), and the other a loud ex-con (Edward Norton).
In an effort to bail Norton out of his debt the two friends go on a poker playing tear.
Many see Rounders as a classic representation of macho high stakes poker. Add to this some surprisingly feasible poker games and you have a film that most die-hard poker players will love.
But, it is the acting, which includes a brilliant supporting cast, that transforms Rounders into a film everyone can enjoy.
10. The Card Counter (2021)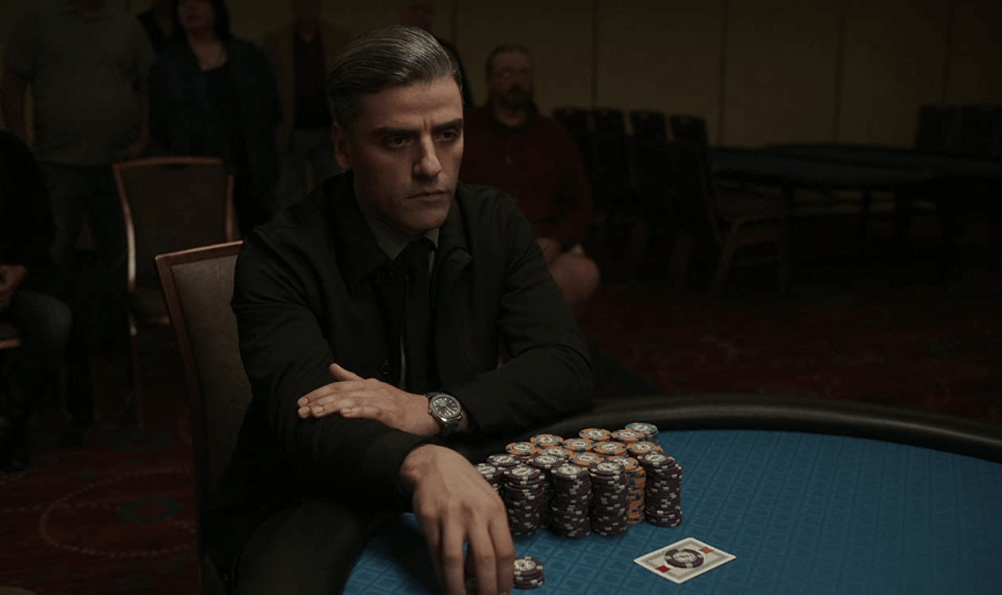 Rounding out our list is The Card Counter.
The movie was written and directed by Paul Schrader, the man who wrote iconic screenplays like Taxi Driver.
Interestingly, The Card Counter is equally gruesome and also has a theme of Post-Traumatic Stress Disorder.
Starring a restrained Oscar Isaac, The Card Counter marries both gambling and action in a film that never seems to take a breath.
Gamblers will particularly enjoy The Card Counter's detailed recreation of the World Series of Poker tournament, and the final few scenes are sure to grab everyone's attention.