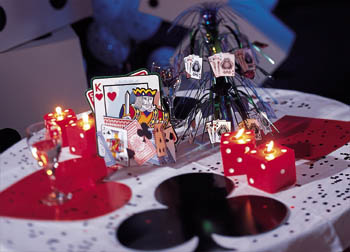 So you want to host a casino night party, but you don't know where to get started? Don't worry, we're here to help. In this article, we're going to give you some tips and tricks to make your in-home casino night as memorable as possible. While reading, though, remember that this is just a guide. Use your imagination and personality to fill in the blanks and create a truly unique experience.
Above all else, don't forget the details! The little things separate a boring, uneventful night from one that people will be talking about years from now, and it all starts with the invitation. Send them out early, and make sure they grab people's attention and set their expectations high. To really set the mood, request that everyone dress like Vegas high rollers! For a funkier vibe, costumes can also lead to a crazy night. Finally, slip a chip into each invitation to get your guests excited!
Setting Up Your Casino Night
In terms of turning your home into a casino, you have a lot to think about. Blackjack and Craps are relatively easy to set up, so these are the basic essentials that every casino night needs to have. If you're willing to invest in the wheel (and colored chips), a roulette wheel can also be a great addition that will help to round things out. No matter what you choose, though, make sure you have enough chips for all of your guests. One chip-saving option is to give every player at least one or two very high denomination chips. This way you can keep many of the smaller denominations in play and make it easier for everyone to carry their bankroll around.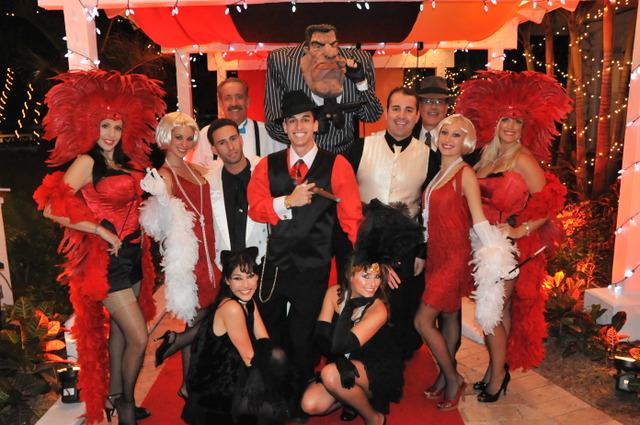 Speaking of chips, the question of money is an important one. First of all, you can always resort to using play money – just give everyone the same number of free chips and let the fun begin. For real money events, though, the best option is to just have everyone buy-in for a set amount of money and an equal number of chips. Then, at the end of the night, the players with the biggest bankrolls get some prizes – cash or not, your choice. As long as the prizes are worth more than the admissions for any one player, but less than the total amount of money collected, they will be appropriate.
Do You Need To Hire Help?
Your casino night can be totally self-run, and most in-home events probably are, but if you can at least hire a bartender, you can really take your casino night to the next level. Of course, for big events, or ones in which your guests are paying a high entrance fee, you could always consider hiring some dealers – just don't feel like you have to! If your guests are taking turns operating the games, you only need to provide a simple sheet that explains the payouts and rules for each game, in order to keep things running smoothly.
Setting the Casino Mood
Don't forget to offer food (something that people can snack on with one hand, but that's not greasy), play music, and consider giving out small gift bags at the end so that everyone is a winner. It's the little things that really blow people away, and while a casino night may sound expensive, after the first event, you can reuse many of the decorations and equipment (chips, dice, cards, etc.) for future casino nights. If you really plan things well, and gather a large group, this could even become as profitable as it is fun!