Did Woman's Forehead Casino Tattoo Gamble Pay Off?
In June 2005, Karolyne Smith from Salt Lake City in Utah hit the headlines after auctioning off her forehead as advertising space. After a media circus, online casino GoldenPalace.com had a winning bid accepted and their casino logo was tattooed on her cranium.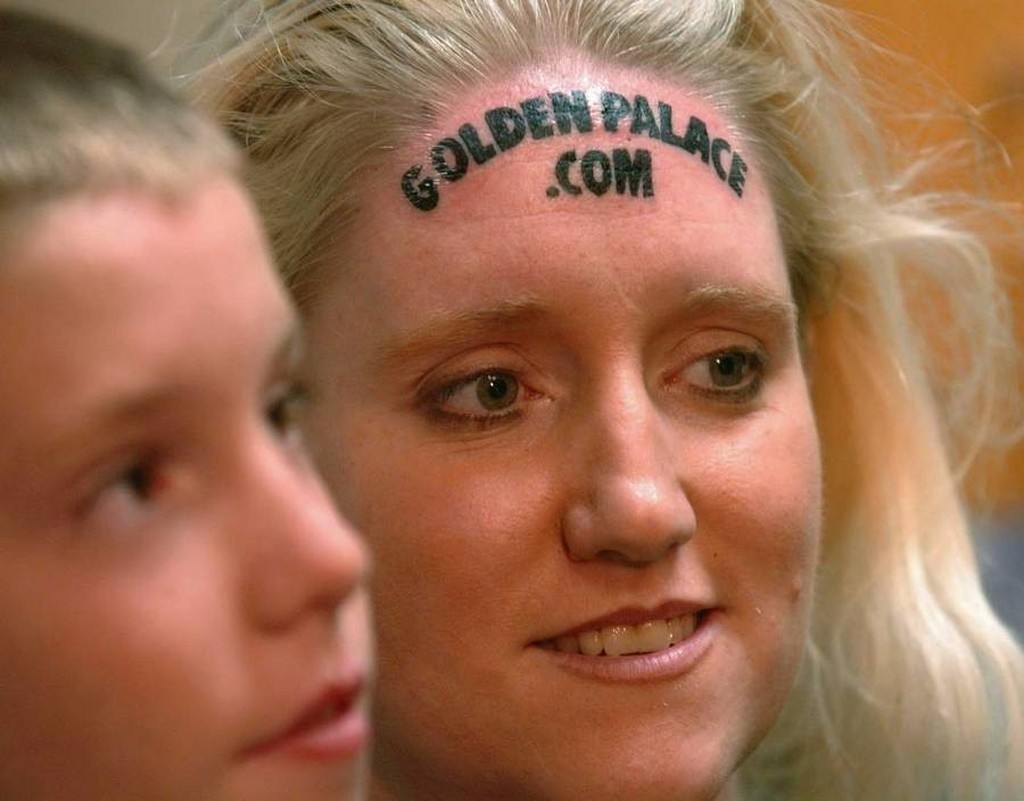 Stranger Than Fiction
It's now over 13 years since Smith's notorious story went viral, and society has been left asking a lot of questions. People continue to wonder how we could reach a stage where an individual is getting their face inked for profit. We couldn't even include Smith in our recent article on tattoo regrets because she was so willing to have this done.
Smith had set up an eBay auction in order to try and raise some much-needed funds. She had put up an auction offering any company to pay $10,000 to get a permanent tattoo of the company name and logo on her forehead. (3)
Up stepped popular online gambling site GoldenPalace.com, who paid the amount in full using the "Buy It Now" function on the auction website. Smith, clearly being a woman of her word, got the casino's logo printed on her face. It was the stuff of internet legend.
"Forehead Goldie"
The hysteria surrounding the tattoo episode saw Smith, who earned the nickname, "Forehead Goldie", become a local celebrity. Some questioned her mental state, and it's alleged that the tattooists at the tattoo parlour where she had her ink completed spent over 7 hours trying to persuade her not to get the tattoo done.
Perhaps there's difference between Smith getting a company logo tattoo for money and someone tattooing the name of a loved one that they've not been in a relationship with for too long. At least with the company logo you've still got the $10,000 to fall back on if it all falls apart. If a relationship crumbles you're left with no money and a vomit-inducing tattoo that will make for some very awkward conversations in the future.
Tattoo Trendsetter?
Smith's tattoo débâcle also inspired others to follow suit. Canadian Brent "The Human Pincushion" Moffatt also agreed to get the GoldenPalace.com logo tattooed on his body. Admittedly, his experience wasn't quite as embarrassing.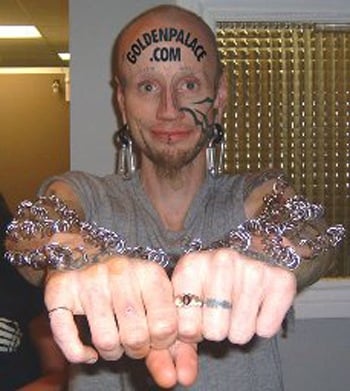 Moffatt's case was a little different. Firstly, he was attempting to break records with the number of tattoos and piercings on his body. One more company logo tattoo hardly looks out of place. Secondly, Moffatt is a character who fits getting an outlandish tattoo. Unlike Smith, who had all the characteristics of a middle America blonde-haired soccer mom.
Yet another GoldenPalace.com promotional stunt involved tattooing the casino name onto a person's body. In the case of Angel Brammer it wasn't a permanent tattoo but a temporary one. The Scottish lady auctioned off advertising space on her 42GG size breasts. Once again, GoldenPalace.com saw a marketing opportunity and grinned all the way to the bank. It's rumoured that on this occasion the winning bid only cost £422.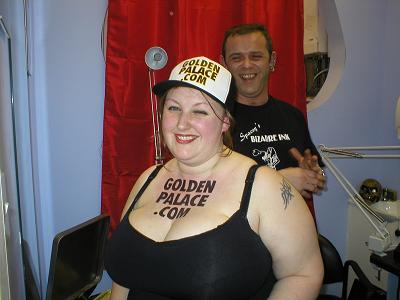 The GoldenPalace.com PR Machine
The story of Smith and the GoldenPalace.com tattoo is not the only time the online casino has become embroiled in a controversial marketing strategy. In fact, the casino is almost as famous for its advertising as it is for its classic casino table games.
In November 2004, the casino paid a staggering $28,000 for a cheese sandwich on eBay that was alleged to have the image of the Virgin Mary scorched into it. The news went global, and it showed that the gaming industry was adopting a new approach to publicity.
Then in May 2005 GoldenPalace.com paid a whopping $15,199 for one woman to legally change her name to GoldenPalace.com. The woman, formerly known as Terri Ilagan, agreed to go through with the transaction, and has now committed her life to the casino's advertising push.
Richard Rowe of GoldenPalace.com cheekily stated at the time, "We hope that the money spent will go a long way in helping GoldenPalace.com's family. Anyone that has kids knows the enormous expense that it requires to provide for them. We are happy to help GoldenPalace.com make ends meet."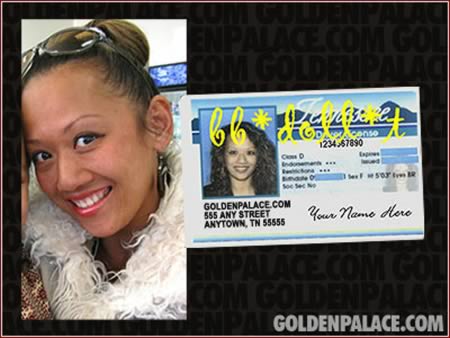 Rowe added: "This is a new step in edgy marketing. We know that this will receive widespread media attention."
Where Is She Now?
What happened to Smith after her brief flirtation with fame? Well, she used a large percentage of the money to put her son through private education. Unfortunately, it appears that the money soon ran out. It was later reported that she put up a post on Facebook confirming that she was living in the basement of her father's house.
Changes to gambling laws within the US meant it was not possible for Americans to gamble at GoldenPalace.com. In 2012, it was confirmed that the casino had provided the necessary funds to help Smith have the tattoo removed.