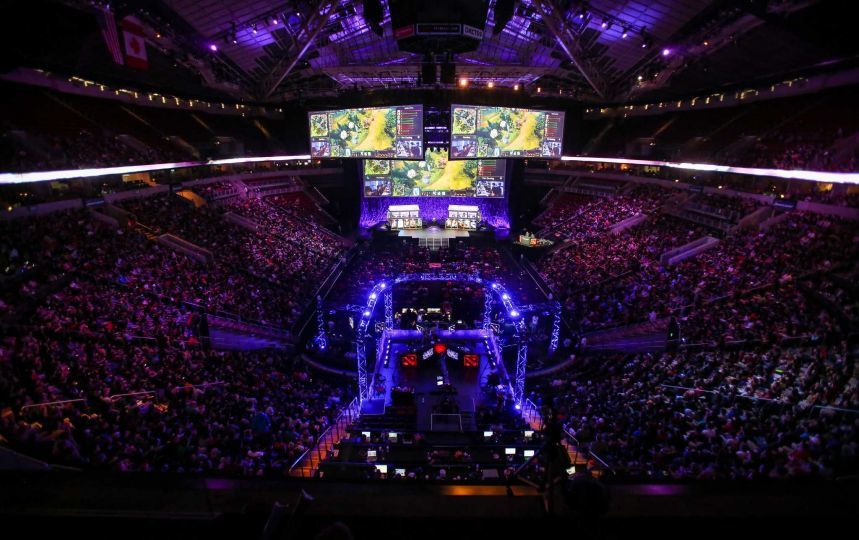 Over the last 10 years, the concept of professional video games, otherwise known as eSports, has become commonplace around the world. In South Korea, pro gamers are national celebrities and it has been well documented that tens of thousands of fans are willing to pay money to watch eSports events in person or online. With streaming sites like Twitch hosting hundreds of thousands of viewers watching games around the clock, eSports has started to reach a fever pitch in countries like South Korea, the United Kingdom and the United States. It then stands to reason that betting on eSports just might be the next big thing.
eSports Betting is Already Here!
For the skeptics reading the article thinking that gamblers would never wager good money on eSports events, you're already left out in the cold. There are dozens of sites dedicated to eSports handicapping and discussions. In fact, there are a handful of them already taking bets and posting odds on major events. Thanks to the explosion of online betting on computers, tablets, and smartphones, a new generation of gamblers are looking to make bets on what they are personally passionate about, which in today's internet gaming culture, are eSports.
Typically, betting options are available for the most popular events and games. Currently, StarCraft 2: Heart of the Swarm, League of Legends, and Dota 2 are the three most popular games that host large worldwide championship tournaments. In fact, both League of Legends and Dota 2 have hosted events where the winning team received a seven-figure (or more!) top prize.
Currently there are both fixed odds and spread betting options for eSports events. With fixed odds, you are presented odds by the bookie and have to decide how much to wager. Based on the odds, a gambler will be told how much they will get back if they win. This is the most commonly used style of betting currently on the eSports scene. The spread betting option is where one can give one of the teams a handicap before being bet on, so that the odds are closer to a coin flip. This is often found in matches where there is an overwhelming favorite.
Games to Pay Attention To for eSports Betting
Currently the "Big 3" are StarCraft 2, League of Legends, and Dota 2. There are a few other games gaining popularity that should be popping into eSports betting sites soon. Taking a quick look at the Big 3:
StarCraft 2: Heart of the Swarm. This real-time strategy (RTS) game has been the anchor for many eSports events for a number of years as the franchise has been extremely popular for almost a decade. The next iteration of StarCraft 2, Legacy of the Void, promises to increase awareness and interest in the game.
League of Legends. Often referred to as "League" this game is a 5v5 Multiplayer Online Battle Area (MOBA) game. This is now arguably the most popular eSports game in the industry, as the team aspect of the game makes it stand out against StarCraft which is traditionally a 1v1 format (although it supports team games too).
Dota 2. Another 5v5 MOBA, the folks behind this game have been masters at gaining interest from their community by allowing them to donate to the championship prize pool, which has once exceeded $10 million.
Let's now take a look at some of the games rising up on the eSports scene:
Hearthstone. This collectable card game has exploded in popularity over the last year. A relatively new game that is available on both PC/Mac as well as tablets (unlike any other game listed), Hearthstone has seen worldwide popularity and is continuing to grow thanks to the fact the game is very easy to jump into and understand as a spectator.
Heroes of the Storm. Another 5v5 game that is positioned as a "Hero Brawler" to signify some distinct game mechanic differences between it and League of Legends and Dota 2, this game isn't even released yet and is currently in a Closed Beta phase. When it does launch, it stands to reason this might be a behemoth in the eSports scene. The game is gaining a lot of momentum and for a game that hasn't even been released yet, has a ton of media attention and streamers offering content to viewers.
Smite. This 5v5 MOBA is different than the rest in the sense that it is played from a different perspective. In a recent industry poll trying to find out the most popular game in the MOBA category, Smite was the clear winner with more than 50% of the total vote, outdoing League of Legends, Dota 2, and Heroes of the Storm.
But Can eSports Betting Become Mainstream?
Ultimately, this is the question that this is being asked. Many gambling sites are doubling down on eSports right now and positioning themselves as the go-to place for wagers. Why? Savvy sites are always trying to find out what the next big thing in the industry will be, much like the "Poker Boom" of yesteryear positioned many companies to fortunes. This time around, there is an aging demographic that is very tech savvy, loves video games, and is familiar with the eSports scene. There's little doubt that eSports is gaining viewership at a rapid rate, meaning that as the core demographic grows and ages, it stands to reason that they will want to gamble on the outcomes of these events as opposed to traditional sports.
Given the fact that eSports culture has gone from being an oddity in South Korea to a mainstream activity enjoyed by gamers worldwide and the plethora of sites dedicating themselves to eSports betting information, the logical conclusion is that eSports will in fact be the wave of the future in the online gambling business.