An Inside Look At Virtual Reality & The Casino Industry
Once a major talking point in discussions about the future, virtual reality's progress has seemingly stalled somewhat. Not including 18th century, attempts to stimulate the senses with various 360-degree viewing and listening machines, as far back as 1960, we saw the first headset for virtual reality released. It would be almost another thirty years later that the term 'Virtual Reality' was coined in 1987, with the discourse lasting into the late 1980's and early 90's as people began to discuss VR as an inevitable part of the future. And yet, we have reached 2016 and things are only just beginning to move on the VR front.
In that sense, it has captured the imaginations of the public once again and is becoming more popular than ever before, with 43m people worldwide owning a VR headset. We are even seeing Google, Facebook, Samsung and the like, entering the market with things beginning to take off at last. With the new buzz and business, the gaming sector has also had its interest piqued. PlayStations and Xboxes across the world are gearing up for the inevitable VR link up software, as are mobile devices.
Virtual Reality is growing quickly, with revenues from VR hardware and software products projected to rise from $90 million USD in 2014 to an incredible $5.2bn USD in 2018, while the number of users is expected to reach 171 million in the same time frame.
So then, it is hardly shocking news to discover that the iGaming industry wants its slice of the action too and has jumped on the bandwagon with the launches of virtual reality casinos and developing virtual reality casino games. In fact, VR gambling has already started.
This has been the cause of concern in Nevada's Las Vegas for some time now as casino operators, land-based that is, have long since privately admitted that the youngest among us would rather play online than in real life, leaving Sin City's primary industry as tourism, if it isn't already. Doubtless, this is what fuels casino billionaire mogul Sheldon Adelson's hypocritical efforts to keep online gambling illegal in the United States.
Either way, today's kids have grown up playing on consoles, connected to the internet, compact and portable mini consoles and mobile devices with the result that playing socially with others while at home alone, is a natural and normal sensation for them. This, in turn, leaves little appeal for traditional land based casinos or, even pub fruit machines, whose take is now down [stat] than a decade ago, making it vital that online casinos capitalise on the virtual reality revenues that could potentially flow their way.
On a ground level, it is crucial business strategy that online casinos are constantly looking for new ways to increase new players sign ups, while retaining current ones. To that end, all technological advances must be seized upon. Of course they also need to be constantly on the lookout for ways to improve the customer experience while they play casino games on their sites. This is why online casinos, in a bid to keep pace with advances in technology, have attempted to incorporate high-definition and 3D graphics, as well as live casino games, in which human dealers are broadcasted as croupiers in an attempt to recreate the atmosphere and all round feel of a land based casino, all from within the comfort of a player's own home.
Virtual Reality Casinos Right Now
To bring things up to the present, at the ICE Totally Gaming in February 2016 in London's Docklands, the CEO of iGaming software provider NetEnt, which holds a 31% share of its market, and who have expanded 25% year on year, Per Eriksson, announced that this year had been "bigger and better than ever" having launched a series of VR slots games. Some statement that from a company rising like a rocket.
As we stand, these slots games are our only chance to witness, play and enjoy an area of the industry that is very much still in its infancy. The game shown at the convention was Jack's World, and evolved format of its predecessor Jack and the Beanstalk, and proved popular with its audience.
While slots might seem an odd choice for VR experimentation, given the benefits of other casino games, the important thing to keep in mind is that it is exactly that; experimentation. One of the elements that they discovered really enhanced the experience for players is the 3D sound. From there the company, as well as others, such as Microgaming and PlayTech presumably, will build up and advance forward, adding other elements of 3D and VR into their catalogue of online casino games.
The Future of Virtual Reality Casinos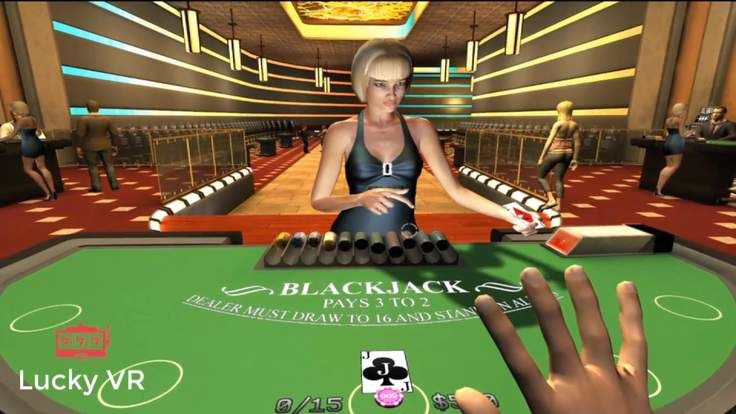 To ensure that they do not miss the boat and keep up with the progress made by the tech developers while remaining an appealing option for the next and newer generation of players, online casinos will need to continually implement fully interactive and immersive technology which is what makes the idea of virtual reality casinos so intriguing. Young blood is the key and today's youth, 18 and older obviously, want virtual reality games and gambling experiences.
All of the above would seem to suggest that virtual reality will be the future of online casinos and e-gaming, but what does that mean specifically for virtual reality casino games? The idea, unsurprisingly, is that, by way of a headset attachment, players can virtually enter a casino. Maybe walk around, table to table, and play live slots, roulette, blackjack and Texas Hold'em poker. For the latter, this could really bring something completely new and fresh to the online game that is actually a crucial element to the live game – the ability to read opponents' tells.
Imagine taking your place at the table, maybe against other players or possibly VR versions of Daniel Negreanu and/or Phil Ivey, and then playing with your chip stack. Reaching out in real time, just as the projected image inside your visor shows the movement. You can read other players, from ticks right through to their tells, before triumphantly slamming down those cards, after the river, when you reveal your winning hand. Pretty cool right? Made all the more cool that, in reality, you're in bed or on the sofa.
It's possibilities like this that has the online casino industry believing that VR is the future of iGaming and will become its dominant platform, with forecasters like Goldman Sachs already predicting that the VR has the potential to generate more annual revenue than TVs within the next ten years. If you were to add their estimated VR software sales figure of $72 billion, VR would generate $182 billion, almost double the money of the TV market.
Tentative Release and Teething Problems
Before we get too far ahead of ourselves though, we should be prepared to acknowledge that there are some variables that will potentially throw a spanner in the works in terms of virtual reality's success. After what is likely to be a tentative launch, we have to accept that, due to differing budgets, the cost of virtual reality technology will prevent some from purchasing the product. Recent Facebook purchase Oculus Rift, for which only 35% of Americans asked had heard of, is priced at over £500.00 at the moment. That is a cost higher than most people's phones and even some computers, the very devices that these headsets are supposed to work with. Actually, some computers will need to replaced with much heavier, deeper machinery able to run the software, such as a gaming PC and one of those often cost over a £1,000.00.
HTC's Vive headset is even higher, having breached the £700 mark, while Samsung at least has a Lite version of their Gear VR retailing at around £80.00 right now, with Google's Cardboard and the Razer OSVR also taking their place at the lower end of price bracket. All in all though, despite the buzz generated among the masses, initial sales might well be slow and disappointing despite being a near 100% uptake in free demos.
That said, these stated prices are launch numbers only and will, particularly if sales are slow and un-improving, almost certainly be lowered, leaving plenty of scope for change over the next few years. This, in turn, leads to a good deal of potential for the immersive casino promised land. At the very least, the number of gamers is always on the way up and the games that they play are constantly evolving too, which gives hope that, even with a slow beginning, virtual reality gaming could become the industry's mainstream norm eventually.
Even with the potential price plummet, there are yet more hurdles that VR casinos will need to navigate in order to achieve their mission statement. It's worth sparing a thought that, as more and more countries across the world consider adding taxes and licences to online gaming, regulations will become more stretched than ever which will likely result in a host of illegal and totally unlicensed sites entering the online black market alongside the legal and licensed operators.
In the end though, this is an extremely hard industry to second guess and, while predictions can be made, sometimes even qualified by useful press releases, it will always be hard to say precisely what the future will hold. Once virtual reality gaming in full flow however, and VR Casinos have revealed their full arsenal, things could have a very interesting say in the future of online gaming and online gambling. In all, the future is bright, future is fully immersive, even if we might have to wait a little longer yet.