What Ever Happened to Doyle "Texas Dolly" Brunson?
There are very few players who have left as big of a mark in the poker community as Doyle "Texas Dolly" Brunson.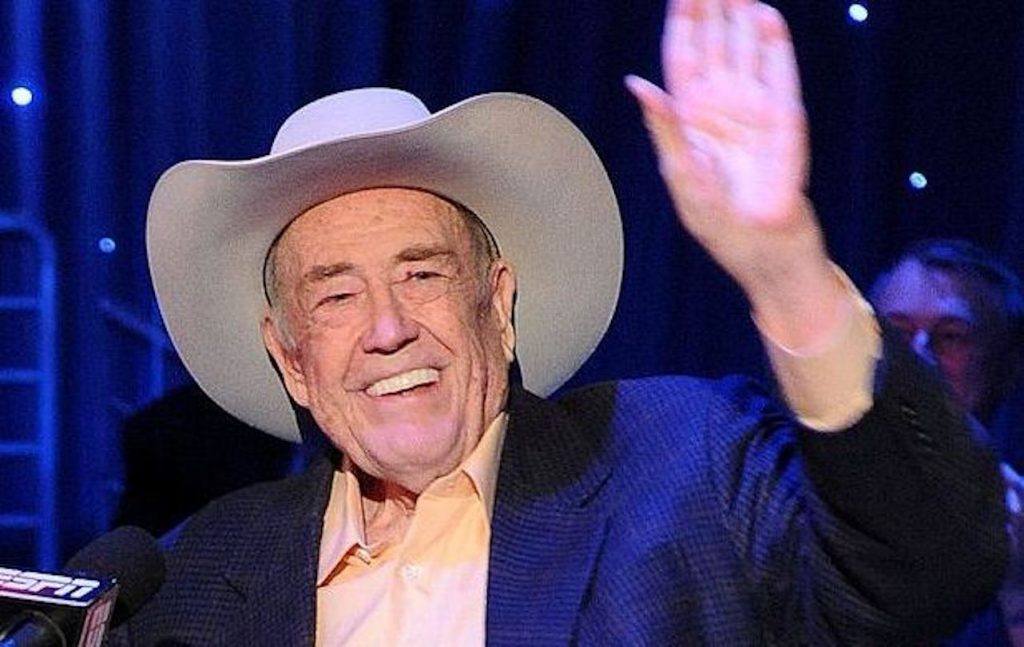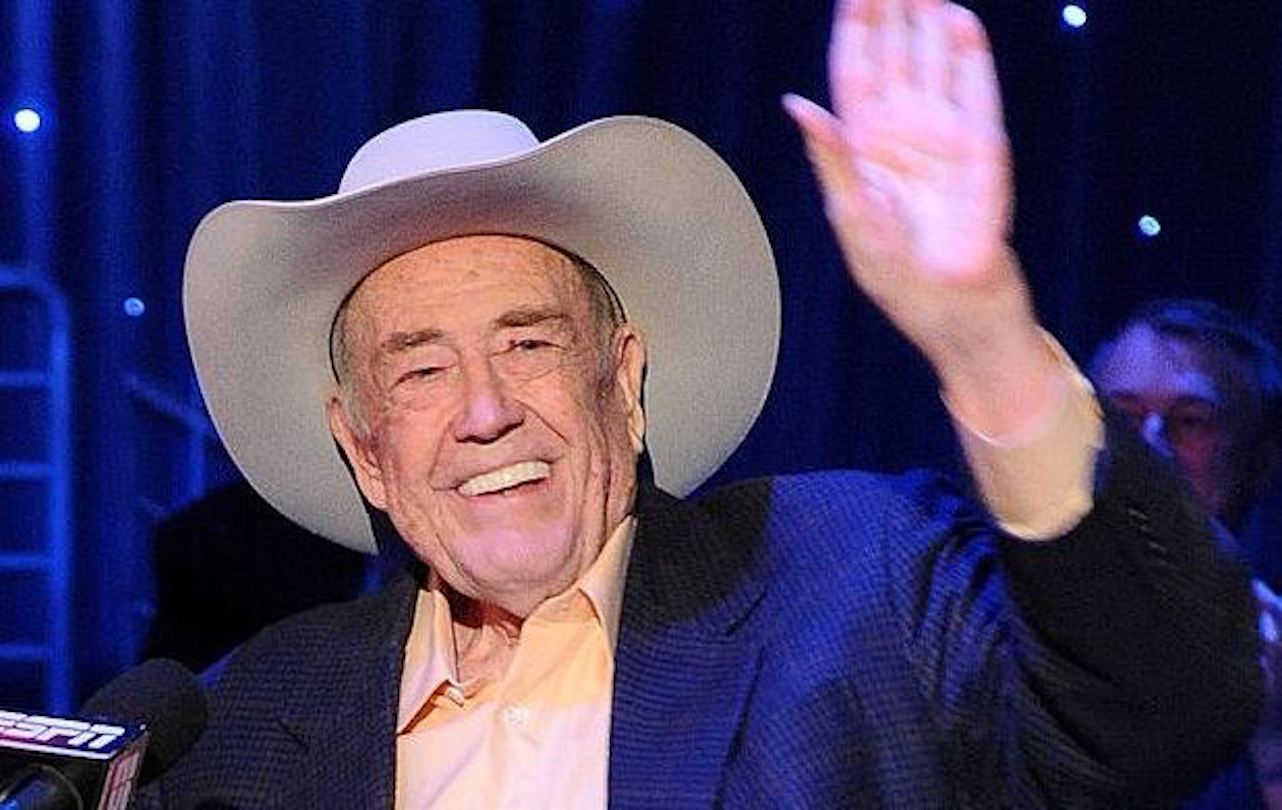 The man who can rightfully be called the living legend is loved by fans from all over the world and appreciated by his peers just the same.
Brunson started playing poker way before it was cool, and he has truly seen it all.
From private and often dangerous games in hidden backrooms of smoke-filled saloons to glamorous high stakes cash games and tournaments played inside the best casinos and TV studios, he was never one to shy away from a challenge.
It's fair to say that Bruson was also one of the first true students of the game.
Back when most people saw Hold'em as just another gambling game, Doyle spent time figuring out its mathematical and strategic aspects.
This culminated in his Super System, one of the first poker strategy books that was soon dubbed the Poker Bible.
Despite being born in 1933, the Texan was quite active in the live poker scene.
However, during the 2018 World Series of Poker, Doyle announced his retirement, explaining that he wanted to spend more time with his wife and family and focus more on his personal life.
But could the man who spent well over six decades playing poker professionally truly stay away from the felt?
What happened to Texas Dolly after his retirement, and what has he been up to in recent years?
A Very Active Twitter Feed
First of all, if you are wondering what the man dubbed the Godfather of Poker has been up to, your best bet is to follow him on Twitter.
Somewhat unusual for someone of his generation, Doyle has taken a liking to Twitter and as he has a very active account.
Of course, not all of it is about poker.
Brunson tweets his personal thoughts and opinions on all sorts of things, and not all of them are super popular or mainstream.
But it's not as if the man who was held at gunpoint multiple times during his poker career is afraid of the wrath of the Twitter community.
Doyle Brunson may not be as active as he once was in the poker circles, but he keeps up with everything on Twitter under his moniker "texdolly."
Give his account a follow if you want access to first-hand information about his plans and whereabouts.
Among hundreds of tweets you'll find in the feed, there are a few concerning the latest Daniel Negreanu vs Doug Polk grudge match.
In one of them, Brunson shared his views on high stakes internet poker and why he never got involved with it and the sentiment definitely hit home with a fair portion of players and fans of the game.
He's also been very active defending old-school players such as Phil Hellmuth.
A holder of the record-breaking 15 WSOP bracelets, Hellmuth was often called out by the community for not being a "very good" player.
Doyle probably summed it up very nicely in his Twitter correspondence with some of the young guns, explaining that it's true that Hellmuth often struggled against tough tables, but he's very good at taking chips from bad players (who still outnumber the good ones in most live tournaments) and putting them on tilt, and those skills have helped him earn a lot of money over the years.
While Brunson may have been away from battles on the felt, he's certainly not shy to enter all sorts of discussions online – and he's not the one to back off easily, either.
You may agree or disagree with some of his points, but he always seems ready to stand behind his words and stand up for what he believes in.
Doyle Brunson's Live Poker Endeavors
It seems that Brunson really did retire from tournament poker in 2018.
The last recorded result on the Hendon Mob page dates back to June of 2018, when he finished 6th in a $10,000 2-7 Lowball Draw Championship.
His total live earnings from tournaments are thus pretty much locked at $6.1 million, which doesn't seem too impressive when compared to those of some other "big guns."
However, Brunson never really got into the high stakes tournaments scene, and he pretty much steered clear from various high roller events with $25k+ buy-ins and massive prize pools, which helped inflate the results of many other players now topping the All-Time Money List.
It's not that he didn't have the bankroll for them, but Brunson has always had a very careful and realistic approach to poker.
Instead of going against the tide and trying to beat people 40+ years younger than himself who spent countless hours studying poker every day, he preferred finding a seat in a good cash game with a few "spots."
Unfortunately, cash game results aren't officially tracked anywhere, so it's not as easy to say how much Texas Dolly has been active in these.
That said, he is considered to have built an incredible wealth in the various cash games.
There've been some hints that he's been to famed Bobby's Room during 2018 and 2019 for a few high-stakes sessions, but he's not nearly as active as he once was.
It seems Brunson is staying true to his word and focusing his time elsewhere.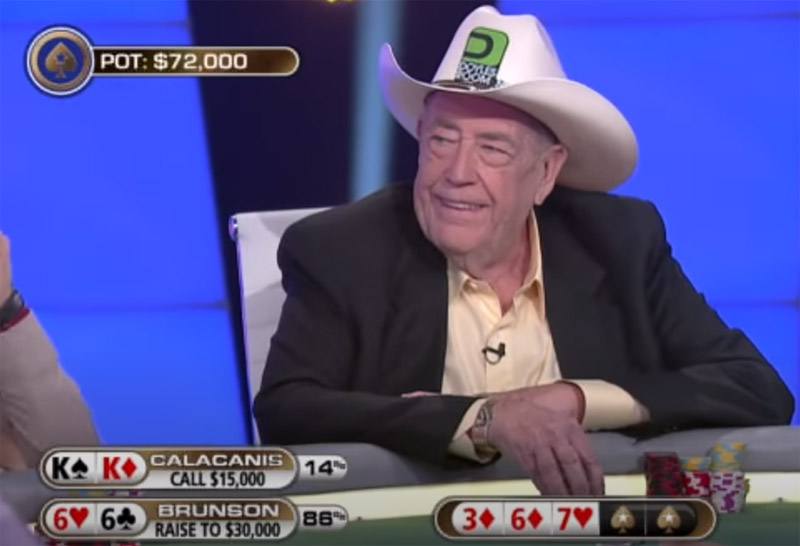 This is certainly a bit of a disappointment for poker fans from all over the world but hardly a surprise.
Given Brunson's age and the fact he had to fight a number of serious health issues over the years, it's quite admirable he's been able to stay so actively involved with poker for as long as he has.
Texas Dolly vs Coronavirus
The year 2020 has been a very strange one for pretty much everyone.
Live poker has been hit pretty hard all over the globe as most places had to shut down for at least a few months, and even those that had reopened since are operating under different conditions, following strict rules and regulations.
So what was Doyle's answer to the whole pandemic thing?
Although he certainly doesn't scare easily, Brunson has been in pretty strict quarantine for many months now, avoiding contact with the outer world.
The main reason for this is his wife, Louise.
Louise has been experiencing health issues of her own for some time now, and one of the main reasons Doyle decided to take a step away from poker was so he could spend more time with her.
While Texas Dolly may not be afraid of the disease himself, he's very concerned about catching it and potentially infecting Louise.
So at the moment, he prefers to stay at home and avoid real-life interaction as much as possible.
But that gave him a lot more time to spend on Twitter, to the great pleasure of his almost 400,000 followers.
During the recent months, Brunson has been sharing many untold stories from the past, talking about his poker career, people he's met over the years, and happily answering different questions about some shady characters.
Doyle may be "just" a poker player, but things were much different from what they are now during his early years.
If you were serious about playing poker, you simply had to rub elbows with some underground guys, and his stories are a lot of fun to read.
Want to chat to Doyle? Well, he seems to reply to a lot of his followers if they can grab his attention, which is pretty cool on his part.
That said, he's not shy about pulling the block trigger, either, when someone rubs him up the wrong way.
Will Brunson Come Back?
Even if the coronavirus madness somehow suddenly ends and life goes back to normal, I don't think Brunson will be coming back to the green felt.
Sure, he might still go for an occasional session in a private game, but his days of playing long tournaments are probably over.
Doyle will be celebrating his 90th birthday in a few years, so it is only natural to step down from the poker scene.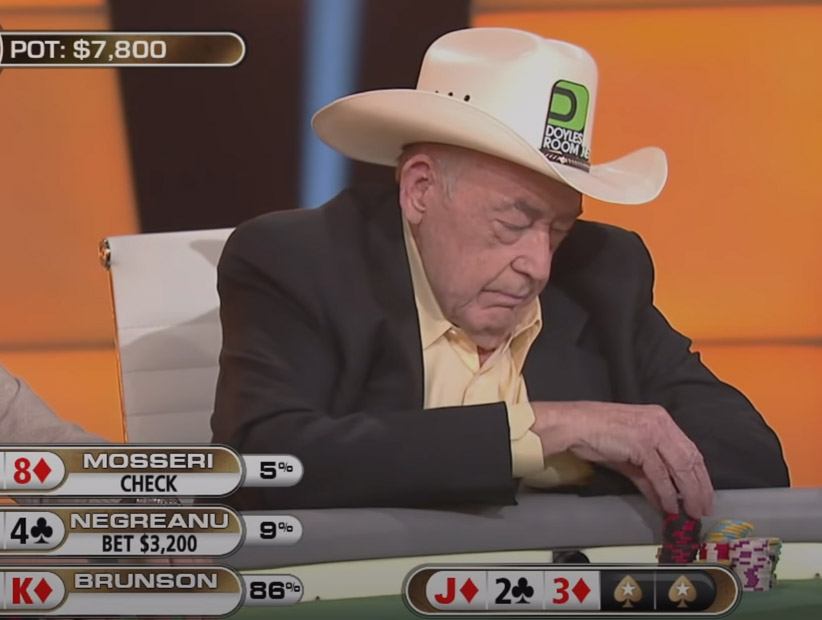 Perhaps he'll still muster the strength to come back for some televised event, be it a tournament or a special episode of high stakes cash games. Texas Dolly's fans from all over the world would surely appreciate it.
But for that to even be a possibility, things will first need to calm down on the pandemic front.
A Great Poker Legacy
Brunson's playing days may be pretty much over, but his legacy will continue to live on for many years to come. There are hardly any players who made such a deep mark on poker.
An accomplished player, author, and public figure, Doyle is one of the game's most iconic representatives, even if he's not the biggest official winner.
Born in 1933 in Longworth, Texas, Brunson had no idea what life had in store.
He was an excellent athlete and a great basketball player with a promising future ahead of him in his teens. However, a harsh knee injury put a sudden stop on his plans for the future.
An unbreakable spirit, Doyle wouldn't let this injury mark the rest of his life.
During the early 1950s, he discovered poker and started playing the game, earning enough to pay for his education and medical expenses.
Of course, the game was much different back then, and those who wanted to play professionally didn't have the luxury of playing inside the safe environment of regulated casinos.
Instead, Brunson learned his trade in illegal poker rooms scattered across Texas, often putting himself in dangerous and even life-threatening situations.
The image of an average poker player in the 50s and the 60s was much different from what you see on TV these days.
Following the money, Brunson came to Las Vegas in the 1970s. The city was starting to turn into the gambling mecca it would become over the next few decades, and he was there almost from the start.
Throughout his career, Doyle claimed as many as 10 WSOP bracelets. While some of these were won during the early years of poker and in events with a small number of entries, Texas Dolly has won several events in the 90s and 2000s as well.
In addition to his accomplishments as a player, Brunson is revered as a highly successful poker author.
His 1978 book Super System was the first book revealing poker strategies that were only known to the select group of professionals up to that point.
The book is rightfully considered one of the greatest publications in poker history.
While there have been countless books written about the game since, this was the first time that "ordinary" people were given access to professional secrets kept hidden for so many years.
Doyle has also appeared on many poker shows such as High Stakes Poker, Poker After Dark and more. He was never afraid to mix it up with the young guns and sit down with the best of the best.
No one can say for sure how much money Brunson has made from poker over the decades, but he's clearly done well for himself and his family.
Texas Dolly was inducted into the Poker Hall of Fame as early as 1988, and he is definitely one of the players most deserving of this honor.
His success in the game and his contributions to poker off the felt have helped shape poker history.
Even if he never plays a single hand again, Texas Dolly will be remembered as one of the GOATs by his fans and peers alike!