Sports mascots… you either love them or you hate them. There is no arguing that US sports do the whole mascot thing a bit better than teams involved in UK sports though, that's for sure. Here are just a few comparisons showing how the mascots shape up on both sides of the pond.
Wolfie the Seawolf (Stony Brook University Athletics) vs Wolfie the Wolf (Wolverhampton Wanderers FC)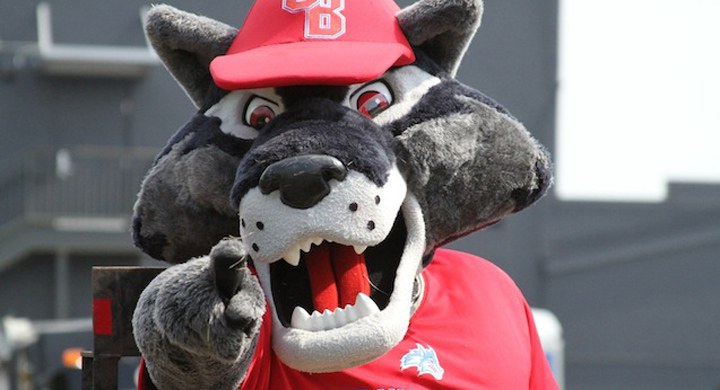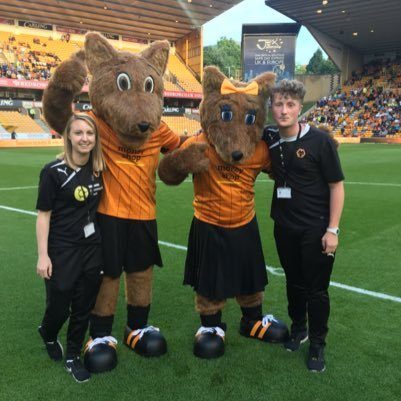 The Stony Brook Seawolves are the athletics team for Stony Brook University, New York.
The university is a member of the National Collegiate Athletic Association Division I (NCAAA I). It boasts varsity teams across a range of sports including American football, men's basketball, baseball, men's lacrosse, women's lacrosse, and soccer.
The mascot himself is designed in a manner that is worthy of representing such an institution.
From his colorful red cap that dons the Stony Brook initials to his glistening eyes and glossy coat, Wolfie represents a single word – pride.
On the flip side, we have Wolfie the Wolf.
He is the mascot of Championship football team Wolverhampton Wanderers FC, also known as Wolves, and he has long stood out from the crowd. Unfortunately, not in a good way.
The controversial mascot has earned a reputation for his boisterous behaviour. This was evident when Wolfie became embroiled in a brawl with the Three Little Pigs mascots of rival club Bristol City in a league fixture.
The incident earned him the tag of "Big Bad Wolfie".
An attempt to introduce a female counterpart called Wendy has failed to soften Wolfie's nature.
NJ Devil (New Jersey Devils) vs Taz the Devil (Cardiff Devils)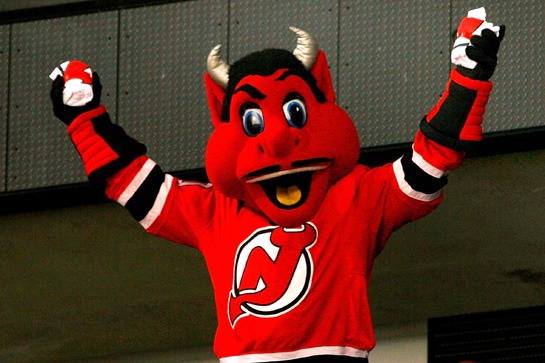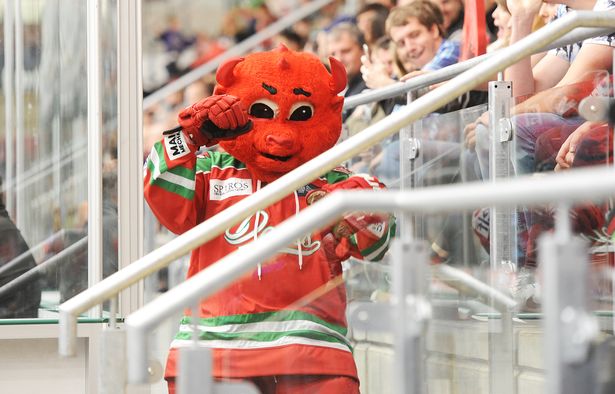 It is often said that things are bigger and better stateside and that is certainly true when it comes to ice hockey.
The NHL is the most prestigious ice hockey league in the world. Even the likes of Sweden's SEL, Europe's KHL, or the Czech Republic's Extraliga don't come close. So it is no surprise that the mascots are also bossing it.
The New Jersey Devils, predictably, have a devil called NJ Devil to stir their fans into a frenzy. His costume is immaculate and he knows exactly what to do to get the crowd going. No other devil-based mascot rivals him.
So that brings us to Taz. Good old Taz. The mascot of the UK-based Elite Ice Hockey League team Cardiff Devils.
The Devils might be enjoying success on the ice but their mascot is definitely in need of a makeover.
He appears to be a washed-up has been who still hasn't gotten over the Devils' barren run since their 1997 title win.
We had hoped he would have perked up after their success last season but he still looks as tattered as before.
Hooter the Owl (Temple University) vs Ozzie the Owl (Sheffield Wednesday FC)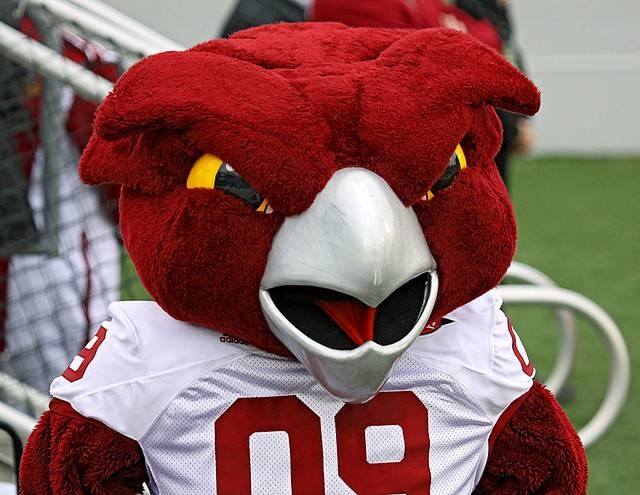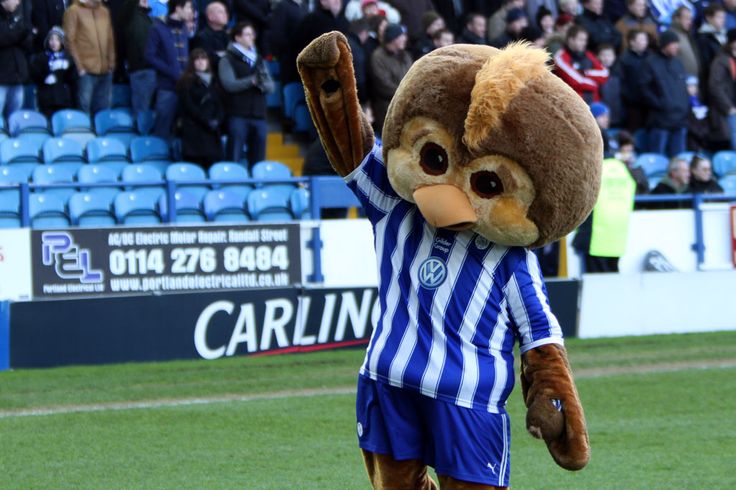 Birds of prey are a great idea for a sports mascot. They prey on the weak and sport is about being at the top of the food chain. It's symbolic right?
So, what bird of prey do you opt for? An eagle? No. A hawk? Nah. OK, what about an owl? Yes, sports teams out there have decided to adopt the noble owl to strike fear into their opposition.
Funnily enough, Temple University has somehow managed to achieve that feat with Hooter. The mascot genuinely looks demented. Well played, Temple.
On the flip side, there is Championship football side Sheffield Wednesday. They have taken a more family-friendly approach.
Ozzie the Owl is their tribute. Just look at him. He's like that old cuddly toy you are reluctant to throw in the bin.
Credit to him, Ozzie does make the kids laugh. Sadly, he's also making the opposition players laugh with his high eyebrows and stumpy legs. Poor little critter.
Benny the Bull (Chicago Bulls) vs Bullman (Bradford Bulls)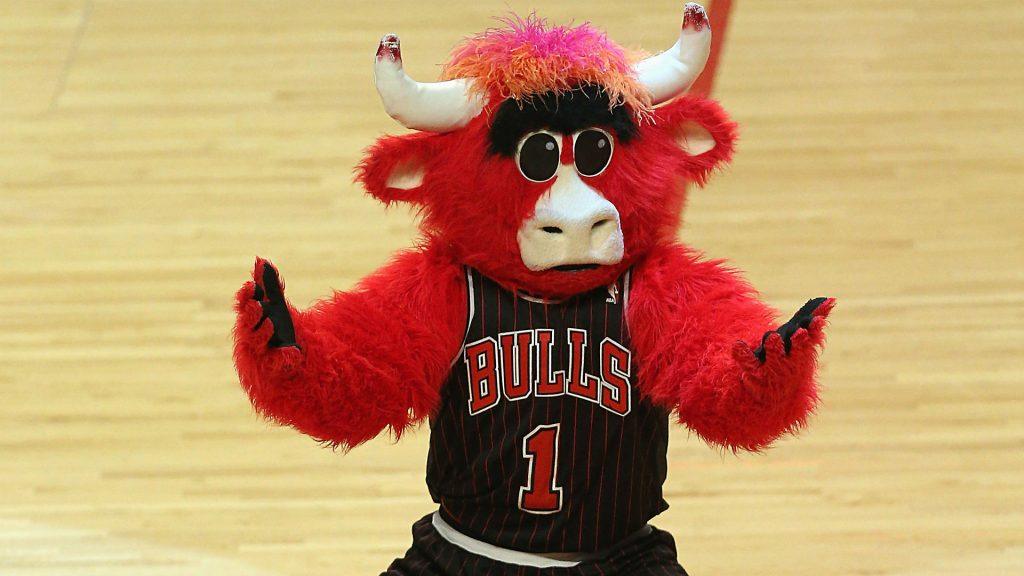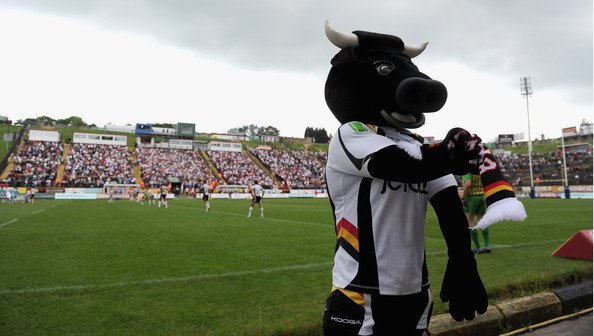 OK, so the US can't be allowed to win every duel in this battle of the mascots. So here is the clash of the bulls.
Chicago Bulls' very own iconic Benny the Bull is taking on Bullman of UK Super League rugby team Bradford Bulls.
Benny is not what you might expect as the mascot of one of the great basketball sides. Look at him. He looks more like a character from Monsters Inc. Not one of the scary ones either.
It's genuinely difficult to understand how that guy inspired the likes of Michael Jordan and Scottie Pippen to lead six championship-winning teams.
If we switch our gaze to Bullman, what a specimen.
Dressed in black, mighty horns protruding from his skull, and a fierce look upon his face that says "THIS IS OUR HOUSE!!!". He's even gone through a piercing phase. What a bad ass!
It's no wonder this great club has six titles to their name in one of the most competitive sports leagues in the world. Amen to you, Bullman!
Sammy the Banana Slug (University of California Santa Cruz) vs Kingsley (Partick Thistle)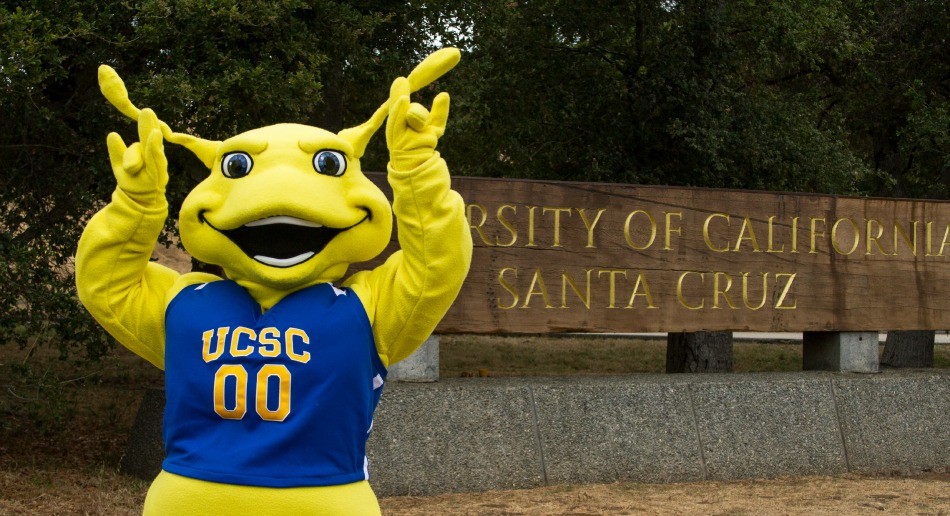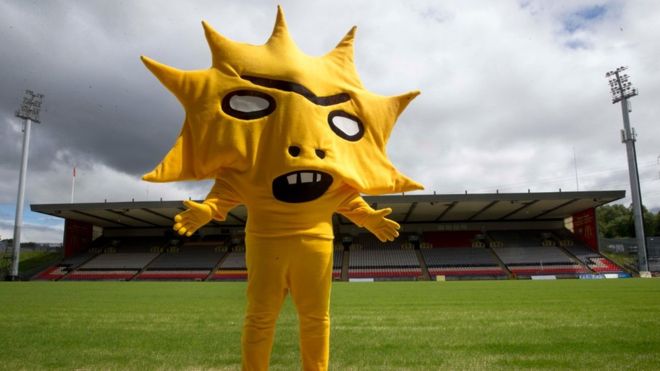 If there was a competition for the biggest "WTF?!" mascot going on both sides of the Atlantic Ocean then we could well end up with these two atrocities.
On the side of the US there is the banana slug of University of California Santa Cruz. Affectionately named Sammy, it is incredible that a team tasked with creating a new mascot for the school came to the conclusion that a slug would be the best option.
The slug has since become a cult figure appearing as Sports Illustrated's top college mascot in 1992 and the top college mascot in Readers' Digest for 2004.
The UK entry to the category for weirdest sports mascot is this scary thing. Is it something spawned in the darkest depths of the mind of Dr Zeuss? Is it an evil creature from a Stephen King novel? Do we need to kill it with fire? It is in fact Kingsley, the mascot for Scottish Premier League side Partick Thistle.
It may seem strange that Kingsley was actually designed by a former Turner Prize-nominated artist, David Shrigley.
Why he chose to create something that resembled Lisa Simpson addicted to crystal meth is beyond us. Undoubtedly, the UK wins this battle of the most bizarre mascots.