The Most Loved Gaming Franchises In The World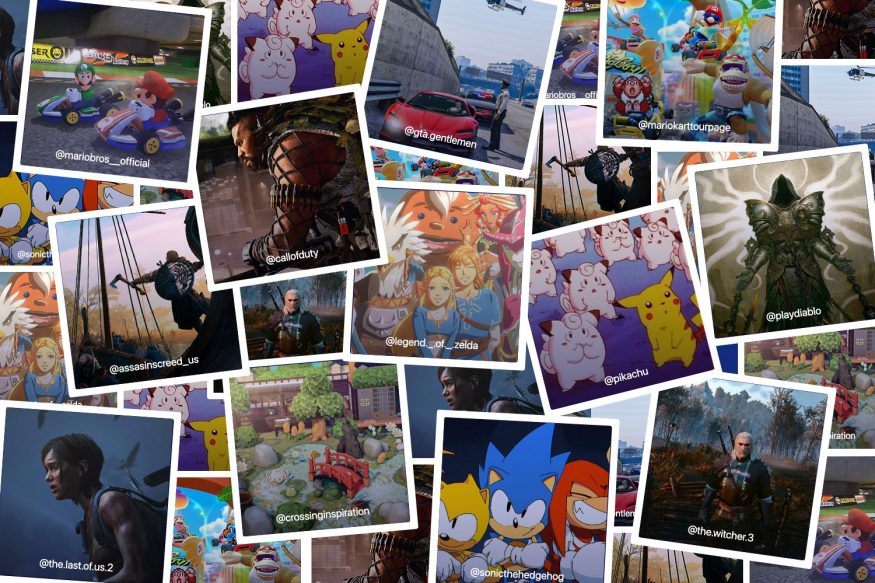 Lots of us choose to play our favorite games to relax and spend time with friends or family, and ever since the likes of Pac-Man and Mario hit the market 40 years ago, the gaming industry has seen some incredible franchises that fans love to play their way through year after year. 
From Pokémon to Animal Crossing, Final Fantasy through to Resident Evil, every gamer has their favorite franchise.
But which can be crowned the world's most loved? We've taken a look at critic scores, total sales, Google search data and Twitch views to rank and reveal the world's most loved franchises.
The World's Most Loved Gaming Franchise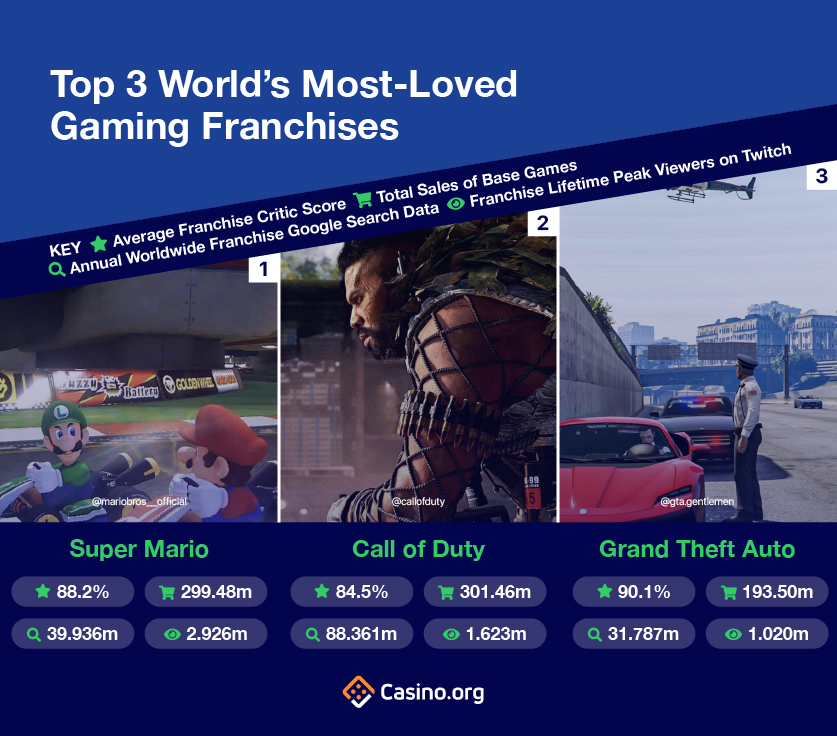 1. Super Mario 
Average franchise critic score: 88.2%
Total sales of base games: 299.48M
Annual Worldwide Franchise Google Search Data: 39,936,900
Franchise Lifetime Peak Viewers on Twitch: 2,926,742
The central series in the mega 'Mario' franchise, the Super Mario franchise has been around for 35 years.
With an average critic score of 88.2%, it almost comes as no surprise that this much-loved platforming game franchise appears first on our list. 
Over the years, at least one Super Mario game has been released for every major Nintendo video game console.
No matter the generation of console, players have therefore always been able to follow Mario's adventures as he tries to save Princess Peach from Bowser, all over the Mushroom Kingdom.
2. Call of Duty 
Average franchise critic score: 84.5%
Total sales of base games: 301.46M
Annual Worldwide Franchise Google Search Data: 88,361,000
Franchise Lifetime Peak Viewers on Twitch: 1,623,046
Starting out in 2003, Call of Duty is a first-person shooter video game franchise published by Activision.
First focusing on games set in World War II, over time, the series has seen games set amid the Cold War, futuristic worlds, and outer space. 
With the variety of settings and game modes, Call of Duty has seen the highest total sales of all the franchises we looked at, selling over 301.46 million games.
3. Grand Theft Auto
Average franchise critic score: 90.1%
Total sales of base games: 193.50M
Annual Worldwide Franchise Google Search Data: 31,787,020
Franchise Lifetime Peak Viewers on Twitch: 1,020,005
Taking the third spot in our list is Grand Theft Auto.
Published by Rockstar Games, Grand Theft Auto is a series of action-adventure games that focuses on an open world where the player can complete missions to progress an overall story or complete quests to take them on side adventures. 
Most of the gameplay revolves around driving and shooting, with occasional role-playing and stealth elements. 
Discover the full list of franchises below to see if your favorite franchise appears!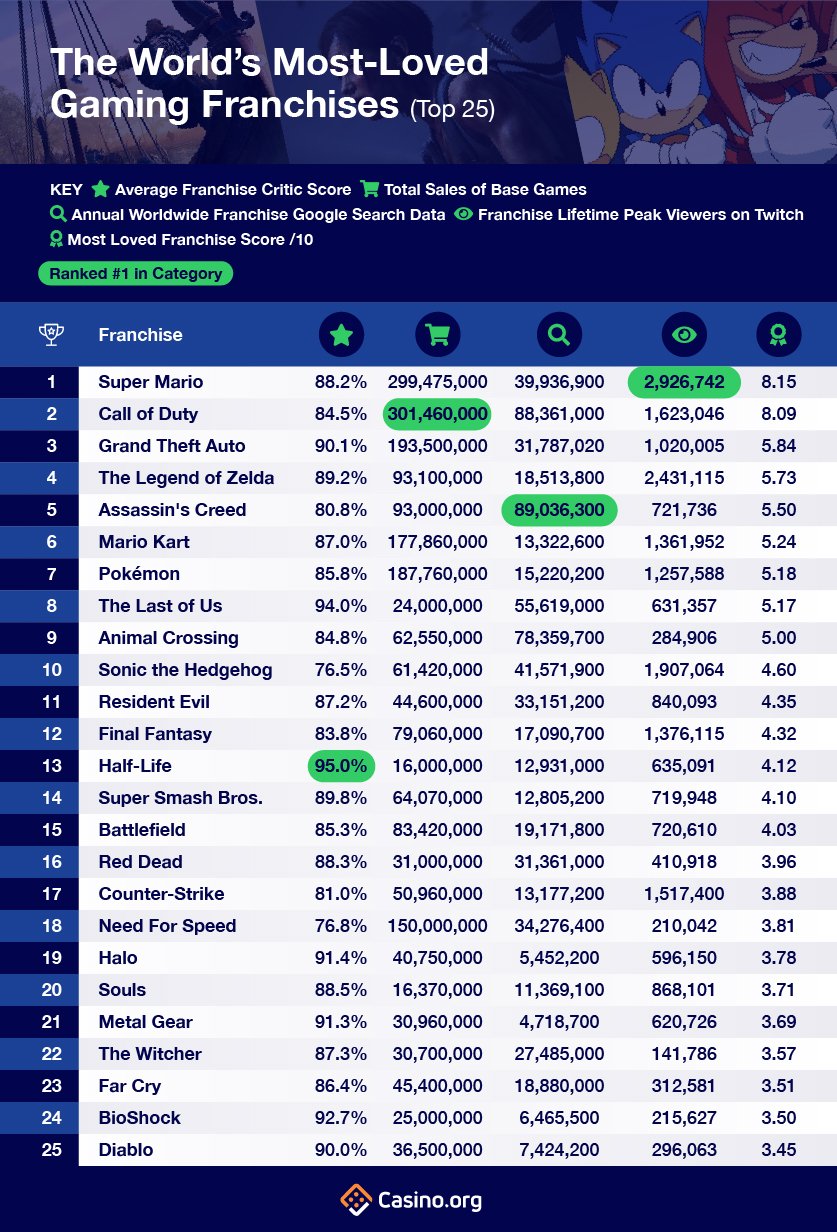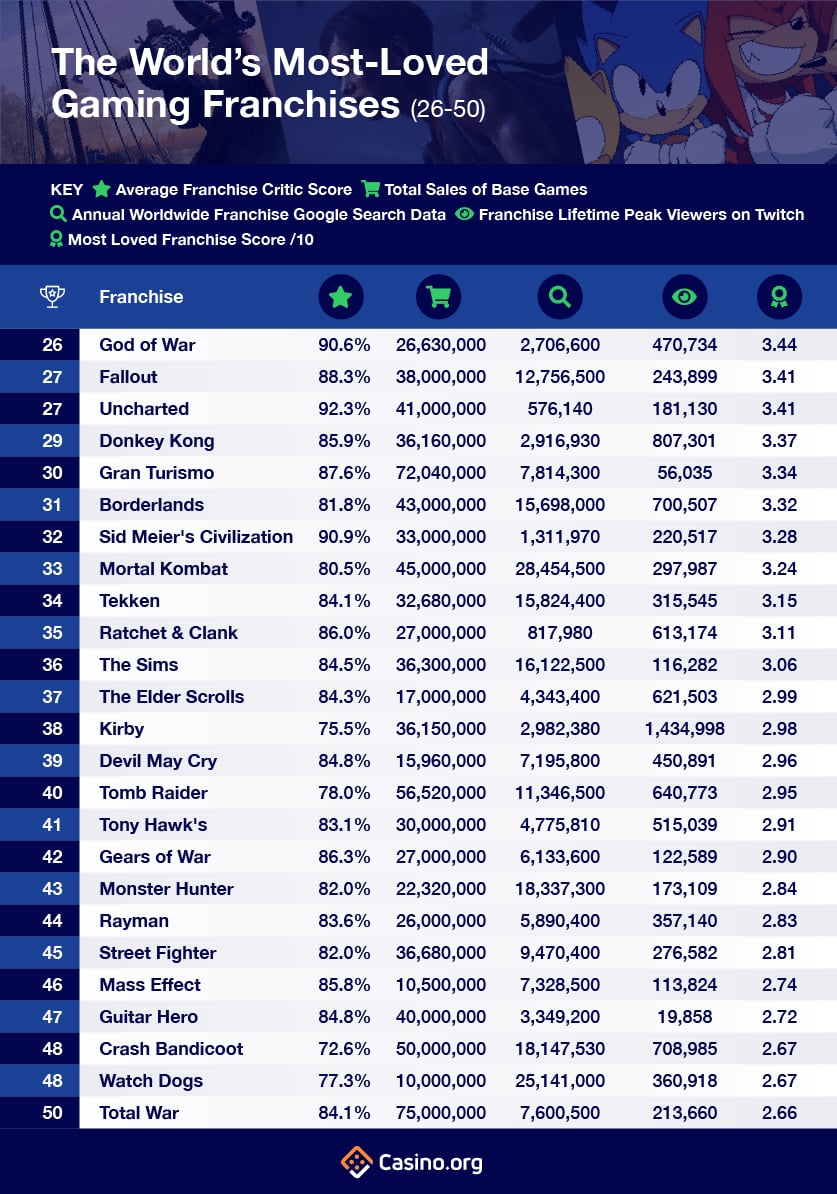 The Best Games In Each Franchise
Taking our research even further, we've looked at each individual game within the franchises to find out which game is the most loved in each franchise.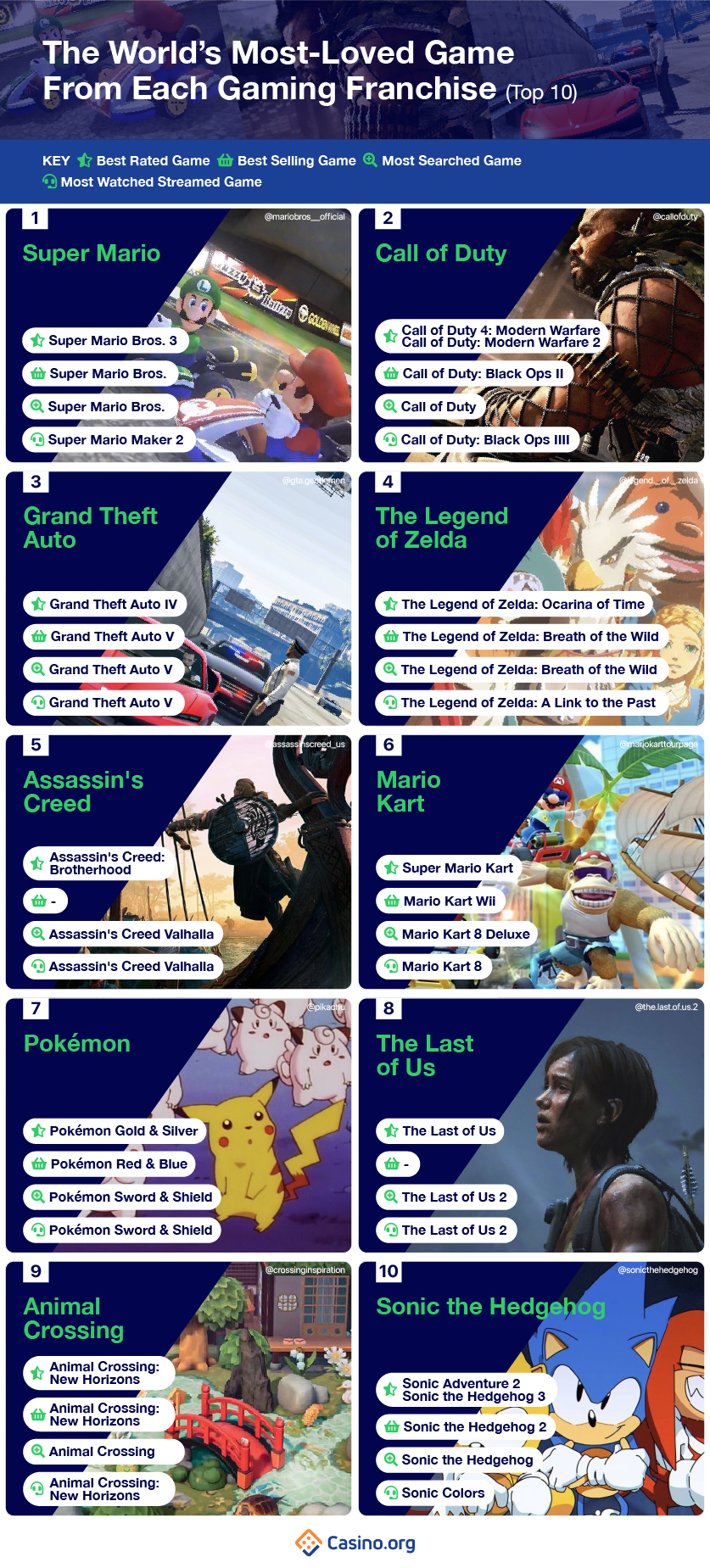 Every Country's Favorite Gaming Franchise
Looking at 75 countries around the world, we've found the most popular gaming franchise in each country, with the results taking us by surprise!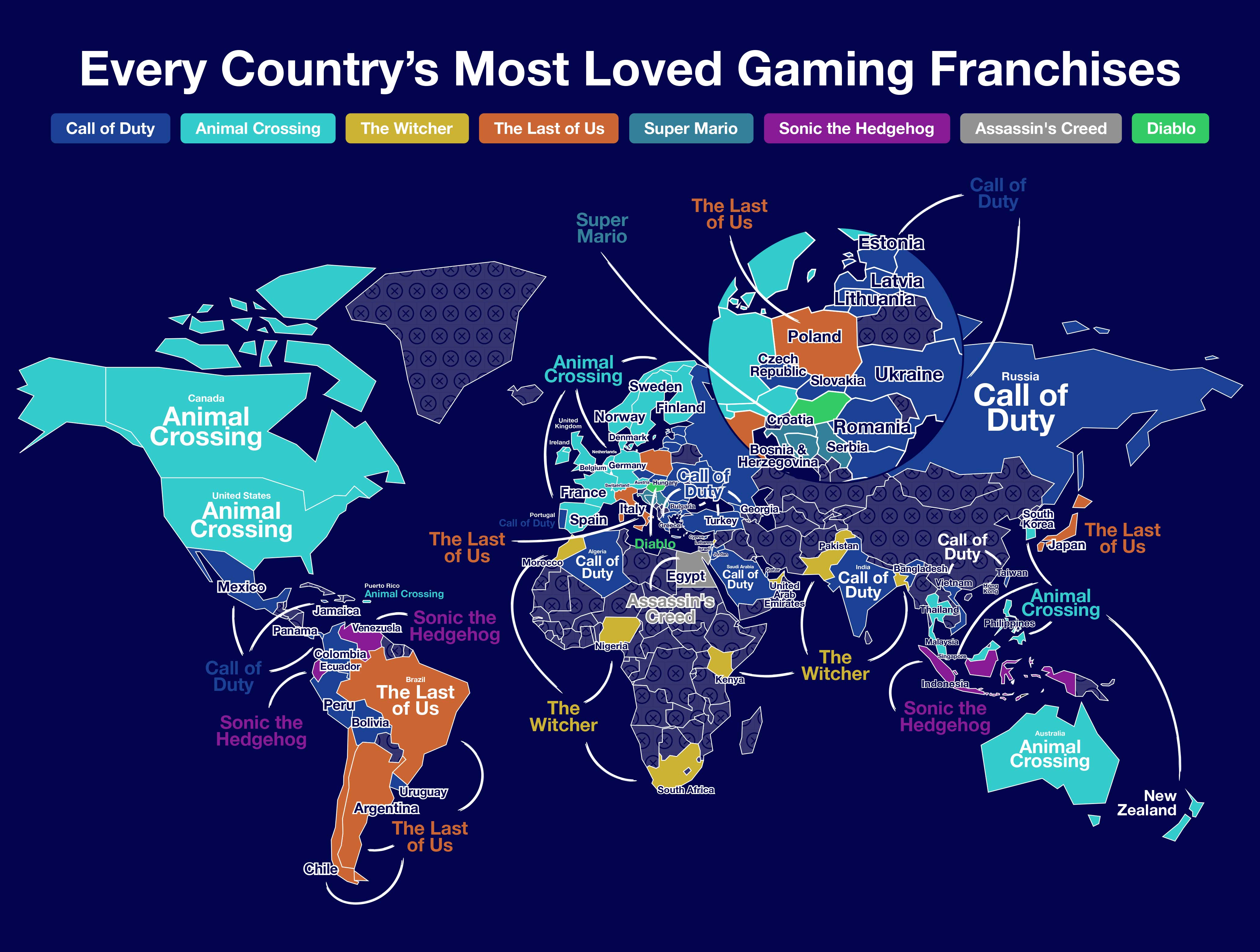 The Call of Duty franchise is the favorite in 29 out of the 75 countries, closely followed by Animal Crossing being the favorite in 24 countries. 
The Witcher franchise also comes out strong, with 8 out of 75 countries finding the fantasy franchise their favorite.
Discover the full list below to see which franchise is the favorite in your country!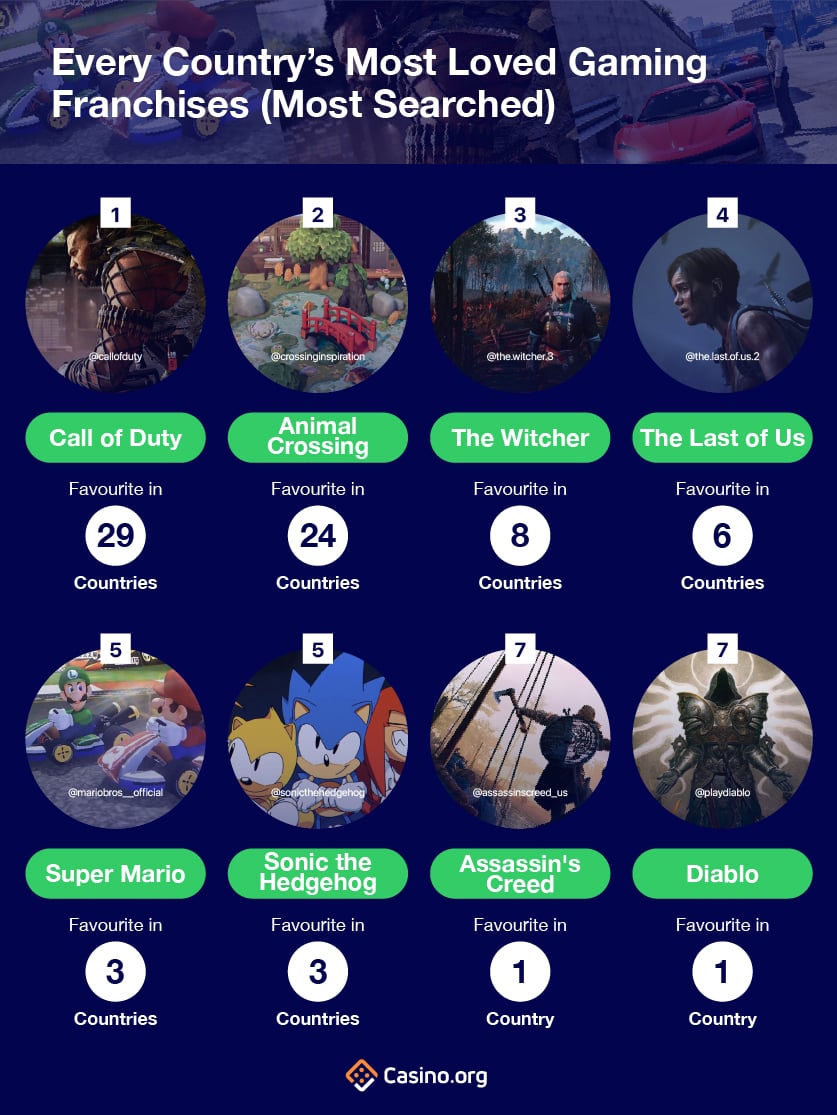 Methodology
Video game franchises were taken from the list of best-selling video game franchises from Wikipedia and each game researched is part of the base game series as outlined on each franchise's Wikipedia page, with spin-offs and remakes excluded.
The critical reception score for each game was sourced from Metacritic, which aggregates professional video game review, with the exception of some older games which were released prior to Metacritic's existence, for which we used scores from a now-defunct aggregator GameRankings (which has since been incorporated into Metacritic). For each game, we took the critic score for the original game on the initial platform that it was released on.
For the total sales of the base games for each franchise, sales data was taken from the list of best selling game franchises on the Video Game Sales Wiki page. To discover the most searched video game and franchise we used Google Keyword planner to find the number of global searches for each base game from March 2020 to February 2021. Franchise lifetime peak viewers on Twitch was sourced from each games' category page on TwitchTracker.
To discover each country's favorite franchise, we used Ahrefs Keyword Explorer tool to collect the monthly average search volume for the last twelve months for the 75 countries for which data was available.
All data is correct as of April 2021.