Hitting the Jackpot: Top YouTube Videos
You've all dreamt it, right? Hitting that huge slots jackpot, hearing the bells and sirens go off, and watching as a hundred whooping fellow customers head your way.
It's a lot easier recording big wins in casinos these days, what with the prevalence of smartphones, and many of the big progressive winners have recorded their jackpots for posterity (and social media).
Here are five of the biggest wins caught on celluloid (well, HD card) over the past few years.
#1. Marine Takes Down $2.8 Million Big One
"No way! No f**king way! We're millionaires!"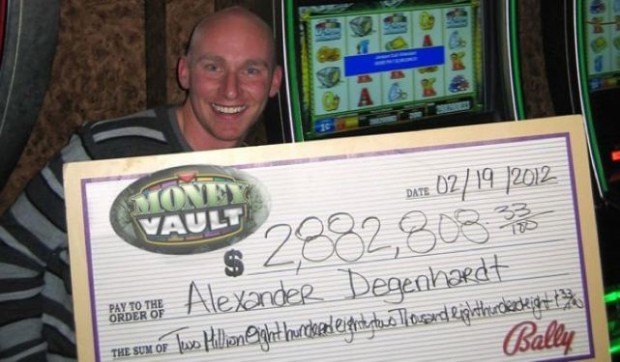 Alexander Degenhardt won a huge jackopot (Image: theblaze.com)Big progressive jackpots always get taken down; not as many get caught on cell phone. However, in 2012 a US marine called Alexander Degenhardt won almost $3 million playing Bally's Money Vault slot in a Las Vegas casino. As the typically cynical YouTube commentators said: "If you have too much money the marines discharge you because you can be a liability with that much money." Ok…..
Watch the marine become America's most eligible bachelor:
#2. 10X10X10X… & Weird Mustaches
Q. What's more surreal than winning a life-changing amount of cash on a Las Vegas progressive jackpot?
A. Winning a life-changing amount of cash and having it caught on camera by a Boogie Nights extra.
For the uninitiated, 10X10X10X is a linked progressive slot with three reels. On this occasion (December 2014), the lucky winner was a Bellagio regular taking down a prize worth $433,000.
The win was caught for posterity by someone calling himself Mr. JackpotLV who seems to have made his name filming jackpot winners across Vegas.
Watch the mystery moustachio'd marauder do his thing:
#3. Money Really Does Talk
One of the unwritten rules of casino etiquette is that you keep your outbursts to a minimum. But somebody forgot to tell this Las Vegas winner that little secret rule after he hit a jackpot on the Money Talks video slot.
As the crowd grows around him, so does the winner's prize. Finally, after about a zillion free spins, the slot settle at, erm, $1,800. Not the biggest prize, but certainly the biggest slots payout this punter had won.
If you don't mind an American hurling, "Go, Baby!" outbursts at a gambling machine, feel free to watch this video:
#4. Queen of the Wild Goes Wild
It's not just progressive jackpots that players love to film. Sometimes it can be just the free spins round on a good-looking video slot that's enough to see the iPhone being whipped out.
When a Queen of the Wild player triggered the free spins bonus round on this Amazon-themed slot, the phone came out and started recording.
And it was still recording a few minutes later as the free spins kept retriggering and the expanding Wilds kept landing.
There was a brief anti-climax for our mystery winner as his 200,000-coin jackpot translated on-screen as "just" $10,000, but it was enough to receive the immortal screen display every casino-goer wants to see: "Jackpot Call Attendant".
"How much have you won?"
"I don't know – it's a lot."
Surely the ultimate comeback from a first-time Vegas slots player?
#5. $5 Short of Paying Taxes
In the US, any slots win above $1,200 incurs tax. A neat trick by some manufacturers, then, such as IGT on their Wheel of Fortune slot, is to include a prize worth $1,195.
The Wheel of Fortune game has been hugely popular for decades, and is responsible for some of the biggest progressive jackpot payouts of all time. But it was a meagre $1,195 win on a $5 spin at the Golden Nugget Casino, cheered on by a bunch of holidaymakers you'd have thought they had just won a million dollars, that made everyone in the area race over….and then sit back down to get on with their games.