The life of a cruise casino dealer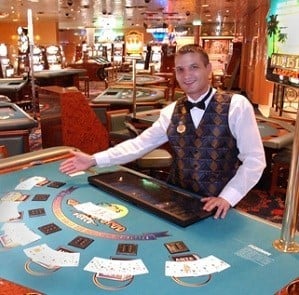 Is it possible to travel the world in style, meet people from all around the world, enjoy your favourite casino games and even get paid doing all that? Yes it is! Cruise casino dealers could easily have one of the best jobs in the world, being immersed in travelling and entertainment almost all year round. Read more about this jackpot career opportunity.
What's a Cruise Casino Dealer?
Forget about Las Vegas or Macau, what if the whole world could be your casino? Working as casino dealer aboard a cruise ship makes this dream come true. Most ships aren't just floating hotels, but also floating casinos where dealers get the opportunity to come into contact with people from every corner of the world and be deeply involved in the glamorous world of casinos.
One day you could be dealing blackjack in the Mediterranean, and next week you're spinning roulette wheels in the Caribbean. Cruise casino dealers are entrusted with the important job of making sure guests have a good time while playing and that everything sails smoothly under their job. If you enjoy working with people, have an appetite for adventure and know your way around popular casino games like blackjack, poker and roulette then you might be right candidate for the job.
Job Responsibilities
What does the life of a cruise casino dealer look like?
Well, after waking up in your cabin to the soft sound of waves, heading for a quick jog around the deck and joining in the continental breakfast with your mates, you take position behind one of the tables in the casino and… let the fun begin!
Cruise casino dealers have a variety of responsibilities which require all sorts of skill, from being a suave talker to a shrewd accountant. During a typical work day, you'll explain the rules of the games to people who are trying their hand at casino gambling for the first time and everyone plays fairly under your watch.
As a reference point to the players, you'll also make important announcements during a game, exchange chips and tokens for money and inform people on proper conduct at various table games. If things get too busy in the pit, the ship's casino senior supervisor or manager will step in and give you the necessary guidance to sort things out.
As a position of authority, cruise casino dealers take great pride in their looks and give their land-based colleagues a run for their money in the grooming and appearance department. And why wouldn't you, when as a dealer resplendent in your uniform you represent not just the cruise ship you're aboard, but every other ship of the same company cruising the seven seas.
Salary and Career Opportunity
So, what's the opportunity of working as a cruise casino dealer like? It's whatever you make of it.
Since contracts are typically given for six months before candidates being considered for a permanent position, you're free to experience an exhilarating half-year travelling around the world and make good money in doing so. Once it's done, you can just as easily pack up or sign up for more.
Job positions as dealers on board of cruise ships are not always easy to come by. A few big companies run their own casino department, whilst the majority outsource management to an established land-based casino. Make sure to check for vacancies both on the websites of cruising companies and the casinos they're affiliated with.
The money you'll earn during your stint as a cruise casino dealer is directly related to the amount of effort you put it. Basic salaries range from $2,700 to $3,600 per month and you also get access to accommodation, food and ship amenities while travelling. On top of that, you'll receive a commission based on your performance as a dealer and in some cases also gratuities from guests if you give them a great time.
It all adds up quickly, so it's safe to say that for the effort you'll make and the fun you'll have working, it's a well-compensated job, especially if you later go on to be promoted to assistant casino manager and eventually to casino manager.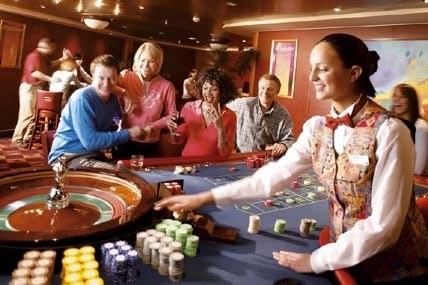 Cruise Casino Dealer Perks
Unlike land-based casinos, the casinos on cruise-ships aren't open 24 hours so you'll get plenty of downtime as well. When the ship is in port the casino is closed, giving you the chance to go ashore and explore new places while off-duty.
How about hitting the gym on board or try a different type of cuisine every day? On board big cruise ships, which are basically floating resorts, the possibilities are endless.
Not only will you have the opportunity to mingle with people from around the globe and make new connections easily, but you're also automatically part of the tight-knit community that is the crew with whom you'll share your experience and which will rapidly become like a second family to you.
Skills Needed
But the best part is that you do not need expensive and difficult-to-get qualifications to be a cruise casino dealer.
A high school level of education is sufficient and most cruise companies request that you have at least one year of experience as a casino dealer in a land-based casino handling blackjack and roulette games. The more games you're familiar with, the more likely it is that you'll get the job.
Excellent communication skills are very important and if you speak more than one language that is a huge plus in your favor. Being good at maths and recognizing game outcome is also an advantage, but you'll quickly pick up the trade once you start training. There are tonnes of resources online that will teach you how to play casino games and everything else you need to know about being a dealer.
See you aboard!
Wondering what's it like to be a casino dealer on land? Discover the pros and cons of the job – and decide for yourself if it's a dream job or a total nightmare.