FIFA Pros vs. Actual Pros: Which Soccer Players Earn the Most?
The eSports market has seen exponential growth in recent years and is now estimated to be worth over $1.3 billion. Professional FIFA makes up a huge part of the competitive eSports space, with competitions and tournaments drawing in millions of viewers yearly on platforms like Twitch and YouTube.
Professional FIFA players can make significant amounts of money by participating in tournaments and landing sponsorship deals. It poses the question – can FIFA players earn more than professional soccer players? Our research shows that they can.
In this report, we closely examine the average earnings of professional soccer (or football, for our UK readers!) players in England, and compare it to the earnings of the top FIFA players. We also chat with Dan 'Stingrayjnr' Ray, a professional FIFA player for The England National Team, and one of the highest earners in 2022 according to esportsearnings.com.
The Numbers
The top professional FIFA players earned an average of $105,000 from tournaments in 2022. This excludes any brand sponsorship deals, so the number could likely be even higher. It's also worth considering that the best of the best earn considerably more – for example, Umut Gültekin, the highest earner in 2022, took home over $300,000.
Premier League soccer players are the most elite in the sport, so it's no surprise that the average salary is almost $3.6 million. This is significantly lower in The Championship at $551,000 and League One, at $458,000. League Two is the lowest of the four tiers of professional football in England, and the average player earns $89,000.
The conclusion? FIFA eSports players earn more than 25% of the professional soccer players in the UK. Their annual income is around 18% more, to be exact.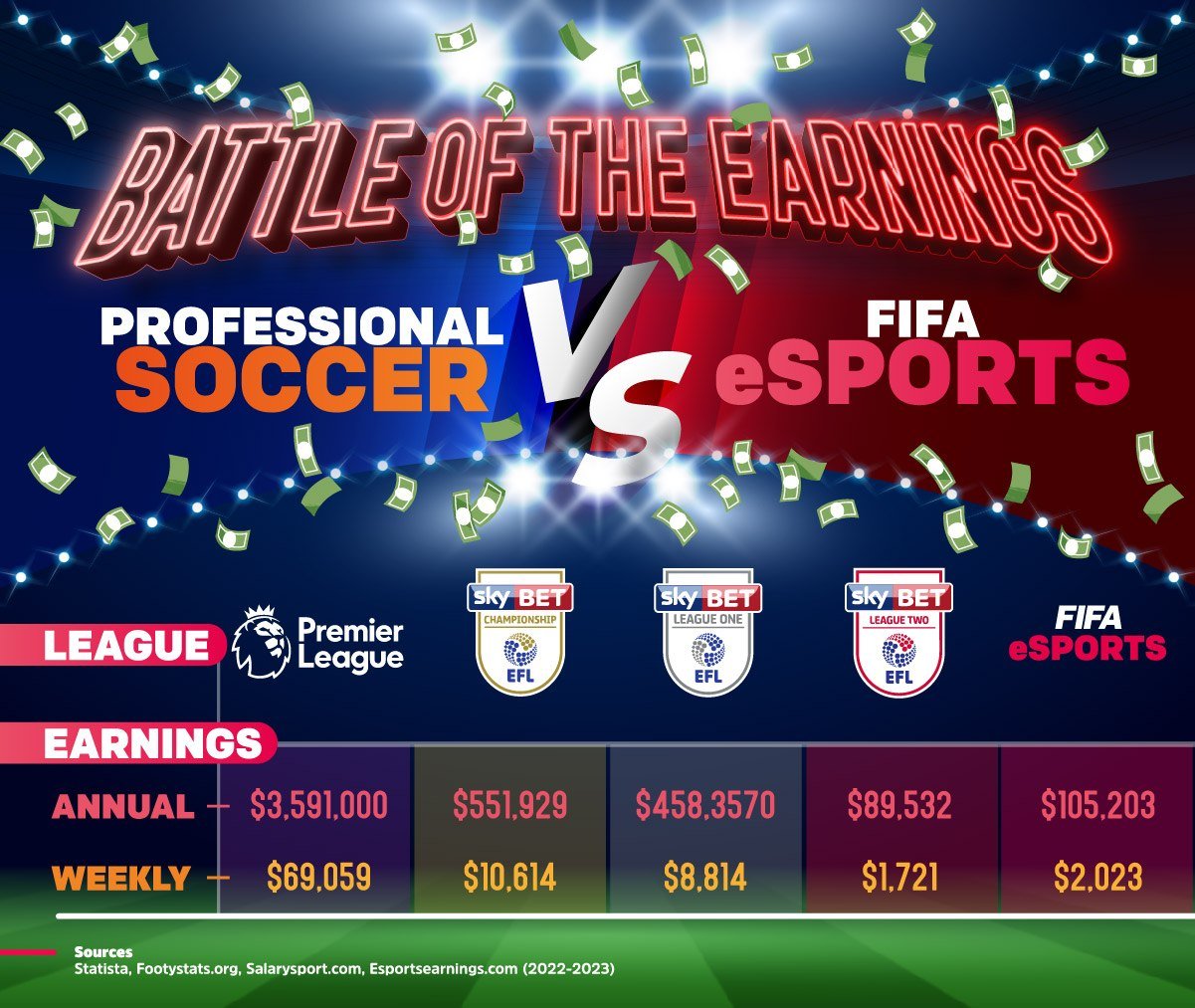 What Goes Into Being a Professional FIFA Player?
We caught up with Dan 'Stingrayjnr' Ray to discuss this recent salary analysis and how much work goes into maintaining a professional FIFA career. He explained that he has to play around 60 hours per week, which is split between training and taking part in tournaments. A lot of this time is over the weekend as that's when most of the professionals are available to train with.
There is also a lot of effort that goes into keeping up with current playing styles on FIFA: "You have to constantly be adapting and changing the way you play to fit the current style, I wish that if you just had it, that was it, but there is so much work that goes into maintaining the level when you're at the top", Dan said.
When asked if he thinks that professional FIFA players could eventually earn more than the elite athletes in the sport, he said: "I think that the industry has the potential to continue growing and reach the heights of other sports. However, with the amount top athletes earn it would be a dream to even imagine being paid that much"
To recap, here are some of the key findings:
FIFA eSports players earn more than 25% of professional soccer players in England (League Two accounts for 1/4 of top-tier soccer)
FIFA eSports players earn 18% more annually than League Two players
Our Methodology
In May 2023, we analyzed data from Statista, Footystats.org, and Salarysport.com to find the average earnings of professional soccer players across each English league. We then used esportsearnings.com to look at the average earnings of professional FIFA players in 2022. With this data, we were able to determine how much more eSports players earn than professional soccer players.
You are free to use any of the information in this report, including the supporting imagery. When doing so, please link back to this article as your source. For media inquiries, please contact michaela.shaw[at]casino.org.
Note: We also have this image available with GBP and 'football' instead of 'soccer' for a UK audience. Use the contact details above to request it.