Finstas & Fiktoks: Nationwide Fake Social Media Trends
In a world of filtered everything, could our fake social media accounts actually be the most real thing about us? Instas, Finstas, Rinstas, and now…FikToks? Our "real social media" shows the filtered version of ourselves and our "finstas" are the 2 a.m. Taco Bell runs and silly selfies that embody our truest form. It can get confusing, to say the least. We're here to make sense of the Finstas, FikToks, and more.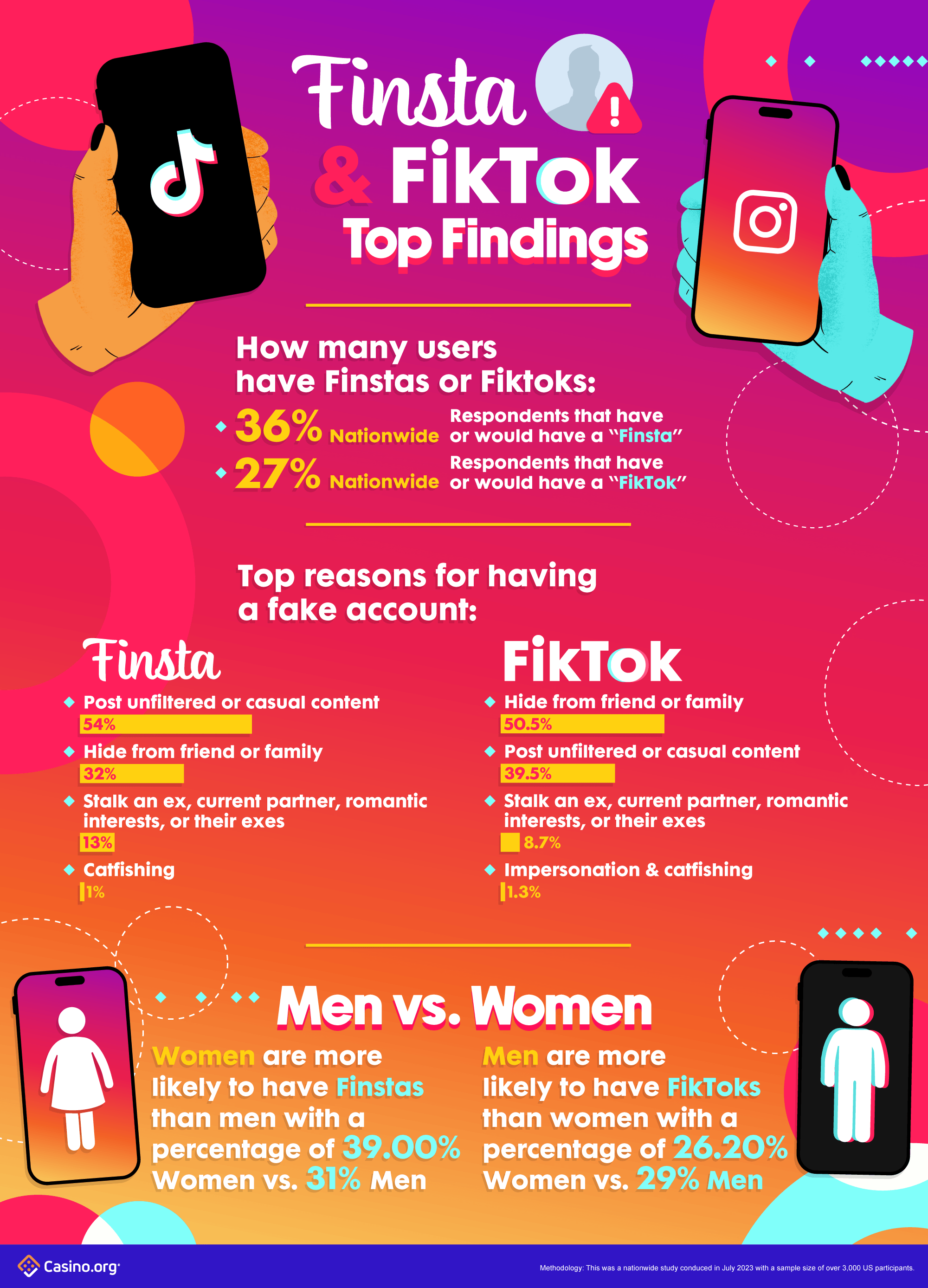 We've surveyed over 3,000 U.S. social media users to determine who is creating fake social media accounts, what they're using them for, and if we can expect the rise of future fake social media accounts on newer platforms like TikTok. You try saying "FikTok" three times fast!
Post Highlights:
36% of the nation has or would have a Finsta whilst 27% have created a FikTok
50.5% of Finstas are used for posting unfiltered content, while the top reason for a FikTok was to hide from friends or family
Women are 25% more likely to have Finstas while men 11% are more likely to have FikToks
To follow or not to follow? The fake socials trend
"To follow or not to follow?" as were the wise words of Shakespeare…or something like that. Have you ever had an account by the name of @goldenretrieverfanpage12345 request to follow you? Or @bettybakingpageandrecipes222 just…watched your story? Hate to break it to you, but it's probably not a pup or a pastry page, but rather a secondary, fake account. Nothing is impossible, but when we look at the numbers, we get a better idea of just how saturated our social media is with fake accounts.
World Population Review claims that there are 2.35 billion open accounts on Instagram. When we dive a bit further, we find that there are 1 billion MAU (monthly active users). The disparity between accounts and users is over double! Leaving room for bots and business pages, we wanted to see just how many people actually had fake social media accounts.
When we asked respondents about if they had or would have fake Instagrams the number was quite significant. Out of all the participants, 36% of users across the country admitted to having or considering a secondary, fake account, i.e. a "finsta."
As the greats of social media giants fall and rise, we see the same trend of fake account presence follow suit. Facebook, for example, used to be home to fake pages or accounts under aliases, but as we trend towards new platforms we're left wondering: what's next? "Fhreads" anyone?
Behold: the FikTok. A new era has arisen. As more and more of us are opting for shorter and shorter content, users are migrating to Tiktok. When more people join, like your boss or your ex perhaps, you might want to open up an, *ahem* "bakery page" too! The need for privacy on TikTok is growing so we wanted to know who are the early adapters to the latest trend of fake TikToks.
TikTok has 1.06 billion active users, and according to our randomized sample, we can expect that 27% of those users would or already have a fake account! That's more than a quarter of FikToks.
Stalking your ex? Most common uses of fake social media accounts
It's tempting. You create a fake social media account and take a little snoop on the people who used to be in our lives. Harmless, maybe, but just how common is it? We surveyed social media users to determine what they use their fake accounts for. The results may surprise you.
Contrary to belief, most Finsta's aren't for stalking. The top cited reason for having a Finstagram was to post unfiltered or casual content earning over half the vote at 54%. The second most cited reason was "hide from friends/family" at 32%. Stalk an ex, current partner, romantic interests, or their exes got a surprisingly low chunk of the vote at only 13%.
Lastly, "impersonation or catfishing" ranked with only 1.3%. There were a couple of remaining write-in responses for uses like contest applications or prank accounts.
But what about our dear FikToks? With the platform being largely video content, how are people using FikToks to disguise themselves from the masses? The top reason for having a Fiktok was to hide from friends/family with 50.5% of the vote. Beyond confidentiality, users want to be able to be their authentic selves without the need to curate their posts. For that, the second reason for having a Finsta was "post unfiltered or casual content" at 39.5%.
Of course, no FikTok would be complete without a bit of snooping. Coming in third place was "stalking an ex, current partner, romantic interests, or their exes" at 8.7%. Only a small percentage of people are catfishing on the app with "impersonation or catfishing" grabbing only 1.3% of the vote.
Are men more likely to have fake social media accounts?
The gender divide is ever present even in places where gender doesn't exist (like Capybara content pages). This can be said for fake social media accounts too where we see that men and women are inclined to different types of fake social media accounts.
Interestingly enough, women are more likely to have fake Instagram accounts (39% versus 31%). However, when it comes to fake TikToks the reverse is true. Men are more likely to have FikToks with 29% likelihood versus women at 26.2%.
The final say on Finstas and FikToks
Our social media use continues to trend upward, encouraging many of us to take an alternative path, a fake path, if you will. Fake Instagrams and fake TikToks are on the rise, but their uses tend to differ. Even men and women use their fake social media accounts differently and with differing participation rates depending on the platform.
Rinstas, Finstas, Riktoks, and FikToks – the options are endless for your unfiltered content (or otherwise) are endless!
Methodology
We surveyed over 3,000 Americans in July 2023 about their social media habits. The age range was between 18-60 with all participants residing in the United States. Just over half — 52% — were female, 42% were male, 4% identified as trans or non-binary, and 1% listed "other".
Fair Use
Feel free to use the data or visuals on this page for non-commercial purposes. Please be sure to include proper attribution linking back to this page to give credit to the authors.
For any press questions, please contact riley.clark[at]casino.org