The World Series of Poker: Your FAQs Answered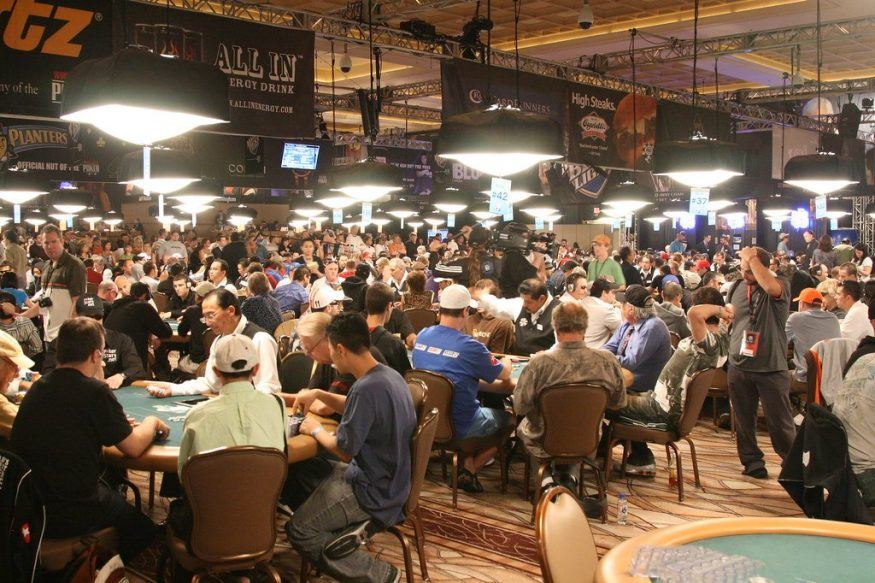 The 2022 World Series of Poker (WSOP) is well underway, running from May 31 through July 20.
The festival of poker is attended every year by greats like Negreanu, Hellmuth and Ivey, all of whom look to add another bracelet to their already impressive collection.
We know that when it comes to WSOP, a lot of people have a lot of questions. That's why we've created this blog post, to answer the ones you're asking most.
So, take a look through the answers below and see if your WSOP-related query can be answered.
The 2022 WSOP
Where is the WSOP held?
The 53rd WSOP is being held at the Bally's and Paris Las Vegas Hotels and Casinos in Las Vegas. It has moved to a new Strip location, having been held at the Rio for the past 17 years.
The two casinos are linked, meaning players will be able to travel between them easily to enjoy the combined 150,000 sq. ft. of tournament space – and 600 tables.
Where can I find the WSOP schedule?
The WSOP schedule was released in February. There are 88 live bracelet events scheduled and 29 online bracelet events, plus some exciting new additions this year.
When is the WSOP Main Event 2022?
The Main Event will run from July 3-16 and, as usual, the buy-in is $10,000.
Where can I watch WSOP?
You can watch the most exciting WSOP events this year through a live stream by PokerGO.
Although PokerGO will be the main place to watch the WSOP, CBS Sports Network will also broadcast 15 episodes of WSOP Main Event coverage and some gold bracelet events.
Do I need to be vaccinated and wear a mask to play at the 2022 WSOP?
No, you don't need to be vaccinated or wear a mask. However, the WSOP will follow CDC guidelines during the event.
What is the buy-in for WSOP – how much does it cost to enter?
The WSOP isn't just one event, but instead a large number of tournaments, each with their own individual buy-ins.
In 2022, the lowest buy-in event is the $400 Colossus and the highest is the $250,000 Super High Roller.
The Main Event, which is the highlight of the entire WSOP festival, has a buy-in of $10,000.
In previous years, there was the Big One for One Drop event in aid of charity, which cost a cool $1 million to enter.
So as you can see, there's no set price for enetring the WSOP. It's also possible to qualify for some events via online satellite tournaments, some of which can cost just a few dollars to enter.
Remember that some events also have rebuys, so you can get back into the action if you lose – for a price, of course.
WSOP General Questions
How does the WSOP work?
The World Series of Poker is a series of individual tournaments, each with different buy-ins and poker formats.
Essentially, it is a festival of poker that takes place over the course of around six weeks annually, with the Main Event being the pinnacle.
Each event follows a tournament format, with every player starting with the same number of chips.
The winner is the person left standing at the end. Those winning any WSOP event will not only receive a prize but will also get a coveted WSOP bracelet as well.
How do you enter WSOP?
You can either register online or in person. You'll need a valid photo ID and your Caesars Rewards Loyalty card, plus an additional form of ID if you're an international player.
Can anyone enter the WSOP?
Yes, absolutely anyone can enter a tournament at the WSOP, providing they are at least 21 years old and can afford the buy-in.
This is what makes it so exciting. The final table could be made up of total novices or big-name poker pros – anything could happen!
The cheapest way for an amateur to gain entry is to win one of the many WSOP satellite tournaments.
Who won WSOP 2021?
Koray Aldemir from Germany won the 2021 WSOP Main Event and took home $8 million.
Who has the most WSOP bracelets?
Phil Hellmuth holds the record for the most WSOP bracelets, having won 16 of them since 1989.
Phil Ivey, Johnny Chan and Doyle Brunson all tie for second place, with 10 WSOP bracelets each.
Who has won the most WSOP Main Events?
Two players are tied for the most WSOP Main Event wins – Johnny Moss and Stu Ungar. Both have won the event three times.
Johnny Moss won the first two WSOP events ever held, however it was different back then, as the winner was decided through a vote by the other players.
How much money does the WSOP winner get?
The prize for each tournament changes depending on how many people enter the event, so there is no clear-cut answer for this question, although some events naturally have the biggest prize pools.
Who has won the most money in poker?
The highest-earing player in all tournaments is Bryn Kenney, who has won over $57.2 million (and counting) in his career so far.
He is followed by Justin Bonomo and Daniel Negreanu. This doesn't take into account money won playing in cash games behind closed doors, though.
How do poker satellites work?
Satellite poker tournaments are qualifying events to another, usually larger buy-in event. It's essentially a way of gaining a ticket (entry) into an expensive tournament.
Imagine you wanted to enter the Main Event but couldn't afford the $10,000 buy-in. You could instead spend $100 on a satellite tournament, with the hope you'd be the winner of the satellite and get entry into the Main Event.
Most satellite tournaments take place online and it's even possible to gain entry into big tournaments with a stake of just a couple of dollars.
How do you win seats in the WSOP?
To win a seat at the WSOP, you'll have to enter a satellite tournament. These are held at various different online poker sites.
If you can win the satellite, you will gain entry into the specified WSOP event.
The only other way to get a seat is to save your money and purchase one, which is what most players have to do.
How much do poker players at the WSOP final table get paid to wear sponsor patches?
This really depends on how well-known players are and what deals they have in place with sponsors, although it's been reported that some can earn as much as $100,000 just to wear a patch at the Main Event.
How many tables are in the WSOP?
The number of tables at the WSOP is dictated by the number of players taking part.
The beginning of the Main Event is generally staggered over the first three days though, as it would be exceptionally difficult to get nearly 8,000 people playing poker at the same time.
Nine people are usually sat at one table in the Main Event, although people are moved regularly from table to table, in order to balance the tables properly.
What is the difference between a WSOP bracelet and winning the WSOP Main Event?
Every single person who wins a WSOP event gets a bracelet, meaning that many bracelets are handed out every year.
The winner of the Main Event also gets a bracelet, as well as an absolutely massive cash prize.
Many bracelets are handed out, but there's only one Main Event winner every year.
How much money do WSOP dealers make?
This year the WSOP announced that it was increasing pay for dealers.
The WSOP said that starting pay for all dealers will begin at $12.50 an hour with a $100 bonus after "successfully completing" their first shift.
Although this sounds promising, many people have pointed out that the extra pay does not make it worth it, given that the vast majority of dealers are from out of state, so a large percentage of wages will quickly go towards housing, food, taxes and more.
Are WSOP winnings taxed?
This really depends where you live, so you should check your local laws.
US players can pay up to 50 percent in tax on their winnings, while those from the UK will not pay any tax at all.
This is why many professional poker players live in countries with low or no taxation on winnings.
Check out our blog post on everything you need to know about rake and taxes in WSOP.