Exclusive Sir Geoff Hurst Interview: England Legend Discusses Three Lions' Euro 2020 Hopes and Names The Team Gareth Southgate Should Pick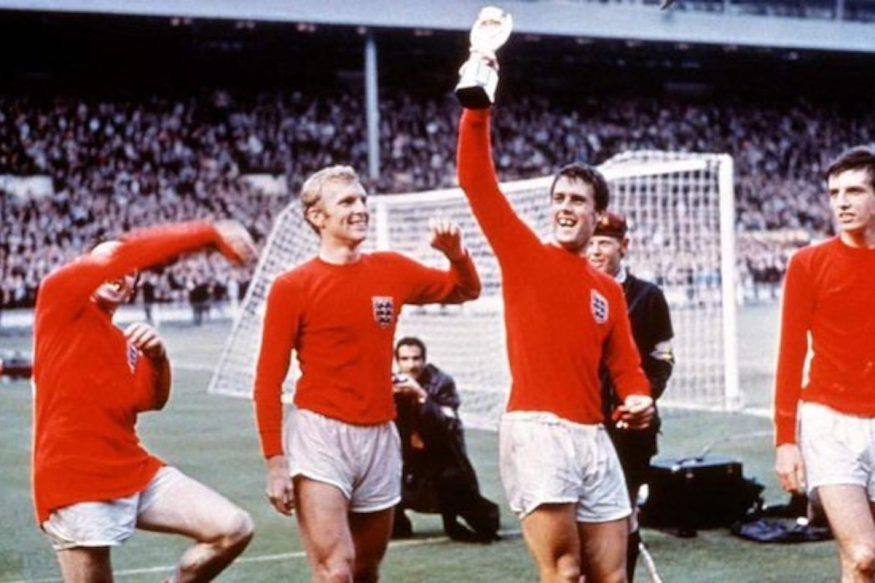 With this summer's European Championships fast approaching, we sit down with England's 1966 World Cup final hat-trick hero, Sir Geoff Hurst, to discuss how he thinks the Three Lions will do in this year's tournament, who he'd select in his starting XI if he was in Gareth Southgate's shoes, and whether Harry Kane should leave Tottenham.
Key Highlights:
Sir Geoff Hurst leaves Trent Alexander-Arnold out of his preferred starting XI – with no Liverpool players selected at all.
Hurst believes Harry Kane should stay put at Tottenham:

"Playing for your country and being successful for your country in my opinion is always going to be bigger than playing success for your club, and I've experienced both."
He thinks Scotland will put up a good fight and shouldn't be written off ahead of their Euro 2020 clash with England:

"Naturally the Scots, and the Welsh and the Irish, they're going to take great pleasure in all sports in whipping the English, so it isn't going to be easy."
Hurst confirms the '66 England squad all walked to the cinema in Leicester Square to watch Those Magnificent Men and Their Flying Machines the night before their World Cup final victory:

"We got ice cream at half time and we walked home, not a journalist, not an autograph, nobody hanging around. I mean, you look at that, it's absolutely astonishing. When I look back at the past, the way the game, well the way everything has changed so dramatically, every single aspect apart from the goal posts."
Full Transcript:
Well Sir Geoff, it's a pleasure to meet you, pleasure to speak to you about football! And I guess it's something that's on the tip of everyone's tongue at the moment with the Euros coming up. Are you excited about the Euros?
Yes well, I'm excited that it's coming round. For everybody it's been a nightmare time in all walks of life, so I'm delighted. And major competitions are always huge both in the World Cup and the Euros every couple of years, so I'm looking forward to it very much so, as all England/soccer fans are.
Yes, and England's a good place to start as I think the starting XI is something that everyone is talking about. I mean we're all asking the same question, who's going to be in the starting XI? So as someone who knows the game and someone who's had success at this level, who would be in your starting XI for England?
What I would say to start with overall is, we have a very exciting group of players, there is no question about that. On the back of a recent relevant success, it's been a good period for England and the team. Prior to that it's been, if you go back a few years, it's been very disappointing. So, at the moment, we have a very good manager, and we have a lot of very exciting young players. So, I would kick off by just coming up with the starting XI, and I would say: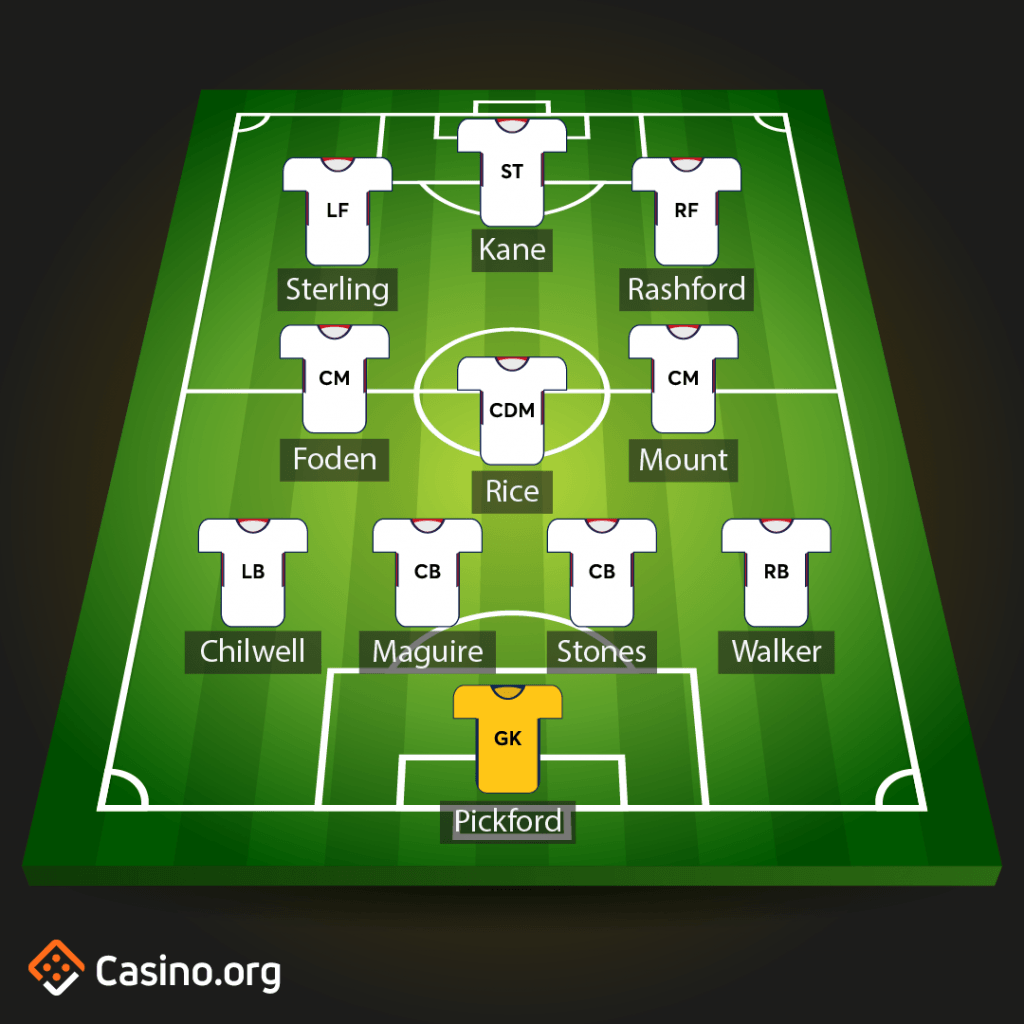 I mean that looks a very exciting team. I use the word team because the team framework is important. These are exciting players, but they've got to be selected in a way that they succeed as a team of eleven players.
And I'll tell you a quote, Jack Charlton when he was first picked for England, he was pushing thirty. Now Jack's keen on coaching and we know his success as a coach at Ireland. But he was also very keen at that stage to become or get involved in coaching and he asked [England's World Cup-winning manager] Alf Ramsey when he was first picked pushing thirty: "Why are you picking me now?" And Alf said: "Well I have this way of playing, and this is the format and the way I want to play", and then he finished off by saying: "Jack I don't always pick the best players." And that illustrates that he's picking a group of people that can work together as a team, not necessarily the best individual players, so that's quite important.
But one thing that's very strong about this team for me, and we had it in our time, is that there are goals in it. Rashford scores goals, Harry Kane, Sterling. In the middle of the park, Phil Foden scores goals, Mason Mount scores goals. Declan Rice doesn't score goals but he's the holding midfield player.
Both Phil Foden and Mason Mount do work defensively as well, so they graft and work when they haven't got the ball, so that's important not just goal scorers. And you've got goals from the two centre-backs, both John Stones and Harry Maguire earn goals in matches. That was important in our time and that's important today.
You've got the ultimate goal scorer up there with Harry Kane, who's had an incredible season again, but he's not achieving any club level success. How important is it for a player like that do you think to achieve something at a national level, and will that make up for not getting anything with Tottenham?
Good point. I'd thought about that as a point I was going to discuss with you so it's interesting that you raise that.
What I would say, I've got some points about Harry Kane's position… One, playing for England, and being successful for England is a huge bonus.
In terms of whether he stays or goes at Spurs, in the long term, I think moving from a club which he's a god at is not necessary.
In 30 years' time he'll be in a pub, if he's gone to another club, and there'll be a Spurs fan sitting in the bar saying: "Why'd you leave the club?" and maybe throw a glass of beer over him [laughs].
The short term, you're not guaranteed trophies, trophies are not guaranteed if you move to any club. Probably the only club that you'd move to where you're more likely to use the word guarantee, but still not guaranteed, would be Man City, the way they're going at the moment.
Other than that, whichever club he goes to, because it's so competitive in all of the countries, if he goes to Germany and Bayern Munich, he would probably win the league but whether that would be looked upon as great in the future for him I'm not sure.
Focussing on trophies is important to a degree, but it's not the be all and end all of a player's world. So I would advise him to be very careful about what he does and how he does it.
He's a god, he's playing for a club that's maybe not winning things, but they've got the best ground in the world. Their training ground is like Buckingham Palace. I mean I've been there, it's astonishing the quality. I mean okay maybe they don't have the money [to invest in their squad] because their finances have gone on the ground and so on.
So I would think very closely but what you mentioned right at the beginning – being an England hero is big, that is bigger. Playing for your country and being successful for your country in my opinion is always going to be bigger than playing success for your club, and I've experienced both.
We won the FA Cup at West Ham, absolutely adore the club, they gave me a chance to play football and I owe so much to them. But if I look overall, achieving what I did with England always surpasses that at club level. It didn't used to be, I think a few years back, but now I think it's come back where it's important to be with England which is encouraging.
And you mention stadiums, obviously this tournament is being held in England as well, or some of the matches certainly are, but for the last year and a bit we've not had any crowds in the stadiums. How much of an impact does that have on the player, and how do you think you would have coped without having fans in the stadium when you were playing?
Well I would have hated it. Football's about the fans. It's the life blood of the sport and we've seen some strange results now to an extent because of the lack of fans at the various clubs.
It is weird, I mean it's a crazy world we're living in all aspects. The false cheering and booing, I mean, it's almost bordering on the laughable. It is disappointing but to get through it, which we have done, I'm sure the players and everybody can't wait to get back and have life get back to normal for all of us, including in this fantastic sport of ours.
And when you won the big one, there was obviously crowds there in 1966. But when you picked up that trophy did you think it would be that long again, more than fifty years now since England would win another big tournament?
No, no chance. It's quite amazing, one of the major nations in the world as we are, that its now almost sixty years since we won it, it's astonishing. I think we've been close a couple of times and I think having won it once more it wouldn't have been so bad, I think we were close in, was it 1990?
We had the semis in '96 was it?
Yes, the semis in '96, that was the Euros of course. I think in the World Cup the closest we got was the semis against Croatia, where we got very close, yeah. And one more wouldn't have been so bad you know, take the pain away, but nobody would have realised and understood or accepted that it would take this long for us to do it again.
Yes and I think we've identified Harry Kane certainly as the player most likely to perform for England, but are there any other players…
Well it's not one player, it's not you know, it's a team effort. He's an important part of it and the big players. Bobby Charlton, who was one of the big names in our team, scored two in the semi-final and then didn't score at all in the final. And I was sort of lesser known and had only played four or five games, so that's how football can be, it's crazy.
So sometimes in big games the established player is not always the player that wins the match. It could be a header, a fluke header from John Stones. Who cares? And that's the beauty of this team as I mentioned earlier. We've got goals in a lot of departments and that is very very encouraging.
Of course we're all wanting them to do well, but are there any other teams that you think could be a surprise package at this tournament or any players that you think might emerge?
Well I've not really had a chance to assess the other teams or other players, but what I would say is it's a difficult competition to win.
We finished third in '68 and it's a difficult competition to win, and you need everybody to be on form together as a unit to be successful in the championship. The big countries, the usual names, are always going to be around with top players. It's a tough competition to win, as that's also proved over the years. But I couldn't pick any team out, I've not closely watched other teams or other players. Although we know that there are some very good teams and very good players that we see playing in this country in the Premier League.
It does tell you a lot about the calibre of the Premier League that there are some of the best players in the world playing here…
There are, it is probably the biggest [league], most successful really, and monetarily it's brilliant, so we have the very good fortune of seeing some of the most fantastic players of all countries and European players playing in this country – it's been brilliant.
Was it true that before the World Cup final that you went to the cinema the night before? And can you imagine the players now doing something like that?
Yes, yes we did. We walked to the cinema, the 22-man squad plus the staff walked to the cinema watched the film, the film was called "Those Magnificent Men and Their Flying Machines". We got ice cream at half time and we walked home, not a journalist, not an autograph, nobody hanging around. I mean, you look at that it's absolutely astonishing.
When I look back at the past, the way the game, well the way everything has changed so dramatically, every single aspect apart from the goal posts. They're still the same size, same shape, but every single aspect you want to touch on in relation to the sport has changed unbelievably.
And that's just a classic example of how different it is – just walking to the cinema and then walking back to the hotel and nobody around us, nobody pestering us, I mean can you imagine that? Incredible, incredible.
Right before the final as well, can you imagine the players now just tucking into some popcorn and just trying to get away from the other fans around them, you just wouldn't imagine it could you?
No, it just wouldn't happen would it. The close contact now with the press and the fans, it's a thousand times bigger. You know, we did it then and you look back and it was magnificent but today in terms of everything connected with it and the publishers and particularly the journalists it's a thousand times bigger and I think it'll be a thousand times bigger in the enjoyment and reaction today than when we did it.
In fact, at the time, we weren't necessarily expected to win, we hadn't done well in cup finals you know? It wasn't a thing where the World Cup final was coming up and we were going to do well. We'd done very poorly, was it '50 or '54, we got beat by the USA 1-0. That was our track record coming into Wembley. So, we weren't the big noises, and subsequently the expectation for the national team from that time is a lot greater now than it was.
And finally on the Euros, I think the game that everyone is looking forward to is England vs Scotland which is obviously the big home [nations?] fight. What do you think is going to happen in that game and what memories do you have of the rivalry that you had with Scotland?
Oh great memories of Scotland, great great memories.
Is that because you won most of them or…?
We won most of them, yes. We only got beat once, the famous loss at Wembley 3-2 that was directly after we won the World Cup. That was '67 and then the Scots proclaimed themselves, of course, World Champions [laughs].
I do say what they didn't remember on the day, and that was a good Scots team you know, a very, very good Scots team. But we did have two players injured – Ray Wilson and Jack Charlton got injured. But that was the only time the Jocks beat us in the six years I played.
But it's a great rivalry between all the home countries – the Irish, Scots, and Wales, great rivalry and disappointingly we haven't had that tournament recently because of the number of other things happening in football fixtures and so on. So they were great times, I mean some of my great memories and people I admire are the Scots.
Dave Mackay is one who comes to mind immediately, he was a magnificent player, he was the man. I went to Jimmy Greaves' 70th birthday party at the o2 and I was there because I knew Jimmy well, and all of the Spurs players were there and these lads are now 70 years of age, and there was only one man dominating that period and that was Dave Mackay. You knew he was the man as he was when he played, and he was a fantastic player, great character, went on to Derby. I'm a great admirer of what he achieved looking at him as a front player, and many more you can name lots of them, and that was a very good Scots team.
Sadly, the Scots teams have changed over the years, we now don't have as big names as we saw in those times, so that's changed quite dramatically. Having said that, that does not mean it's going to be necessarily any easier playing against the Scots team today, because naturally the Scots, and the Welsh and the Irish, they're going to take great pleasure in all sports in whipping the English so it isn't going to be easy.
You obviously watch a lot of football, are there any players that you can compare yourself to when you're watching?
I think the short answer is no. I've always believed that every player is slightly different in one shape or form. I wouldn't necessarily compare myself to anybody in particular.
If I had to compare, I'd pick somebody in the past like Shearer. I wouldn't pick myself as someone like Aguero, for example, as I'm about twice as tall and he's twice as quick and twice as good. But in terms of physicality, I was physically strong, and I think Shearer was more right footed than me but good in the air.
I was fortunate as I was very good at striking the ball with both feet. My dad taught me how to kick a ball with my left foot when I was seven, so I was one of the brigade at that time, along with the Bobby Charltons, that was two-footed. And how often do we see a one-footed player being pushed to his wrong side then struggles and scuffs the ball? So I was very good at that.
So, I think the short answer without waffling on, is everybody's slightly different in the way they play, the teams they play for, the coaching they've had. What I'd like to see more of with front players is turning defenders around. You can get away today receiving to feet because they're not going to go and break both your legs from behind you, whereas I like to see players running and turning defenders around making their tongues hang out you know?
I used to try and analyse when I'd play against a player. If it's an older player you run him around, if he's good in the air you get him on the deck, if he's good on the deck you want to get it in the air. So you do look and analyse players as I did in the World Cup final. I mean, just as a comment, the guy who marked me in the World Cup final, he was actually a full-back, so a full-back marking a [centre forward? – seems to make more sense than central defender] is going to struggle and so it proved on the day of course.
So, you look at who's marking you and you start to think how you're going to play against them, whatever his skills of deficiencies are. So, you have to give it some thought.
Lead image: Twitter/WhatsOnDarlo