The Best EVER Boxing Rematches in History
As Anthony Joshua and Andy Ruiz Jr prepare to meet again, we look back at some of the best ever rematches in boxing history.
Anthony Joshua suffered a stunning upset at the hands of Andy Ruiz Jr back in June when he was dropped and stopped in seven dramatic rounds on his American debut at New York City's Madison Square Garden.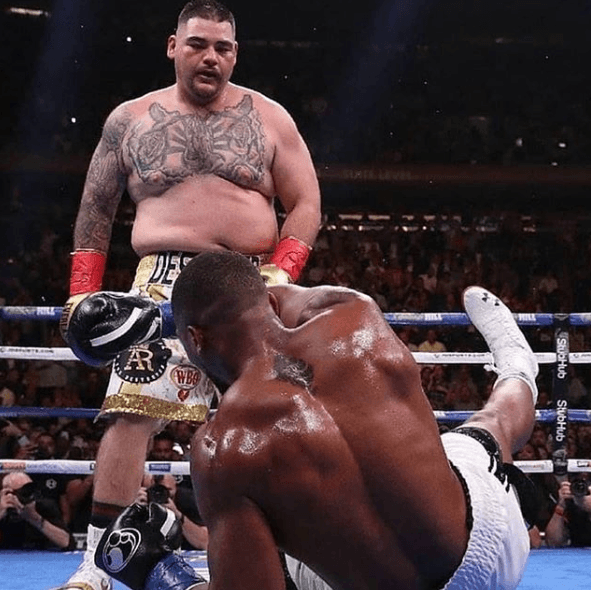 The British fighter will have the chance to reclaim the WBA, IBF and WBO heavyweight titles from the new champion when the pair collide in their highly anticipated rematch on December 7 in Saudi Arabia.
Ahead of this second clash, which is set to be one of the highlights of a strong end of the year for the sport, we take a look back at the best ever rematches in boxing history.
There have been so many great follow-up fights throughout history that it's tough to include them all but here are some of the most prominent in no particular order.
Note: We will only be including the second meetings between fighters in this list, so if there were any trilogies or further bouts, we will not be featuring those.
1. Rocky Graziano v Tony Zale II (1947)
The post-World War II clashes between Rocky Graziano and Tony Zale were as gruelling as it gets in the ring. Zale took a trouncing early in the brutal first meeting before stopping Graziano but the latter gained his rematch revenge with a sixth-round knockout.
In 1996, The Ring Magazine rated it as the second-best fight of all time.
2. Sugar Ray Robinson v Carmen Basilio II (1958)
A year earlier Sugar Ray Robinson had dropped his middleweight title to Carmen Basilio but prevailed in the pair's epic rematch to become the first four-time champion in the division's history.
This was one of the last great performances from the man widely regarded as the greatest of all time, famously leaving Basilio's eye in a complete mess after 15 rounds.
3. Rafael Marquez v Israel Vazquez II (2007)
These two warriors enjoyed a sublime four-fight series between 2007 and 2010, creating one of boxing's most pulsating rivalries. The second ended in controversial fashion in the sixth round, following a sensational third when both men were bloodied.
Israel Vazquez put it on Rafael Marquez after dropping him, forcing the referee to call an early halt to proceedings as he reclaimed the super-bantamweight title and avenged his stoppage loss five months prior.
4. Sugar Ray Leonard v Thomas Hearns II (1989)
As is sometimes the case, the rematch can never live up to the original fight and this is an example but the second meeting between Sugar Ray Leonard and Thomas Hearns was still superb nevertheless.
'Sugar Ray' won the first 1981 Fight of the Year in what was one of the biggest bouts in history and the rematch didn't happen until eight years later. Leonard was dropped twice and looked set to lose on the cards, but another late rally earned him a dubious draw – a result still debated to this day.
5. Jake LaMotta v Laurent Dauthuille II (1950)
During a golden age for the middleweight division, Jake LaMotta and Frenchman Laurent Dauthuille were two important players and shared the ring for two incredible battles.
The latter secured the decision first time around but 'The Bronx Bull' gained a huge last-gasp victory in the follow-up meeting with a dramatic final-round KO.
6. Evander Holyfield v Riddick Bowe II (1993)
The Evander Holyfield-Riddick Bowe rivalry was a key factor in the talent-laden heavyweight landscape of the 1990's. Bowe decisively won their first sensational showdown on the cards but Holyfield came out on top a year later to recapture the crown in another thriller which was bizarrely marked by the 'Fan Man' incident.
7. Marco Antonio Barrera v Erik Morales II (2002)
It's impossible to discuss 21st century boxing without bringing up the remarkable Marco Antonio Barrera-Erik Morales rivalry. Barrera had his hand raised in this rematch after 12 exciting rounds against his fellow Mexican nemesis, inflicting his maiden career loss in the process.
8. Matthew Saad Muhammad v Yaqui Lopez II (1980)
The 1980 slugfest between this pair of light-heavyweight warriors is one of the great fights in boxing history; one which resulted in a deserved Fight of the Year award and the eighth stanza earning Round of the Year too.
Saad Muhammad retained his title after dropping Lopez four times then stopping him in the 14th.
9. Bobby Chacon v Cornelius Boza-Edwards II (1983)
Before Arturo Gatti, there was Bobby Chacon. The Californian was involved in back-to-back Fights of the Year, with this barnstormer being the second of such. Despite four knockdowns and two bad cuts during the course of the action, this brawl went the distance and Chacon triumphed by unanimous decision.
10. Arturo Gatti v Micky Ward II (2002)
This list would be incomplete without a mention of one of the sport's great warriors, Arturo Gatti. 'Thunder's' initial encounter with 'Irish' Micky Ward is stuff of boxing legend, leaving the rematch with unreasonable expectations.
But they still dished up another epic second portion in part two of a famous trilogy, with Gatti avenging his first loss.
11. Joe Louis v Max Schmeling II (1938)
It maybe wasn't one of the best but the rematch between Joe Louis and Max Schmeling is definitely one of the most historic and culturally significant.
'The Brown Bomber' was stunned in the first meeting but destroyed his previous German conqueror in the opening round of a fight holding massive political implications; with the American triumphing over a citizen of Nazi Germany at a time Adolf Hitler was plaguing the world with his fascist ideology.
12. Alexis Arguello v Aaron Pryor II (1983)
One of the great all-time boxing rivalries to round off our list.
Arguello attempted to become the first man in history to win championships in four weight divisions in the first meeting with Pryor, but the Nicaraguan was stopped in the 14th round of The Ring Magazine's then Fight of the Decade. The rematch was another thriller as Arguello came up short again, this time being stopped in the 10th.
Other notable rematches: Ricardo Lopez v Rosendo Alvarez II, James Toney v Mike McCallum II, Jack Dempsey v Gene Tunney II, Ivan Robinson v Arturo Gatti II, Michael Carbajal v Humberto Gonzalez II, Muhammad Ali v Joe Frazier II, Manny Pacquiao v Juan Manuel Marquez II, Yoshihiro Kamegai v Jesus Soto-Karass II, Tommy Hearns v Iran Barkley II, Riddick Bowe v Andrew Golota II, Jose Luis Ramirez v Edwin Rosario II, Diego Corrales v Joel Casamayor II.
Sources:
https://www.thefightcity.com/march-25-1958-robinson-vs-basilio-sugar-ray-robinson-carmen-basilio-gene-fullmer-paul-pender-chicago-stadium/
https://www.ringtv.com/382473-best-i-faced-israel-vazquez/
https://www.badlefthook.com/2009/9/30/1061717/classic-round-by-round-sugar-ray
https://www.boxingnewsonline.net/on-this-day-jake-lamotta-rescued-his-world-title-with-last-gasp-win-over-laurent-dauthuille/
https://en.wikipedia.org/wiki/Érik_Morales_vs._Marco_Antonio_Barrera_II
https://news.google.com/newspapers?nid=2209&dat=19800714&id=4J8rAAAAIBAJ&sjid=V_wFAAAAIBAJ&pg=7075,2430247&hl=en
https://www.secondsout.com/columns/thomas-hauser/ward-gatti-ii1
https://www.theguardian.com/sport/queensberry-rules-boxing-blog/2016/oct/20/aaron-pryor-boxing-welterweight-alexis-arguello
http://www.eyeonthering.com/boxing/rematch-aaron-pryor-vs-alexis-arguello-ii
http://www.raoulwallenberg.net/es/prensa/2005-prensa/max-schmeling-joe-louis-s/